It's nearly been a full calendar year – 341 days in fact – since the LA Kings announced an inclusion initiative, a program designed to contribute to building equity in sports and within the front office, while helping to eradicate racism in and around the world of hockey.
On that same day, July 14, 2020, the Kings joined The ALLIANCE: Los Angeles, along with 10 other professional sports teams in Southern California.
In the time since, the Kings organization has listened, learned and begun to educate. In advance of Juneteenth, Blake Bolden took the opportunity to reflect back on how the organization used time to first learn, before beginning the process of educating and bettering their efforts, both internally and externally.
"During this year in time, we stopped to listen and I think that gave everybody, not just the Kings, an opportunity to just be silent and soak in all the experiences and all the things that have been going on in the world," Bolden said. "We stopped to take some time to listen, and from listening we focused on the educational aspect with our staffing, having those uncomfortable discussions and from the discussions, from the listening, from the education, we began to formulate a plan to not only better ourselves internally, including our players, but the community we serve and welcome into STAPLES Center."
At the forefront of the Kings organizational efforts has been Bolden, the first black player in the history of the NWHL, now an AHL scout on the hockey operations side of the front office, and a leader of community outreach and inclusion efforts on the business side. With an official title of AHL Scout / Growth & Inclusion Specialist, Bolden has perhaps one of the most unique roles in professional hockey.
With the front office, she's been a major player in community events and initiatives centered around growing diversity within hockey. The Kings have committed resources and support to not only growing the game here in Southern California but also making it more inclusive through a variety of efforts.
Youth Hockey
In April, Bolden and the Kings hosted a pair of hockey clinics on the outdoor ice sheet at Toyota Sports Performance Center, offered exclusively to girls, with more than 40 attendees.
Later this summer, the Kings are planning to offer two complimentary programs to help grow the game, under the We Are All Kings banner.
"I think [diversity in youth hockey] is something that every franchise has taken into account, something that every franchise has struggled with, because the representation hasn't been there in our sport to capture the minds of these young athletes," Bolden said. "It's been really important for us to make youth hockey a priority."
The We Are All Kings Camp will be a free, annual camp, hosted by Bolden through the Kings Care Foundation. Drawing participants from the Power Project – more on that below – and YMCA ball hockey leagues, the camp will cater to novice players, allowing young ball and ice hockey players an opportunity to develop their skills on the ice.
Additionally, the organization is planning the We Are All Kings Learn To Skate program, designed to introduce new skaters to the ice, free of charge. This new platform will help to foster diversity and inclusion in the Learn to Skate Program for both ice hockey and figure skating.
"It's all about creating the blueprint," Bolden explained. "I think a lot of times, in a lot of different communities including the black and brown communities, it's like 'where do I go to sign up to play hockey?' The idea is to get a stick and a ball in their hands, get them to play, because playing is the most important thing, playing because it's fun, and then let's introduce you to the sport and get you the resources that you need…now there is a blueprint and hopefully that's exciting for everyone."
Bolden also talked about how the Kings, and their affiliated youth programs, have revamped several aspects of how they operate to help generate more diversity. Learn To Play programs, including ice hockey and figure skating, are free of charge, with the hope of allowing more individuals the opportunity to participate. Programs such as the Jr. Kings, LA Lions and Jr. Reign have all been involved in the process.
"We're heavily prioritizing this, but all of our other youth hockey stakeholders are involved," Bolden said. "The Lions, Jr. Kings, Jr. Reign, all of these stakeholders that have their high-level, AA or AAA clubs, they're all invested in this as well because we're setting this expectation of creating inclusivity. It's an all encompassing mission for us at this moment."
Black Girl Hockey Scholarship
If you watched Game 2 between Vegas and Montreal on Wednesday evening, then you've at the very least been introduced to Renee Hess. Hopefully, it wasn't the first introduction.
Hess is the Founder/Executive Director of Black Girl Hockey Club, a non-profit organization advocating for black women in ice hockey. Bolden and Hess met in San Diego back when the club was first starting up, and Bolden bought in right away.
Now, years later, the relationship is more professional. The Kings have committed a donation of $5,000 to the Black Girl Hockey Club scholarship program for each of the next three years. The scholarship, as Bolden explained, goes towards young hockey players in California.
"It's been so nice to see the evolution of Black Girl Hockey Club, there had been nothing like that in the NHL or youth hockey space, where it was 'this is the mission, this is what we want to do" and now we're actually helping individuals,' Bolden said. "Not just supporting the fans, we're changing the lives of young girls with these scholarships, these mentorships programs. I hope [Renee]'s very proud of herself, with the Get Uncomfortable Campaign, you need leaders like that to make change. She's here for a reason and I believe she's here to stay."
It's easy to talk the talk, but Black Girl Hockey Club, with the backing and support of the Kings, is walking the walk in helping female hockey players of color feel more included within the game of hockey.
Power Project
The Kings have also pledged their support to the Power Project, a Hawthorne-based program meant to mentor young girls, ages eight to 14, while also introducing them to the sport of ice hockey.
The program uses mentorship to build self-esteem, positive life imagery, and the belief that they can accomplish any goal they set and work hard to achieve, with Bolden committed to help with coaching the on-ice portion of the program when she is in the area.
The organization has currently committed $20,000 per year to assist with ice time, equipment and activities for the team.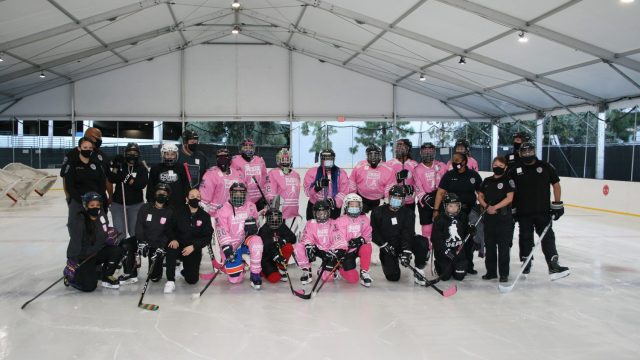 For all that Bolden has done to assist with the organization's efforts in the community, it's amazingly enough just a part of her job with the Kings. A large part sure, but Bolden has performed the aforementioned duties alongside her responsibilities within the scouting department.
Bolden is the Kings AHL scout on the West Coast, scouting minor-league players in the AHL's Pacific Division ranging from San Diego to Loveland, Colorado.
When she first joined the organization, scouting was the bulk of her focus, prior to the events of last summer. On top of her community-based efforts, Bolden's reports are relied upon when looking at players who play for one of eight, soon to be nine, Pacific Division clubs in the AHL.
"You're responsible for [your area], you're responsible for the teams that you're scouting, your prospects and knowledge of them and they're trusting you with having that knowledge readily available when needed," she said.
Adding in the additional responsibilities has certainly created some additional work, but the opportunity to have her place, and voice, in both areas has been a perfect blend for Bolden.
"[My job] has definitely shifted – I feel grateful that the Kings have the trust in me to be a spokesperson for our inclusion initiatives and the goals that we'd like to achieve over the next 3-5, and hopefully more, years," she said. "It has shifted a lot. I'm still responsible for my Pacific region in the AHL, and I have a lot of support there. On the community relations side, it's about inspiring that next generation and coming up with ideas on how to do so and now just connecting with them. It's getting out there with our community partners and showing that level of commitment and passion for the game, so that they see we're serious about our desire to grow inclusively in our sport. I take a lot of pride in that, as someone who was the first black player to compete professionally in the NWHL and being someone who's been a lot of firsts because of the color of my skin and I take great pride in that."
Here on Juneteenth, which was yesterday declared a federal holiday, Bolden discussed the importance of that day for not only herself, but for people of color as a whole.
"Juneteenth is a part of the movement, it's a part of recognizing our history and how we're planning to move forward for the betterment of our society, simply put, and that's good for everyone," she said.
While today is an important day for many people, it does not represent the end of the line for the changes the Kings organization are trying to make.
When asked what a fan or affiliate of the organization can do, to help in these initiatives, Bolden said that it can be as simple as introducing the game to someone who's never experienced it, someone from a non-traditional background.
It doesn't need to be a large, sweeping gesture. Something as small as introducing ice hockey within your local community can make all the difference. And, at the root of it all, that is what everyone is trying to accomplish.
"Being a mentor in your community is important, because you don't have to be Anze Kopitar," she said. "Whoever you are, you can make an impact in your community that you're in, and you can be empowered within that."