Third-year General Manager of the Ontario Reign, Rich Seeley, recently caught up with the media for his end of season exit interview. Seeley has held the position since the summer of 2018, and the GM has been tasked with helping put the Kings top prospects in positions to succeed and develop. With the hopes that one day the majority of the current Reign players can end up in a Kings jersey, Seeley reflected on the condensed and crazed 40-game season, 2020-21 season.
Seeley's exit interview can be found below –

*Note that this is not the entire interview, but a segment cropped to fit for YouTube.
With the unprecedented impact of COVID-19, like the Kings season, the Reign's season had many obstacles to work around. From the lack of face-to-face interaction, to not even getting to play in their own home arena, Seeley and the Reign had to make do with the situation they were handed. Seeley touched on the obstacles of this year's communication and the difficulties they faced with roster construction.
"[John Wroblewski] and I would talk constantly. I talked with my staff, he talked with his staff; what they're looking for and the type of lineup they wanted to put together. He'd then relay that information to me, we'd go over that, ask questions and then I'd touch base with our guys up top. This year more than other years it was odd; we had everyone in one location, but we also had the taxi squad during the year. We wanted to try to get the taxi squad players opportunities to get games in if they haven't had them for a while. We wanted keep everyone playing on a regular basis."
The odd circumstances that Seeley and his staff had to adapt to his past season did have some positives.
"I think our level of communication increased this year because of the circumstances. In the long run that is going to help us. We were forced to have daily conversations on transactions so that we were all on the same page and were very cognizant of how players were doing [during this pandemic-filled season]. We really tried to take light of how our players were doing on a regular basis and be more aware of how people were doing. As we all know, it can be challenging to deal with the environment around us right now and part of our communication was touching base with our players consistently to make sure they were doing ok mentally."
Another impact of COVID-19 caused the NHL to carry a taxi squad of 4-6 players at all times out of emergency. With bodies needed there at all there and a constant influx of injuries on the Reign roster, Seeley made the decision to bring in players during the middle of the season. Seeley thoroughly the factors they played into his decision to add.
What a year for rookie Arthur Kaliyev! He lead the Reign with 31 points in 40 games played during the 20-21 season #ReignRecap pic.twitter.com/2Wz23H7fWM

— Ontario Reign (@ontarioreign) June 9, 2021
"I'm always trying to be prepared. There are always guys that you have your eyes on. You're always thinking what a good fit for might be filling out roles here in Ontario. Obviously, greater conversations have to happen with the Kings as to where guys slot in there and then to piece it all together. This year was a little bit more unique than others; we had some injuries early on that caused us to look at adding guys. One of the challenges was that the Kings couldn't quite get healthy at the forward position either at the same time as us. It wasn't until later on in the season until we started to see a full complement of players that we felt we'd see throughout the whole regular season at the forward position. We also had to be prepared for if Arthur Kaliyev and Quinton Byfield had to go back to the OHL; those are just a few factors that played into our decision to bring in some other guys."
Two of the players that Seeley added to the Reign this season were forwards Adam Johnson and Devante Smith-Pelly. Smith-Pelly, who played a key part as a role player for the Washington Capitals in route to winning the Stanley Cup in 2018 tallied one assist in 14 games this season. Johnson, the 26-year-old Minnesota native recorded 11 points (6-5=11) in 14 games.
"I thought Adam Johnson, who is someone I'm familiar with and had on the radar, came in and did a good job. There are some challenges coming into the lineup later on in the year and he did a good job with that. He's got experience and complimented some of our young prospects really well. Devante Smith-Pelly came in and did a pretty decent job as well. I think we would've liked to see him have better numbers, but he brought some stability and leadership for our younger group which helped whether he was in the lineup or not."
The oddities of the past season didn't end there. Two of the Kings top prospects, Quinton Byfield and Arthur Kaliyev found themselves in a Reign jersey with the OHL not playing the 2020-21 season. Both players, who would likely have spent the majority of the year with their respective OHL teams were able to take advantage of the opportunity to play professional hockey. Byfield recorded 20 points (8-12-20) in 32 games with the Reign and was tied for the team lead in points prior to being called up by the Kings late in the season. Kaliyev was also stellar as the offensive juggernaut lead the Reign in points with 31 points (14-17-31) this season and was tied for league lead in goals across the AHL among rookies. Seeley found the opportunity for the highly touted forwards to play in the AHL mutually beneficial.
"I thought our organization really benefited from having Kaliyev and Byfield with us in the American League. Personally, I thought it was exactly where they belonged to develop. It challenged both of them. Thinking about how well they both played and their progress, I thought they were able to learn a lot more here with the level of competition compared to the OHL."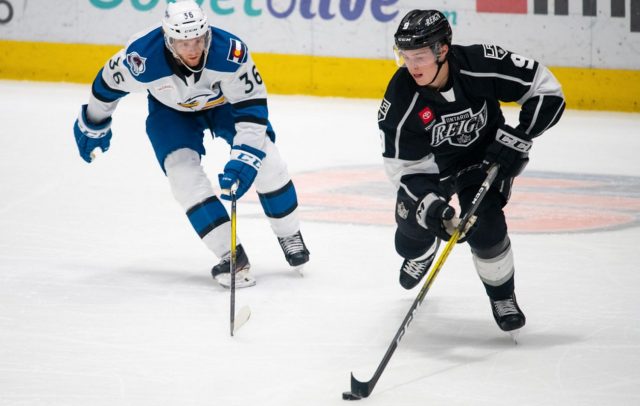 – According to Seeley, Kaliyev, Byfield and the plethora of Reign players who just completed their rookie season will look to follow in Rasmus Kupari's footsteps. Kupari arguably made the biggest jump from year one to year two, 2019-20 to 2020-21, was a standout on the team with 23 points (8-15-23) in 32 games with the Reign. It has often been noted that the improvement and increased value in a player from their rookie campaign to their sophomore season is a telling sign as to who that player can be or become.
"There were some pretty big strides in Rasmus Kupari. It was really exciting to see the way he took advantage of last offseason after being dinged up. The last time we saw him in the AHL was before the 2020 World Juniors where he tore his ACL. To see him back and healthy, skate and play with power the way he did was awesome to see. He sticks out for me, you could see him mature in front of your eyes, going from a younger teenager to from what you'd almost call a grown man. We look for that to continue forward."
Seeley noted the value of what Kupari and many of the Reign's veterans showed the rookies. The excitement and anticipation will stick with us all until we get to see what this offseason provided the promising, young prospects we all hope to see in STAPLES Center in the very near future.
"It's extremely important for our rookies to see what Kupari has done from year one to year two. As we start to engrain the routine in them, they now have had exposure to what it takes to be a great pro player and they've had their eyes opened as to what kind of work goes in on the back end to be successful on the ice. We try to surround our younger guys with good pros, how they carry themselves, what kind of work they put it on the ice and in the weight room… Their summer workouts are inherently important now. Some of what's holding [our young prospects] back is that continued strength. It's a big summer for a lot of guys to make sure they take advantage of this time."
Reign Sign Parik To AHL Contract
Additionally, the Reign have signed goaltender Lukas Parik to a one-year, AHL contract.
Parik, 20, was selected in the third round (87th overall) by the Kings during the 2019 NHL Draft. The Neratovice, Czech Republic native appeared in 28 games last season with the Dubuque Fighting Saints (USHL), posting a 15-8-4 record, .867 save percentage, 3.35 goals-against average and one shutout.
Before the season was stopped because of the COVID-19 Pandemic, Parik made his North American debut with the Spokane Chiefs of the Western Hockey League during the 2019-20 season. The 6-4, 185-pound netminder appeared in 32 games with the Chiefs, posting a 22-7-2 record, .917 save percentage, 2.73 goals-against average and one shutout. Parik also managed to score a goal on an empty net during a win with Spokane.
Internationally he represented Team Czech Republic on multiple occasions. He was named to the IIHF World Junior Championship roster each of the last two seasons. During the 2021 tournament, he posted a 1-1-0 record, .883 save percentage, 3.77 goals-against average and one shutout. At the 2020 tournament he went 0-2-0 with a .846 save percentage and a 6.17 goals-against average. Both years Team Czech Republic lost in the quarterfinal round. In 2019, he played in the IIHF World Under-18 Championships, where he posted a 2-2-0 record, .924 save percentage and a 3.54 goals-against average before falling to Team Sweden, the eventual champions, in the quarterfinals. He also represented the Czech Republic in the Under 17 World Hockey Challenge, posting an 0-2-0 record, .867 save percentage and a 4.32 goals-against average, losing to Russia, who won the tournament, in the quarterfinals.