Going into this condensed 56-game season, there were many questions as to who would fill in the "bottom six" and depth forward positions. Now, 32 games into the season, there are still moving pieces and line combinations being figured out, but forward Jaret Anderson-Dolan is making his case to stop being moved.
Skating predominantly on a line with Trevor Moore and Carl Grundstrom, the trio, both as a group and as individuals, have shown their stuff towards remaining in the lineup each night.
Centering that line has been Anderson-Dolan, a second-round draft pick in 2017 out of Calgary, Alberta. Now in his third year with the Kings organization, he seems to have found his niche within the Kings roster as the two-way, hard-working, forechecking presence, who provides opportunity and offense for himself and his linemates. Yes, that's a mouthful of a description, but given the growth and development from the now second-year professional, Anderson-Dolan deserves the extended list of attributes.
Having seemingly found his stride at the NHL level, Anderson-Dolan gave his reasoning on the Kings of the Podcast (KOTP), a podcast run by John Hoven, an LAKI contributor.
"I think I'm just playing a lot more relaxed this year," Anderson-Dolan said on the program. "In the past, I was trying to make a difference every shift, but in a way that I was pressing too hard. This year, I'm letting the game come to me a little bit more. I've got a lot more confidence with the puck and I think that has come with playing more games [in the NHL]. It's been fun and I've been lucky to play with some great players. Things are really clicking right now and it's not just something I'm doing, but it's our line working together."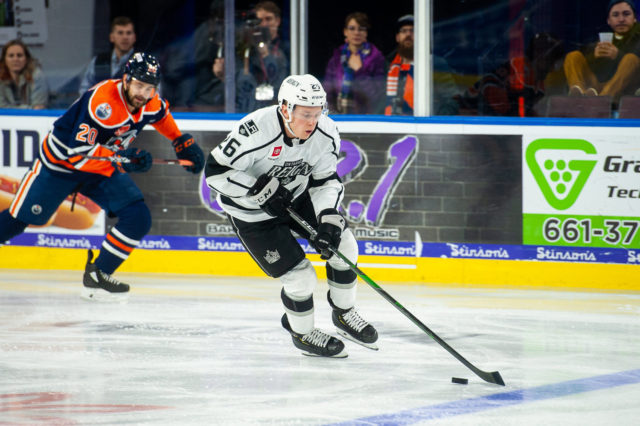 Prior to the 2020-21 season, Anderson-Dolan had appeared in only nine games for the Kings and recorded just one assist, back in October of 2018. Outside of a five-game NHL stint to open the 2018-19 season, and four additional games the next year, Anderson-Dolan spent the majority of his time in the AHL with the Ontario Reign and the OHL with the Spokane Chiefs. For all aspiring NHL prospects, the goal is to make it to the NHL. The next step is to stay there.
Having not been able to accomplish that second goal over the previous two years, Anderson-Dolan didn't slouch his head; he took advantage of the opportunity that the AHL provided him, learned, and worked on his craft.
"I got a lot of experience last year, in every situation, with Ontario," Anderson-Dolan said earlier this season. "Killing penalties, taking big faceoffs, playing power play, I think you just mature as a player and as a person. I'm quite a bit stronger, more explosive, just everything that comes with growing into a man a little bit more, and from playing against older guys. When you come in as a 20-year-old in the AHL, it's a little bit of a learning curve."
In 58 career regular-season games for the Reign, the 5-11 centerman recorded 30 points (8-22-30).
With the AHL currently in the rearview mirror, the lessons that Anderson-Dolan has endured since joining the Kings organization have shaped the former second-round selection into an NHLer, with the tools to make that title permanent. But for him, he wouldn't be here if it weren't for the Kings veterans who helped him to settle in.
"The veterans make us feel so comfortable here, and it's helped me loosen up," Anderson-Dolan told KOTP. "They've helped me understand that I need to play my game. They demand a lot from themselves but also from a lot of us young guys. Being around veterans and seeing how they work every day is contagious. It rubs off on you, especially when you're a young guy coming into the organization."
It hasn't come without a bit of adversity though.
Anderson-Dolan suffered an upper-body injury in Arizona last month, which took him out of the lineup just as he, and his line, were finding their stride. The injury was difficult, especially considering the timing, but when Anderson-Dolan finally returned to the lineup against St. Louis on March 17, he barely missed a beat.
In his time away from the game, the young forward focused on what the team was doing, and what he did in his short NHL sample size as much as he could, to ensure he'd be right where he needed to be when he got healthy.
"Just watching video of the couple games I played there, to stay engaged, and watching our games, looking back at the games that I was playing, what was allowing me to be effective," he said, upon returning from injury. "Honestly, it was just to stay engaged and keep my hockey mind going during that time off with the injury."
No matter who he credits his growth and success to, the center has consistently contributed on a breakout line that has exceeded expectations when healthy. Although the rookie forward has only played in 11 games, thanks to injury, the production from he and his linemates have provided a need for the Kings. The tenacious and aggressive forechecking trio has given the Kings something that was perhaps lacking before its inception.
"It just seems that [our line] is a good combination of players that play a similar game," he said. "We all skate well and are willing to get in on the forecheck and that's kind of been our bread-and-butter since we've been together. It's working so we're not looking to change that. We're just looking to continue to grow as a line and as a team."
Following the Kings' win over the St. Louis Blues on March 17th, Anderson-Dolan's first game back, Head Coach Todd McLellan shared his thoughts on the line.
"Sometimes things work with combinations of players and their play complements each other really well. Their style allows them to keep plays alive in the offensive zone and they can extend shifts a little bit," McLellan told the media. "JAD is an important piece on that line."
With seven points (3-4-7) in 11 games, the evolution in Anderson-Dolan's game has been one of several bright spots in the Kings lineup this season. With so many moving pieces and prospects in the pipeline, his performance thus far is proving to be a spot in the lineup that is trending towards becoming a mainstay. As expected, the man they call JAD hasn't focused on the outside noise or moving pieces, just about controlling the things he can control.
"I just try to focus on what I can control; that's how hard you work and the details of your game. It's all about helping the team win on both ends of the ice."