Akil Thomas must have been in the mood to make history on Sunday.
Not only did Thomas collected his first career professional hat trick, which was the fastest in Ontario Reign team history, in the span of just two minutes and 43 seconds, but he did it as a member of the first all-Black line in professional hockey in a long time.
Thomas joined forwards Quinton Byfield and Devante Smith-Pelly on a forward line to start Sunday's game in Bakersfield. The trio had not played together in a practice or a game before, and Smith-Pelly had only recently made his Reign debut last week, but as soon as Thomas found out he was going to be skating with those two teammates, he was immediately stoked.
He said that he texted his dad, a former professional hockey player himself, right away, as well as Kwame Mason, his co-host of the Soul On Ice Podcast. Thomas called it a "really special feeling" to be out here with Byfield and Smith-Pelly, and that he just felt all three guys were happy to be on the ice together, as they went out before the game.
He also discussed the impact of seeing how widespread the news went, seeing it posted and shared across social media, as well as being a part of a historical moment.
"It was really cool to be a part of the line, a lot of platforms were posting about it, it was out there," Thomas said yesterday. "Just to be a part of history, and a part of [breaking] barriers and stuff like that, it was really cool. I was honored to be a part of it, because you saw how many people were posting about it and endorsed it."
Prior to this season, Thomas had varying degrees of relationships with Byfield and Smith-Pelly.
The former was his teammate on the 2020 Canadian World Juniors team, on which both players won a gold medal. Thomas seemed excited when talking about being teammates with Byfield now, and shared that the Reign as a whole are perhaps the best team he's ever been a part of when it comes to comradery insider the locker room.
With regards to Smith-Pelly, though the two are from the same part of Canada, they did not know each other heading into the season. Thomas said that they "know the same people", but hadn't yet met, though he knew quickly that they would become close as teammates.
Adding Smith-Pelly was important for a young Reign team as a whole, with a veteran presence who knows how to win hockey games, and also for Thomas specifically, as a young player navigating his first season of professional hockey.
"He's an older presence, we're a young team, we definitely could use a guy like Devo," Thomas said. "It's been good so far, we're roommates on the road, getting to know each other quite a bit. I'm just trying to soak in as much as I can from a guy like him."
Looking back at the experience as a whole, Thomas felt that the part that stuck out for him wasn't necessarily just playing with Byfield and Smith-Pelly – he noted that the Reign have four black players on their roster, and they're all just teammates – but was able to see what this moment could hopefully do for younger players of color, coming up in the game.
He is hopeful that seeing three black players, together on a line in a professional hockey game, is something that can make younger black hockey players feel like they have more of a place in the game, and to help grow the game as a whole.
"It was more so, for me, just younger black kids who play hockey, can kind of see that and maybe get inspired by it, and maybe we can inspire more black kids to feel like they have a place in the game," Thomas said. "That's really the cool part for me. Obviously, it was cool to play with Q and Devo, but we're all teammates, it doesn't matter that color we are. It's just cool that we have an opportunity to inspire other people and hopefully grow the game a little bit at the same time."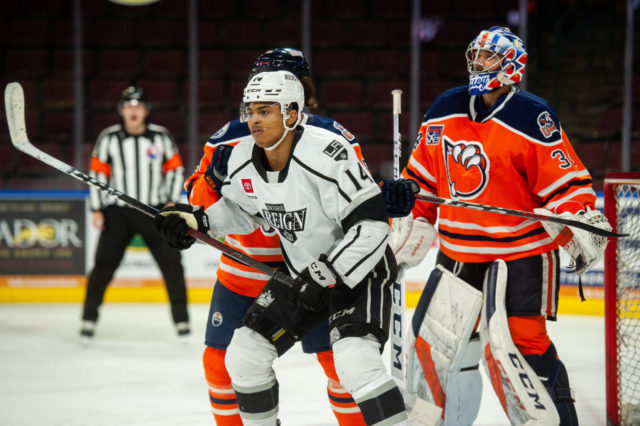 Looking more so at Thomas from an individual perspective on Sunday, his hat trick provided perhaps the most exciting moment of this young season to date for the Reign, especially when considering the circumstances.
Just one day prior, Ontario carried a three-goal lead into the third period in Bakersfield, but conceded five goals in the final frame, and lost 8-6. 24 hours later, the roles were reversed, and it was the Reign that trailed by three goals in the third, and late in the third at that, with just over three minutes remaining in regulation.
Thomas found the back of the net three times from almost identical areas on the ice, positioned in the slot. He scored his first with 3:07 left in regulation, and struck again with 1:39 left on the clock. With the goaltender pulled for an extra attacker, Thomas snuck a shot past Bakersfield netminder Stuart Skinner at the near post, sending his Reign teammates into celebration, and also into overtime.
After a scoreless five minutes of 3-on-3 play, Thomas finished what he started, as he opened the shootout with a goal, the eventual game-winning goal, in a 5-4 victory.
From a purely hockey perspective, he couldn't have been more excited with the comeback win.
"It was a crazy game, I definitely did not expect that to happen," Thomas said of the comeback win. "To get my first hat trick, to get the win, it was the best feeling, just because the game kind of felt like it was out of reach for quite some time. It was an unbelievable game, it was a really good feeling to walk out of that rink with a win."
The hat trick feels like the icing on the cake for what has been a remarkable turnaround for the Reign, with Thomas playing a large role in that. Through his first 10 professional games, Thomas had just two points, with the Reign winning just once in that span. Ever since, the Scarborough, ONT native has tallied nine points (4-5-9) from his last nine games played, with the Reign now winners of five of their last six.
For what started out as a young group just trying to find its way through a challenging league for young players to succeed in, the turnaround has been welcomed. It sometimes takes a bit of time for a team that mostly consists of 18, 19, 20-year old players, many in just their first or second go-around of professional hockey in North America, to find success.
Most of those players were the best player on their junior or collegiate teams, and that doesn't always translate to instant success in the AHL, a league where you're now playing against men, and players who have also been the top players on their amateur teams.
It wasn't one moment, it wasn't just one date on the calendar when everything clicked, but things are certainly on a better path right now for the Reign.
"It's night and day, for sure, I think we're going into games now expecting to win," Thomas said. "I feel like when we were on that slide there, we were just kind of, not waiting to lose, but it just felt like we're up a couple goals and we'd end up turning a puck over or something like that, and it felt like we'd end up chasing the game somehow. Right now, I think just everyone's on the same page, we're all playing the right way, we're really just buying into what [Head Coach John Wroblewski] is saying and it's paying off."
When asked specifically what he thinks has been the difference, Thomas pointed to the positivity that Wroblewski showed during the losing stretch of games. He felt that was big in carrying the team through it, and now that things have turned around a bit, he feels that each player has stepped up their own game, and that's making an impact regarding wins and losses.
"Everyone's stepping up a little bit, and it's making a huge difference with the entire team," he added. "It's been a long time coming, but we're starting to figure it out now and hopefully we can ride it."