Another day on the ice, another day in Forum Blue & Gold!
The LA Kings practiced this morning at Toyota Sports Performance Center for the final time before facing the Anaheim Ducks tomorrow evening at STAPLES Center.
The Kings welcomed back Adrian Kempe to the squad today, after the forward was not feeling well yesterday and was held out of practice as a result. Kempe re-took his position alongside Anze Kopitar and Alex Iafallo on the team's top line and was a "full go" per Todd McLellan.
Here's a look at how the lines shook out this morning –
Iafallo – Kopitar – Kempe
Wagner – Amadio – Carter
Grundstrom – Vilardi – Brown
Moore – Andersson – Kaliyev
Frk – Anderson-Dolan – Luff
Anderson – Doughty
MacDermid – Clague
Maatta – Alt
Strand
Quick / Petersen / Ingham
*Jacob Ingham and Matthew Villalta swapped places today, with Villalta assigned to the AHL's Ontario Reign and Ingham recalled to the taxi squad. This is something we can expect to see at points throughout the season, to keep both goaltenders getting games with Ontario.
With Kempe back in, the Kings had 15 forwards on the ice today. Martin Frk completed his second consecutive practice with the team, while, like yesterday, Matt Luff joined the group for his first full skate back, in a regular practice jersey.
The expectation is that Frk will not be ready for tomorrow against Anaheim, nor will Luff, which means that one of Arthur Kaliyev or Jaret Anderson-Dolan will likely make their season-debut, or in Kaliyev's case, his NHL debut. From the line combinations over the last two days, the more likely option at this point appears to be Kaliyev, who skated with a regular unit yesterday and today.
If he debuts tomorrow, Kaliyev would likely play on the fourth line alongside Lias Andersson and Trevor Moore, at least that's how the groupings have shaken out thus far through the last two practices. As McLellan explained, this is not an uncommon situation, to help ease younger players into the transition from the AHL, or junior hockey, to the NHL.
"If Arty gets into a game situation, a lot of the kids coming in start in that bottom six," McLellan said. "Normally, it gives them competition that's a little less strenuous to play against, whether that's the top pairing or top line on another team. To break into the league, it's often done that way."
McLellan said today that Kaliyev has made great strides over the last 12 months, and as he put it, "Arty is a much better player than he was last year." Kaliyev has been a Top-6 player pretty much anywhere he has gone. He's got an elite shot and is a proven goalscorer at the OHL level, and had a strong preseason with the AHL's Ontario Reign.
The NHL is a different beast though. McLellan isn't asking anything special of Kaliyev, if he does debut tomorrow. He wants him to stay loose and just go out and play his game, regardless of where he is slotted into the lineup.
"We'll talk to Arty about his role on his line against any opponent, nevermind playing in the top or bottom six," McLellan said. "We'll get him prepared and turn him loose. If he plays, we want him to play free, just play hard and make mistakes, we'll help him with those. I think he'll have an opportunity to have a really good game if he gets that chance.
A Positive PP
If we're looking for perhaps the most positive takeaway from the Kings four-game road trip, outside of the team spitting their points away from home, it might just be the man advantage.
The Kings scored four power-play goals from four games played against St. Louis and Minnesota, including a two-goal night in the trip finale against the Wild.
"Let's face it, our power play is further ahead than it was last year at this time, I think we've scored a goal or come close to scoring every game on the power play, which definitely helps us and gives us some confidence offensively," Todd McLellan said on the most recent road trip.
The Kings were sluggish on the power play to start last season, but much of that could be attributed to learning a new system and trying to unlearn old habits. Forward Dustin Brown said in a previous interview that last season was the first time he, and this team, have played a new style of hockey in his entire career. That included the power play.
After today's practice, Brown talked about the importance of establishing a base last season, and the team is now working in more and more aspects to the power play now.
"I think a big part of it is that we started working on this in the early part of last year and we changed a lot of the way we did things in years prior to that," Brown said. "With Todd coming in, he's always had a really good power play wherever he's gone. The year last year really helped to lay our foundation and now we're adding elements to it, which give us more options, given our personnel. Juice is a one-man breakout, so that definitely helps to get us set up."
Brown leads all Kings players with three power-play goals this season, which is one shy of the NHL lead in the early stages of the season. Brown's unit has accounted for seven of the team's eight man-advantage goals.
The Kings rank third in the West Division in goals-per-game this season (3.13) and an improved power-play unit, which ranks second divisionally in goals scored, is a big reason why.
It's Reigning Schedule Changes
Take that Ontario Reign schedule that was released last week. You know, the one you downloaded onto your phone to keep track of when all the games are. Take it, and throw it as far as you possibly can, because it's been changed.
With the recent announcement that the Stockton Heat would temporarily relocate to Calgary for the 2020-21 season, the AHL was forced to alter the schedules of all seven remaining Pacific Division teams, including Ontario. February looks generally the same for the Reign, but March – May certainly does not. A full schedule is shown below –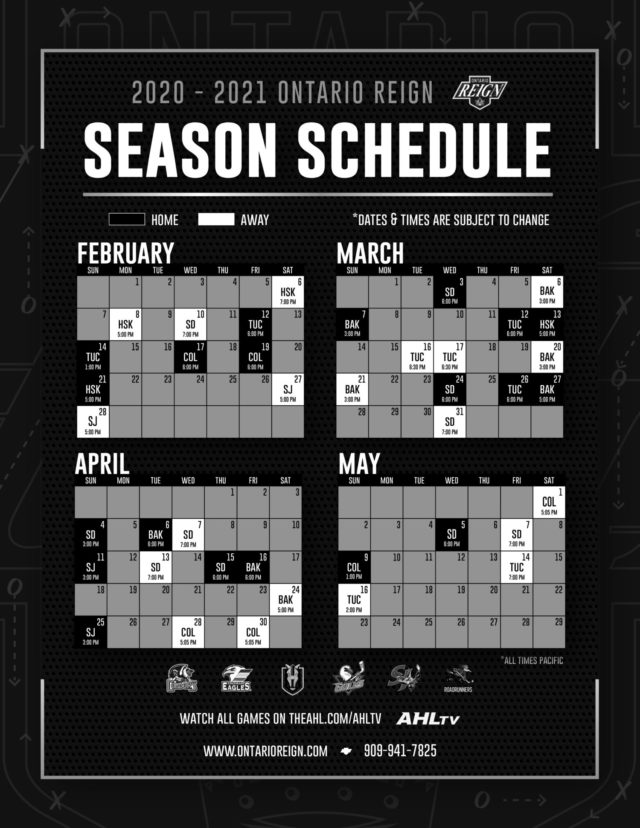 The Reign will still open their season on Saturday, on the road against Henderson, and the home opener is still slated for February 12 against Tucson. More on wrapping up the 2021 preseason for Ontario, and a look ahead at the Reign's regular-season, coming later this week.
Austin 3:16
Hear from Kings forward Austin Wagner below. Wagner was reinserted into the lineup on Thursday in Minnesota, and skated alongside forwards Blake Lizotte and Jeff Carter, on a line previously used in training camp. Wagner has played with Carter and Michael Amadio over the last two days and is expected to take on a larger role with the Kings in the absence of Lizotte and forward Andreas Athanasiou.
Hear from Wagner on that larger opportunity, playing his own game, and the balance between trying to make an impact on his return to the lineup, while also not trying to do too much.
The Kings will have a 10:30 Morning Skate tomorrow at TSPC, before hosting the Anaheim Ducks at 7 PM at STAPLES Center, in the season's first Freeway Faceoff.