Insiders!
As mentioned in a community update last month, the Kings CARE Foundation participated in several events throughout the course of November and December, leading into this season.
Kings forward Trevor Moore, a Southern California native, was an instrumental part in attending those events, as he became one of the public faces of the organization's outreach efforts.
"It was awesome, especially when you're sitting around, you want to help, you want to do what you can," Moore said. "Thankfully, the Kings were able to create these programs and I was here, so it was nice to be able to go do those things. We helped drop some food off at the hospital, there's only so much we can do with the regulations, but just being able to do anything was great. Then, me and Royzie went and handed out laptops and WiFi hotspots for kids [through Team Up For Tech] so they could do their online schooling, because everyone's doing their school at home now. It was nice to be able to help and be able to contribute."
Now that we're into the 2020-21 season, the Kings Care Foundation has continued to make an impact, in new ways during this unprecedented season. Here are some of the current initiatives the organization is working on.
Fan Cutouts
You may have seen some fans……sort of at yesterday's Kings game. The opportunity to see your face inside STAPLES Center is here – While fans can't be there to watch the LA Kings in person, that doesn't mean you can't be there in spirit inside STAPLES Center. The Kings are offering a variety of packages to get a cutout in the stands for all Kings games. The cutouts will be placed in the seats inside the arena, you'll get it back at the end of the season you'll get tickets for a game next season, and more!
All proceeds from the fan cutouts benefit the Kings Care Foundation and its efforts to support families in Los Angeles by dedicating financial and in-kind resources to services and programs in the areas of wellness, sustainability, social advocacy and inclusion.
Visit LAKings.com/cutouts for more info on getting your own cutout.
If you're lucky enough, you might even get hit with a puck, twice!
Blood Drive – January 26
In honor of National Blood Donor Month, the Kings announced earlier today that the organization is partnering with CHLA to hold a blood drive on Tuesday, January 26.
The first mobile blood drive will take place at LA Kings Ice Pickwick from 10 AM – 4 PM. Parking is free for all donors and, as a token of their appreciation, the Kings will offer all donors a gift of their choosing as well as an LA Kings-branded adjustable face mask.
Appointments to donate are available on a limited-time basis – CLICK HERE to sign up.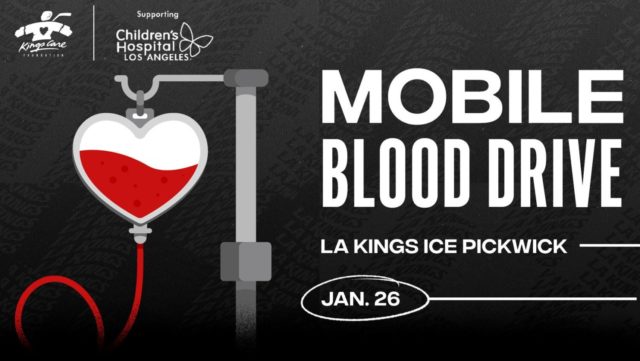 Royal Readers
The foundation is looking to reward local students for reading. Teachers and parents are encouraged to sign up their classrooms to receive free prizes from the LA Kings through the Royal Readers program.
During these times of social distancing and virtual learning, the Kings Care Foundation is happy to provide teachers with additional resources to encourage reading from home.
Visit LAKings.com/RoyalReaders for more information!
Hero of the Game
Although the Kings are unable to host local heroes this season in person, the organization will honor a Hero of the Game at all 56 games this season, both home and away, virtually.
Heroes of the Game include members of different branches of the armed forces, as well as local health heroes, who have worked to keep us safe in a variety of ways. Brian Alvarado, of the United States Marine Corps, Adupa Purush Rao, of Keck Medicine USC and Jose Montellano Jr., of the US Army, have been honored so far this season.
For those looking to nominate someone as a Hero of the Game, CLICK HERE.
Willie O'Ree Auction
The Kings are also holding an auction to benefit The ALLIANCE: Los Angeles, in honor of the 63rd anniversary of Willie O'Ree breaking the NHL color barrier.
The auction is for a Trevor Moore game-worn helmet, featuring the O'Ree stickers worn around the league.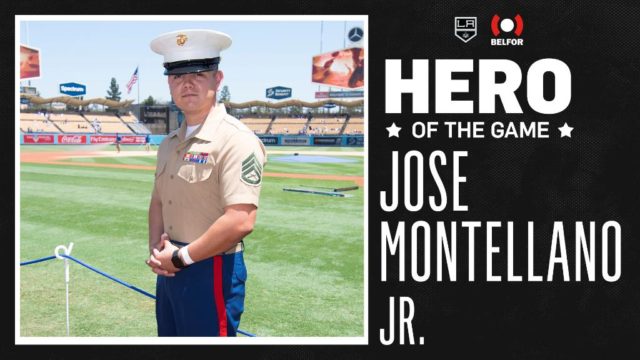 Notes & Recap from today's practice coming up next!