Team White came out on top in all three phases of today's Black – White scrimmage, including a 4-3 victory in the standard, 60-minute format. Team White also struck first, with the only goal in a five-minute 3-on-3 session, and scored on all three of their attempts in the shootout for the clean sweep on the day.
The scoring started early, as Jeff Carter of Team White tallied the first goal of the afternoon inside the opening three minutes with an unassisted tally.
Following Carter's goal, Michael Amadio got Team Black on the board with the first of three consecutive goals the side scored in the opening two periods. Amadio capitalized on a Team White turnover in the defensive zone, utilized a strong forecheck (as linemate Austin Wagner indicated in his post-game interview) and beat Jonathan Quick from close range for the tying goal.
After neither team scored in the remainder of the first period, Team Black struck again through Dustin Brown just 50 seconds into the second period, as the veteran winger buried an Adrian Kempe feed for the go-ahead goal. Defenseman Olli Maatta followed up with a goal of his own inside the final minute of the second period, as he stepped into a one-timer from the left-hand circle, converting inside the near post for a 3-1 advantage. The goal was the second of the game for the Moore – Amadio – Wagner line, with the two wingers tallying assists on the play.
Team White stormed back in the third, however, with three unanswered goals to take the game. Carl Grundstrom started the scoring with a shorthanded goal, on one of three Team Black power plays in the final frame, with Jeff Carter picking up the lone assist for his second point of the game.
Team White then took the lead with two goals in 28 seconds, both on the man advantage. First, the trio of Carter, Jaret Anderson-Dolan and Andreas Athanasiou combined on a tic-tac-toe passing play to tie the game, with Carter banging in Athanasiou's cross-crease feed from close range. Forward Matt Luff put Team White ahead less than 30 seconds later, with his team's third special-teams tally of the afternoon.
Following the 60-minute session, the two sides played a five-minute overtime, 3-on-3, for situational awareness. Forward Mikey Eyssimont scored the lone goal there, as he forced a turnover in the defensive end, led a 2-on-1 rush the other way and sniped a wrist shot, glove side high, past Troy Grosenick from the right-hand circle.
Three Team White shooters – Carter, Athanasiou, Lias Andersson – all scored in the shootout, while Team Black – Anze Kopitar, Kempe, Amadio – all were turned aside by Quick.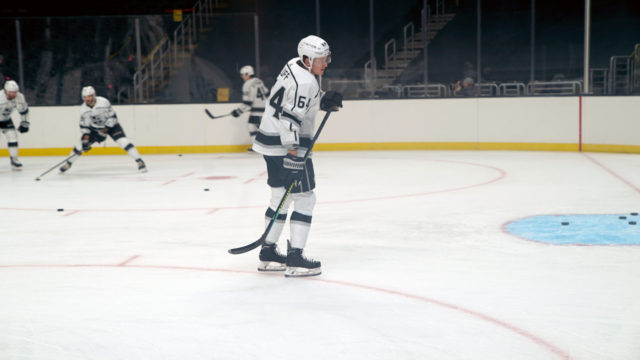 Notes –
– McLellan pointed out Matt Luff and Carl Grundstrom as two players who he felt showed well today. Luff had a power-play tally, the eventual game-winning goal, while Grundstrom scored shorthanded. He said that both were players he's had his eye on, and he felt that both players carried their play over from training camp into today's scrimmage.
"They were effective in the scrimmage in a number of different areas, whether it was along the boards, around the net, making plays, structurally, trustworthy on the ice," McLellan said.
– It was mentioned earlier, but five players were deemed "unfit to play" by the Kings for today's scrimmage – Cal Petersen, Matthew Villalta, Kurtis MacDermid, Sean Walker and Gabe Vilardi. McLellan indicated that a few of the players he knew about yesterday, and they found out about two more this morning.
When asked about the players, McLellan indicated that per NHL protocols, he is only able to express that the players are "unfit to play". He did not, at this time, know if the status of the players would be impacted for Thursday's game, and did not have any indication that Thursday's game would be in any sort of doubt.
– As McLellan indicated yesterday, it was important for the team to get adjusted to some of the differences today, because, well, there were some.
Those who have played AHL games against the San Jose Barracuda know something about empty buildings……but this was another level. Austin Wagner said that playing without fans was definitely the biggest difference, full quote below. McLellan indicated similar thoughts, also referenced below, but said that it's an issue facing teams around the league and it won't be an excuse for the Kings come Thursday.
Post-Game Quotes
Todd McLellan on his overall thoughts of today's scrimmage
We're happy with the overall play. Guys played hard, they played with structure, it was a competitive game. We saw some special teams that we needed to see. We had live officials in the game, so faceoffs became more of a factor. Everything about the game was really good.
On playing at STAPLES Center today without fans
As far as the environment goes, it's definitely different. I can tell you we're going to miss our fans, the energy that they're able to provide us in the building certainly helps, but it won't be an excuse because every team is going to experience the same atmosphere in their home rink. What is new for us, maybe that isn't new for other teams, is that we weren't in that bubble and didn't get to experience it, so today was certainly different. The rules, regulations, whatever you want to call them in and around STAPLES Center is a different world from what we're used to, so I'm glad that we came down and got it out of the way.
On filling the holes created by players potentially missing games
We should be able to plug players in, they should be able to understand how and why we're doing things. They should be chomping at the bit to get that opportunity and take advantage of it, so we think we'll have hungry players in that situation. Over the past few years, we've tried to build as much depth and the prospect pool as much as possible, so we've done a good job of that, which I believe we have, and we should have some players that are ready to step in when called upon. It's not a case of hurrying players then, it's a case of opportunity being created due to circumstances out of our control.
On having players with the versatility to play multiple positions
In my opinion, it puts you ahead. In the situation where all of a sudden we lose a center or a winger, or both at the same time, if you have that versatility to comprehend and the ability to produce in multiple positions, I think it gives you a real good opportunity at a job. JAD has that, there's some others on our team that have that as well.
Jaret Anderson-Dolan on playing in the empty building
Obviously it's a little bit different, usually you're feeding off the energy of the crowd, but you've got to be able to adapt in a year like this, everyone knows that. Today was kind of the first time I've played in an arena like this, so that was a little bit different, but I think it's the same once you're out there and you're playing the game. You're not really thinking about who's in the stands, the noise that comes with it, you're just playing your game and playing hockey.
On the importance of today's scrimmage with making the opening-night roster
Yeah, it's huge. There's not a lot of opportunities for game situations at this camp, with no exhibition games, so today was the closest we've got to an actual game. Opportunities like that are huge for a guy like myself, so I've just got to take advantage of that, show [my] best, and I was pretty happy with my game today. It's a weird year, so opportunities like this, just take advantage of them.
On his versatility, playing multiple forward positions
In a season like this, it's going to be a next person up mentality and a lot of different things can happen with all of the unpredictability going on. Being slotted in wherever you are, it's being able to play that position, that role and being adaptable definitely makes that a little bit easier. I'm just working on every part of my game, so when that time comes, I'll be ready to take advantage of it.
Austin Wagner on his line with Amadio and Moore
I played with them a little bit at the end of last year too, finishing the year off we were good together. Today at the scrimmage, Moorsie and I talked about it, we're going to get a lot of chances off the forecheck. Getting pucks out of our zone, but especially getting on them hot and we scored a couple like that today…we know what's expected of us and the chemistry's building.
On the biggest differences of playing in an empty building
I think not having the fans is going to be a big one. In your routines, you don't see people walking around everywhere, but we're going to get used to that pretty quickly, we don't really have a choice. Today was good out there. They had the music going and all that and it felt like a real game, and when we have Minnesota here [on Thursday] it's going to be the same. Not having the noise from the fans is different, in an empty arena, but you can hear your teammates a lot easier. Sometimes it gets really loud in there so you're yelling a lot more, so you can just talk in there, hear the communication and chatter a bit better.
On being ready to adapt this season when players aren't available
Everybody that's in camp and everybody that's been around the team this year knows their role and knows what they have to do, so anybody can step into the lineup whenever they need to. Things are going to happen, we're prepared for it. We were told to expect the unexpected and sometimes that happens.
🚨 @AndreasA86 with the shootout goal. pic.twitter.com/G0QLQGIuib

— LA Kings (@LAKings) January 9, 2021