As we posted about earlier today, the LA Kings were joined by forward Andreas Athanasiou at this morning's skate for the first time.
We got our first glimpses of the speedy forward today, as he skated with Jeff Carter and Blake Lizotte on an even-strength line, and also was in the mix with power-play rotations during the portion of the skate spent on special teams.
As a reminder, Group A's lines from this morning are linked HERE.
Overall, Group A spent a large chunk of practice focusing on special teams, especially the power play. Drew Doughty and Sean Walker were a part of man-advantage drills, joining forwards Athanasiou, Carter, Anze Kopitar, Dustin Brown, Martin Frk, Adrian Kempe, Gabe Vilardi, Michael Amadio and Alex Iafallo.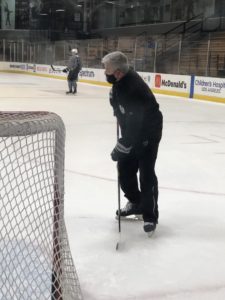 Blake Lizotte was noticeable while shorthanded, including a nice breakup & clear combination, where he picked off a pass, curled and finished with a goal the other way through traffic. Walker scored a noteable goal on the man advantage, finishing off a pass from Vilardi.
The group also ran a set of "battle drills" along the boards, featuring 1-on-1 duels, which ended the formal portion of today's skate.
Group B ran a similarly organized skate as Group A.
The highlight of the second session had to be a Troy Grosenick save, as he robbed Rasmus Kupari of what looked to be a surefire goal from close range.
Kupari did, however, score a noticeable goal early on, as he took a feed from Akil Thomas scored with a glove-side high wrister. In small-area games, Boko Imama connected with Sean Durzi for a goal, while Jaret Anderson-Dolan was noticeable with some opportunities of his own.
3 Key Takeaways
Andre-as 3000
As noted above, it was Day 1 for Athanasiou with the LA Kings for his first skate of the season. Athanasiou, by McLellan's observation, assimilated well during today's session and as a player who joins the Kings with NHL experience, the transition into a new team is that much easier.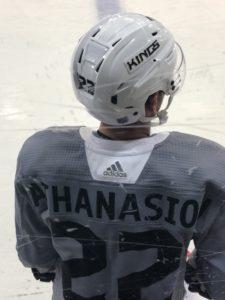 "There's a difference [with] a new player entering the team when you have NHL experience," McLellan said. "He's comfortable in the locker room, he's comfortable around the veteran players. A lot of language that the Detroit group uses is language that we're using, so he feels good in that area. He's been able to be a part of our team meetings via Zoom while he was in quarantine, so we went through everything again today. Good legs, fast, nice hands, fits our group well. Hopefully, as we go forward, he's just getting better and better with them."
As he got back into the flow of an NHL skate, Athanasiou was pretty happy with how he adjusted.
"Just trying to get those legs underneath you and get back in the flow of things," he said. "I felt pretty decent out there. I've been off the ice for however long it's been [while he was quarantining], but I felt good out there, as good as you can feel. I don't think I had any toe-picks actually, so that's a positive for sure."
Athanasiou's speed was something that was on display, and one of his linemates on the day, Lizotte, certainly took notice.
"The white elephant in the room is his speed," Lizotte said. "The guy can skate and he showed that today in little flashes. He hasn't skated in 10 days or whatever since quarantining, and he was still the fastest guy on the ice, next to Wags. It was awesome to see his speed and his playmaking ability. He's shown in the past that he can be a 20, 30-goal scorer in his league, so we're excited to have him here."
More to come here on LAKI on Athanasiou later in the week.
World Juniors
Athanasiou isn't the only player who is moving from Edmonton to Los Angeles!
McLellan shared today that four players from the World Junior Championships – Tobias Bjornfot, Quinton Byfield, Arthur Kaliyev and Alex Turcotte – have traveled to Southern California from North of the border, with the conclusion of the under-20 showcase yesterday.
The Kings Head Coach confirmed today that the players arrived this morning from their flight and are now in the testing process and protocols. Assuming that all goes as it's scheduled to go, we could potentially see those players on the ice later this week, skating with the group in some capacity.
"Again, if everything goes as planned, they're in Los Angeles now," McLellan said. "After testing, they're in their quarantine until they get another test. We're hoping, that if everything goes right and protocols are followed appropriately, and they stay healthy, that they'll be able to join later this week."
As to where those four players fit into the bigger picture, McLellan indicated separately that as he evaluates his Opening Night lineup, his roster as a whole and what a potential taxi squad situation could look like, he needs the opportunity to evaluate the younger players in camp-action before making any real decisions.
With those players seemingly close to action, that chance could come sooner rather than later.
"We haven't had an opportunity to look at the kids that are coming in from the World Juniors," McLellan said. "Are they ready? We'll find out, or we'll take the time to find out. If they are, then they will get a chance to play."
Good As Hell
Athanasiou's center, Blake Lizotte, earned himself a role on last season's Kings team out of training camp. Lizotte's hard-working mentality and energy endeared him to not just the coaches, but to fans as well, with Lizotte voted by the Kings Booster Club as the Most Popular Player last season. Though he entered as an untested rookie, he wound up making the opening-night lineup and never looked back.
Despite a more established role expected here in his second season, Lizotte is taking the same mindset, with the same point to prove, in his second go-around.
"I think coming back, I'm just as hungry as I was last year to start playing games and prove to people that I belong here," Lizotte said. "I don't think I've lost that chip on my shoulder at all, but there definitely is more of a role carved out prior to any games being played."
Lizotte has seen time with both special teams units thus far in camp. The 5-7 forward was specifically impactful today on the penalty kill, with some nifty pass breakups and interceptions.
Now as a second-year player, Lizotte feels more comfortable in training camp, and more prepared for what the rigors of an NHL season look like.
"This year [I've] been a lot more confident in myself, even just knowing the drills, it's gone a lot smoother, not having as many surprises, which is huge," he said. "Just the comfortability with [guys] like Kopitar, Doughty and Carts, just having more familiarity with them and more comfortability plays a huge role in being more confident."