Happy Tuesday, Insiders!
Off the heels of Sunday's big announcement, and knowing that more could come later on this week, let's change the pace for a minute.
While not on the ice, the Kings and Reign have done a terrific job in the local community, staying active and supportive as we approach the holidays.
Last week, the Kings and Kings Care Foundation partnered with the Salvation Army and Blue Shield of California to hold a drive-thru food and toy drive at the LA Kings Ice at Pickwick Gardens in Burbank.
The team rewarded the first 100 donors with a team-branded umbrella and all who donated were entered to win a team-signed stick. Kings alum and radio analyst Daryl Evans was on hand – in a slick throwback jersey! – to help with the cause.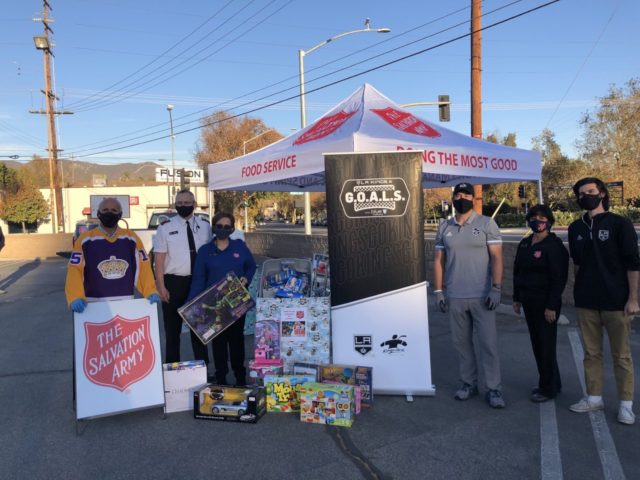 This event was made possible with the help of the LA Kings. G.O.A.L.S. program – G.O.A.L.S. is an umbrella program encompassing all LA Kings and Blue Shield of California sponsored character-building and wellness activities. By championing Green solutions, Open outlooks, Active bodies, Local leaders, and Sharp minds, G.O.A.L.S. equips children in Los Angeles with the practical skills and tools they need to lead healthy lives.
All food and toys collected were distributed to non-profit organizations around Los Angeles that serve struggling families this holiday season.
The event comes off the heels of a successful food drive in November, held to help families around the Thanksgiving holidays. Hundreds of items were collected to help fill the Salvation Army food banks around that time.
Last week's initiatives haven't been the only foray into the community however, as the Kings have been busy around Southern California. Recently, Kings players Trevor Moore and Matt Roy, along Evans, distributed mobile Wi-Fi hotspots & Chromebooks to families in South LA to help contribute with learning from home in late-November. The Kings partnered with Wells Fargo for the "TEAM UP FOR TECH" initiative.
Additionally, November saw the Kings (virtually) visit CHLA to hold up their annual tradition. Six LA Kings players – Jonathan Quick, Alex Iafallo, Kurtis MacDermid, Cal Peterson, Sean Walker and Austin Wagner – took part in virtual visits with patients.
"Our players always look forward to visiting the patients at Children's Hospital Los Angeles and this year we simply had to get a little more creative during this difficult time," Jennifer Pope, Kings Vice President, Community Relations, Team Services & Hockey Development, said. "We were able to bring a few smiles to faces of very courageous young people and we are very fortunate to have the special relationship with CHLA that we enjoy. It is also special to make this visit in November which is Hockey Fights Cancer month."
The Kings and Kings Care Foundation have been supporters of CHLA since 1992.
"The Kings' visit is a highly anticipated event and a treat for us every year," CHLA Child Life specialist Cynthia Diaz said. "The most exciting thing for a patient is being able to see and meet their idol. These visits allow the patient to still have that one-to-one interaction with the players."
On the AHL side, the Ontario Reign ran a "Virtual Teddy Bear Toss", in place of the annual December event.
With no AHL hockey until at the earliest February, the Reign set up a virtual platform to raise money for Toys for Tots and Feeding America. Thanks to many generous donations, the team was able to raise more than $9,000 from the ten-day campaign, helping to support both organizations around the holidays.
Last season, the Teddy Bear Toss collected a record 11,246 stuffed animals, all of which were donated to Toys for Tots to give to children around the holidays.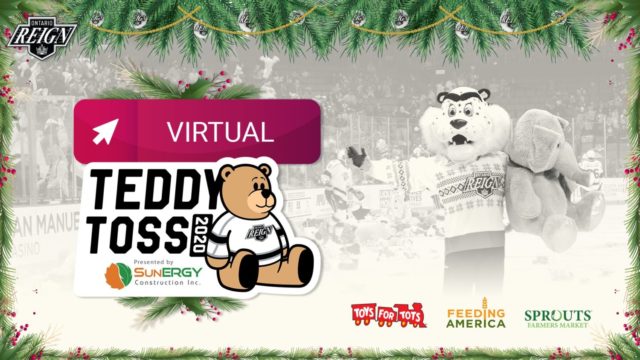 BONUS, FOX FOCUS –
Take a look at Fox Sports West's production from the Kings' visit to the Battleship Iowa in Los Angeles.