Across North America, we've seen hockey leagues ranging from the NHL to the OHL currently still deciding upon a return to action. The QMJHL however, including Kings prospect Jordan Spence, has been playing since October.
For Spence though, when you became the first Moncton Wildcat in nine years to net a hat trick, resulting in QMJHL Player of the Week honors, and are currently attending Team Canada's World Junior showcase, is simply calling it playing an understatement? More like dominating.
Bolstered by the hat trick on October 30, Spence has continued his stout play from a season prior. The three goals in a game included the overtime game winner and the 19-year-old blueliner estimated it was his first since either Peewee or Bantam hockey. Regardless, it's been a minute since he's struck three times in one game.
"I was just trying to play my game and I scored one and then all of a sudden I scored another one on the power play," Spence said. "In overtime, there was a shot lane for me to take and I took it and it went in. I think it was just my night and I was really excited after I got the hat trick, and that it was the OT winner."
While the 2020-21 season has been different in a few different ways, including reduced capacity for fans at QMJHL games, not to mention various cancellations, it's hard to say that offensive production of any variety is a change when it comes to Spence.
The reigning QMJHL Defenseman of the Year has flown out of the gates when it comes to production, with 16 points (5-11=16) from 13 games played. Spence ranks third across the league in both points and points-per-game and is tied for second with three power-play goals and six power-play points.
This, following seasons of 49 and 52 points in his first two years in the league.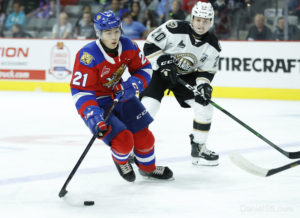 "I'm an offensive defenseman, I like to carry the puck so I think I'm a puck-moving defenseman," Spence said. "Good first pass and in the offensive zone, I like being on the power play, making things happen."
In his award-winning 2019-20 season, Spence led all defensemen across the QMJHL with 42 even-strength points, ranking in the top five in both assists and points overall and leading the league amongst defensemen with a +49 rating. An offensive defenseman indeed!
During an impressive rookie campaign in 2018-19, Spence ranked inside the league's Top-10 in both points in assists, while he was far and away the highest scoring rookie blueliner, as he finished 19 points and 13 assists clear of the closest first-year defenseman.
Though his offensive accolades have driven the narrative, and for good reason, the 2019 fourth-round selection has worked hard to improve his game away from the puck as well, and in the defensive zone.
Through his career in Moncton, Spence has worked on becoming more of a two-way defenseman than his offensive label, and his Head Coach, Dan Lacroix, has taken notice.
"A lot of little things that you're looking for from a mobile [defenseman] in today's game, he has those attributes, and he's a kid who's really improved his play without the puck," Lacroix said. "He's not the biggest player for a defenseman, but he uses his smarts to defend with a good stick and good positioning."
All of his work – regardless of zone – has paid off for Spence, with an invitation to Team Canada's World Juniors Selection camp, which began on Monday with the first intra-squad games coming up this weekend.
Born in Sydney, Australia to a Canadian father and a Japanese mother, Spence certainly had his options when it came to international play, but wearing the maple leaf on his chest was an opportunity that was too good to ever turn down.
"A lot of the guys say this, but when you're a kid, you had a dream of playing in the World Juniors and being selected to Team Canada," Spence said. "If I make the team for the World Juniors, it would mean everything to me. I'd be really excited, but with my parents, without them, I wouldn't be there, without the sacrifices they made. With them moving back to Canada, them driving me to practices, it would be a surreal moment."
Spence is one of two Kings prospects, along with recent second-overall selection Quinton Byfield, currently attending selection camp. Byfield joined fellow Kings prospects Akil Thomas and Aidan Dudas on last season's gold medal winning team.
To make Team Canada, Spence will have to stand out amongst a group of 14 of the top young blueliners in Canada, players who come from across the QMJHL, OHL and WHL, including two players from last season's team.
Considering the uniqueness of this season's tournament due to COVID-19, Canada's roster will be two players larger this season, standing at 25 instead of 23. Regardless of roster size, however, you'd have to imagine that Spence and his fellow QMJHL players might have a bit of a leg up on the competition, having played regular-season games since October, while the OHL and WHL have yet to begin their 2020-21 season.
"Obviously, I think the Q guys have a little bit of an advantage with that, just because we've been playing games every weekend, but still, I think the OHL and WHL guys are going to be ready as well," Spence said. "They've been practicing, so they'll adjust easily for sure. For me, I just want to be ready and when I go to the camp, I'll do my best."
While his absence, regardless of length, would be a loss for the Wildcats, Lacroix is confident that his young defenseman will show himself well on the larger stage.
"The mix of all the tools that he has, and his smarts, I think he'll look good playing with better players," Lacroix said. "He can move the puck to these guys that want to have the puck on their tape and get in the offensive zone. In the offensive zone, he has a good knack for the net and for guys that are open. I only see great opportunities for him playing with the country's best."
Spence and his current campmates will have plenty of opportunities to show why they belong on the final roster, including three "Red vs. White" games and six games against the U-Sports All-Stars, consisting of the best collegiate players across Canada. Once the final team is selected, Canada will play a pair of pre-tournament exhibition games inside the bubble in Edmonton.
The opportunity to represent Canada at the under-20 stage is important for the rising, right-shot defenseman. He previously was able to skate at the U-18 Tournament in 2019, as Team Canada won five of its seven games played, finishing fourth. Spence tallied three points and a +5 rating in the tournament, including the game-winning goal against Belarus in the group stage.
"I wasn't really expecting a lot, I just wanted to go there and do my best," he said. "There's a lot of experience that I learned, playing against the best players in the 2001 [birth year]. For me, it was an unreal feeling and it was an unreal time, but it was amazing for me to go there and showcase and also play for Team Canada, which was pretty awesome."
As he progresses in his development, at the QMJHL and ideally the IIHF levels, Spence has plenty to accomplish in his age-19 season, but a professional career seems probable when the time comes.
Spence signed his entry-level contract with LA back in June, a three-year deal that will likely begin in the 2021-22 season. First contracts are not a given for players selected in the fourth round, but through his production over the last two seasons it was certainly earned, and the pick is starting to look like another mid-round gem for the Kings
"I was just fortunate enough to get drafted to LA," Spence said. "They have a great organization, and for me, I just have one goal, and it's to play in the NHL one day with the LA Kings."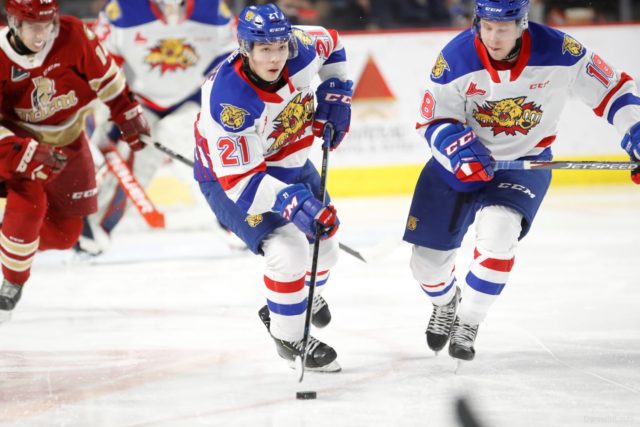 NOTE – Zach Dooley works for the Ontario Reign and is one of many contributors to LA Kings Insider during this time. Our organization understands the importance of LAKI to you and remain committed to evolving the platform and providing even more content once we resume usual operations.