The 2020 IIHF World Junior Championships was littered with Kings prospects. In fact, in the last five years, only the 2017 Philadelphia Flyers had as many (9) as the Kings had last season. This makes sense from what many consider one of, if not the, top prospect class in the NHL.
With the 2021 schedule announced and several countries having already executed camps or announced rosters for upcoming camps, let's take a look at last year, some changes to this year's tournament format, and which Kings prospects are in the mix for their respective countries.
First, let's look at what the 2020 WJC looked like. As mentioned above, the Kings entered the tournament with nine prospects who represented five different countries. Two of those players, Aidan Dudas and Akil Thomas, were part of the gold medal-winning Canadian team, with Thomas scoring the game-winning goal late in the third period of the gold-medal game against Russia. Also on the roster but not accounted for in the Kings nine prospects, was LA's second overall selection in last month's NHL Draft, Quinton Byfield.
Joining Dudas and Thomas with medal-winning performances were Tobias Bjornfot and Samuel Fagemo, who together helped Sweden to a bronze-medal effort. Fagemo, who recorded a point in every game, finished as the tournament-leading scorer with 13 points (8-5=13) through seven games to earn a spot on the Media All-Star Team.
The other players involved were Arthur Kaliyev (USA), Rasmus Kupari (Finland), Kim Nousiainen (Finland), Lukas Parik (Czech Republic) and Alex Turcotte (USA).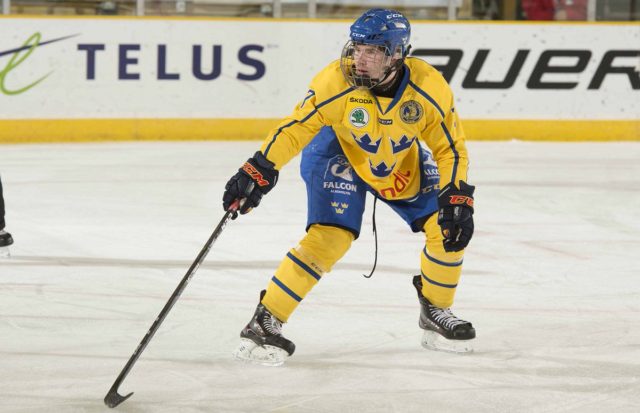 The 2021 World Juniors will be like the way the NHL handled the playoffs. The entire tournament will be in a bubble in Edmonton, with all teams playing games at Rogers Place as opposed to the originally planned city splits of Edmonton and Red Deer. The tournament is also scheduled to start on Christmas Day for the first time since the 2005 edition of the tournament. Group A will feature Canada, Finland, Germany, Slovakia and Switzerland while Group B includes the Austria, the Czech Republic, Russia, Sweden and the United States.
In total, the Kings have five prospects age-eligible to return to their respective teams for the coming tournament as Bjornfot, Byfield, Kaliyev, Parik and Turcotte all still meet the age requirement. After playing last year's tournament as under-agers in more supportive roles, all five are expected to return and play prominent roles on their rosters in this year's tournament.
Along with those five players, the Kings could see as many as six other players also head to Edmonton to compete in this year's tournament. Brock Faber, the Kings 45th overall pick this year, recently participated in the U.S. National Junior Team Evaluation Camp at the beginning of October while Jordan Spence, the 95th overall pick in the 2019 NHL Draft, will join Byfield as an invite to Team Canada's Selection Camp after posting a career-high 52 points (9-43=52) in 60 games last season with Moncton (QMJHL).
Four players selected during the 2020 NHL Draft are also a possibility to make their respective teams, including Helge Grans (35th overall), Kasper Simontaival (66th overall), Juho Markkanen (112th overall) and Martin Chromiak (128th overall). Three of those players – Grans, Simontaival and Chromiak – already have IIHF experience with their home countries while Markkanen would be looking to make his IIHF debut with Finland. Grans represented Sweden during the U17 World Hockey Challenge in 2018, helping them to a bronze medal with two points (0-2=2) in six games. Simontaival posted four points (1-3=4) in five games with Finland during the 2019 IIHF Men's Under-18 World Championship and in that same tournament, Chromiak posted three points (1-2=3) in seven games with Slovakia.
All in all, the Kings have five returners, two players who just skated in their countries prospect camps and three other players who have represented their countries in other tournaments. It is a tall task to have nine-or-more players skate in one tournament and will be interesting to see if the Kings can do it two years in a row, or maybe even have as many as 11 prospects represented.
NOTE – Eddie Fischermann works for the Kings and is currently one of many contributors to LA Kings Insider. Our organization understands the importance of LAKI to you and we remain committed to evolving the platform and providing exciting new content once we resume our usual operations.