As we are all well aware, the NHL held Phase 1 of the draft lottery last Friday and the Kings were awarded the second overall pick, moving up two spots from their initial slot in the standings. The question is, what does that mean?
This will be the fourth time in franchise history that the Kings will be picking second in the draft, the most recent being in 2008 when they selected Drew Doughty after the Tampa Bay Lightning picked Steven Stamkos. The other instances were in 1986 when they selected Jimmy Carson and 1981 when they picked Doug Smith.
Of these three, Doughty has had the most decorated career, winning two Stanley Cups, a Norris Trophy as the league's best defenseman and two Olympic Gold medals to list just some of his many awards. Jimmy Carson played his first two seasons with the Kings (he would later return for a second stint with the team), before being a piece of the trade that brought Wayne Gretzky to Los Angeles.
Here is a look at the last five players who were selected second overall:
2019 – Kaapo Kakko (NY Rangers)
Played in 66 games during his rookie season with the Rangers, amassing 23 points (10-13=23).
2018 – Andrei Svechnikov (Carolina Hurricanes)
Svechnikov has played in 150 regular-season games in his first two seasons in Carolina and during that time he has the third most points on the team with 98. He has played in every game since the start of his career last season and before this season was cut short, he was on pace for 28.9 goals and 73.6 points this year.
2017 – Nolan Patrick (Philadelphia Flyers)
In his first two seasons with the Philadelphia Flyers, Patrick posted 61 points (26-35=61) in 145 games. A highly touted player out of Brandon of the WHL, he has unfortunately struggled with a migraine disorder and missed the entire 2019-20 season.
2016 – Patrick Laine (Winnipeg Jets)
Laine came into the NHL on fire. The 2019-20 season is the only one where he didn't reach 30 goals, though he was on pace for more than 30 goals but could only play in 68 games due to the shortened season. In total, he has 247 points (138-109=247) in 305 NHL regular-season games. He was the runner up in the Calder Trophy voting his rookie year, behind only Auston Matthews.
2015 – Jack Eichel (Buffalo Sabres)
A native of North Chelmsford, Mass., Eichel was pretty much the unanimous second-best player in the draft after Connor McDavid. He has appeared in 354 games with Buffalo over his five NHL seasons, totaling 337 points (137-200=337). Since he started his career, he has nearly 100 more points than anyone else on the Sabres during that time.
Does anyone see a trend here? The thing all of these players have in common is they not only played in the same year they were drafted, but to some extent they all made a pretty significant impact on their team. Now, that doesn't mean that the player the Kings potentially select at number two will immediately play for the Kings or have the same initial impact, but history is on their side.
And if you continue to look at the remainder of list for this century, it's a fairly impressive group of All-Star players who have been selected second overall. It includes Sam Reinhart – 2014, Alexander Barkov – 2013, Ryan Murray – 2012, Gabriel Landeskog – 2011, Tyler Seguin – 2010, Victor Hedman – 2009, Drew Doughty – 2008, James Van Riemsdyk – 2007, Jordan Staal – 2006, Bobby Ryan – 2005, Evgeni Malkin – 2004, Eric Staal – 2003, Kari Lehtonen – 2002, Jason Spezza – 2001, and Dany Heatley – 2000.
In a Zoom interview following the Draft Lottery, LA Kings Vice President and General Manager Rob Blake was asked if this draft pick will accelerate 'The Plan' that the Kings have laid out for their rebuild.
"Accelerate 'The Plan', maybe at the level of player, yes," he said. "In the fact that when you are talking picks one and two in the draft you are talking very high-profile players. Now, the situation we were in, I think we knew would be in this type of situation where we would be in that lottery, so that has been factored into 'The Plan'. Hopefully this does speed it up because of the caliber and the adjustment to that player in the NHL."
The full interview with Blake can be seen below –
Now, time to talk about this draft and who will be available for the Kings. It is largely expected that Alexis Lafreniere, a forward out of the QMJHL, will be the first overall pick for whichever team ends up with that selection. So, the question is, who is left? Here are the final Central Scouting Rankings for the 2020 NHL Draft Prospects.
There will be plenty of "expert" opinions, but most pundits lean toward a handful of elite prospects and the two names that have been talked about the most by scouts as going second overall are forward Quinton Byfield out of Sudbury in the OHL and forward Tim Stutzle who played for Mannheim of the DEL in Germany last season.
Corey Pronman of The Athletic recently talked about both of these players. His scouting reports of Byfield and Stutzle can be found here.
While it appeared that Pronman is leaning toward the big centerman out of Sudbury, Stutzle's scoring prowess and speed has definitely peaked some scouts radar. Or could the Kings end up going with a defenseman like Jamie Drysdale, who helped Team Canada win gold at the most recent World Junior Championships? There are additional candidates in a deep draft, but we'll focus on those for now.
In a mock draft immediately following the lottery, TSN analyst Craig Button had the Kings taking Byfield, but when discussing Stutzle he noted "I really think he's the second-best player in the draft."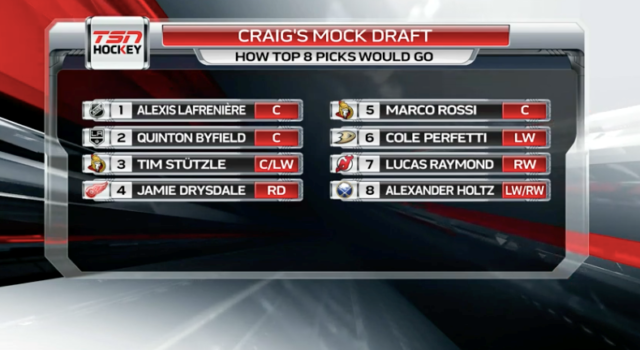 In his profile on Byfield, Button compares his potential to our Anze Kopitar and Stutzle to Patrick Kane.
Those are lofty aspirations and the Kings have a long time to decide on who they are going to go with as the date for the 2020 NHL Draft has yet to be set. One thing is for sure, there will be debate until we hear those fateful words "The Los Angeles Kings select…"
NOTE – Eddie Fischermann works for the Kings and is one of many contributors to LA Kings Insider at this time. Our organization understands the importance of LAKI to you and we remain committed to evolving the platform and providing exciting new content once we resume our usual operations.