February 5 was an important day for the 2019-20 Ontario Reign.
The team was in the midst of a 5-0-1 run, including four straight victories. And then, the news broke.
As the LA Kings continued their plan of rebuilding the roster, it was announced that goaltender Jack Campbell, along with forward Kyle Clifford, were traded to Toronto, with the ripple effect recalling Cal Petersen to the NHL to fill the void.
For the Reign, gone was their AHL All-Star netminder, their rock in net, who at the time led all AHL goaltenders in minutes played and saves. In stepped 20-year-old Matthew Villalta, with eight AHL starts to his name.
"We kind of always knew that Cal was going to be gone [at some point], so there were definitely conversations [with Villalta], that there's going to be a point in the season when you're going to have to step in and play, potentially some big games and you might have to play a lot of hockey," Matt Millar, LA Kings Goaltending Development Coach, said. "He has a lot of composure, and a lot of maturity, and [then], he had the opportunity to do it at this level after Cal left."
Villalta stepped right into a playoff hunt, with each passing game for the Reign more important than the last. The Kingston, ONT native had some big shoes to fill with Petersen's departure, but it's not as if he had small feet.
In his eight starts prior to Petersen's NHL recall, Villalta posted a 5-2-1 record, a .915 save percentage and a 2.70 goals against average, all of which compared favorably to the top first-year goaltenders across the league spread out over a full season, not to mentioned eerily similar to Petersen's rookie numbers. While those starts came with Villalta as the number two behind Petersen, leading to perhaps to less difficult draws, they were crucial in helping develop his game as a rookie.
Hello Highlight Reel! What a stop from Matty Villalta!! pic.twitter.com/WA949YJsiu

— Ontario Reign (@ontarioreign) February 22, 2020
"After that first game in Tucson [in late November], I remember thinking, okay, I think I can play at this level," Villalta said. "After that, your confidence gets built up a little bit more, you believe in yourself more and maybe you can say you're not as scared. Coming into the American Hockey League, you've got a lot of guys who can play in the NHL. I think that made things a lot easier."
While the moment was big for the team, and perhaps even bigger for Villalta personally, you certainly wouldn't have known it by his demeanor or his performance.
Villalta has a reputation as a cool, calm and composted netminder within the organization, who isn't easily phased or downed.
"His personality is, I don't want to say carefree, but he knows how to let things go," Millar said. "I think he was more focused on just being in that moment."
While getting game action, both in the ECHL with Fort Wayne and in select starts with the Reign were important, it wasn't just the games that helped Villalta grow as a player.
Practices essentially were his games early on in the season, as he played second fiddle in the crease. His play during practices in October was inconsistent, as he transitioned from playing junior hockey to the professional game, but it served as a learning moment in the long haul.
"Early on, there were days where he'd have a fantastic day of practice and the next day he wouldn't have it," Millar said. "It was figuring out how to consistently compete and be able to recharge the batteries and then come in and do it again the next day."
In his post-season interview, Villalta credited not only Petersen but also Campbell as being strong influences in his own game, in helping him to build consistency and become a professional.
Even early in the season, when game minutes were at a premium, Villalta learned a lot just by watching. He noted that just by observing how Petersen, a noted competitor during practices, carried himself at and away from the rink was a great learning experience.
"You're not just getting thrown into the net with little experience, plus you have a guy like Cal you can learn from and just watch," Villalta said. "You see how he plays in different situations and see how he approaches playing a lot of games, away from the rink, how he takes care of himself and then when he gets to the rink, everything that he puts into it to get ready for the game. It was huge for me."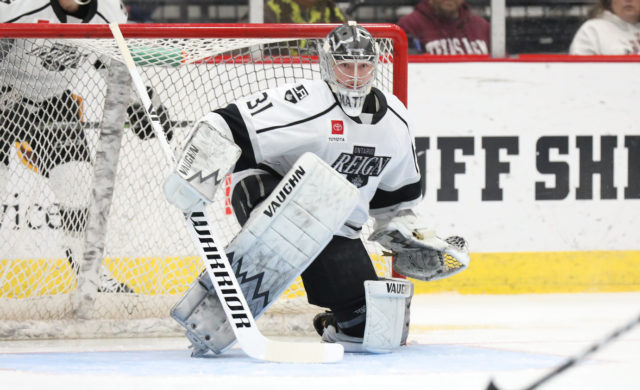 As Villalta became more and more comfortable as a professional, and continued to learn from those around him, he began to establish himself within the Kings organization. The Reign went 4-2-1 in the seven games between the Petersen recall and the trade deadline, with Villalta playing six of those seven games. As a result of his strong play, Kings General Manager Rob Blake had taken notice, both at the deadline and after the season ended.
"Matty Villalta's been real good since Cal came up here," Blake said at the deadline. "He's handled a lot of workload and he's been doing a good job of that too".
Blake went on to add during a post-season conference call that Villalta "really took charge" once he became the starter in Ontario, and looking ahead, he will be expected to continue to hold that role into the 2020-21 season.
Now that the AHL season officially concluded, and the Kings not qualifying for the NHL's extended postseason, preparations for 2020-21 have begun. Villalta's focus is on increased strength, to add to his already impressive mobility.
"The biggest thing he's working on right now is his strength," Millar said. "His agility and quickness are exceptional, and I think adding an element of strength to have better control, better command of the crease to better deal with traffic situations and plays that are tight to the net. It's actually nice that there's no ice right now, so he can just focus on getting that strength and that endurance. When he comes back, he's going to have a brand new energy so when he hits the ice, he'll hopefully be impressive."
With the goaltending tandem appearing to be set with the Kings, consisting of Petersen and Jonathan Quick, the starting role with the Reign should be Villalta's to claim. Goaltenders Cole Kehler and Kevin Poulin are both free agents, though young netminder Jacob Ingham could enter the equation as a first-year professional, having recently signed his entry-level contract with the Kings. The door would also be open to add a veteran into the mix, whether Poulin or someone else, to share minutes in the AHL with Villalta, and provide potential cover at the NHL level.
Regardless of his goaltending partner or role, regardless of when the 2020-21 season actually commences, Villalta will be well versed for the task at hand.