March 24, 2020 – Day 12 of Quarantine
A fine Tuesday to you – if that is, in fact, what day it is. I'm being facetious, but the schedule we're currently on is even more warped than the dog-days hockey schedule when the grace and leisure normally reserved for weekends instead applies to four hours on a Monday afternoon.
In today's cleaning, reorganizing and making do, I found an old phone that was basically a time machine to the 2015-16 and 2016-17 seasons. (Not a great selling point!) My favorite audio file on it was the post-game scrum from the first game of the '16-17 season when Darryl Sutter scoffed at the preposterous thought that Jonathan Quick going down with an injury 20 minutes into the season provided some "early adversity." Only a fool would think that! Anyway, there's some interesting jockeying for a narrative in that scrum, one of many below culled from LAKI's archives.
We also reorganized the garage, which meant folding and stacking a bunch of old rec league jerseys that will probably never be worn again.
Throw up your own rec league jersey in the commenting!
More hockey to come, Kings fans:
Tripleheader of @LAKings action today!

–Noon PT: 2014 Kings vs Sharks Game 7 (NBCSN)
–5:30 PT: @BaileyLAKings Twitch stream vs Dallas https://t.co/zOwfSoM0Bm
–7:30 PT: Kings vs Devils from Feb 29, Mikey Anderson's debut (@FoxSportsWest)

Happy hockey, everyone! 🏒#GoKingsGo

— Alex Faust (@alex_faust) March 24, 2020
And, if I may recommend a book, check out Stealing Home by Eric Nusbaum, the writer whose Anze Kopitar Sports Illustrated feature in the fall of 2014 was very well received. A detailed interweaving of stories connected to the lives impacted by the tug-of-war for control of the neighborhoods in around Chavez Ravine and Elysian Park prior to Dodger Stadium's construction and the eviction of the Mexican-American families living there, Stealing Home is available at online booksellers, starting here. Tom Hoffarth of the LA Times caught up with Nusbaum to review the book.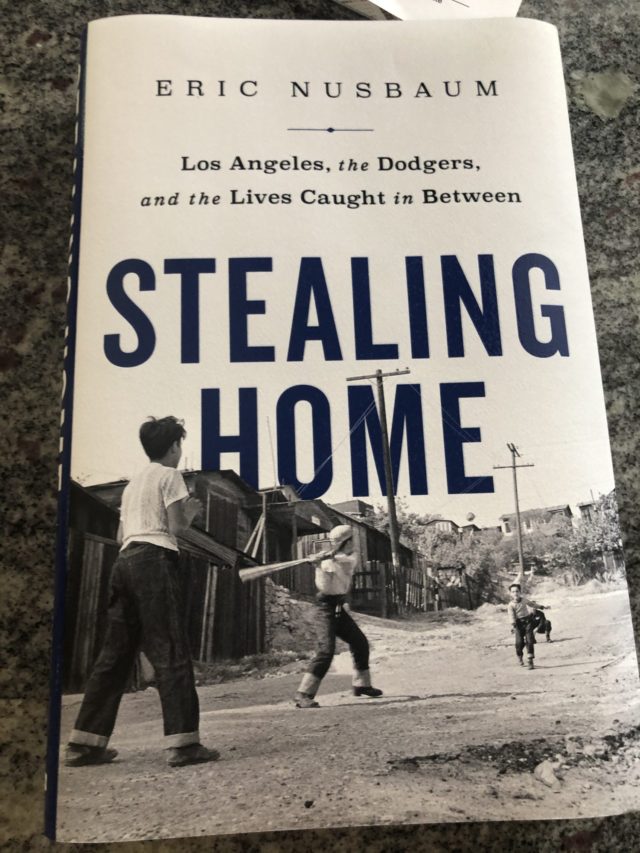 Some vintage (as in 2013-18) audio is below, starting with a Dean Lombardi interview two weeks before he traded for Marian Gaborik.
Dean Lombardi, January, 2014, to Monarchs radio color commentator Chris Ryan:

Logan Couture, speaking the morning of Game 7, April 30, 2014:

Mar-ti-nez? He's HOT.

Wild Salmon:

Willie Mitchell, on facing the Kings and Los Angeles restaurants he misses:

Mike Richards Washington press scrum, February 15, 2015:

Darryl Sutter press scrum after losing Jonathan Quick to a serious injury in the season's first game:

Dieter Ruehle on Kobe Bryant:

Capitals GM and Kings alum Brian MacLellan on roommate Jim Fox:

Bob Miller on the LA Kings' history in Montreal:

Bob Miller on Dr. Jerry Buss: