A fine mid-day to you from El Segundo, Insiders. Some quick notes to start the day, beginning with today's lines and pairings:
Iafallo-Kopitar-Brown
Kempe-Lizotte-Frk
Moore-Vilardi-Lewis
Prokhorkin-Amadio-Wagner
Hutton-Doughty
Amderson-Roy
MacDermid-Walker
Ryan
— It was a lively March 3 practice. There was a good pace, a good energy. I noticed some Anze Kopitar and Drew Doughty friendly bumps and jostling prior to a drill, which was ended by a Kopitar goal – and a stick in the air. Later, net-front work that resulted in a goal sparked the second celebration in five minutes: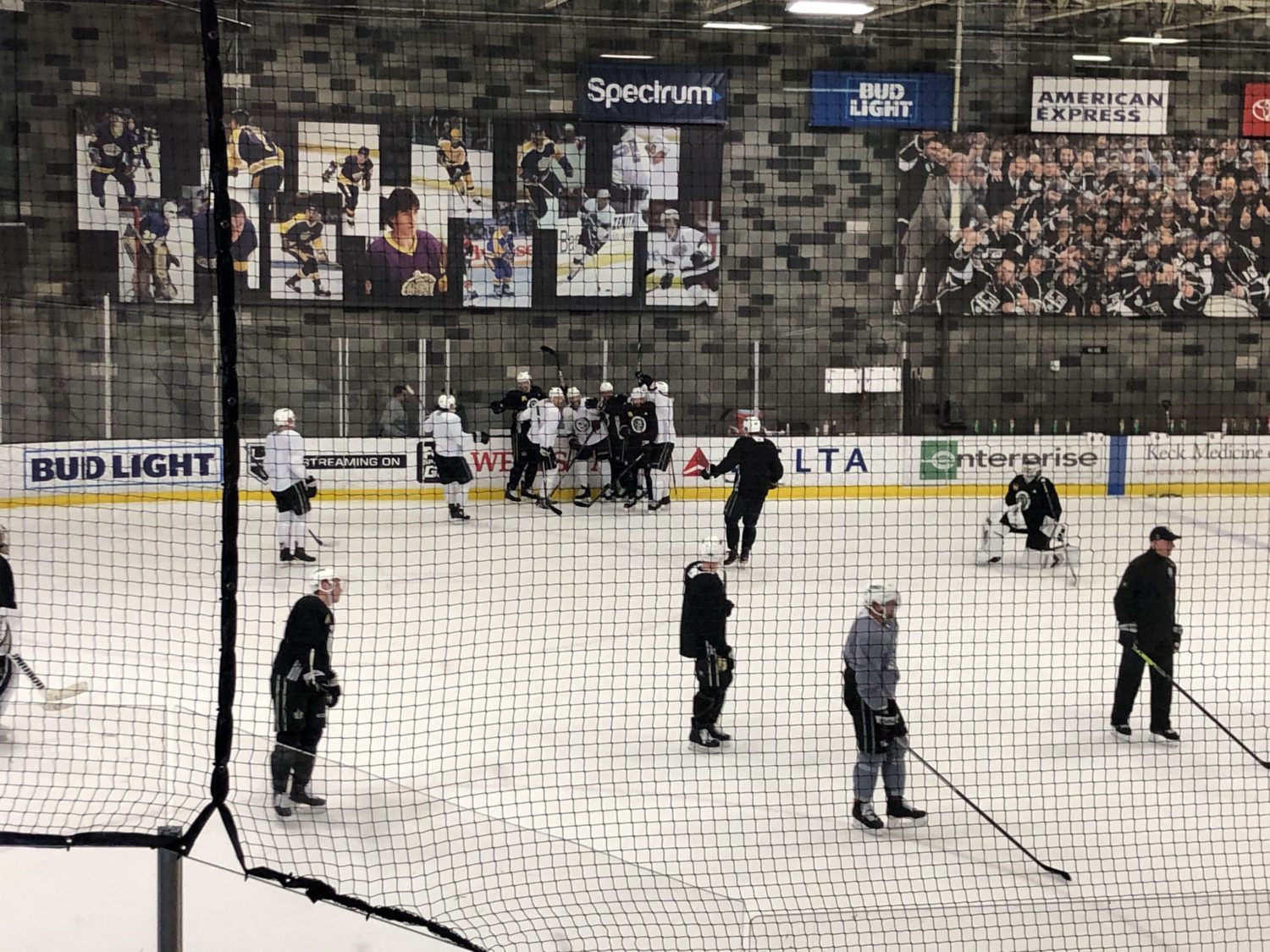 — Jeff Carter's not on the ice. We'll get a post-practice update. The latest, on Sunday evening, was that Carter (lower-body) skated on his own that morning, "and it wouldn't be deemed successful."
"We don't play 'til … Thursday, so we'll worry about that when we get back," McLellan added.
— Anze Kopitar, on what he saw on his beautiful second goal at Vegas: "I don't think he saw it coming off is pad because Brownie was in front of him, so i figured I'd just get it to the side and get it in somehow, you know?"
— Via Mark Masters, Jack Campbell starts in San Jose tonight.
Lines at Leafs practice

Hyman – Matthews – Marner
Nylander – Tavares – Kerfoot
Clifford – Spezza – Kapanen
Engvall – 🐐 – Malgin
Mikheyev

Dermott – Holl
Marincin – Barrie
Rosen – Sandin
Rielly – Liljegren / Ceci

Andersen
Campbell

— Mark Masters (@markhmasters) March 2, 2020
Leafs injury updates from Sheldon Keefe

on Morgan Rielly & Cody Ceci: "We're looking at next week for both of them"

on Ilya Mikheyev: "It's very much looking like he's going to be back this season, which is very good for us"https://t.co/UKnmDWntra

— Mark Masters (@markhmasters) March 2, 2020