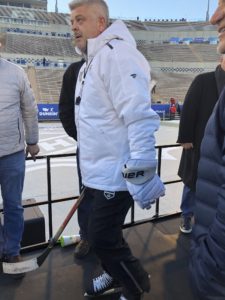 Good evening from our Colorado Springs hotel, which welcomed the team after an early evening practice at Falcon Stadium. Judging by our pre-scouting, we might be in store for a tremendous sunset during Saturdays first period. Photos are below; there's much more to come. First, lets start with Todd McLellan, who addressed the media without the white jacket that drew some fashion commentary online. "Now I'm cooling off," he said. "It was warm out there."
McLellan answered questions both broad – is this a game to show you're better than the standings say? – and more acute, like who'll be getting into the lineup. "We could be making one change, we'll see," he said. "We'll know a little bit more tomorrow."
"We've got 23 players, we're putting them all on the ice. That's what they come here for. They're all going to feel the warm-up. Unfortunately, we can't play 23. But once the game starts, we're playing to win, and if you're playing well, you're going to get extra minutes, and if you're not, we're probably going to shorten the bench a little bit, regardless of eight games in the league or Brownie's 12-hundred. Play to win, enjoy the environment, take it all in, have stories to tell your kids and your family later on down the line about this game, but let's keep it as positive as we can and tell good stories later on."
Forward lines depicted groups of Iafallo-Kopitar-Toffoli, Kempe-Carter-Frk, Moore-Lizotte-Brown and Wagner-Amadio-Lewis-Prokhorkin. Jonathan Quick is the confirmed starter. Theres more good stuff from Todd McLellan below.
— Saturday will mark the third Stadium Series start for Jonathan Quick, who was pretty good in the first two. He got no run support against Anaheim, stopping 18 of 20 in a 3-0 loss at Dodger Stadium before rebounding with 31 saves in a 2-1 win over San Jose at Levi's Stadium the following year, giving him 49 saves on 52 total shots.
That experience must count for something, but this event is different. It will not be played in the plush, accommodating confines of massive metropolitan professional sports venues, but in a much more intimate setting at an altitude that those not around for the 2014 preseason trip or who didn't travel to Colorado Springs to play college hockey will experience for the first time. "If anything, it's the air," Quick said. "The altitude, the air's pretty thin. You notice that."
Signs near the dressing rooms and in tunnels underneath the stadium warn of dangers of hypoxia. The listed elevation – also in foreboding signs – is 6,621 feet above sea level, well above Denver's mile-high altitude. "I have a son that plays at DU," McLellan said. "Watched him play here at CC (Colorado College) last year, and even for them, the added 800 feet or whatever it is is a factor."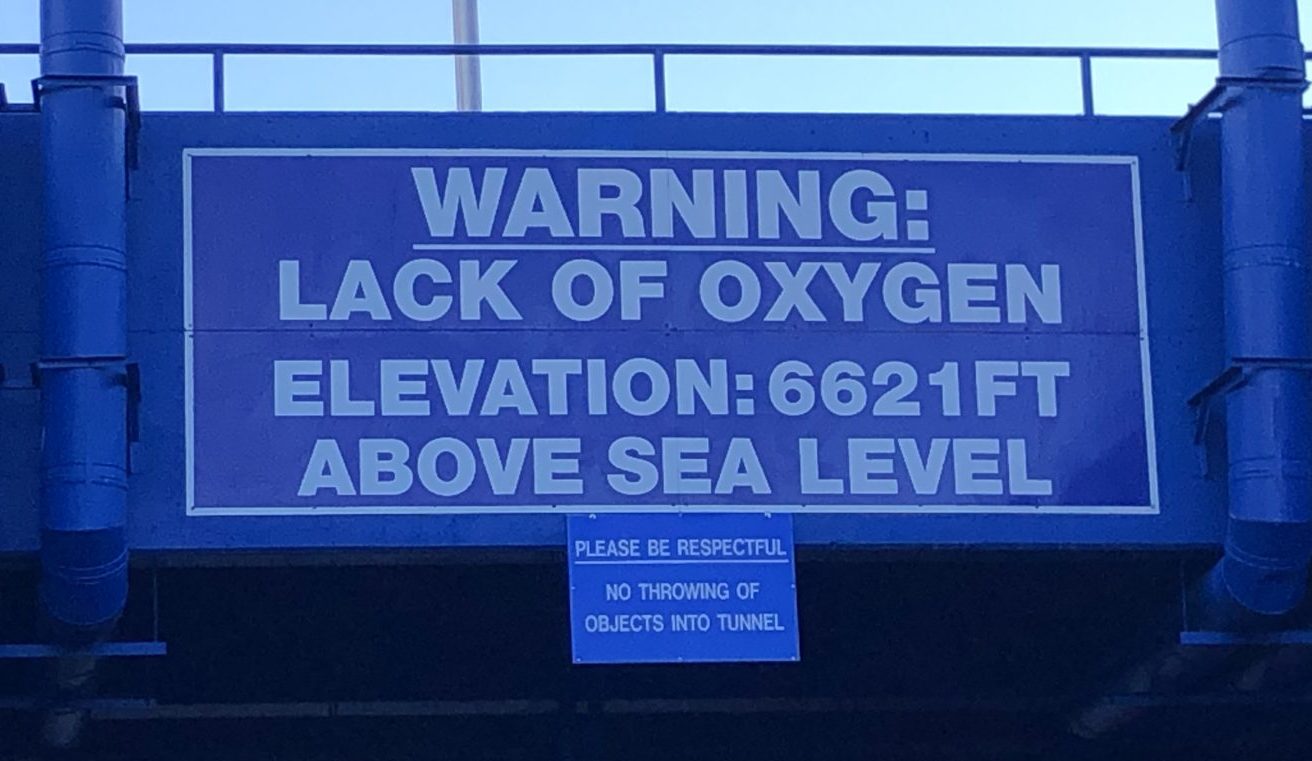 "There's no adjustments you can do, right? I guess you've just got to breathe. Just deal with it," Quick said.
"It's really cool out there. It's a great set-up. The ice was great, I thought. The lighting seemed fine, too. I know it'll be a little darker tomorrow, just because it's a little later, but yeah, I thought the ice and lighting seemed really good."
It will also drop from an expected game-time temperature in the low-30's to the upper-20's, so don't expect a reprise of Dodger Stadiums tank-topped yoga sessions. That makes for better ice, though, and while it's not going to grade favorably against the sheet at Northlands Coliseum, c. 1985, players on both sides seemed to speak favorably about it. The ice failed to draw rave reviews in both Los Angeles and Santa Clara.
"I think the ice might've been a little bit better than the past games, but it's hard to tell right now until you get into the game," Drew Doughty said. "But it feels a little bit better than the past two."
We also got some good Quickie personality when he was asked whether he got a chance to check out the fighter jet at ice level. There's also a good one-on-one with Nick Nickson that's very much worth checking out in this soundbite:
Todd McLellan, on playing at a high altitude and how it will affect shift length:
It will come into play for our team, there's no doubt about it. Our guys felt it today. We don't train at this level, we haven't played at this elevation. I have a son that plays at DU. Watched him play here at CC last year, and even for them, the added 800 feet or whatever it is is a factor. So, it will be a factor for our team. We'll try and keep our shifts short as I always want to, but we've got to manage it and we've got to deal with it. There are some red faces and some tongues in practice today, but that's OK. We know where we're at and we know we have to deal with it.
McLellan, on an opportunity to show they're better than where they are in the standings:
For us, we can talk about the standings, the wins, the losses, the points. Our self-evaluation is fairly honest in the locker room, whether that comes from coaches or the players. We believe that a lot of nights we're doing things right and that we have an honest effort. I've said this to our LA media a million times already: We have an honest group. We have a group that's proud. You can tell there's champions in there. They have those qualities that haven't gone anywhere. It's just some nights we're short a goal or we happen to give up an extra one, but they're a proud group and they continue to compete. The standings themselves, wins and losses, we don't need to bring that up. We'll evaluate more on the input into the game, and we let the players have a say in that, as well. I think the group believes we're moving it in the right direction. There are nights that it's really frustrating and guys are down. They don't get the reward for their effort, but that's also part of going through what we're going through. We know we're going to have those stages. When we do get wins, we celebrate wins, we enjoy them. The other night it was important for us to get that win, and the guys were happy, and hopefully it'll carry over into tomorrow and we'll have a good effort.
McLellan, on whether an event like this can lift the trade deadline "cloud" off the team:
I sure hope so. For both teams. The Avalanche are going through the same thing. They're wondering who's coming, who's going. The whole league is a little bit on edge, but in our case, it's clear what we're trying to do as an organization, and there are some individuals that are truly affected by it. Their names are on lists and talked about for months now, never mind the last two weeks. But as it gets a little tighter, it becomes more stressful for a lot of people. But this event, I think, is a really good thing for us right now at this time of the year. It's a little bit with a distraction. There's an energy around the team and around the building and what a great job they've done here already with the stadium and prepping it. We had a popular practice today, I thought. You don't always get that in the middle of February when you've played 60 games already and travel all over the place, so it was nice to see. So I'm hoping it's a positive for us. I believe it can be.
Photos from today's practice and media sessions: