The Ontario Reign are gearing up for a big weekend ahead against their third-place counterpart in the Central Division, the Iowa Wild.
On tap this weekend…….TEDDY BEAR TOSS!!
It's the annual Teddy Bear Toss in Ontario – After the first Reign goal of the evening, the stuffed animals will fly down upon the ice at Toyota Arena. Last season, it took just over a minute for Matt Moulson to find the back of the net and the bears to fly, with a total of 9,121 bears accrued in total. Hoping we see another Reign record this weekend!
Two players that will be eligible to score that Teddy Bear Toss goal are Rasmus Kupari and Tobias Bjornfot. Both players are expected to play both Reign games this weekend, Saturday and Sunday, before they will depart on Monday to represent their countries at the World Juniors.
Both players are in their first seasons of North American professional hockey and their Head Coach Mike Stothers, is excited for both to take the opportunity.
"We're just happy that they're going and getting that experience," Stothers said yesterday. "We've got a good representation throughout the organization for a high-marquee tournament, so I think that's awesome for everybody. Both of them have come a long way since rookie camp, it seems like it was so long ago and then the other side you look at it and it seems like it was just yesterday that we were looking at them there. I think they've found it to be a little more difficult than maybe they were anticipating, playing pro hockey against men. They're both still teenagers and it's not as easy as you think. They've had some ups and downs, there's been some games where you see what's down the road in the future, and there's other times when you think 'oh okay, that's why they're here, they're not quite ready yet.' I think that's good for them too. Things coming too easy too soon is never a good thing."
For Kupari, this marks a rare opportunity for a player to defend a title. The 19-year-old forward is a two-time veteran of this tournament and helped lead Team Finland to a gold medal last season, as he defeated Mikey Anderson and Team USA.
"Yeah, I think it's my last time to be [eligible] to play in the World Juniors, so it's exciting," Kupari said. "I can't wait to play there and show how I can play. I'll try to do my best and play for the team."
Kupari tallied five points (1-4-5) in the 2019 edition of the tournament and also skated in five games with Finland in 2018 as a 17-year-old. Kupari collected an assist in the gold-medal game, which ended on a Kappo Kaako game-winning goal with just 1:26 left in regulation.
For both Kupari and Bjornfot, the tournament will represent a switch. Both players go from being the kids, as they are in Ontario, to being two of the more accomplished players in the entire tournament. Both have held their own, and played heavy minutes, with Ontario this season in the AHL, with Bjornfot also making his NHL debut with Los Angeles in October.
"I think it's going to be a little bit different, bigger rink and younger guys," Kupari said. "It's going to be a little bit different, but I've played in this tournament twice, so I think I know what to expect. Just play my game and play for the team."
Both players are looking forward to representing their nations at the tournament. Kupari called playing for Team Finland "a big honor" and will be expected to be an offensive leader for his native Suomi. Bjornfot would be making his World Juniors debut, but as an 18-year-old with NHL and AHL experience, would still be expected to be a leader and a contributor with the team.
"Yeah, that will be fun," Bjornfot said. "I have some good buddies on that team too, so it will be so much fun, going to have a good time….it's a big honor to play for Team Sweden, of course. It's huge for me."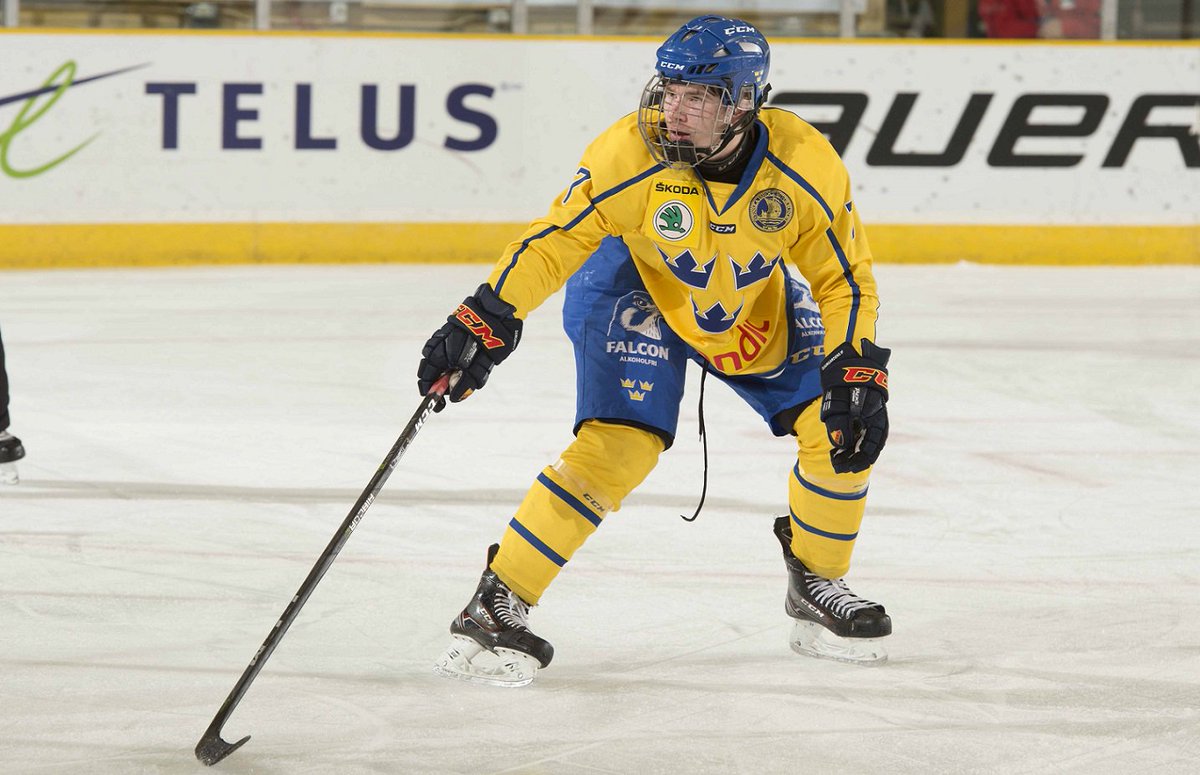 So who fills the void in Ontario?
When asked, Stothers noted it's not a matter of just plugging and playing the same roles. The opportunities vacated will create chances for several players to step up and into over the 5 – 10 games that Kupari and Bjornfot will miss.
"Well, I don't know if we're going to be able to just replace them, to be honest with you," Stothers said. "Both of them get top minutes and obviously when you remove players from your lineup, it's hard to just insert players and think that they're going to replace what you had, but it is an opportunity for others."
From a numbers front, defenseman Markus Phillips has been reassigned from Fort Wayne to Ontario to provide defensive depth in the absence of Bjornfot. With the Swede departing on Monday, it would have left the Reign with just six healthy blueliners – Insert Phillips, who has played 20 games with the Komets since he joined the ECHL club in late-October.
Phillips has amassed six points (0-6-6) from 20 games played with Fort Wayne, including his first career professional point, an assist, on October 25. Phillips skated in one game, his professional debut on October 12, with Ontario and could see more action with the Reign playing five games over the next eight days.