You wouldn't think twice about a right-handed shot forward playing on the left wing, or a center shifting to the wing, but when a defenseman switches sides? Chaos ensues.
But why?
Some coaches will insist upon a left-right system and will refuse to deviate. Others, such as Reign Head Coach Mike Stothers, do not buy into that philosophy.
"Some coaches are adamant, they like to have their lefty-righty, they're just more comfortable with that setup. I've never been that way," Stothers said.
It's a process that's done all the time with forwards. Frequently you'll see a line with two centers, or a winger playing on their off-wing, but it's frequently rejected with defensemen, even if doing so would allow a team to field their strongest group of six at the same time.
"That's why sometimes you move a centerman to the wing, because you want your best lineup possible," Stothers said. "So, why can't you do it on the backend, that's my philosophy."
Enter in defenseman Kale Clague, who helps Stothers to buck the trend.
Kupari ➡️ Clague ➡️ Kempe ➡️ 2-0! pic.twitter.com/wDCZMm9MYG

— Ontario Reign (@ontarioreign) October 6, 2019
Clague is a left-shot defenseman who has played on the right side for nearly his entire professional career. Clague began last season on the right, paired with Alex Lintuniemi before he was promoted to the Reign's top pair, alongside Kurtis MacDermid, after Sean Walker was recalled to the NHL.
Clague finally played a game on the left side, on opening night, with Paul LaDue as a partner but an injury to defenseman Sean Durzi pushed Clague back to the right, where he partnered with Mikey Anderson on Saturday evening, a unit that has remained constant throughout the week.
"I'm comfortable with both," Clague said. "At this point, I've been playing the right so long that I enjoy playing on the right, maybe even more. I'm pretty comfortable [with] both."
The versatility that Clague has shown will only serve to boost his NHL stock. As the second-year defenseman continues his development, his ability to play both sides of the ice effectively will make him a much more appealing and available callup to the NHL, if and when the opportunity arises.
Clague was slated for a recall in March of his rookie season, before a broken foot ended his freshman campaign the day before his scheduled opportunity with the Kings. His ability to play either side of the ice makes him one of the top defensemen on the Reign available to be called up, not just one of the top left-sided defensemen.
"I'm sure he's more comfortable on the left side and in a perfect world, you'd like to have him on his preferred side but I like to think of it as we're in the American Hockey League and we're trying to develop players," Stothers said. "Part of that development is fast-tracking them or getting them as prepared as possible, as quickly as possible to play in the NHL, so if you can play both sides, that makes you even more valuable, not many guys can do that."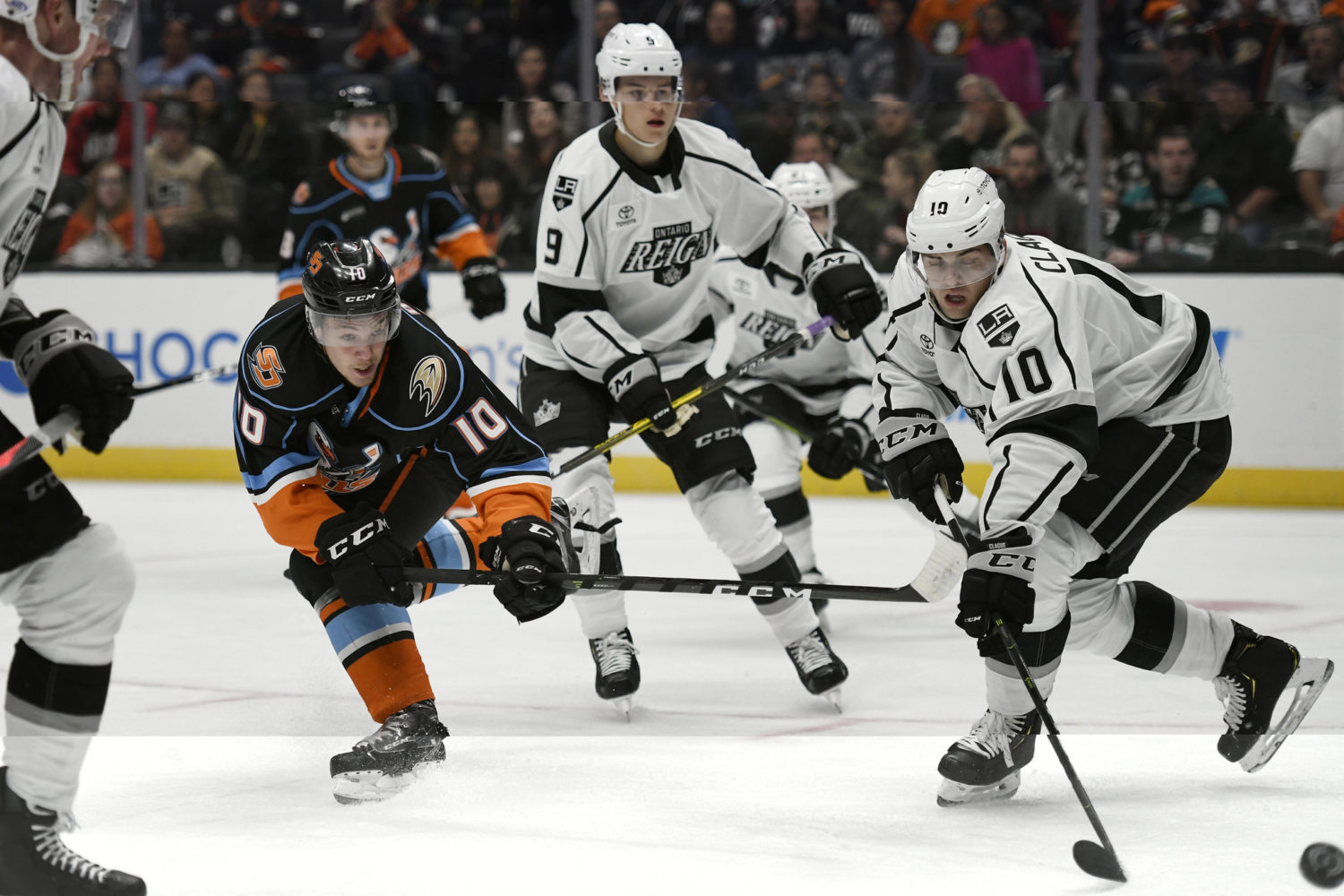 To see an example of such versatility at the NHL level, look no further than Alec Martinez, who has frequented both the left and right sides for the Kings.
Martinez has paired recently with the right-handed Matt Roy, which puts him on the left side but frequently played alongside Jake Muzzin last season, which moved him over to the right. Having the versatility to do both increases opportunity both for callups and ice time at the NHL level.
"Marty does it for the Kings, he plays the left side, he plays the right side," Stothers explained. "I'm sure Marty has a preference on which side he plays, but if you were to ask Marty, he doesn't care, because he's getting minutes and that's the way I'd like Kale to approach it. Wherever you're needed, you fill that role, you do that job, you're going to be rewarded."
Another facet of Clague's versatility is his ability to play alongside multiple defensive partners. As mentioned above, Clague has skated with two partners already this season through two games, and had two primary partners a season ago, with Craig Wyszomirski sprinkled in after MacDermid joined Walker in the NHL. The Alberta native said that talking well on the ice makes the transition between linemates easier for all parties.
"Obviously it's a little different, each guy, but the key thing is just to talk," Clague said. "For me switching from Laddy to Mikey, I played the left side with Laddy and now I'm back on the right side with Mikey, so I think I'm comfortable either or. The key thing is just talking and sorting things out like that."
Stothers hopes that Clague will view the situation with a similar outlook to Martinez, who is now in his twelfth season of a successful professional career.
With the abundance of defensemen in Ontario, many of whom have NHL games or are pushing to get them, anything that can make a player standout from the pack can only benefit his case.
"I just feel that if you're that good, as say a Kale is, he can play both sides, what difference does it make?" Stothers said. "Kale's a pretty talented guy. The way he can skate, it shouldn't be that much of a hinderance for him and like I said, he should welcome it and go 'okay, I'm that much more valuable in the long run.'"
Clague got an extended look in preseason with the Kings, as he appeared in three NHL preseason contests before he was assigned to Ontario and will almost definitely get his NHL opportunity in the regular season at some point in his career in the Kings organization.
If he is able to build off of his strong start to the season, a plus-4 rating with an assist from two games – with the Reign, it wouldn't be surprising to see it come sooner rather than later.