Happy day before Opening Night, Insiders!
Lots to catch up on as we approach the beginning of the 2019-20 Ontario Reign season tomorrow evening at Toyota Arena.
Roster Moves –
Staying – Lance Bouma and Jacob Doty have signed PTO's with the Reign, and will open the season with the team. Bouma is back in North America, after his 2018-19 season was cut short by an injury suffered in Switzerland, while Doty earned a PTO with Ontario after he spent the bulk of last season in the ECHL with the Allen Americans.
Ontario Reign Head Coach Mike Stothers praised the imposing element that Doty brings to the Ontario lineup as a big reason he earned a PTO, while others did not.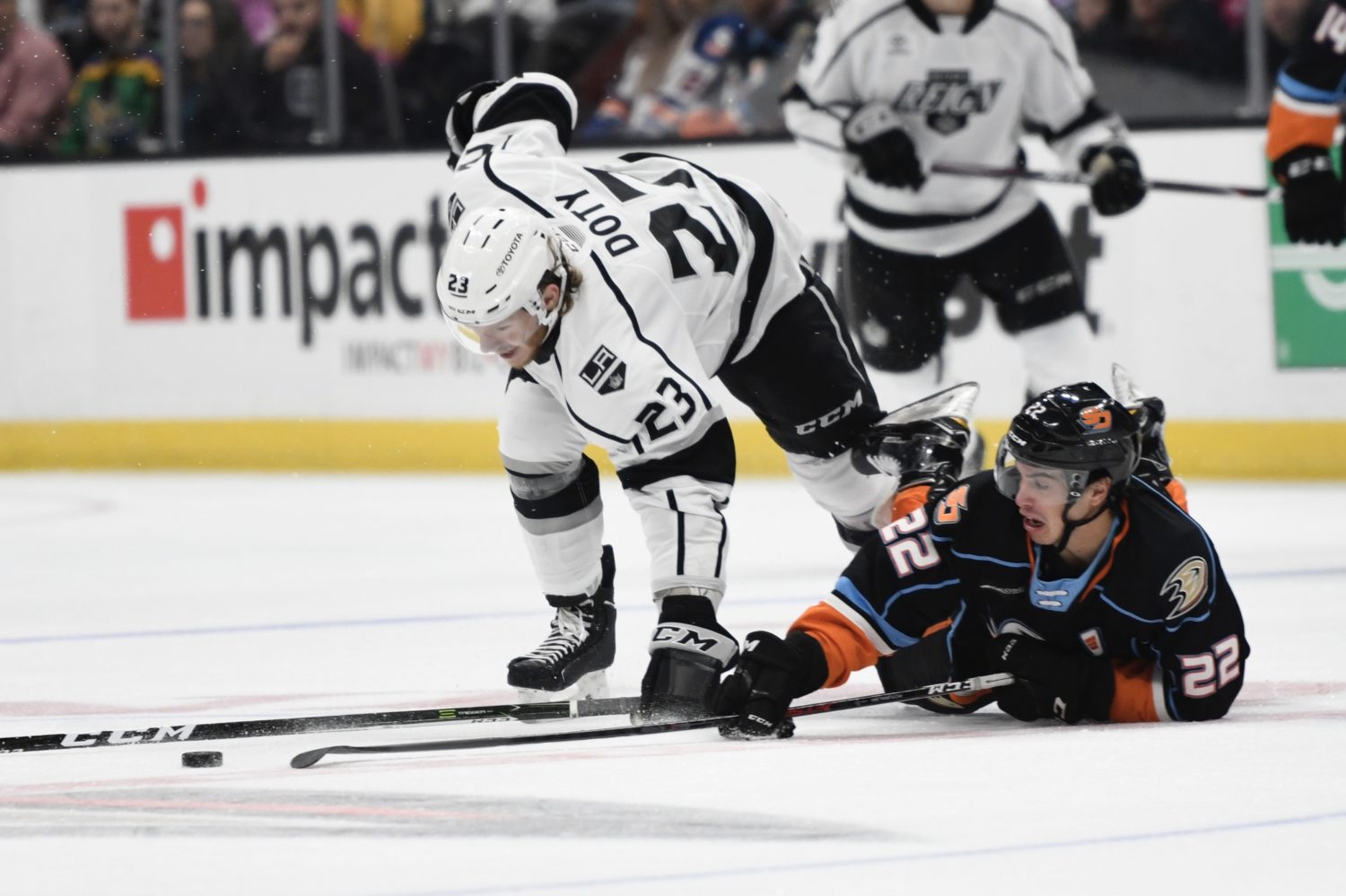 "He's got a good right hand," Stothers said of Doty. "I mean, he handled himself very well against who could arguably be the toughest guy in the American Hockey League in Gazdic. And it wasn't a fluke. You can tell that he's done it before, he knows exactly what he's doing to help the team and protect his teammates and be a good role model for his teammates. I had the luxury of seeing him play when he was in Medicine Hat, when I was in Moose Jaw, and he knows what he's doing. He's honed his craft and through that, he gives us an element that we might not have had when you lose a guy like Dermy, because everybody talks about him. When you're playing the visiting team, that's all their coaches are talking about, they're all like 'is MacDermid playing tonight, is he in the lineup.' So you know their coaches are thinking about him, which means their players are thinking about him. Now, not everybody might not know Dots, I'm sure the word's gotten around, but as the season goes on, they'll become familiar with him. He just gives you a little bit of confidence for these young skill guys. You take three of our centermen down the middle – JAD, Kupari and Prokhorkin – they're skilled guys. It gives them the confidence that they have a little more room on the ice, maybe not be as closely checked as otherwise, and we've got Boko too, but it's not just one guy. We always tried to stress that with Dermy, he doesn't have to do all the dirty work. If we stick together as a five-man unit on the ice, we can be just as strong and hard to play against. But it's nice to have Dots here."
Heading to the ECHL are AHL contracted skaters Mason Bergh and Max Gottlieb, as well as NHL contracted goaltender Cole Kehler. All three have reported to the Fort Wayne Komets. Additionally, four players, Olivier Galipeau, Shawn St. Amant, Matt Boudens and Joseph Garreffa, were released from their training camp try outs.
Lines –
Here's how the Reign lined up this morning in their final skate before hosting San Jose tomorrow evening.
Kempe – Kupari – Luff
Sutter – Anderson-Dolan – Rempal
Eyssimont – Prokhorkin – Frk
Sodergran – Bouma – Imama
Morrison – Doty
Defensemen: Anderson, Brickley, Clague, Durzi, LaDue, Phillips, Reddekopp, Stanton, Strand
Petersen / Villalta
One day at a time……
If you're wondering whether that seems like a lot of defensemen, you are not alone. That's nine blueliners, all of whom can stake a claim for being worthy of one of the six defensive spots in the lineup. Quite the conundrum for Stothers, who had the following to say about his glut of options on the backend.
"One day at a time. That's all you can do. We know we're going to get nicked up, banged up, injured. We know that, probably, the Kings can't stay healthy all season long, so guys will be up and down. It's, right now, a number and that's all it is. I'm sure it will resolve itself in time, but right now there's nine guys. I agree with you that all nine can play, so that's a tough decision that we have to make as a coaching staff and it's also even tougher to have to tell three very capable guys that they're not going to play on a particular night. That's one of the toughest jobs that we have as coaches, nobody likes telling somebody they're not going to play, but that's part of it."
New Numbers!
Paul LaDue will slide back into his Ontario Reign number 6, which pushes defenseman Sean Durzi into number 37. Take a look at the full number list for the 2019-20 Reign in this nifty video.
Practice Quotes
Mike Stothers, on the week of practices heading into Opening Night
I thought it's been a great week of practice. It's been a busy week, because…typically the way things work out, Sundays are a lot of times the recovery day but we actually practiced, we played Monday night, which was a pretty hard-fought and entertaining exhibition game, and then we practiced Tuesday, Wednesday, Thursday. That's a lot of practice, it's kind of nice to sprinkle in a game to keep the guys sharp. They kind of get, believe it or not, a bit stale if you practice too long in between games, but it's the start of the season, everybody's excited to be back, everybody's looking to get going. It's been a long way off for our entire organization and everybody's come in with the right attitude that we're not looking back, we're looking forward.
On facing San Jose on Friday
It's going to be a good test for us against San Jose. We know, from seeing them at the rookie tournament, that they can skate. They're highly skilled, they have a lot of Europeans on their team, they have the skill to make plays, followed up by Bakersfield, who had a terrific year last year. It'll be a good test for us.
On if he feels like he's been able to get everything he's wanted to into practices, despite the shorter on-ice period
I don't know if it's a shorter time span. You can have an ice slot of an hour and a half and you can drag it out to use the whole hour and a half and say "oh wow, that was a long practice", but you can still get the same amount of drills accomplished in an hour or an hour and 15 [minutes]. To be honest with you, usually at the start of the year your practices go a little bit longer, because you're trying to instill the systems and get everybody on the same page with how things roll, even just the drills themselves. As the season goes on, they're used to doing them, you attach a name to them and say we're going into [Insert Drill Name Here] and they know exactly what they're doing. Just because you have the longer slot, doesn't mean you have efficient practices. If you've got an hour for practice, that's how long a game is, three, twenty-minute periods, right? So you jam it in and keep them going. As a coaching staff, I don't think we've come off the ice yet and looked at it and thought we've left something on the table that we didn't get into, or need to get in the next day, so that's good. We're trying to have the guys take shorter breaks, we're trying to spend less time at the whiteboard, so it's been good. I think it's been awesome.
On if the shorter practices up the intensity
Yeah, it keeps whatever pace you have and you don't lose it. I think the players know that they themselves want to get everything in, so they seem to be a little bit more attentive. I guess the biggest challenge is, we've started practice at 9, sometimes a little bit before, which is probably an hour or two hours earlier than what you're accustomed to, so that's been a little bit of an adjustment. I think the guys have actually welcomed that as well. They get in, they get their work done and they've got the rest of the day to enjoy what California has to offer, the weather, they can do things outside. I think it's a real positive for everybody.