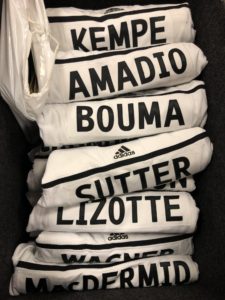 [howling]
Expect the following split-squad lineup in Glendale, Arizona:
Grundstrom-Amadio-Wagner
Sodergran-Lizotte-Fagemo
M. Kempe-Thomas-Dudas
Frk-Sutter-Bouma
Martinez-Roy
MacDermid-Walker
Anderson-Strand
Campbell
Villalta
Paraphrased, but overheard downstairs: You know it's a young lineup when #27 is only the fourth from the left on the stick rack.
Jack Campbell and Matt Villalta will each play one half of the game. Cole Kehler and Markus Phillips are the extra skaters. Trent Yawney and Mike Stothers will run the bench, while Bill Ranford will watch from upstairs.
"This'll sound funny – we want to see them make some mistakes so that with some of the changes that were made it'll be a lot easier to teach off of those," Yawney said. "Probably most of all, it's just 'go play.' Todd pretty much said that he wants them to just go play hockey and then we'll deal with everything else."
A projected Arizona lineup for tonight's Gila River Arena game:
Hayton-Stepan-Kessel
Grabner-Richardson-Fasching
Crouse-Schmaltz-Merkley
Steenbergen-Pedersen-Martin
Goligoski-Hjalmarsson
Chychrun-Soderstrom
Ness-Mayo
Raanta
Prosvetov
The Coyotes didn't hold a full-team morning skate, though a dozen or so players got onto the ice before the Los Angeles group left for the airport and the Glendale group returned home for a pre-game nap. More to come from both El Segundo and Glendale, including chats with Kurtis MacDermid, Mario Kempe and Lance Bouma.
For additional multimedia, follow @lakinsider on Instagram.