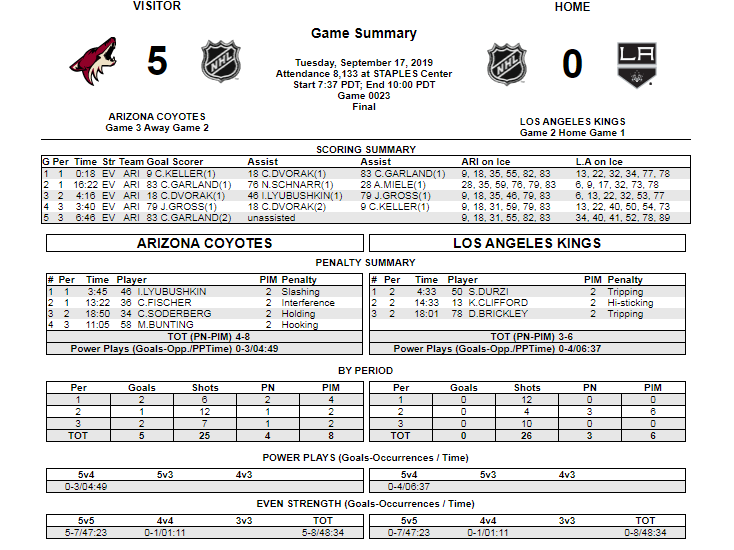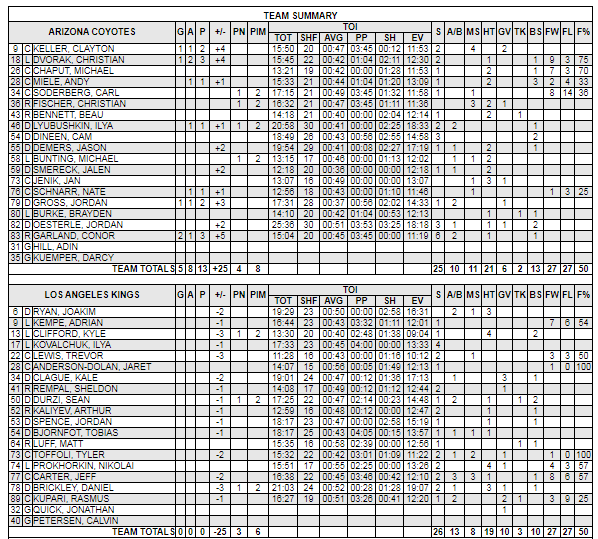 Rasmus Kupari, Post-Game
Todd McLellan post-game quotes
On how it felt being behind an NHL bench for the first time in 300+ days
I was, much like some of our veteran players, I was a little bit rusty, so I'll take some of that responsibility. I can't come in here and just go after individuals, because I wasn't as sharp as I needed to be either, but that's what exhibition is for. It's been a long time since I've been back there, but I will get better, I'll get sharper and I'm excited about being behind there. It's disappointing we came out with the results we had, but I think there's some real teachable moments. I think there were some good nights by some individuals, some disappointing nights from some players that maybe know better and we expect a lot more from, but now we have evidence and that's what we're looking for. We can begin to sit down with some players, walk them through some shifts and some expectations and start to develop our team.
On specifically how he himself wasn't sharp back there
For me, just the new rules, line changes, I got caught watching the game a few times and didn't have the lines ready. Little details that I'd normally have, at the back end of a power play who's going because used four forwards and one D, you get lost and confused in that. There's no doubt that I have to have to sharpen up, but it'll happen for all of us.
On the addition of Ben Hutton to the organization
With our situation here, with LaDue still not being ready to play and Forbort injured and struggling to get healthy right now, no one has any idea on his timeline. A position that we thought we might have a little bit of depth in, all of a sudden, it's gone quite quickly. The first thing he'll do is provide us an NHL presence, somebody that's played a number of games, he's played in the Pacific Division, he's been able to play 15-20 minutes a night and for me, he's a mobile puck mover. Like any player, there's things that you think he can do better, but he does bring some valuable tools to the table. The fact that he'd feel comfortable jumping on that ice tonight, in an NHL building, in an NHL uniform, is real important right now for our backend.
On turnover created in the first period, and if that's the style he's looking for
It's such a ping-pong night. There were times when we were doing so many good things and then there was a mistake made and we were out of position and they capitalized on it. The very first shot on goal, what was it 20 seconds into the game…for the most part we were positioned, Lewie lost the puck and stumbled or whatever and all of a sudden they're gone. We had moments where we were in position, we made a few mistakes off of it but I think we can fix those types of things. Offensively, we created some offensive zone time, wore out the coyote on the crest, I didn't think we had a very strong intensity in and around the blue paint. There were a few scrums, a few scrambles but nothing that was of NHL, dirty-goal caliber, I think we have to get some of that in our game. We saw some good things and some bad things on the penalty kill, some good things on the power play, some weak things. At the end of the day, we have evidence now, that's the most important thing. Excited about some players, disappointed in some others, it's also the first night.
On who he was excited about
I thought some of the young kids, that I had a chance to watch in Anaheim at the [Rookie Faceoff]. They played well there, but they didn't necessarily catch you, you weren't driving home talking about them. I thought Kupari had a very good night here. We weren't talking about him that way leaving Anaheim, he did some good things here. Some of the American League players that I didn't know much about, they performed fairly well. Some of the veterans that I know more about, some off nights so we've got to fix that.
On whether or not he'll name names publically, with who did/didn't play well, or if that stays in the room
First of all, I understand that you guys have a job to do and I've got to participate in that, but I will always be respectful enough to the player that I get to deal with them first. I don't want to say that, you know what, Rob Blake wasn't any good tonight, he was our weakest defenseman, and then have him surprised by that, that's just not the way I operate. They owe it to hear it from me first and for me to give them a chance to fix it. You guys watch the same game I do, you guys are smart hockey people, you know who we're talking about. They'll hear about it tomorrow, there will be some that will sit with me, others that will see some video clips and we'll try and fix it. If it's error by commission we can live with it. If it's error by omission then we've got problems.
On Kupari's poise in the offensive zone and his puck control something that stuck out.
I thought he was more aggressive and assertive offensively then he was in the rookie games. Did Rasmus make some mistakes? Yes he did, but they're teachable moments. He also did some really good things. Now, I can see why there was excitement about him, why he was picked where he was. I think he'll need some time to ripen up and just get more confident. He's asking some great questions on the bench, he wants to know why things are happening. For me, it's a step in the right direction for him.