INSIDERS. Good afternoon to you from El Segundo, where the marine layer has almost burned off. There's a ton to get to, including a chat with Drew Doughty that made the rounds on Friday that you've likely heard pieces of by now. Helene, killing the lede, wrote a column on the first day of camp that's worth your time. Some notebook-type comings and goings:
— I spoke with Paul LaDue (knee), who has been skating with Group C but is on the verge of rejoining a main camp group. LaDue, who spent most of the summer in Minneapolis, said that his injury was the result of natural wear over time. I was told he took the ice during Group C's early skate this morning, but the timeline as shared prior to camp still appears to check out.
— As shared, I still have quite a bit of Drew content that I'm sitting on at the moment, and while it was casual profanity that got the most play on Friday, I was more interested in hearing him expand upon the belief that "guys don't get on young guys like they used to in the past," a difference from his earliest days in the league.
Drew Doughty, on whether Matt Greene offered that "tough love":
Yeah, he'd get on everyone. And obviously I knew he loved me, he brought me in. He was like my dad for many years. But if I had a bad period, he'd come ion and let me know with a 'what the hell are you doing, we need you'-type thing, and like I said, that doesn't happen as much anymore, and sometimes I think that's why we've gone south, because we don't have those guys that get on guys. I think our veterans need to get on each other and on the young guys and on everyone.
Doughty, on Darryl Sutter working for Anaheim:
He's just getting paid – trying to get a job. He misses the game. I don't blame him at all. He's obviously going to know how – or he's going to think he knows how to beat us in some ways, I guess. And he probably does know a few ways. I guess they have a little bit of an advantage there, but we look forward to playing the Anhaeim Ducks every game, and we want to win the season series. [Reporter: Knowing him, I bet you're not surprised at all that he's back in the game.] No, he loves the game of hockey. He's a great hockey mind, a great coach. As much as at the end things kind of went south – we were getting into arguments and stuff like that – I loved Darryl from the bottom of my heart. He's a great coach, a great person, a great family, and he cared about his players and their families. I loved Darryl even though sometimes we'd butt heads. [Reporter: Is it going to sting a little bit if you see Chris wearing a Ducks jersey?] Maybe a little bit. I mean, he was around all the time, so we loved hanging out with him. I actually miss having him around. But I don't know if he'll switch. I think he's still a Kings fan, but we'll see. He's probably going to follow his dad, so that'll hurt a bit.
— Austin Wagner is always an interesting conversation. The 2015 fourth rounder was thrust into an unexpected role a season ago, and perhaps it was a good thing that the reality of his situation had so little time to sink in, given that he generated three breakaways in his NHL debut. But the 2018-19 season was a trial-by-fire for Wagner, who didn't turn 22 until late June. There was both the pinch-me story that he was living his NHL dream – as well as the cold, hard realism that accompanies a 30th-place slog.
This wasn't the ideal environment for a player who debuted with 50 games of AHL experience, but if there were any challenges in finding a rhythm between the coaching change and his regular assignments to and from Ontario, it didn't show. He vastly outperformed expectations and finished with 12 goals and 21 points in 62 games, as well as an individual 1.32 GF/60, the 13th best rate in the league.
Speaking with Wagner yesterday, it felt like he had time to digest his Cinderella rookie season. He was a 21-year-old a year ago, and as a young player on a veteran team that failed to meet its marks, there might have been some place friendlier – like beautiful downtown Grozny, to quote Krusty. And that's not to place blame on such veterans, many of whom had won twice together and for the first time in their career dealt with the aftermath of a player subtracted, rather than added, near the trade deadline. It was simply a difficult time with a jagged jigsaw mix of youth, experience and coaching, one that didn't offer the same incubation as, say, Tyler Toffoli and Tanner Pearson experienced over 26 games in the spring of 2014. But those weren't the cards Wagner was dealt, and instead, he had to find his place on the fly, as a 21-year-old, amidst difficult circumstances.
I'll chat again with Wagner several times during the preseason. I'm interested to hear what he learned last year, what he processed, how he's grown after immediately being thrust into such a situation and largely thriving. What he showed on the ice can be measured – and the measurements were positive. But that internal growth towards maturity, towards the intangible, towards being an accountable, every-day player isn't as easily measured, and I'm interested to hear how he's gauged his development independently from the time spent on the ice. He's a great kid who has been willing to learn, and one of the stories I'm interested to invest in is whether the team has re-evaluated his ceiling, and how he's grown as an individual from Year One to Year Two. More to come on that front.
— While there was a lot of stopping and starting over the first two days of camp, Sunday was much heavier on instruction. There was more teaching on Sunday than the previous two days, and while McLellan spoke of stopping drills to commend players on Saturday – "we've got to catch them doing it right more than wrong, which can be really valuable," he said – there was more urgency in his communication Sunday. The ice was cut in the middle of each session, allowing the group to reconvene and hold meetings in the dressing room; their on-ice session after the ice cut was almost entirely devoted to instruction. This was not an uncommon sight: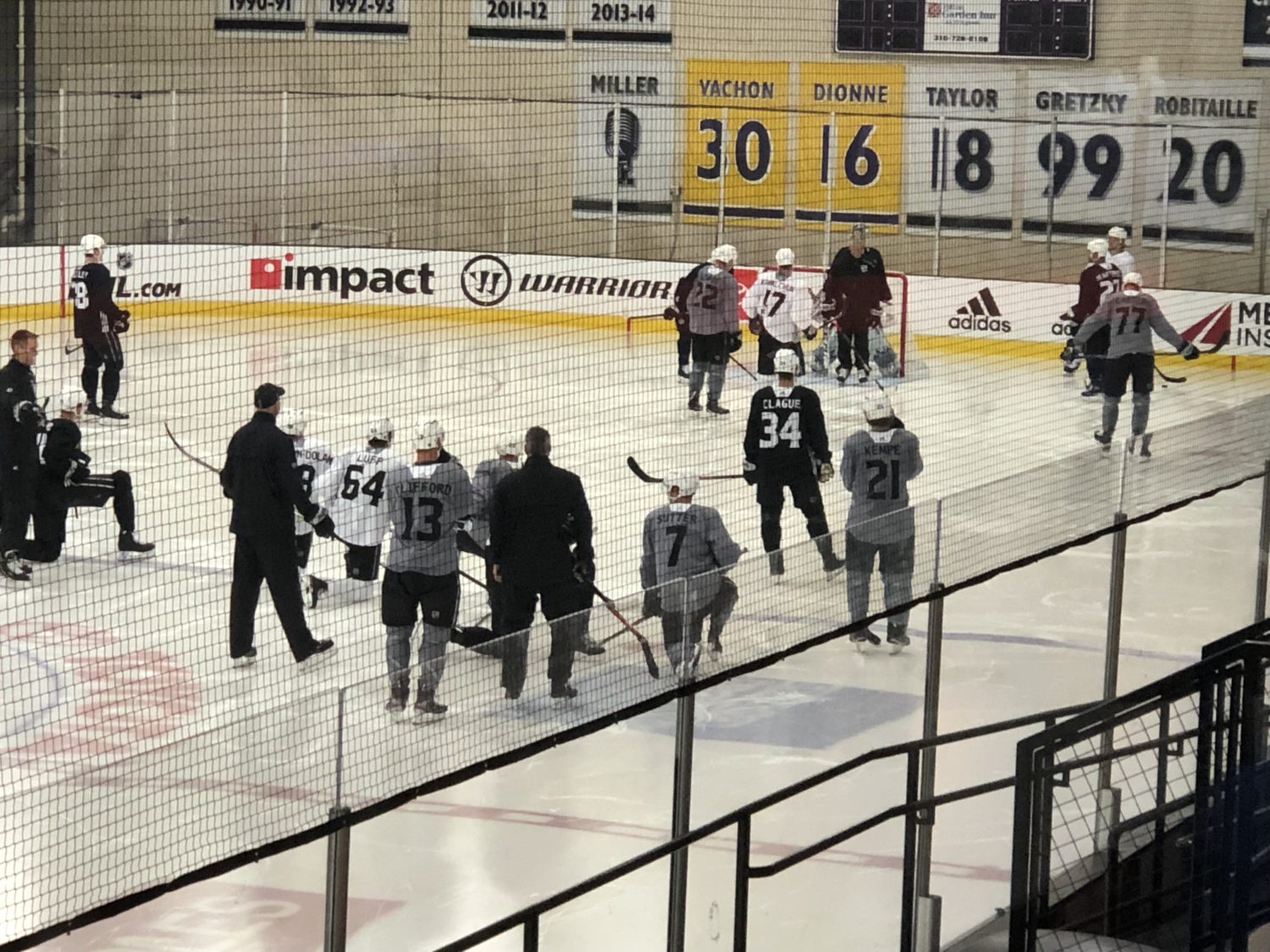 — Ilya Kovalchuk had a good retort on Friday when a member of the media noticed some additional gray in his hair. "No, it's just the light, actually," he shared.
It was a disarming start to the conversation, one that demonstrated a good rapport with the media.
Obviously, it's not his relationship with the media that will draw focus this season. Coming off a campaign in which his relationship with (and diminished usage under) Willie Desjardins was representative of a season gone awry, he's returned with an open mind and an insinuation that he got all he wanted out of his off-season.
"Yeah, knock on wood, I'm good. Summer went well. I trained a lot, I've done all that I wanted to."
It's not as if he'll break down into hysterics upon being questioned about his best hopes for this team, but he's entering the year with a positive team-wide mindset even with a collection of younger players vying for roster spots amidst the systems change. "I believe we've still got it," he said.
"In this league, you never know. You saw the St. Louis Blues won the Stanley Cup, they were the last team in the whole league by January 6 or something. So, you just have to work hard, and … we can't just be a bunch of individuals. We've got to work as a team, and the best team will win. Yeah, we have some new guys coming, but we have a core that knows how to win, so that's the most important thing."
— I'll have more from Cal Petersen later this week, but on Friday he spoke about what he's looking to adjust, saying that he's gradually trying to improve his reads while "understanding the game at a higher level, knowing when you can attack the puck, knowing when you have to be a little more patient, and I'm always trying to arrive to shots on my feet and put myself in the best position if there is a second or third opportunity. It's just kind of continuous improvement."
— And, finally, some leftover quotes from Dustin Brown's Friday scrum:
Dustin Brown, on his first impressions of Todd McLellan:
Really good communicator. I mean, it's only been one practice, but we've had a few meetings. We're changing some things, so it's important that we have that communication and understand what we need to do as players. It's been, like I said, one day, so it's been good.
Brown, on Drew Doughty's assertion that older players need to get on younger guys more:
I think you can take the age part out of it. Everyone should be harder on each other. Young guys, old guys should be hard on everybody, especially after the last couple years. [Reporter: How do you do that with the young guys – whether it's Anderson-Dolan or Walker – these younger guys breaking into the team, just trying to earn their spots?] Part of it's setting the example of how things are supposed to be done, and the other part is holding each other accountable. It's pretty easy if Kopi and Dewey, myself, if guys like that are being held accountable, then it makes it a lot easier to hold the line elsewhere.
Brown, on the mood around the team:
I mean, it's hard to tell right now. We've got 60 guys in here or whatever it is. I mean, every training camp kind of has the same feel. I kind of think that training camp really starts – this is like the training camp to the training camp because there are just so many guys. There are going to be guys that play in junior this year that are out there today. When we kind of whittle it down a little more, that's when you kind of get a feel for what kind of group you have.
Brown, on whether there are more "uncertainties" this year than in previous years:
I think there's more opportunity for new players to push some other players out of the way. That's the nature of the business we're in. No one's going to say, 'I don't want to play, you guys can have the spot.' I think that's a good thing for the makeup of the team and for the organization as a whole – if you don't have younger guys pushing for spots, then you're stuck. That's what you want, the competitive nature, and then as an older guy, at least for me, it's 'come and take it if you can.'
Brown, on the references to "entitlement" at the end of last season and how that can change:
I think there's just a big chunk of guys that have won here. That's great, but that was a long time ago now. Coming into this year, we've one playoff game since the last time we won. There was too much of that in our group last year – both young, old. I mean, everyone likes to separate young guys and old guys, and I think it's a poor way to look at a team. Because all it is, when you come in this room, whether you're a 19-year-old or a 38-year-old, you're a part of the team, and it's about finding ways to put the best pieces together, and part of that is getting guys that are hungry.
Brown, on whether he set any personal goals this season:
I don't think about that, especially on day one. I've done my homework, per se, in the off season, just like any other year. Just get yourself ready, prepared. Seasons are funny. You have highs, lows, for me it's just about finding a consistency in my game, and again, with the makeup we have, it's trying to help young guys because I remember what it was like for me as a young guy. I try to focus on those little things, and stuff on the ice – goals, points – I've had stretches where I've played awful hockey and had tons of points, and vice versa. Those things kind of sort themselves out. [Reporter: And you're 100% healthy coming in?] Yeah.
Brown, on whether he expects to start the season on a line with Anze Kopitar:
As it stands now, I'm assuming, just based off of years past and how we lined up today. [Reporter: So you and Todd haven't talked about that?] He said that he wants me with Kopi, but lots of things change.
Brown, on whether he spoke with Ilya Kovalchuk over the off-season:
I didn't really talk to him much, but that's a pretty good question for him. I don't know what he's thinking. He's always prepared. I'm guessing he had good testing. I'm assuming after last season he's excited for a fresh start, as well.
Brothers Kempe. pic.twitter.com/wV7l4hc1rK

— LAKingsPR (@LAKingsPR) September 13, 2019