The LA Kings concluded the 2019 Rookie Faceoff with a 7-3 defeat against the San Jose Sharks, finishing the event with a 1-2 record overall. San Jose finished with the event's best record, winning all three games it played, followed by Anaheim (2-0-1), Arizona (2-1), Los Angeles, Colorado (1-2) and Vegas (0-3).
The Sharks jumped all over the Kings to start the game,as they scored five goals in the first period to take a 5-0 lead into the break. The Kings put forth a much stronger effort in the final 40 minutes, winning the final two periods by a combined 3-2 score. LA got second-period tallies from Blake Lizotte, Austin Strand and Akil Thomas, with Lizotte (1-1-2) and Strand (1-1-2) each finishing with multi-point games. The Kings threw an onslaught of shots at the San Jose net throughout the third period, finishing with a 16-4 SOG advantage, but could not pull closer than three goals down. Goaltender Lukas Parik went the distance in net and made 20 saves in defeat.
Box Score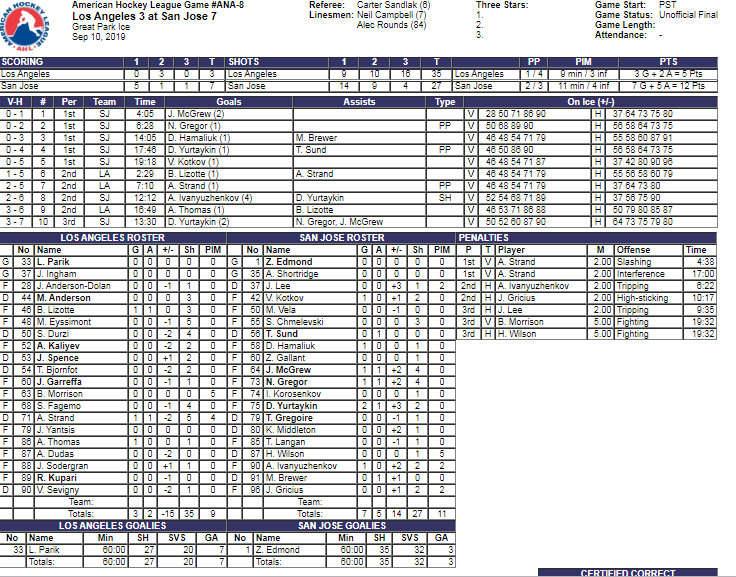 Overall, the Kings performance at the camp had more positives than negatives over the past four days. The group competed hard against a very experienced and skillrf Anaheim team on Friday, dominated a Colorado team around their experience level on Saturday and fell against the eventual tournament champions in San Jose earlier today, albeit by a lopsided margin. Consider forward Blake Lizotte a standout player throughout the tournament, as Head Coach Mike Stothers indicates below. Lizotte had multi-point games on Sunday (0-3-3) and today (1-1-2) and was an impact player in all three games. The St. Cloud State alum played with speed, was aggressive with the puck and on the forecheck and showed little fear in going into the corners at his 5-7 stature – More to come re: Lizotte tomorrow from Jon. Several others were impressive at Rookie Camp as well, as will be noted in the coming days. The Kings will conclude rookie camp tomorrow with a team practice at Toyota Sports Performance Center in El Segundo, beginning at 9:30 AM, before most of the players in this group will begin NHL training camp on Friday.
Post-Game Quotes from Mike Stothers
On what went wrong with the team's start
We talked about it this morning before we even left, because they didn't have a morning skate and that was a little different than what they were accustomed to I guess. We tried to prepare them for that situation, it's a pro game and you've got to get yourself ready for those situations. We had some video, we came here, they stretched and worked out together, but obviously we weren't ready. They clearly were the better team in the first period and then I thought in the second period we were the better team and I actually thought we were the better team in the third. When it gets right down to it, that shorthanded goal probably took a little bit of the starch out of us, but overall, I was happy with the way we responded.
On the differences in the final 40 minutes, with more energy and chances created
Well, we were the team that was on their toes and they were the team that was on their heels. Why? Because we had established a better forecheck, did a good job of getting in lanes, getting sticks on pucks and made it hard for them to execute and when they did, we had better gaps in the neutral zone from our D. We weren't retreating all the time, we were matching their speed. In the first period, they looked extremely fast, we were retreating the whole time. That's not a real good recipe for winning, I mean, it's a speed game now and we've got to nullify that by being up and in their face and I thought we did a good job [in the second and third] and it made a difference.
On Kupari & Fagemo and how they've adjusted to the North American ice
Well, it's going to be a process for those guys. I don't know how much they even skated throughout the course of the summer, so they come over here and have one practice and the next thing you know, games are being played, and it is on a smaller surface than maybe they're accustomed to. If they so choose to be playing here, they've got to adapt to that, and I think they will. They're good hockey players, they'll figure it out.
On anyone he felt had a good camp that maybe flew under the radar
If you're going to pick a guy under the radar…Akil, I really liked him. I think it's a marketed improvement over last year's camp, he probably had nowhere to go but up, but I've really liked him. It's just a different presence that he has about himself both on and off the ice and I think it's real impressive. You can see that he's matured and he's feeling good about himself and so he should. If you're going to pick somebody in that department, that's the first one that comes to my mind…but I think Lizotte was off the charts good in these three games.
On Tobias Bjornfot's game
Yeah, you know what, there's a quietness to his game where I don't think people are going to appreciate what he does. He makes it look effortless, he's really good, he's really, really good and I think he's only going to get better for us. I think teams will start to pay attention to him once they see him once or twice, and I think we're very fortunate us to have him. [Reporter: Quietness, as in you don't really notice him in the games?] He's just efficient. He's not flashy, it's not always the end-to-end thing that brings you out of your seat, but you just see the calmness, the awareness that he has on the ice, where everybody is, where he's going to throw his outlet passes and he defends pretty well too. He takes a guy on, makes a play, he's not shy for taking a hit. If there's anything that I can maybe want those d-men to correct, the Anderson's and the Bjornfot's, people are still coming to finish their checks, so you can't just stand there and admire the thing. I know it's not the old days where you can get your stick up and knock a guy's teeth out, we're not knocking anybody's teeth out, but you can protect yourself still.
On Mikey Anderson
I really liked him, really liked him. There's a lot to like. He's always got a smile on his face and he plays hard. He's courageous with blocking shots, he's making plays. He's another guy that's pretty mobile and I think that with him and Durzi, it adds an element to our backend where we've got some guys that are puck movers, they're mobile and they can play the game, as well as contribute in the offensive zone. I think it's going to be real good for us.