The 2018-19 season had several bright lights for Ontario Captain Brett Sutter, though he'd have traded each of them to still be playing hockey.
Sutter skated in his 750th and 800th career AHL regular-season games, his 850th regular-season game as a professional and his 900th career professional game, including playoff action.
The Reign forward also reached the 20-goal mark for the first time as a professional, the game-winning goal on April 7, and was named as the winner of the Fred T. Hunt Award, given to the AHL player who best exemplifies sportsmanship, determination and dedication to hockey, as voted upon by players, coaches and members of the media around the American Hockey League.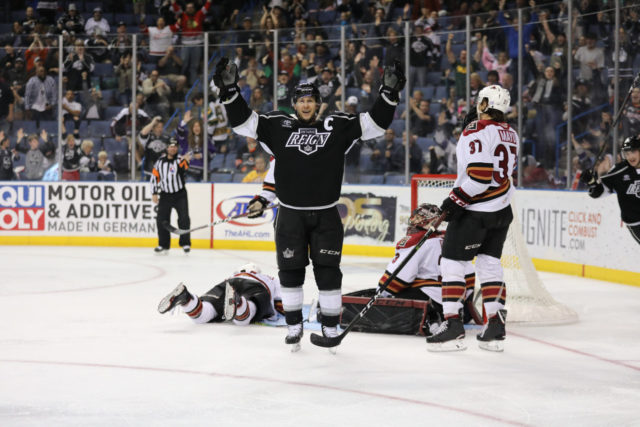 Quite the list of accomplishments for a player on the team with the second-to-lowest point total in the AHL. Let's start with Sutter's on-ice accomplishments – Sutter had previously scored 19, 18 and 15 (twice) goals in a season, but had never reached the elusive 20-goal mark.
A hat trick, the second of his professional career, on March 23 in San Diego brought him back to that 19 mark, where he sat for the next five games, despite the best efforts of his teammates. Zack Mitchell even passed up a can't-miss shot at a hat trick on April 3 to try and hit Sutter for the empty net goal, but to no avail.
Fast forward two more games to April 7, with the Reign tied at two against Tucson. Sutter scored one of the prettiest goals of the 2018-19 season, deking backhand-to-forehand in style to put the team ahead with a finish through the five hole, picking up his 20th goal of the season in the process.
"I was happy," Sutter said of reaching that 20-goal mark. "I wish I could trade 10 of those goals in for 10 more wins and we'd be in a different situation, but it's more of a team accomplishment, some great teammates helped me get there. I was just the one fortunate enough to get the 20 goals, but hopefully lots more in the future."
Sutter's goal also sparked one of the more notable bench celebrations of the season – see Head Coach Mike Stothers in this video. Pretty evident the respect and admiration that Sutter has from his coaches and teammates.
"I was a very happy man to see Brett finally get that 20th, it's been a couple of games, he's been pressing," Stothers said after that game against the Roadrunners. "Everybody's been working hard trying to set him up, so it's nice to see that geritol, old fellow finally get the back of the net."
The veteran forward also reached accomplishments on the overall side too, as stated above. Sutter was honored for his distinguished career, to date, at the league level last season, as he was named as the captain of the Western Conference at the 2018 AHL All-Star Classic in Utica, NY.
This season, Sutter played in his 750th AHL regular-season game on October 13 and his 800th in Colorado on March 12. For more on Sutter's career, and the 800-game milestone, read this terrific piece from Lisa Dillman via The Athletic.
"Lots of memories, lots of good teammates and friends along the way, lots of good cities and organizations," Sutter said of reaching the 800-game mark. "Just thanks to my wife and my kids for supporting me, and allowing me to do this for a living, and obviously my parents for being there for me along the way. Obviously, when you hit a milestone game you think of all your family. I think just another step and hopefully 800 more to go."
Sutter capped things off in April as he won the Reign's only year-end leaguewide award of the season, as he was named the winner of the Fred T. Hunt Award. The Hunt Award is the AHL's version of the Masterson Award and it would be hard to find a player in the league that better represents the qualities of sportsmanship, determination and dedication to hockey than Sutter does.
Congrats, Captain!@sutter_brett pic.twitter.com/ltwGbuHZjZ

— Ontario Reign (@ontarioreign) April 13, 2019
"It's a huge honor," Sutter said of receiving the Hunt Award. "It's an honor to be mentioned in the same breath as some of those names. You play a long time and, you know, it's nice to know that there's some respect there. You work hard and be good for your teammates and I think it also makes you appreciate the road you've taken, where you've been and some of the people you've played with, whether it be staff, players and that sort of thing. I really appreciate everything."
Through all of the accomplishments, however, it would remiss to say that this season was all roses for Sutter. Though the individual accomplishments provide us with bright spots to talk about in an early offseason, the team's lack of success wore on the 32-year-old forward at times.
Under Sutter's leadership, however, the room was never down for an extended period of time. The spirits of the group were never melancholy, day-after-day, as you can find with losing teams. Sutter and the other leaders on the Reign helped keep things upbeat, even with Ontario well on the outside looking in on the playoff race for much of the 2018-19 campaign.
"I've been through one other time like this, when you're on a bad team and things can be miserable every day and I don't think that's the right way to approach it either," he said. "At the end of the day, we're still playing hockey for a living, there's guys here that are still trying to make the NHL and there's nothing you can do except come in, have fun, work hard and just be the best version of you every day."
Looking forward, Stothers has said multiple times that he would welcome Sutter back next season and Sutter said during his postseason interview that he'd like to be back with Reign. The veteran forward's two-year AHL contract expires on July 1.
"My family likes it here and I like it here, the team, the guys, the staff. If I could, this would be home again next season, but I'll just have to have some conversations going forward."