INSIDERS. A good afternoon to you from El Segundo. The LA Kings convened on the Toyota Sports Center ice in advance of tonight's game against Ottawa (7:30 p.m. / FOX Sports West / FOX Sports app / LA Kings Audio Network) and aligned as such:
Kovalchuk-Kopitar-Brown
Iafallo-Carter-Leipsic
Hagelin-Kempe-Toffoli
Clifford-Thompson-Wagner
Forbort-Doughty
Muzzin-Martinez
Phaneuf-Fantenberg
Notes!
–The vitals: Jonathan Quick left the ice first after the morning skate, and this time he wasn't immediately followed off by Jack Campbell. Expect Quick to start in net; he's 5-4-0 in nine career appearances against Ottawa with a 2.58 goals-against average and a .903 save percentage and will be vying to tie Mike Richter, who ranks fourth all-time among American goalies with 301 career wins. Matt Luff remained out for an extended period of time and appears to be a healthy scratch for the third straight game. Desjardins said Monday that Luff "seemed to have lost it a little bit lately" and "just has to get himself back going like he can go." Productive scores against the Senators include Ilya Kovalchuk (42 GP; 26-16=42) and Jake Muzzin (10 GP; 1-7=8).
–Their vitals: Ottawa snapped an eight-game losing streak in Anaheim Wednesday night by defeating the Ducks 2-1 in overtime on Bobby Ryan's third period game-tying goal and Colin White's game-winner. Former Canuck Anders Nilsson stopped 32 of 33 shots to earn the win last night and will pull double duty this evening, per TSN 1200. He's 1-1-0 with a 2.73 goals-against average and a .917 save percentage in three career games against Los Angeles. The Senators will be without Matt Duchene, who welcomed a son, Beau, into the world yesterday, and is not on the trip. They'll also be without defensemen Ben Harpur (upper-body) and Justin Falk (IR / concussion), forward and ex-King Marian Gaborik (IR / back), goalie Craig Anderson (IR / concussion) and talented rookie defenseman Thomas Chabot (IR / upper-body), meaning they'll be without their top goalie, their second highest-scoring forward, a top defenseman who averages nearly 24 minutes, and will be replacing an 18-minute defenseman with one who averages just shy of 15 minutes. They also have Guy Boucher, a detail-driven coach whom Nate Thompson played for in two different locations. "He's extremely hardworking coach. He's probably the most prepared coach I've ever played for," said Thompson, who played for Boucher in both Tampa Bay and Ottawa. "He's a guy that works hard and cares. He cares a lot about the game, he cares a lot about the person and he's a good man." The 37-point Senators, who beat the Kings 5-1 at Canadian Tire Center on October 13, are in 30th place in the NHL, directly behind 37-point Los Angeles by virtue of the teams' goal differentials, a deep tiebreaking procedure necessitated at the moment because the teams are yet to play an even number of home games. They're also a point ahead of 31st-place Philadelphia, which has a game in hand.
–Alec Martinez is expected to rejoin the lineup and reprise his partnership with Jake Muzzin after having missed the last 14 games with an upper-body injury sustained in the 5-1 win over Vegas on December 8.
While Drew Doughty is expected to appear in his franchise-record 373rd consecutive game, Martinez has missed some time this decade due to the inevitable dings and scrapes associated with someone whose role has evolved into one with two-way detail and with heavy shot-blocking responsibilities. He has appeared in 82 games once in his career, in 2016-17, but missed five games last season, four games (and four playoff games) in 2015-16 and 26 games in 2014-15.
So, this isn't the first time he's been tasked with monitoring his game when returning from injury.
"You can do the best that you can to replicate a game situation, but like I've said before, you're not going to find a guy in this room that's going to try to go down and bury me going back for pucks in practice," he said. "To simulate that's kind of hard, but everyone goes through it. You've just got to rely on your skill and your reads and just being a hockey player, this is how it goes."
Martinez resumed skating the final week of December, at which point he began ramping up his off-ice preparation and was more regularly present in meetings and video sessions. "Sometimes you have other responsibilities just in terms of rehab and things like that maybe when there's a meeting going on," he said. "I think once you start skating, that's when that door kind of opens up, and once you get closer to your return, you've got to be a part of the team and be a part of things for a little while before you actually get back and play."
He did get a "big picture feel" of the team, which went 6-6-2 in his absence, by watching from both upstairs and on television. But there's still nothing that can really simulate the live-action, in-season experience or adrenaline. It's hard to miss time.
"Often times you have a different schedule than the rest of the team," he said. "When you're in the stage of an injury when you're not skating, obviously that's pretty tough. Days get kind of long just because it feels like you don't always have much to do, and sometimes you just can't do much other than ice every couple of hours, and that's just thrilling. But like I said, injuries are a part of the game. We have a tremendous staff and tremendous people to go to, and I genuinely think we have some of the best treatment in the world. It's just part of your job and you have to do whatever you can to help get back as soon as possible."
–More to come later today on Adrian Kempe and his power play futures. Tonight's officials are referees Dan O'Halloran and Kendrick Nicholson and linesmen Kiel Murchison and Trent Knorr. Night time sharpens, heightens each sensation // darkness wakes and stirs imagination: Davis Gaines will be your anthem singer tonight.
TONIGHT: This guy is mic'd up. You won't want to miss it. @dewyy8

See ya at 7pm on @FoxSportsWest. #GoKingsGo pic.twitter.com/OlXBNfNDJD

— Alex Faust (@alex_faust) January 10, 2019
Willie Desjardins, on whether a healthier roster makes this stretch representative of the team's play:
I think it will be. It's a tough schedule again. It's always a tough schedule, though. It doesn't matter what schedule you look at. But saying that, we've got to get playing the way we can. I think we've played some pretty good hockey, I think that's representative of how we've played the last 10 games, but this next stretch is kind of a key stretch for us going into the last part of the year, so we have to do well.
Desjardins, on what the team missed most without Alec Martinez:
Good puck-mover. I think he just gives us another veteran presence. There was a while there we were running three real young D, like not a lot of experience. He just gives you more NHL experience. A guy that you can rely on a little bit. Moves the puck well, is a good penalty killer, so he just gives us certainly a lot more depth back there.
Desjardins, on what the Kings can do to draw more penalties:
I think the key is just them to decide how we have to be successful. We'll talk about getting pucks to the net and going to the net. I think they all know that we want to create more, and I think that's a given in the room. They just have to make a decision if that's how we want to play it, because there are ways to play it. But I think as a group we're pretty driven, and we see if we're going to score, we have to get more power plays, for sure. We have to get to the net to do that.
Photos from yesterday's team visit to Children's Hospital Los Angeles: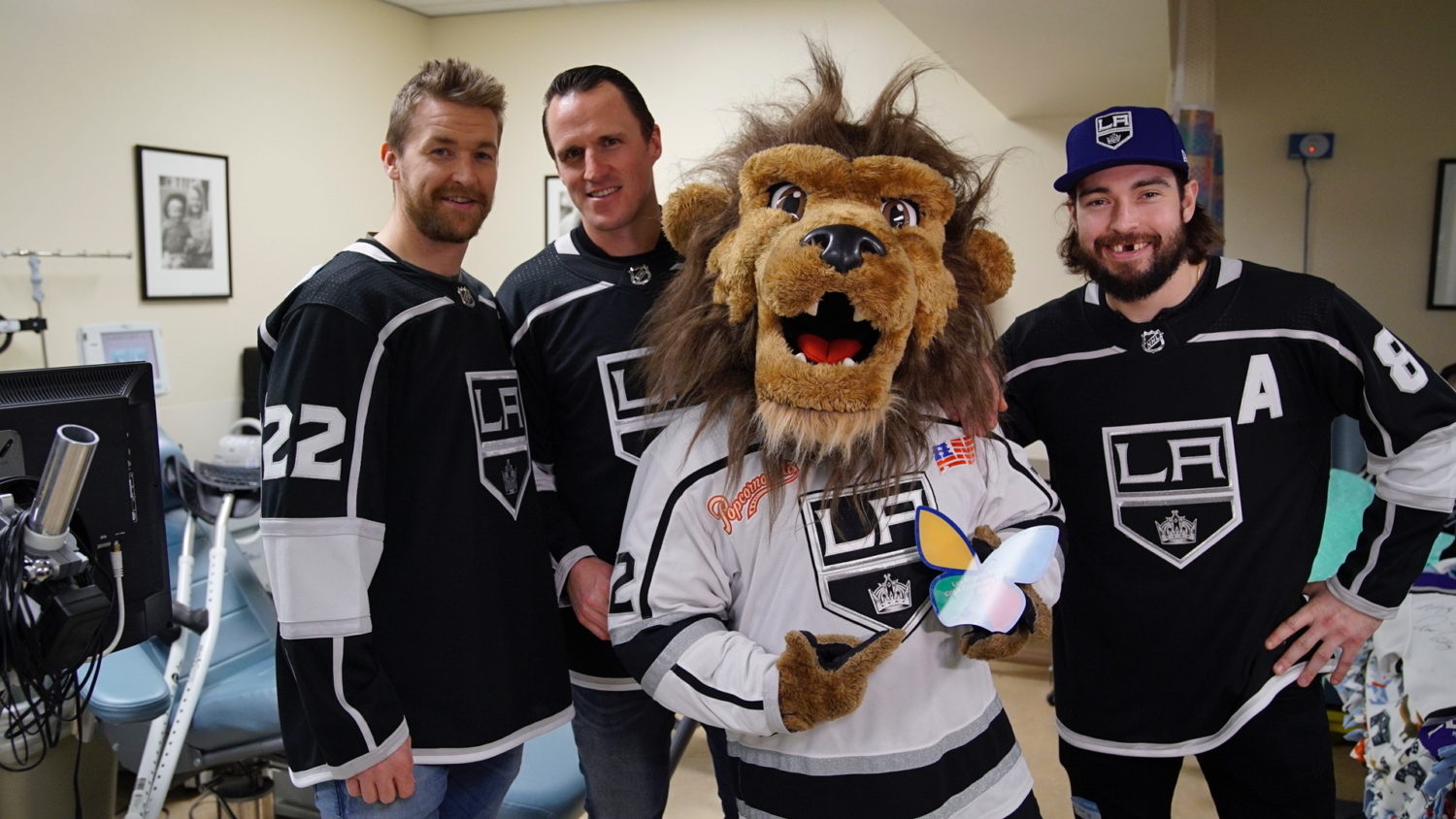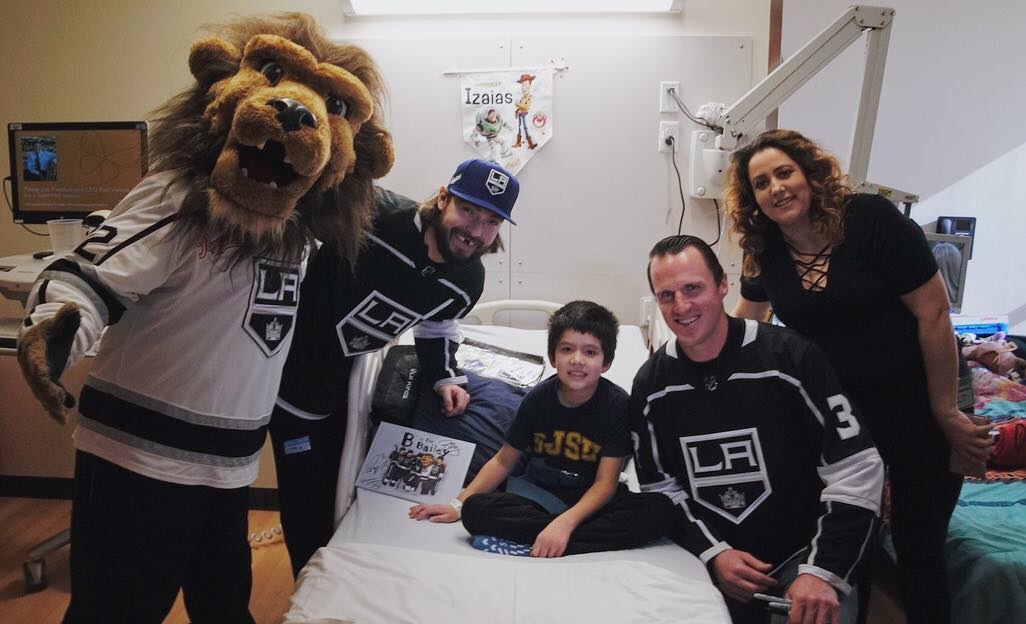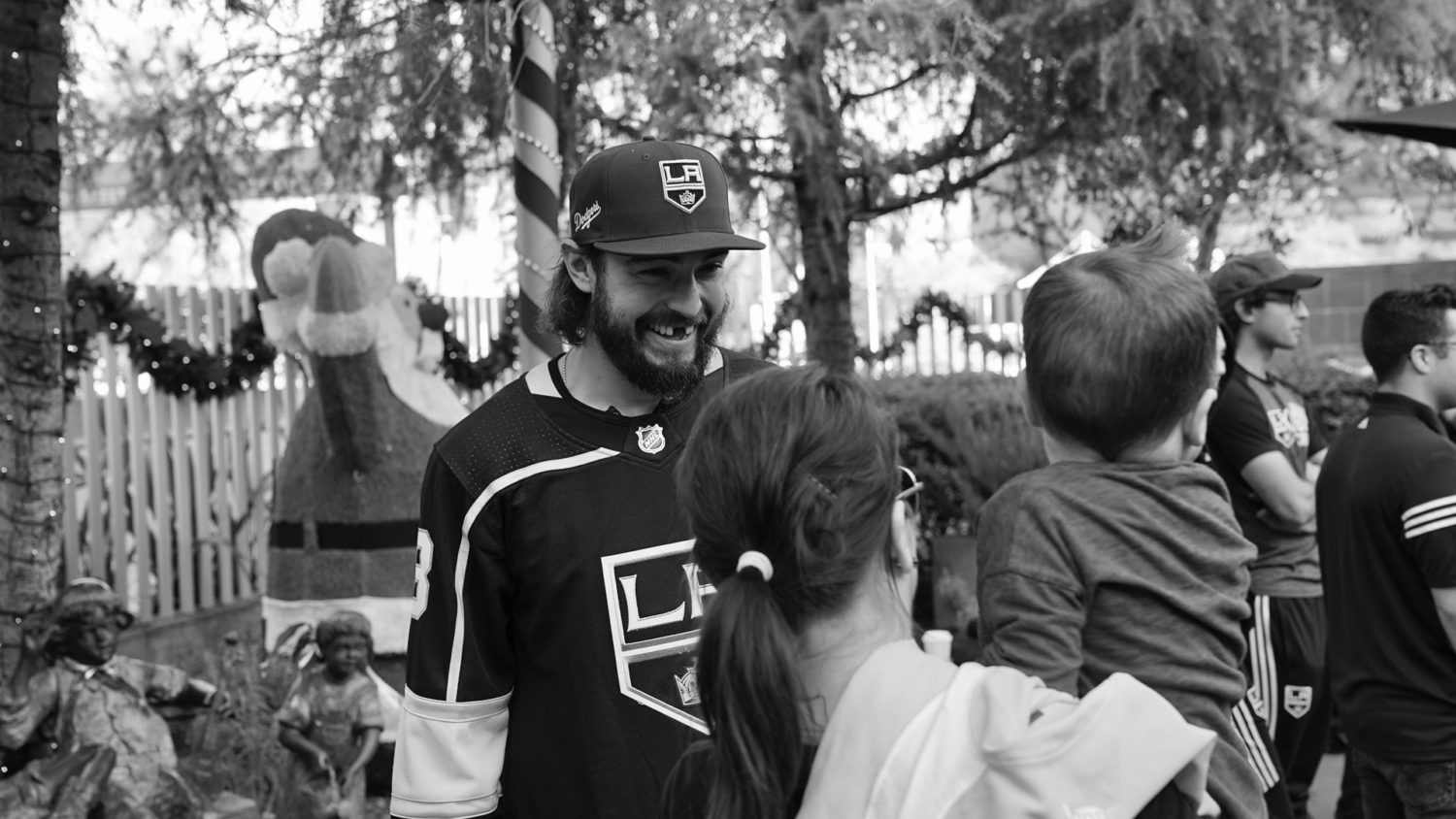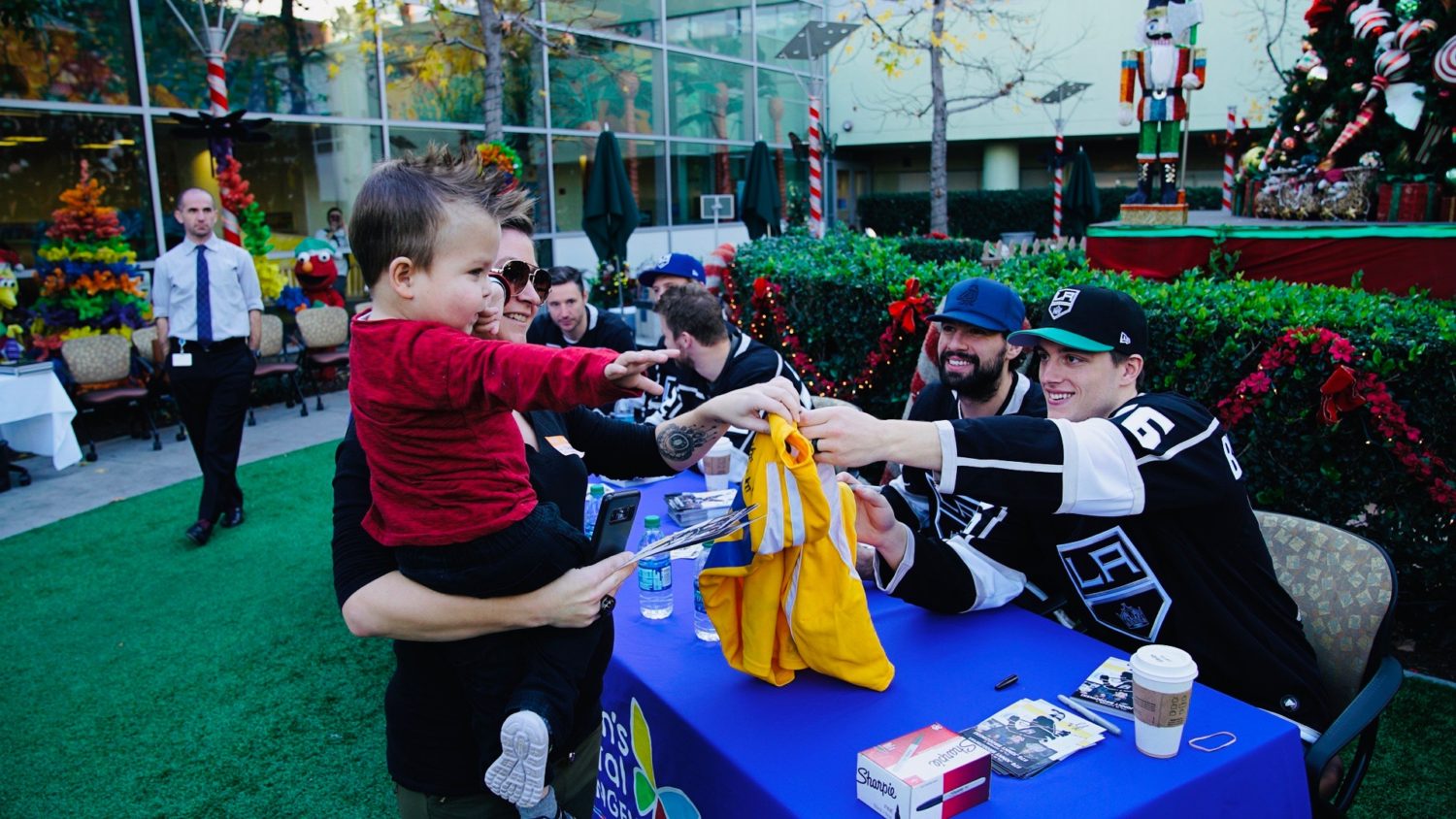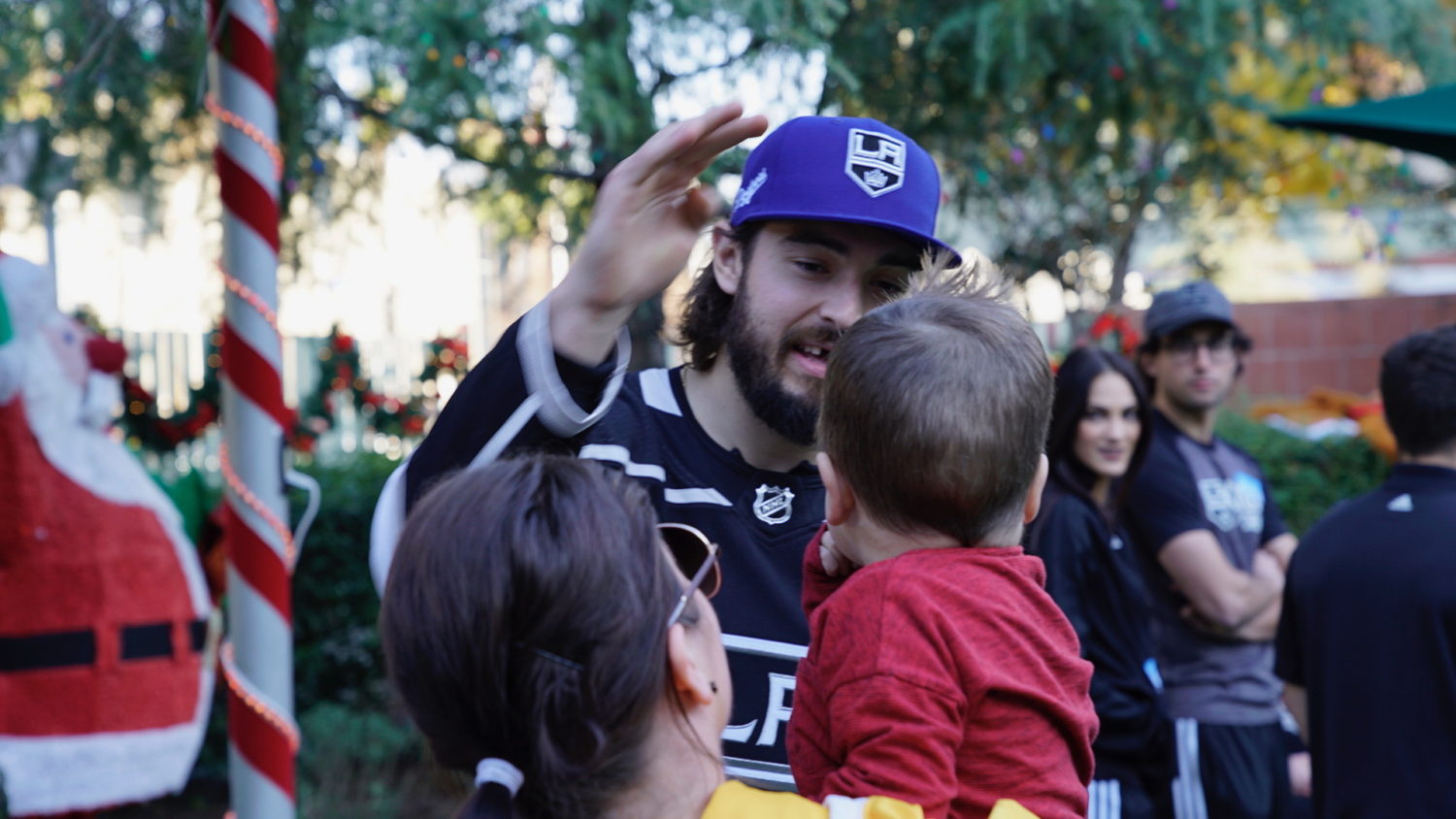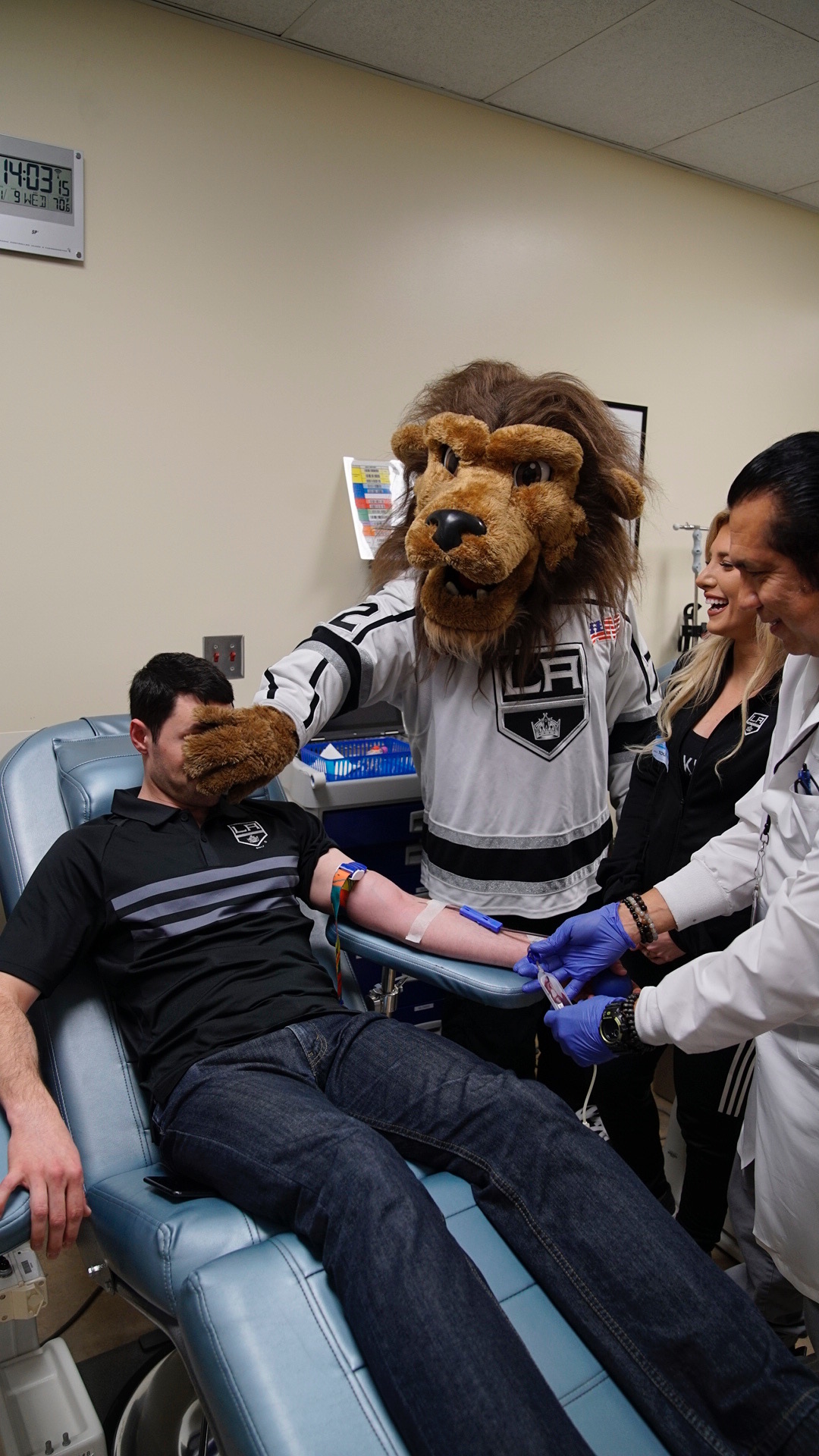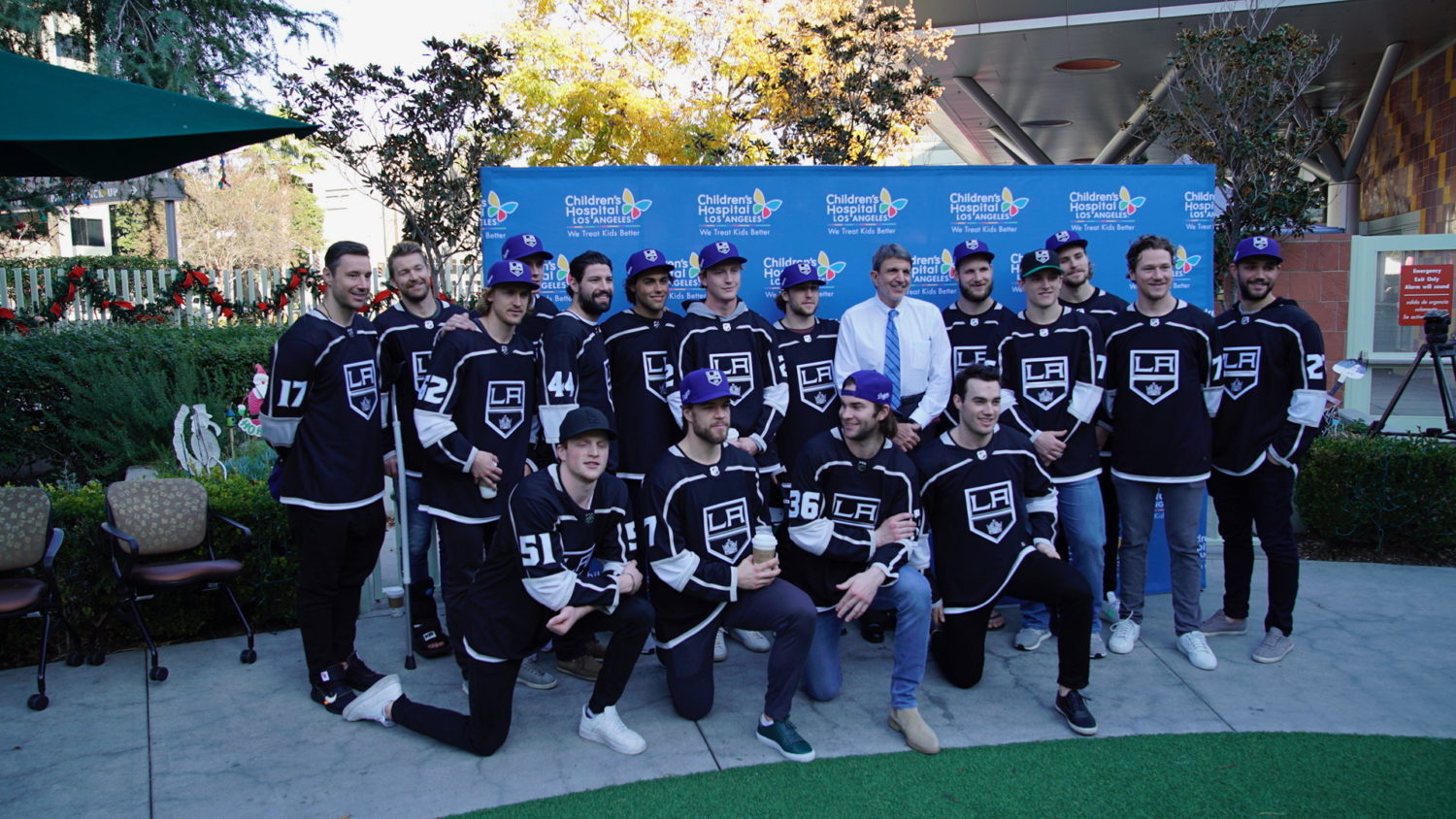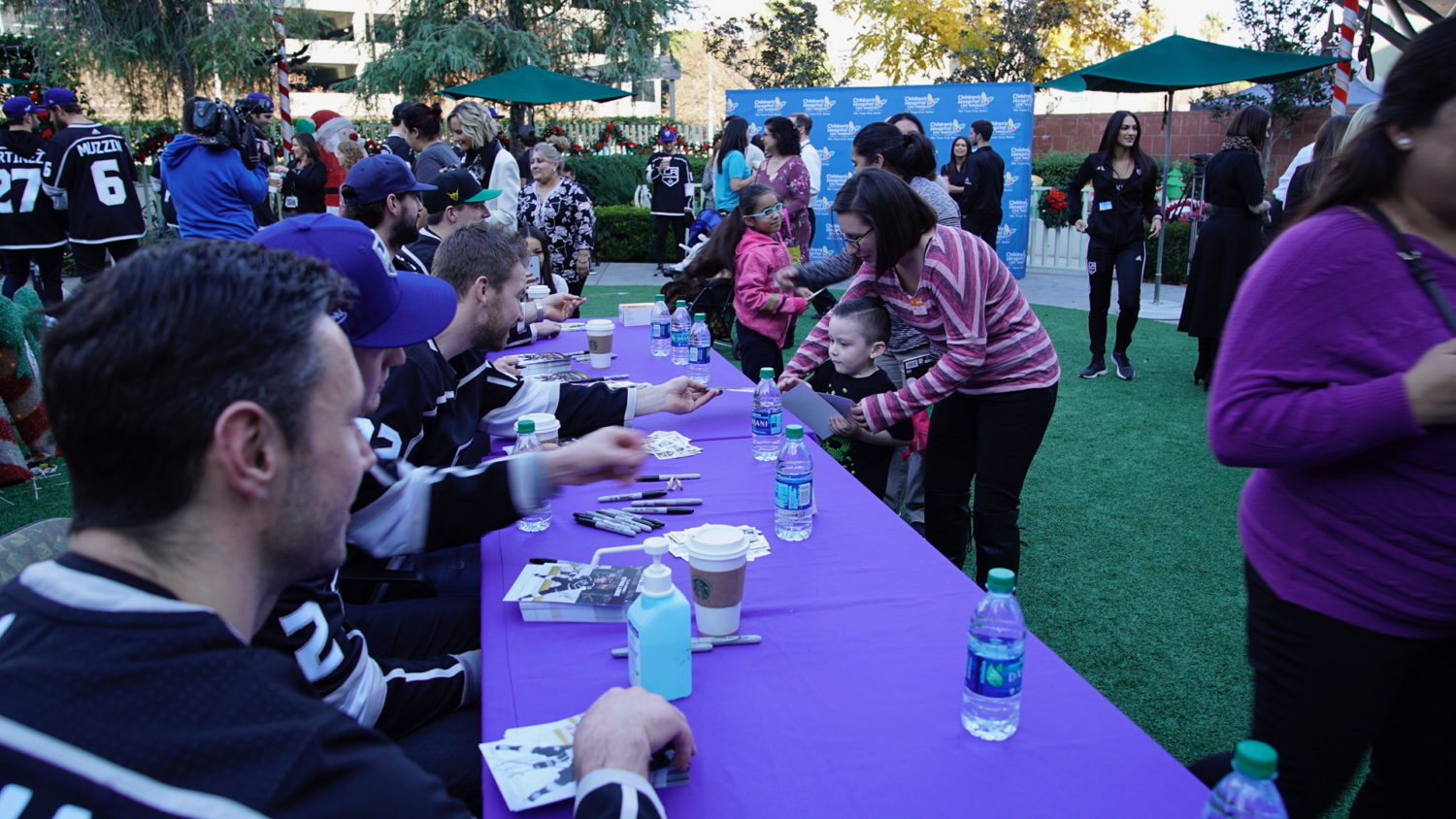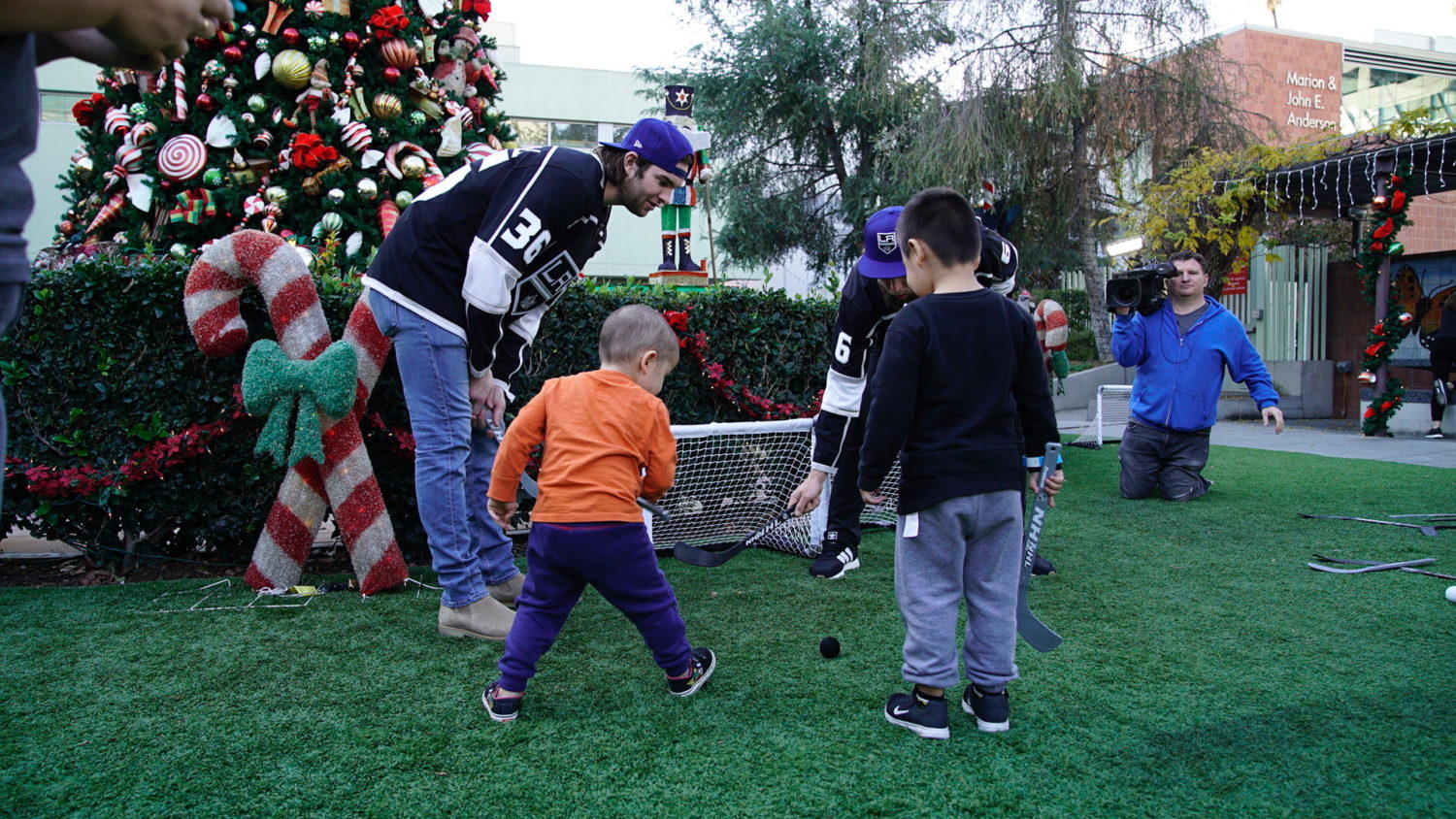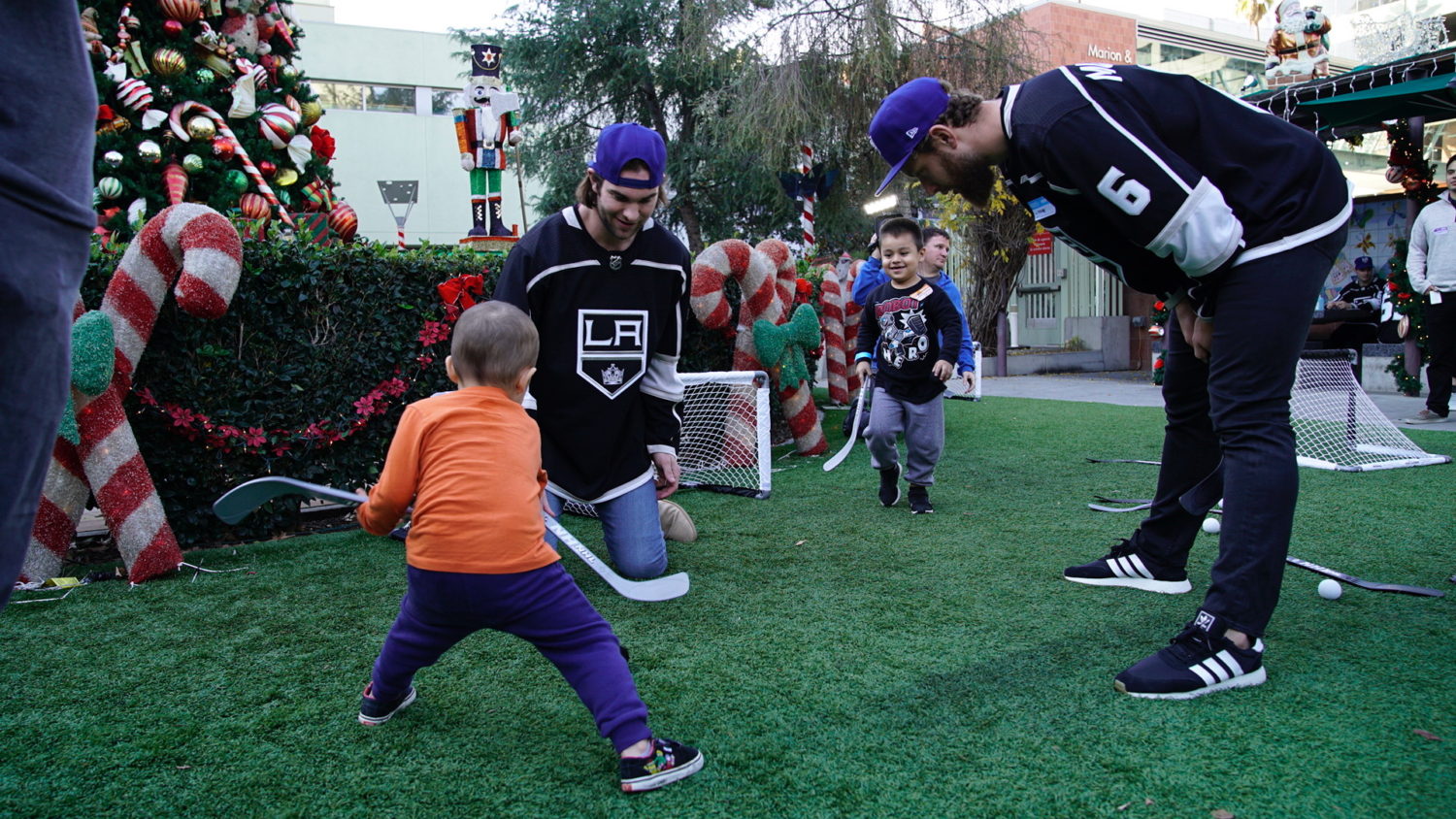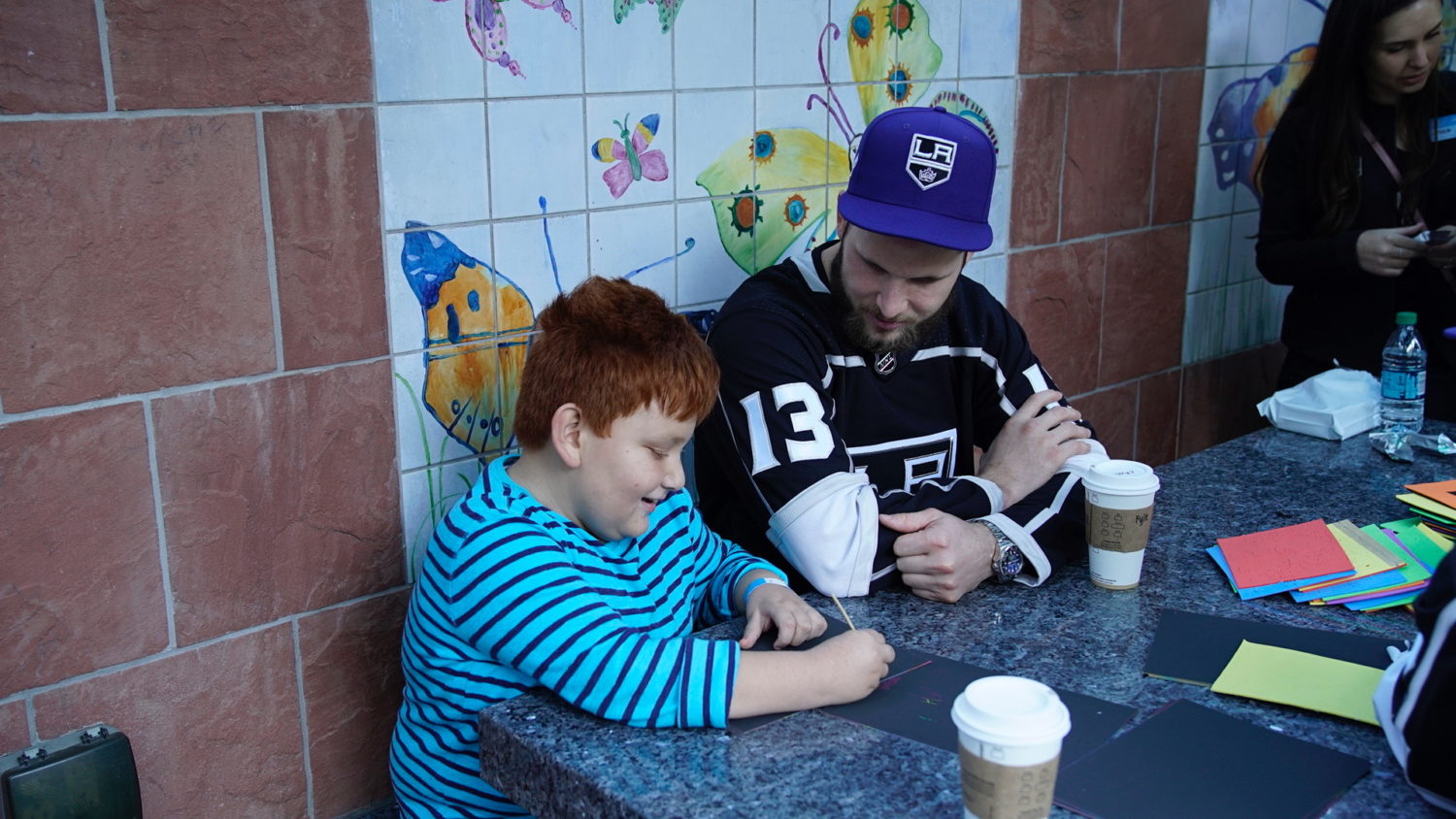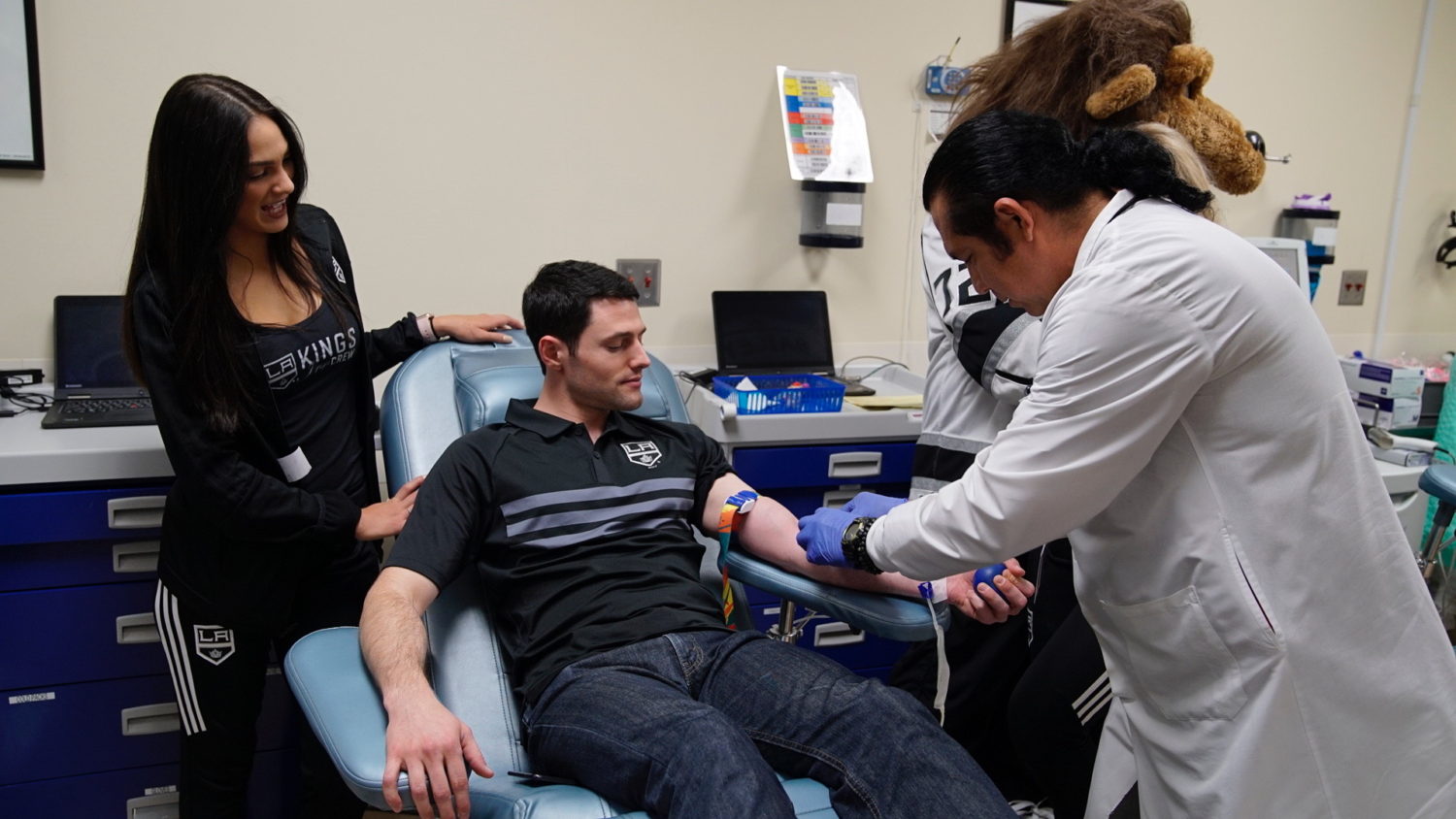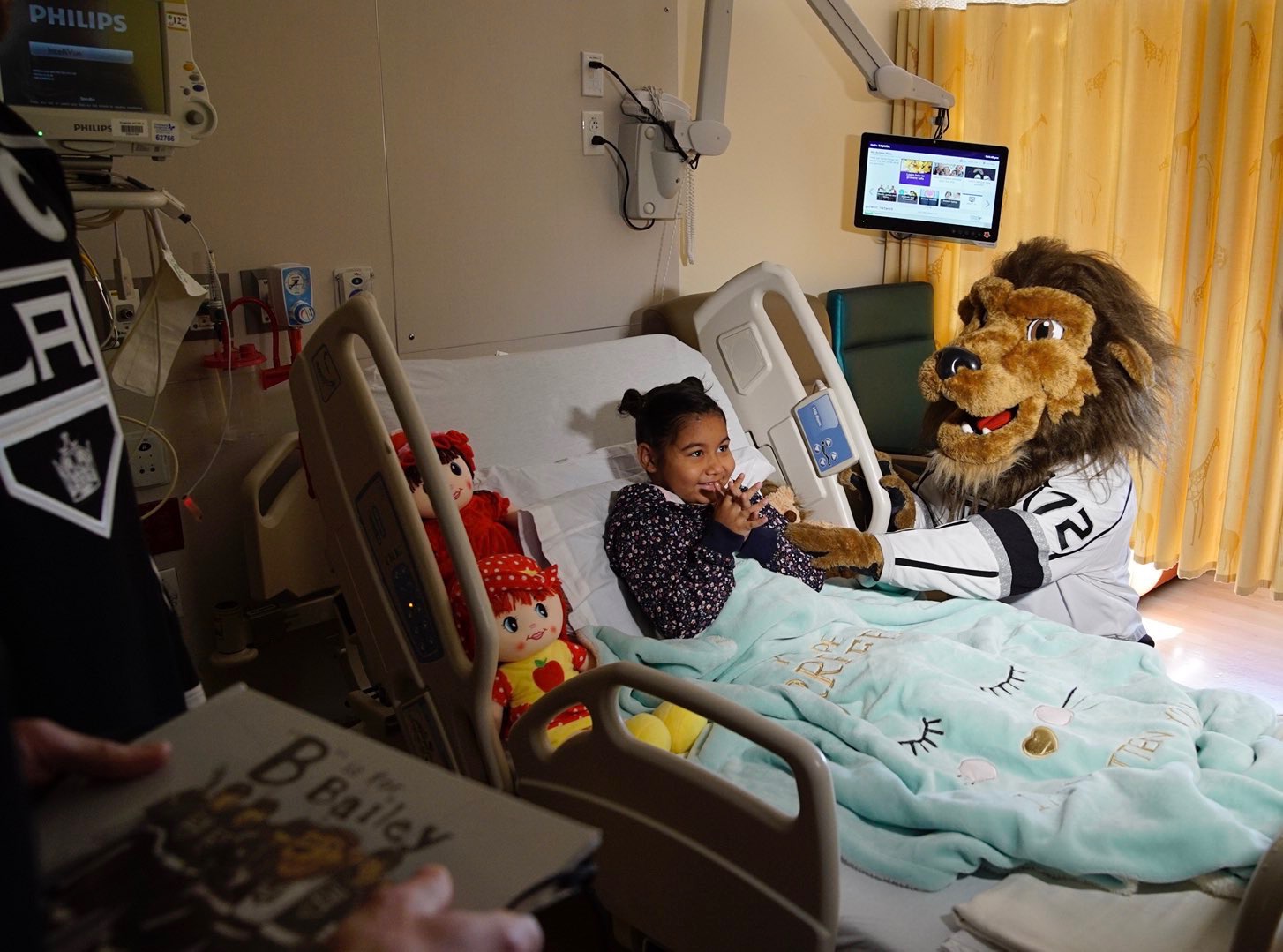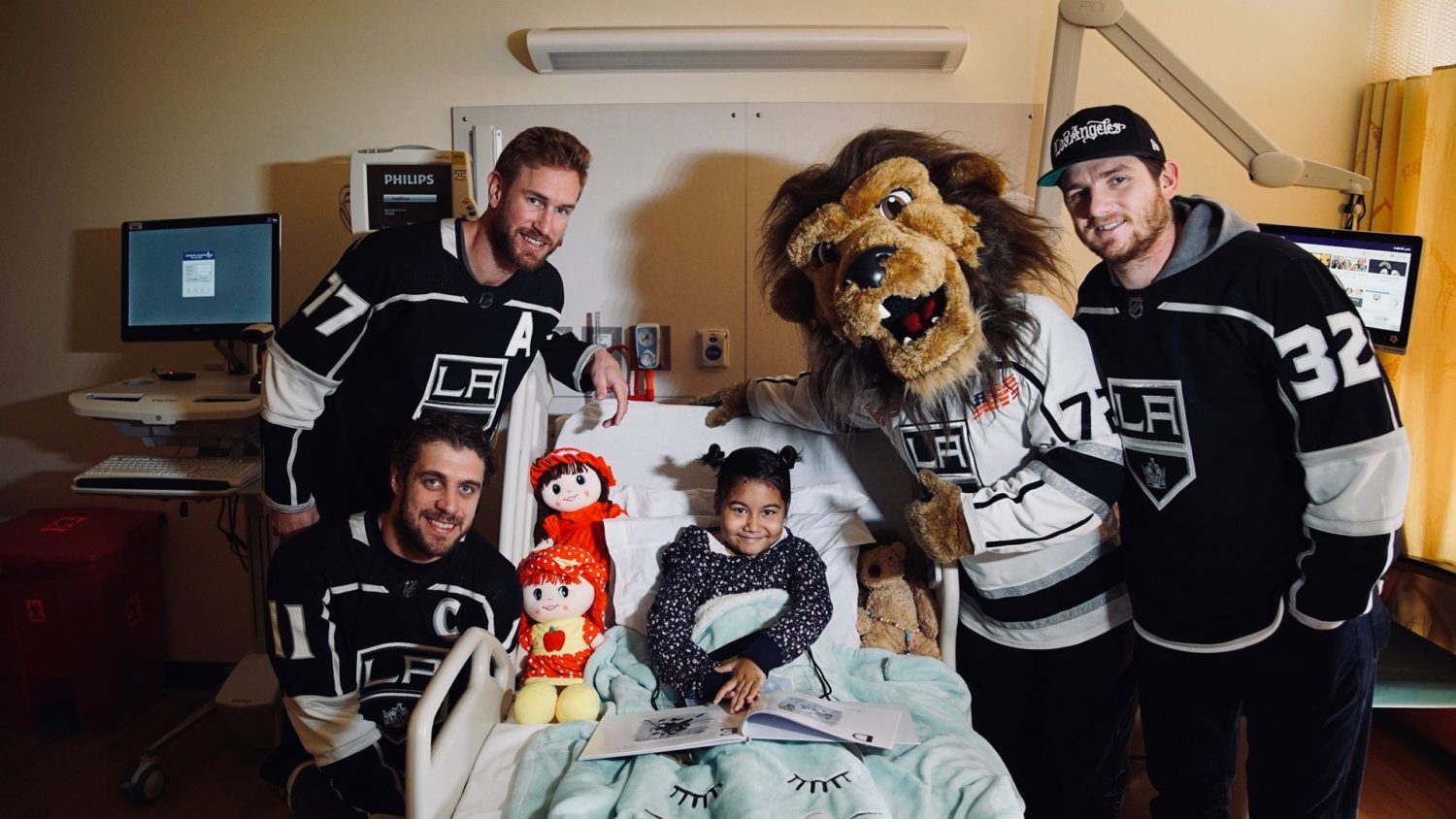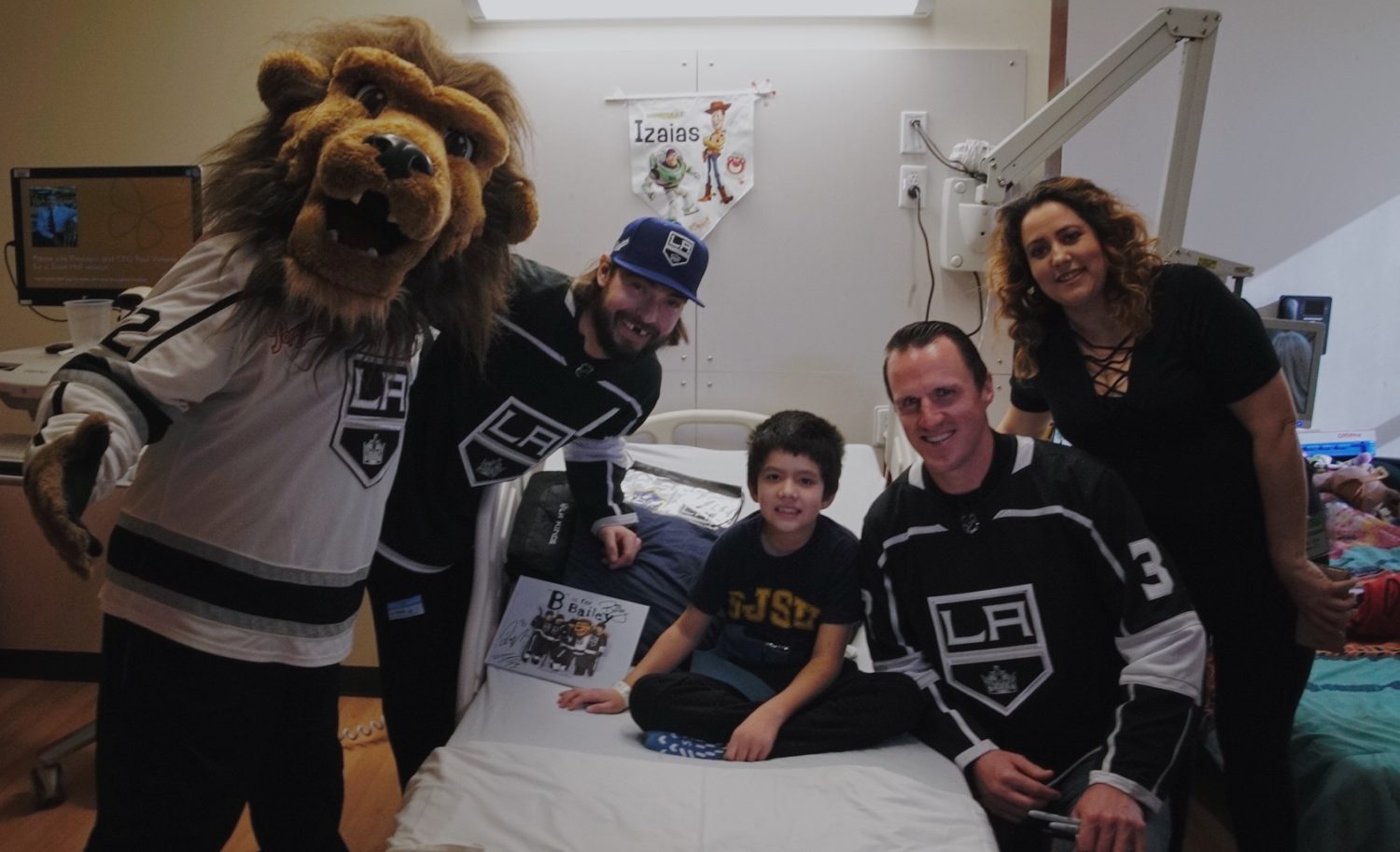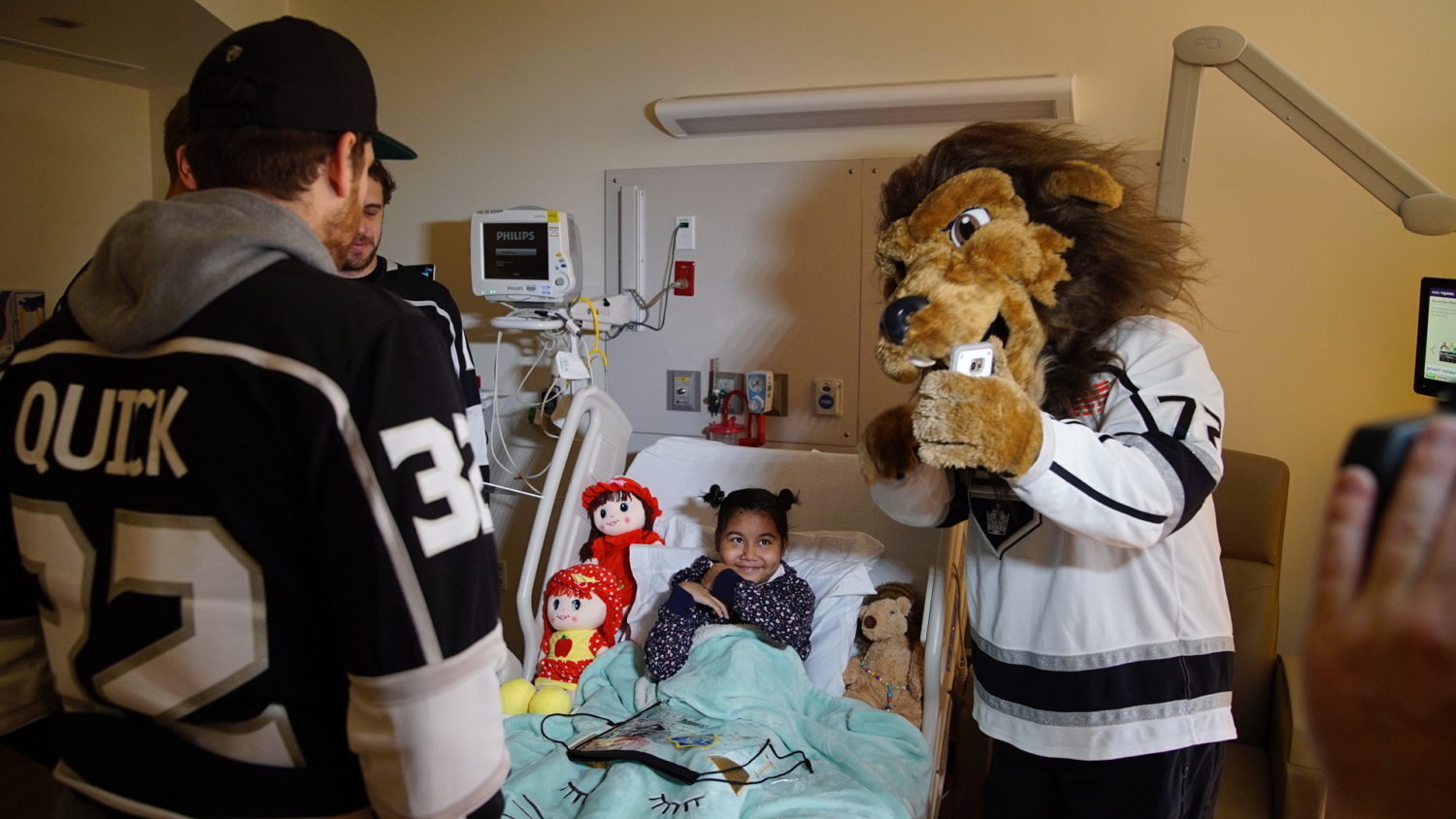 –Lead photo via Juan Ocampo/NHLI