By stopping all 16 shots in his 575th career game, Jonathan Quick backstopped the LA Kings to a 4-0 win, his 300th as a National Hockey League goaltender.
Quick became the 17th goalie in NHL history to reach the milestone before playing 600 games. Ryan Miller, who won his 300th in 566th career game, is the only American goalie to reach 300 wins faster than Quick. Quick reached the 300-win plateau faster than all but 10 NHL goalies: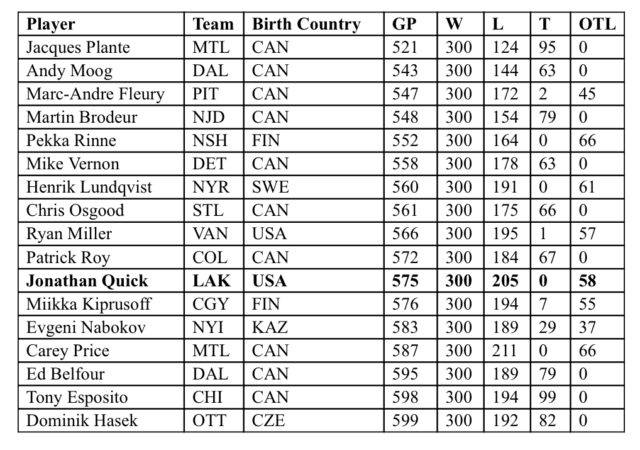 Quick's next win will tie Mike Richter (301 wins) for fourth place on the all-time list of wins by an American goalie. John Vanbiesbrouck and Miller are tied atop that list with 374 wins, followed by Tom Barrasso (369 wins), Richter and Quick.
With his third period goal, Anze Kopitar became the fifth player to score 300 goals with the Kings, joining Luc Robitaille (557), Marcel Dionne (550), Dave Taylor (431) and Bernie Nicholls (327).
In addition to Quick and Kopitar's milestones, Dustin Brown appeared in his 1,078th game with Los Angeles, moving past Luc Robitaille into sole possession of second place on the franchise's all-time games played list. Dave Taylor is the franchise leader with 1,111 games played.
All-time LA Kings records:
Skater GP
1. Dave Taylor: 1,111
2. Dustin Brown: 1,078
3. Luc Robitaille: 1,077
4. Anze Kopitar: 964
5. Marcel Dionne: 921

Goals
1. Luc Robitaille: 557
2. Marcel Dionne: 550
3. Dave Taylor: 431
4. Bernie Nicholls: 327
5. Anze Kopitar: 300
Assists
1. Marcel Dionne: 757
2. Wayne Gretzky: 672
3. Dave Taylor: 638
4. Luc Robitaille: 597
5. Anze Kopitar: 556
Points
1. Marcel Dionne: 1,307
2. Luc Robitaille: 1,154
3. Dave Taylor: 1,069
4. Wayne Gretzky: 918
5. Anze Kopitar: 856
Goalie GP
1. Jonathan Quick: 575
2. Rogie Vachon: 389
3. Kelly Hrudey: 360
4. Mario Lessard: 240
5. Jamie Storr: 205
Wins
1. Jonathan Quick: 300
2. Rogie Vachon: 171
3. Kelly Hrudey: 145
4. Mario Lessard: 92
5. Jamie Storr: 85
Shutouts
1. Jonathan Quick: 51
2. Rogie Vachon: 32
3. Jamie Storr: 16
4. Felix Potvin: 14
t-5. Stephane Fiset: 10
t-5. Kelly Hrudey: 10
Goalie GAA (minimum 75 games)
1. Jonathan Quick: 2.30
2. Felix Potvin: 2.35
3. Jamie Storr: 2.52
4. Stephane Fiset: 2.83
5. Rogie Vachon: 2.86
Goalie Save Percentage (minimum 75 games)
1. Jonathan Quick: .916
2. Jamie Storr: .910
3. Stephane Fiset: .906
4. Felix Potvin: .905
5. Jason LaBarbera: .904
–Lead photo via Adam Pantozzi/NHLI