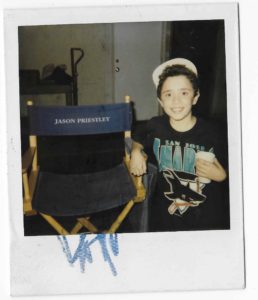 INSIDERS. It's 90's Night at Staples Center. I'm prefacing today's notes by apologizing in advance for wearing the shirt at right, which will be shown on the broadcast and in the arena. I was 10 or 11 at the time, and literally every single 11-year-old hockey fan in 1992 had San Jose Sharks paraphernalia. We were asked to find the most nineties photos in our possession, and you would be hard pressed to find a more nineties photo than someone wearing a teal shirt next to Jason Priestley's chair on the set of 90210.
A reminder that the game begins at 7:00 p.m. and will be broadcast on Hockey Night in Canada up north. If you're enjoying tonight's FOX Sports West broadcast, the storytellers will be Alex Faust, Jim Fox and, on Hockey Night in Los Angeles, Surrey Thunder legend Tony Babcock, who looks an awful lot like comedian and Silicon Valley star Thomas Middleditch.
Anyway, Middleditch, err, Babcock, will join Patrick O'Neal, Jarret Stoll and crew on the set prior to tonight's game and then Faust and Fox during the second period. For the other Silicon Valley junkies – perhaps an invitation could also be extended to Andy Daly, the actor who plays Richard Hendricks' doctor? Or Matt McCoy, who plays disbarred attorney Pete Monahan? Or Ben Feldman or Jimmy O. Yang or or any of the wonderful supporting actors on this terrific show? Season 5 premiers March 25, so it looks like we're back to the desired HBO life-balance of Game of Thrones and Silicon Valley on Sunday nights.
In hockey offerings, the LA Kings took the ice at 10:00 a.m. and aligned thusly:
Kovalchuk-Kopitar-Brown
Iafallo-Carter-Leipsic
Hagelin-Kempe-Toffoli
Wagner-Thompson-Clifford
Forbort-Doughty
Muzzin-Walker
Phaneuf-Fantenberg
Notes!
The vitals: Jonathan Quick was the first goalie to leave the ice and is projected to start in goal versus Edmonton, against whom he is 21-6-5 over 32 career appearances with a 1.89 goals-against average, a .930 save percentage and two shutouts. That .930 save percentage is Quick's second highest against Western Conference foes, trailing only the .935 he's compiled against Vancouver. Matt Luff, Nikita Scherbak and Paul LaDue remained on the ice with Alec Martinez and were joined by Jonny Brodzinski, who skated in a red non-contact jersey and is not quite close to returning. Matt Luff, who has provided the team a bit of an offensive lift, appears to be a healthy scratch for the first time since November 10 and only the second time since his original recall in early November. This decision appeared to be influenced by the last two weeks in which Luff's been held below 10 minutes in six of seven games, a span in which he's totaled one assist.
–Their vitals: Via radio color analyst Bob Stauffer, Edmonton aligned with forward groupings of Draisaitl-McDavid-Kassian, Rieder-RNH-Chiasson, Lucic-Khaira-Puljujarvi and Spooner-Brodziak-Rattie, and defensive pairings of Nurse-Larsson, Jones-Petrovic and Gravel-Manning. Andrej Sekera (achilles), Oscar Klefbom (hand), Kris Russell (undisclosed) and Alex Chiasson (lower-body) are currently on injured reserve, though Russell skated today, per Stauffer, who also noted Mikko Koskinen was in the starter's net. He stopped 30 of 32 L.A. shots in a 3-2 home win in his lone appearance against the Kings on November 29, a game in which Tyler Toffoli's third period go-ahead goal was disallowed because Los Angeles was off-side.
–The Kings rank last in the league with an average of 2.21 goals per game. On Thursday, they lined up with four lines whose production ranged from 17 five-on-five goals (the Kopitar line) to nine (the Carter and Kempe lines). Moreover, two of Brendan Leipsic's three even strength goals this season were scored with Vancouver, further providing context for a lack of middle-six punch.
At practice Friday, lines were adjusted, and for tonight's game, Alex Iafallo, who has six goals and 15 points in five-on-five play) will skate to the left of Jeff Carter (2-3=5 at 5×5) and Leipsic (1-2=3 in 15 GP with Los Angeles at 5×5).
Skating with his new linemates, Iafallo described how he'd like to see his grouping operate on Saturday. "I think just building more pressure through pushing their D back and making sure we're building momentum for the other lines and just making sure we're getting chances through," he said. "That's one thing I think everybody's lacking is our chances and, you know, we're trying to get those chances and we just need to keep working at it and working hard."
He'll skate with a right-handed center instead of the left-handed center with whom he's skated during the majority of his five-on-five minutes over the last two seasons. This will create some minor adjustments on breakouts.
"He's always going to be open especially because he's a righty, so I'll be able to find the stick," Iafallo said. "I'm excited. It'll be fun playing with him and Leiper on the other side, so we've got to get some chances and drive pucks low and create chances in the offensive zone."
Regardless of who or where they're coming from, the Kings need goals, plain and simple. They usually flow freely at home against Edmonton, against whom the Kings have averaged 4.9 goals per game at Staples Center dating back to the 2014-15 season. They've won nine of those 10 games.
"We have to get more out of our lines, for sure," Willie Desjardins said. "… I think each line has to take a little bit of responsibility for that. The Kopitar line has carried us, but we've got other good players that are capable of doing more. It's about that time that we started getting more."
–With the United States playing for its fourth World Junior Championship gold medal this decade – Mikey Anderson, Rasmus Kupari, the United States and Finland face off at 5:00 p.m. PT on the NHL Network – I reached out to Dustin Brown, who skated with the U.S. as a 17-year-old in 2002, and 18-year-old in 2003, and would have been a pillar on USA Hockey's first ever gold medal-winning world junior team in 2004 had he not made the Kings as a 19-year-old out of training camp that fall.
Brown spoke about the growth in USA Hockey's infrastructure from his teenage years to where it is today: as a team vying for its fourth gold medal since 2010.
"We've been really successful, like you said, in the last decade, and I think it's just growing the game – and they're probably changing the way they develop players a little bit," he said. "Just watching my kids grow up, a lot of them are playing half-ice instead of full-ice. My oldest is 10. He was playing full-ice probably at a pretty young age. My seven-year-old, he has maybe one full-ice game a year, and it's those small-area games that promote that skill work that you see in some of these guys with skills. It's probably a combination of more people playing hockey and the way that USA Hockey is developing, and it's good for the game when you have that rivalry with Canada. Russia is a really good team this year, and Finland and Sweden are always there, but I think the competition is getting better than it was when I played."
What type of a Hockey Dad is Brown?
"I kind of just sit back really," he said. "I mean, as long as they're not dogging it, I don't really have a problem with how they play because some parents get a little crazy, so I just want to make sure they're having fun really at the end of the day. If they're not working I'll give it to them, but other than that, making plays or making decisions on the ice, that's how you learn."
–News from Wood County, Ohio:
Current GM of the @LAKings, our alumnus, and one of the greatest to ever play this game Rob Blake (@Robblake4) was in attendance for tonight's victory! 🏒 TAPS to a legend. #AyZiggy pic.twitter.com/c2O2kERYd7

— Bowling Green Hockey (@BGFalconHockey) January 5, 2019
While it's always nice to be recognized by the alma mater, I'm led to believe Blake was also getting a look at Bowling Green defenseman Alec Rauhauser, who attended development camp in El Segundo last spring and is among the most heavily scouted NCAA free agent defensemen this season. The 6-foot-3, 215-pound left-shot blue liner turns 24 in May and still would have another year of college eligibility remaining but is likely to sign an NHL contract after his NCAA season ends. The reigning WCHA Defenseman of the Year and Second Team West All-American is following up his 41-game, nine-goal, 39-point sophomore effort with a two-goal, 14-point performance through 21 games thus far with the Falcons.
Keep in mind that Rauhauser's presence at Los Angeles' camp does not foretell anything. Last year, Zach Whitecloud attended development camp in El Segundo before signing with Vegas midway through the 2017-18 season. Rauhauser attended Toronto's development camp in 2017, for what it's worth.
–Tonight's officials are referees Trevor Hanson and Brad Watson and linesmen Ryan Gibbons and David Brisebois. Mandie Pinto will perform the O Canada, followed by Pia Toscano's rendition of The Star Spangled Banner. If you're watching at home, make sure you catch the game open right at 7:00 p.m. on 1990's night. Let's talk soon, Insiders. U-S-A, U-S-A, U-S-A!
Willie Desjardins, on trying to recreate what they did well in the first five games against Tampa Bay, or whether the team just moves past that game and starts anew:
Well, we have to do what we were doing in the first five, for sure. You kind of have to look at how you've been playing as a whole – like, your last five or six games. You never judge just one. So, we'll look at that, and we'll do some things that we were successful in that. But saying that, I think the last two or three we haven't been as good, so we have to find ways to get better. It's tough – whenever we wanted to start to make something happen in that game, they took it away. Anyway, we've got to move past it, though. We've got to start focusing on the ones ahead.
Desjardins, on whether the recent shots on goal discrepancy is a concern:
Your chances of scoring go up if you put up more shots on net. Some guys like to get such high-percentage shots. I do like to see a bit of volume, because if pucks go to the net, then things can happen. … For me, I'd like to see a few more shots, for sure.
Desjardins, on the United States catching up to Canada at World Juniors:
They have caught up, for sure. One way to judge, too, is the guys that are playing in Europe, because other countries can pick the top guys that can play, and there are more and more U.S. guys playing overseas now, which indicates they're developing more players overall. Not just for the NHL, but overall they have more depth in their programs than they've ever had. I think you can look in the draft – how many players that are getting picked high up in the draft is a good indicator, and I think all those things show that USA Hockey is trending in the right way and they're developing some good players.
–Lead photo via Juan Ocampo/NHLI