Willie Desjardins' Medicine Hat and Texas teams were known for their attacking, go-go-go mindset. In the increasingly pace-driven National Hockey League, in which speed is more and more of a weaponized asset, such aggressive tactics align well with league trends.
Those thrusts were very apparent, even to a goaltender (and the lone player on the Kings roster who has experience suiting up in a game for Desjardins).
"At least the way we played in Texas, it's a fast game, but you don't give up a lot of chances," said Jack Campbell, who spent two years in the American Hockey League with Desjardins, with whom he won a Calder Cup in 2014. "Obviously it was at the AHL level, and I just try to stop the puck, but as far as the NHL and stuff like that we'll see, he's a great coach, he's a really good person. I know the boys really enjoyed playing for him when I was in Texas, we had a lot of success there. I think today was a great first day."
Campbell, in line with his Jonathan Quick-esque disposition, took responsibility for not having stopped enough pucks to retain John Stevens, a figure the team largely admired, even though it wasn't visibly reflected in how they played. But he also saw the new lease on a season gone astray and understands the urgency they'll need to reestablish their competitiveness amidst the Western Conference pecking order.
"I think everybody saw today, first practice, that Willie runs a real up-tempo style, and I think it's exciting for our group. We have a lot of really skilled players, I think they'll benefit well from it."
And that's exactly what they'll need. The Kings' top players have to reprise their recent highs, and the role players need to step up and command spots on the lineup that for the better part of the last three seasons have basically been turnstiles, especially for younger players. That probably won't happen to everyone all in one season, and it's obviously worth acknowledging that Desjardins' NHL track record doesn't match up to his success in the WHL and AHL.
But for a mid-season change, one in which the Kings will also bring on board Marco Sturm, who is seemingly being groomed for bigger and brighter positions to come, the Kings will need to get every last ounce out of Desjardins' tendencies to play faster and aggressively. Los Angeles, as we all know, isn't blessed with supreme individual player speed – far from it! – but there are intelligent players that Desjardins is hoping will play with pace and buy in to his teaching.
"It's funny, the speed of the game has come through the puck more than skating – the way the puck moves," he said. "And the one thing is these guys are really smart. They have some really smart guys out here that know where to go and what to do. I think one thing we'll try to do – people who saw practice – we'll jump at the start of practice. Every day we'll get our habits, we're moving our feet and going. But they can play faster just because of how smart they are."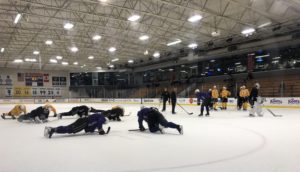 And so that's what the Kings did on their first day of practice. There were drills in which groups of five began drills at opposing goal lines and stickhandled into the neutral zone without colliding or losing the puck. Between then, and practice ending with the losers of a two-on-two drill doing on-ice push-ups, there wasn't much of a let-up.
"I think you'll see, each practice, the first 15, 20 minutes, is no stopping, no board, no talking, it's just everything's fast, it's kind of like a routine I'd almost would say," Campbell said. "I don't know 100% what the game plan is, but in Texas, every day was fast, up-tempo, crisp and it translated to the way we played games. I think we saw the first glimpse of that today."
There are also nuances to playing fast, and Desjardins, similar to Stevens before him and through the efforts of Darryl Sutter, understood that by checking fast and getting to pucks quickly, time spent in the defensive zone will be minimized.
"I think you've always got to recover to the right position," Desjardins said. "I think you've got to get back, and if you're in the right position, good things can happen. And we have to play well defensively. Teams are so good now. Like, once you have the puck, everybody gets back inside the dots and it's so hard to go through 'em, but when they're on offense, a lot of times you can catch 'em on the outside of the rink, and that creates opportunity for you. We've got to get back where we play great defense, turn pucks over and then get out on the attack."
Prior to taking the ice, but after he took a wrong turn walking to Toyota Sports Center from his hotel – "25 minutes in I had to phone Dave Lowry and say, 'hey, exactly where is the rink?'" – he met with the team's leadership committee, with whom he'll rely on heavily as conduits to help disseminate the message and expectations.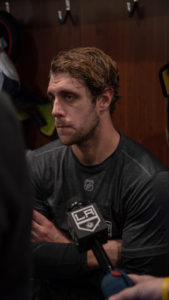 "We sat down for a good 20 minutes and we just talked about stuff, what he expects, what he wants to bring to the table, what he wants us to focus on in the next few days here," Anze Kopitar said. "It was just a, I wouldn't say routine meeting, but it's much of the same message, really. Leaders have to be your leaders and best players on the ice and it's no different this time around."
Getting footing in a season that has opened wide and swallowed any preseason expectations won't be easy. They'll face another team in the Ducks Tuesday night that will be nearly as disappointed in their own start to the season. It's likely that Desjardins will keep the lines from Saturday's game with Columbus intact when the puck drops. "They won last game, so it's probably something we'll stay really close to," Desjardins said.
Again, he will rely on the experience of those who've preceded him as well as on Dave Lowry and Bill Ranford, both of whom he has gone back with in Western Canadian and professional hockey circles. "It'll be certainly a group coaching staff," Desjardins said.
"It's hard, because one of the big things you need from players and coaches, you've got to have some trust, and trust I gained over time. But we don't have time for that. We can't say, 'well, we'll play five games and try to build that trust.' We can't. It's kind of like you've got to trust each other right now. That's harder to do, but we have to do it."
Alec Martinez is a part of that leadership group and understands the need for a new coach to get his team up to speed with the understanding that too much information all at once will be difficult to handle.
"I think any time you have a coaching change like this, I've gone through it once before mid-season, you can't change X's and O's overnight. You're not just going to wake up and play a new system," Martinez said. "I imagine that there will be tweaks as we go along, but I think that the big, glaring thing is that he wants to bring emotion and passion to the game and it's rather apparent that you can't be successful in this league, or perhaps anything in life, if you don't have emotion or passion in it. That's something I think that he's going to bring."
It's not easy for Martinez to say that, given what Stevens meant to him and his development as a fourth round draft pick to a two-time Stanley Cup winner who averages 20 minutes per night.
"[John] was obviously instrumental in my career, a lot of things that I've learned in this game are from him. I think that he gave me an opportunity in a lot of ways and believed in me when maybe some other people didn't and I'm forever grateful for that," Martinez said.
The wider-screen view of accountability was also one espoused by the captain.
"We just didn't play well enough. Last year was certainly a step in the right direction, but last year was last year," Kopitar said. "This year, for whatever reason, we didn't perform and a change was done, that's the bottom line. Everybody in here does and should feel responsible for it. Again, in the end of the day and I hate to say it, my relationship with John was really good and with Don the same thing, but at the end of the day, it's a business and you hate to see guys losing jobs over it."
Willie Desjardins, on how he would like the LA Kings to play:
I want to see us play fast. The word 'passion' has been used. I want to see us play with passion. I want us to be excited when we get to the rink. I want us to start each period quick. We want to find ways to win. We're all about finding ways to win, so when we come to a game, that's how we approach it. Obviously you hate to lose, but more than hating to lose, we love to win and finding ways to win.
Desjardins, on any messages or themes from the first day of meetings and practice:
I think the theme we had is you can't wait. You only have so many years that you have a chance to win, and you've got to win now. The easy toad would be to say 'we can't do it this season.' But you can't afford to waste the season, because you never know what's going to happen in the future. It's the same with me. I didn't know if I'd get another shot at the NHL, so this is my chance. I've got to make it work, and I think that's the same message to the players. You have to find a way to make this season work. What exactly it is, well, we have to find it out, and some of it will be finding it out as we go, but we have to find a way to make it work.
Anze Kopitar, on the dismissal of John Stevens:
Yeah, I mean it's certainly a sad day, really. John being here for nine years, as an assistant, you've been with him through a lot of good times, a few of the not so good times, so it's tough to see him go. I think, me individually, and everybody in here has created a pretty special relationship with John, so on a day like that, it's tough, but in the end of the day, it happened and now we've got to look ahead.
Kopitar, on what message Stevens' dismissal sends to the players:
We're certainly responsible for it. We didn't play up to our potential and we know it and he lost the job because of it. We're talking about the reset button, that's the last resort and the last chance really for us to get it going and really not fall behind too deep.
Kopitar, on what he knows about Willie Desjardins:
I did not know much about him. I was thinking of some players that I played with that he was coaching and I didn't come up with a big list. I'm sure we'll get to know him, obviously in a hurry as we go along, but he seems like an upbeat, tempo guy, lots of energy and that's what he's stressing about, is just bringing the energy and the positive energy, and go from there.
Kopitar, on whether he's reached out to John Stevens:
I did, I reached out to him yesterday. It was on the brief side, I'm sure everybody was calling him and all that stuff, so I reached out to both Don and John and just said a thank you, and that's about it.