INSIDERS. Thank you for listening to our podcast, and if you have a little bit of time at home or in traffic later today, please give 'er a spin. And thus ends today's spam.
Notes!
–The vitals: The LA Kings held an optional skate at Xcel Energy Center, which is maintained exceptionally well and remains one of the most comfortable buildings in the league to play, broadcast and blog in. There were no line rushes, but because Jack Campbell was the first goalie off, and Oscar Fantenberg, Derek Forbort and Sheldon Rempal remained on the ice with Dustin Brown (LTIR) and Jonathan Quick, I'm projecting Campbell to start and Austin Wagner and Paul LaDue to re-enter the lineup for Forbort and Rempal. We may see a shake-up of the lines and pairings, but if yesterday's groupings were a template, we could see forward groups of Iafallo-Kopitar-Toffoli, Kovalchuk-Carter-Pearson, Clifford-Kempe-Thompson and Wagner-Amadio-Lewis and perhaps pairings of Muzzin-Doughty, Martinez-LaDue and Phaneuf-Walker. That's left/right, left/right, left/right, for those scoring at home. Los Angeles won a thrilling overtime game in St. Paul on March 19 but hasn't defeated Minnesota on the road in regulation since a 4-0 win on November 26, 2014.
–Their vitals: Devan Dubnyk and his .944 save percentage will get the nod in goal. He's 7-5-2 with a 2.52 goals-against average and a .922 save percentage in his career against the Kings. Per Jessi Pierce of NHL.com, expect forward groups of Zucker-Staal-Niederreiter, Parise-Koivu-Granlund, Greenway-Coyle-Read and Foligno-Fehr-Brown with defensive pairs of Suter-Dumba, Brodin-Spurgeon and Seeler-Pateryn. Joel Eriksson Ek (IR/lower-body) and Matt Hendricks (lower-body) are hurt. Minnesota has won three straight against Arizona, Dallas and Tampa Bay but has allowed two goals or fewer in just three of their first eight games.
–Another game, another look defensively as there very well may be three lefties and three righties ready to man the defensive spots. Los Angeles has eight active defensemen, and when searching for the right lineup balance Stevens weighs a wide array of criteria.
"For sure, all of it. Performance," he said. "We're going to try and just get something that works. I mean, obviously we've been giving up a lot of goals here lately. Special teams hasn't performed the way we want them to. We want to play faster, and we've got left-shot, right-shot guys here, so I think it's important that we take every day as it comes, evaluate performance, see if there's something that we can change to make it better, and the message to the guys is, 'listen, do the work. Just stay ready, and when you think you have an opportunity, take advantage of it.' We're hoping somebody takes advantage of it. I thought Walker did the other night. Hopefully he can take advantage of it moving forward, and if somebody else gets an opportunity, we want them to take advantage of it."
That applies to Paul LaDue, who appeared in games two through five but has been out of the lineup since the Toronto game. Like Sean Walker showed in Dallas, he's got a good ability to get pucks through towards the net. "We think he's a good blend of a defenseman who can defend well with his tenacity, and he has the ability to move pucks and get pucks through offensively," Stevens said.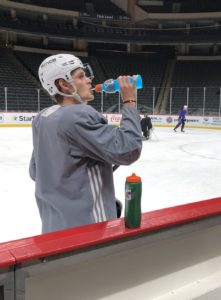 –Meanwhile, Rempal appears to be coming out of the lineup after three consecutive games in which his minutes ranged from 11-plus to 14-plus minutes. He took two shots in his debut against the Islanders but was held without one against the Sabres and Stars.
Again, whether he's in or out will be based on performance. Rempal has a good skill set that can complement offensive players, which is kind of in the same vein as Alex Iafallo, even if the two have different skill sets.
Rempal also has a different skill set from Tyler Toffoli, but Stevens used the 26-year-old winger who's tied for second on the team with six points as a good model. "He's a good offensive player, really responsible, makes a lot of plays on the wall, knows how to get open and find space, and that's what we expect from him."
The Kings are looking for a player to get in on the forecheck and in retrievals and get to pucks, and ultimately in the Dallas game, Lewis was moved into that slot. It's important, according to Stevens, that Rempal looks at the detail to get there and not focus on the end result. "Maybe it's a play on the wall, maybe it's getting over top of a guy, maybe it's being in a support position or in support plays going into the zone or all things that can lead to zone time where he wants to play."
–Adrian Kempe, for a player who only recently turned 22, will often talk at length and share good insight about his game and the team as a whole. He's always an interesting player to chat with and will go to lengths to explain what he sees on the ice and the chemistry he searches to build with his teammates.
His hushed answers on Thursday morning perhaps served as an indication that he's wearing the weight of his team-high 14 penalty minutes, four of which were accrued on a pair of offensive zone penalties Tuesday in Dallas.
"I don't know," he said. "I just try to play hard, and sometimes, I don't know. I've got to cut down on the penalties."
He understands it and the coaches understand it. Sometimes, perhaps because of reputation or the cruel fate of the universe, he'll be whistled for calls that are iffy at best, like on Tuesday.
"[The coaches] told me they thought they were bad calls, but obviously you can't take penalties," he said. "I've got to try to be more patient or do something different."
It's hard to ask a player to change up the approach that has brought him to the NHL, but this is obviously something that has to be curtailed. Kempe plays a hard and fast north-south game and has provided some tough minutes at both ends of the ice as a forechecker and a player with good defensive instincts. He's shown a scoring ability, too, but has only one goal since February 7, which compounds the pressure he must face when the going gets tough.
Thus far, he's been assessed two slashing penalties and two holding penalties to go along with calls for hooking, interference and goalie interference. Three of his seven minors have been assessed for stick infractions, which is where additional detail can often be applied. "You just want to get the puck back in the O-zone, and you play a little too hard and the refs don't like that," he said.
–With seven points, undrafted 24-year-old Alex Iafallo is the team's leading scorer and a key cog alongside Anze Kopitar. On Wednesday he drew the praise of GM Rob Blake, who said, "I'm not sure you can pick a lot of guys that have played well. Iafallo's been a really good player for us."
Between this time last year and now, Iafallo credits a better grasp of the systems and more familiarity with opponents' tendencies and the quirks of different rinks and buildings.
He didn't dress at Minnesota last year – it was the only game between January 26 and March 29 that he missed – but is excited to return to the building in which he played in a number of tournaments at while with Minnesota-Duluth.
He's also growing much more familiar with Anze Kopitar.
"He's an all-around, 200-foot player. He's always communicating to me, so it makes it easier for me. [If] I'm coming back in the defensive zone, he's always telling me either to go as a center, or he's already there. It makes it easier for me, his communication," he said.
That trust and chemistry is becoming intuitive, as is the knowledge of where to find Kopitar on the ice.
"Cycles are a big thing with our game, and he's always there for support, whether I've got the puck coming low and I can slide it past the defenseman – just simple, little soft areas like that is what he's good at," Iafallo said. "Obviously when he gets the puck, he's protecting the puck and waiting for somebody else to get open or is driving to the net. That makes it easier for us to find those areas."
–From today's 31 Thoughts column by Elliotte Friedman, which is always recommended reading:
18. Los Angeles GM Rob Blake didn't wish to expand on his visit to the dressing room after last Saturday's home loss to Buffalo, but he made it clear to the players he considered the team's poor start on them as much as the coaches. Blake's been around long enough to recognize that when you're treading water, other GMs throw you anvils, not life preservers. He knows he's not dealing from a position of strength, has investigated the market and isn't thrilled with what he sees. Going into the room this early in the season is very unusual.
–Unless he falls into the Springfield Mystery Spot, Ryan Suter will play in his 1,000th game tonight. Suter will become the 325th player and 109th defenseman in NHL history to hit 1,000 games, and, per Minnesota's PR staff, will join Eric Staal, Matt Cooke, Matt Cullen, Andrew Brunette and Keith Carney as those who have done so in a Wild sweater. As is unofficial policy, Suter will be honored prior to the home game that follows his milestone, which will be Saturday's affair with Colorado. Silver stick taps to Suter, who since 2005 ranks second amongst active defensemen in assists (423), third in games played (999) and fifth in scoring (500) and in time on ice per game (25:06).
A noted minutes-eater on the blue line, Suter ranks fifth in the NHL in time on ice per game this season and has two goals and seven points through eight games. It's his composure that helps him log long, long minutes, per John Stevens.
"He doesn't waste any energy in his game. I think he's a really good positional player who plays big minutes it doesn't seem like they're hard minutes just because he seems like he's always in the right position. Doesn't race around and waste a lot of energy. Just seems like he plays a really calm, calm game," Stevens said.
Is that something inherent in a lot of defensemen who log upwards of 25 minutes per game?
"I think he's a little different," Stevens said. "If you look [at] … when Pronger played, you watched him play and he didn't race around the ice, but he seemed like he was always in position. I know Pronger was a much bigger guy, but he just seemed to have a real calmness to his game. He gets up-ice without racing up-ice and he seems like he was he was always back in position. [Suter's] been a big-minute guy his whole career and the one thing that comes to mind here is just how calm he plays. He's not a guy that races around. I think he just kind of plays his position, but he's really good, really involved offensively and defensively but without scrambling to get back or scrambling to get up."
–Tonight's officials are referees Jon McIsaac and Francis Charron and linesmen Brian Mach and Trent Knorr. I'll join Patrick O'Neal for an LA Kings Live Rosen Report prior to puck drop. It's another big game day, Insiders. Let's talk soon.