The LA Kings got back to practice on Sunday morning in suburban Toronto, taking part in some systems-instilling work that incorporated special teams detail. It was a standard early-season practice with a good jump and battle element.
What the Kings are hoping does not become standard are their deep early season power play struggles. Los Angeles began the power play 0-for-16 in 2017-18 before emerging from the wilderness with a 3-for-3 performance last October 14 against Buffalo. L.A. finished the year with their third-highest power play rate of the millennium at 20.4%, though they were among many other teams to ride the tide as 18 teams finished above a 20% clip.
The power play was an area that Los Angeles had identified as a vehicle towards added offensive production, and Ilya Kovalchuk was brought in as a weapon whose stated allure was his dangerous one-timer. We haven't really seen that cannon, other than at the start of the Detroit game. But at even strength Kovalchuk has enticingly come as advertised, and has compiled a goal, three points and a team-best 17 shots on goal through five games in all situations. On the power play, he's been among those looking to find their games, and through the first five-game segment of the season has compiled an 80% raw Corsi percentage over 18 minutes, the lowest on the team among any player with more than mere seconds on the power play, for whatever that's worth — and that's probably not much at all five games into the season.
He also took the ice briefly on Sunday before heading back to the room to take care of what appears to be something mild.
"He's just got something that's nagging him," John Stevens said. "It's better to give him a maintenance day than it was to have him go out there and skate on a day between games."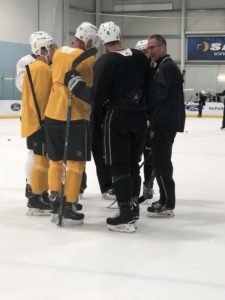 And so work continued in his absence as the Kings ventured to make something of their man advantage, which last scored in the third-to-final preseason game. There was a good feeling on Sunday around the team – practice was lively and animated, and there was good energy among the players both on and off the ice. But when it was time to talk about what was going on with the power play, one player exuded his trademark honesty.
"We've been changing things up a lot, and we're trying to figure out the right fit and what works. I did think that we did some better things on the power play as it went later into [Saturday's loss at Ottawa]," Drew Doughty said. "The first couple power plays weren't very good, and a lot of that's on me. I'm a guy that gets put out there for a reason, and I need to make a difference when I'm out on the power play. It's obviously a five-man unit, but I can help lead the way in that category. I've failed in that so far, and I'm looking forward to hopefully doing a better job of that next game."
Drew's being hard on himself; he hasn't been on the ice for a goal against in any situation this season and was a +1 in Saturday's 5-1 loss.
But he would like to see a more basic bodies-and-pucks-to-the-net power play approach.
"I don't want to say we're 'playing scared' out there, because we're not playing scared, but we're overthinking it. Just keep things simple, get pucks to the net," he said. "I'm even going out there – and I've never thought this way in my life – and I'm thinking, 'if we don't score here, we failed.' You're only supposed to succeed on the power play 20, 25% of the time. If you look at it that way, you don't expect to score a goal every single time, but you expect to get momentum every single time."
Some of the changes he referenced earlier surrounded a change in personnel. Jaret Anderson-Dolan was on all power play shifts with Anze Kopitar and Jeff Carter, and each player logged 4:50 of 5×4 time. Jake Muzzin was not a power play presence on Saturday, while Michael Amadio logged 3:17 to bring his season total to 8:37.
Of their five opportunities on Saturday, none looked better than their attempt late in the second period on Mark Borowiecki's tripping call in which Tyler Toffoli, Kopitar, Carter, Anderson-Dolan and Doughty generated five shots on goal – including an excellent look from the 19-year-old rookie – and controlled play in the offensive zone for the heavy majority of the two minutes.
Of course, one of the keys for improvement will be freeing up Kovalchuk and his shot. Is that what the Kings are looking for precisely? Do they tailor their power play looks based on their opponent and their tendencies? Midway through Sunday's games, Toronto, Monday's opponent, ranked 11th in the league with an 81% penalty kill. Their power play, on the other hand, is a robust 47% that ranks second to Dallas' 54.5% man advantage.
"I'll be honest with you, our focus is on ourselves right now," Stevens said. "You have to be aware of what the opponent's trying to do in terms of forecheck, movement off faceoffs, how they're trying to clear the puck. We look at all that. Some teams will pressure down hard on the half-wall, some teams will back off. You're certainly aware of their tendencies, but in terms of generating an attack and getting some principles in place, it shouldn't change. There might be different options available based on your opponent, but really, the focus on what you're trying to get done shouldn't change in terms of your opponent. You should just be aware of what they're doing."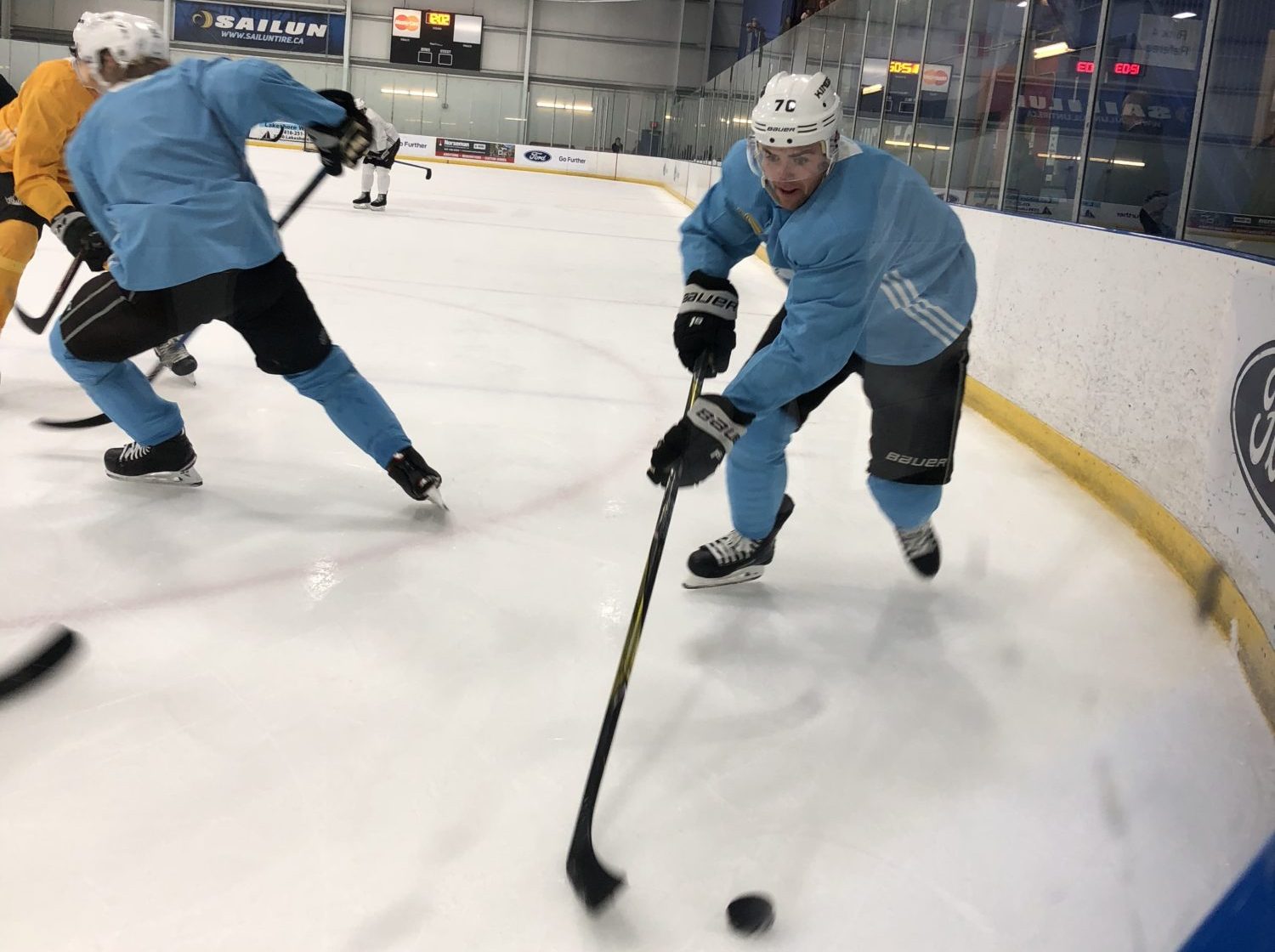 —————————————
Additional notes:
–Jonathan Quick hasn't resumed skating, per hockey ops. The team should know more and have a better sense of where he's at after returning home Monday night.
–Doughty will have parents, cousins and friends cheering him on at his Ontario homecoming. He'll also see his grandparents tonight, though they won't be at the game. There's much less outside media attention this year than there was when the Kings visited early last season, given his contract status. A London, Ontario native, Doughty is more comfortable in the medium sized cities (and Los Angeles' beachside South Bay communities) than he is in the proverbial center of the hockey universe. Does he enjoy being recognized universally and a focus of attention? "It's fine when I come here once a year or whatever, but I wouldn't be able to deal with that [daily]," he said.
–Is Jeff Carter getting his legs back? "It seems like he's moving better. I think he's got the puck more," said Stevens, who again credited his work with the younger players on his line. His playmaking ability and poise with the puck, even as he's been getting his legs back, afford his line the ability to read off each other, Stevens said.
–Stevens' younger son, Nolan, played half a season with Auston Matthews after the superstar's elevation to the from the U-17 group to the 2013-14 U.S. National Development Team's Under-18 squad. On facing Matthews and the Maple Leafs Monday, Stevens deemed it "a good opportunity for us to play against a really good team and get ourselves established" and acknowledged the start of a new five-game segment after the team went 2-2-1 in the first block. "We always feel it's important to get off to a good start not only on the road, but when you're tackling segments five games at a time here. So, this is our first game in the next segment against a good team on the road."