Rapid Reaction, feat. Dennis Bernstein
Post-game Quotes
John Stevens, on Jack Campbell:
We've been talking about it a lot lately. He's giving us a chance to win. I thought he was rock solid tonight. Obviously you get a penalty kill early in the hockey game and he gets tested early, but I thought he was really seeing the puck well. He was really tracking it well. He really kind of stabilizes your team, especially on the road when a team like Montreal comes hard. He was terrific tonight.
Stevens, on the waved off goal, which was then deemed a good goal before the Kings' challenge:
I still don't understand why they reviewed the play. I mean, the whistle went before the puck went in. Quite honestly, I want to get an explanation just so I understand it, but they said the puck [had] continuous motion into the net, so I didn't even think it was a reviewable play, but then when it was, there was no question we were going to challenge it.
Stevens, on the first period:
That was good. I really think when you go on the road, it's important that you have contributions from up and down your lineup, and I thought the Amadio line was outstanding tonight with Anderson-Dolan and Carter, and I thought the Kempe line was outstanding. It can't just be the Kopitar line. I thought those two lines in particular – not just because they scored – every time they were on the ice they had sustained time in the zone and really created momentum for the hockey team.
Stevens, on when the team began playing to get Jack Campbell the shutout:
I think there's always intention of playing 60 minutes. Any time you get into the last five minutes of a hockey game in that situation you want to bear down and continue to play the game the right way, so obviously Jack had a great game. You don't want to see it spoiled late in the hockey game, because quite honestly he deserved it.
Stevens, on any thought of playing Peter Budaj against his former team:
Jack's playing well. When he's playing well, he gives our team confidence and we had him going all the way.
Stevens, on Campbell's growing confidence:
I think Jack – I've said it before – Jack's got ability, but he's got a really good attitude and he's got a great work ethic. Billy's done a really good job and Dusty of working with him. He's been all ears trying to get better. If you work that hard, you're going to get better, and I think he's really worked hard at his game to be ready for an opportunity like this, so good for him.
Stevens, on playing a strong team game to start the third when a Montreal push was expected:
Again, I keep going back to the Amadio line. It just seemed like when they were on the ice they got pucks down deep and really controlled the play with it. But I thought our team did a really good job of getting pucks ahead. I'd like to see us do a better job. Montreal checks really well, and a lot of what they create comes off of turnovers, either leaving your zone or the neutral zone, but I thought that was a game where we continued to do good things through the course of the hockey game.
Stevens, on whether the Kings did a good job clearing the crease to help Campbell:
I just think we had more time in the zone. In Winnipeg, it was a half-court game, so we didn't spend much time in the offensive zone. So, it felt like we were doing half-ice breakouts, do be honest with you. Tonight was a little different where we got up and down the ice better, but Jack's a good team guy and I'm sure he'd be the first one to compliment his teammates.
Stevens, on the key to the team's penalty kill:
I think we're fortunate to have dome guys that are really good at killing penalties, guys that are willing to block shots. We use six forwards. That really helps us, especially when you get that many penalties. I thought discipline was a problem in the second period, and I think Dave Lowry does a really good job of pre-scouting the opponents so we know their tendencies and are aware of what they're looking for to take advantage of. And then, obviously, Jack making key saves at key times. It all comes together, but it's usually the little things that make a difference and your goalie usually comes in that conversation.
Stevens, on Jaret Anderson-Dolan's evolution between his first and second games:
He just looked really confident. He had really good spatial awareness, really good speed and quickness in small places. He wasn't one bit intimidated by the environment of playing in Montreal. I love that when a kid comes in and he's actually excited for the opportunity, not nervous about it, and I thought he showed a lot of really good things. And I think … having a guy like Jeff with those guys, especially him, Jeff was talking to them a lot and really helped settle them down and feel comfortable.
Jeff Carter, on the team's confidence in Campbell:
It's a big part of our team. On the backside we're real confident when Soup's in net and he showed, three games now that he's played, he's shown everyone he's capable of doing it. It was a big night for him. First shutout. Real happy for him.
Carter, on the third period:
You know, honestly I thought we got run around a little bit in the third. After it went three-nothing we maybe kind of took our foot off a little bit, but the guys battled hard, did a great job for Soup. Soup was there when we needed him and it's a big night for him.
Carter, on the play of younger guys like Amadio and Anderson-Dolan:
They were great. They were great. Ammo's a highly-skilled guy and can make real good plays in the middle and A-D's A-D. He works his ass off and hunts pucks down and creates turnovers and he plays the game the right way, so it was easy for me tonight.
Jack Campbell, on playing at Bell Center:
Pretty sweet building. I made my first game as a pro–like, didn't play, I was a healthy scratch. It was when I got drafted they brought me here. That was the last time I've been here so it was pretty cool, opening night, and I mean the boys just came out and played great, so big two points.
Campbell, on what emotions he felt while the goaltender interference challenge was under review:
It was kind of a weird play, so it is what it is. So that's kind of my thought process–can't control it. It was nice that the guy said no goal. I'll take it.
Campbell, on what he thought had happened before the whistle:
Yeah, he kind of made contact. I was outside the crease though so I don't really know the rules. But he kind of bumped me so I kind of went back and then it went in, but then I heard the whistle. But I don't know. It was a nice call so we'll take it.
Campbell, on Dion Phaneuf giving him the game puck:
For one, Dion's just an outstanding teammate. He's such a great guy, such an outstanding competitor, so it's pretty cool to remember that he gave me the puck even though Marty just gave me one and everybody would do that for each other. But that one, I kind of like storing it with my parents because it means a lot and I wouldn't be here without them, so I love 'em.
Campbell, on whether it was a difficult 40-save performance:
That's a good point, they had forty, but we did a heck of a job all night. Like this was a completely different game than the Winnipeg game or before. I thought we played great. They have some real skill, we limited their chances within the house–that's what John always talks about is limiting those interior offensive chances–so I thought the guys did a great job. We got in lanes all night and they cleared my rebounds so I wasn't … tonight so it was nice that they were on top of it.
Post-game Notes
-With the win, Los Angeles improved to 35-90-21 all-time against Montreal, a record that includes a road mark of 12-50-11. The Kings have won three straight against the Canadiens for the second time in club history (also from 2014-16) and have won four games in a six-game stretch of road games in the series for the first time in franchise history. All four wins were shutouts (Martin Jones, 12/10/13, 6-0, 31 shots; Jonathan Quick, 12/17/15, 3-0, 45 shots; Quick, 10/26/17, 4-0, 40 shots; Jack Campbell, 10/11/18), marking the only four times Los Angeles has ever shut out Montreal. The Kings are 8-2-1 in their last 11 overall games against the Canadiens.
-With the win, Los Angeles improved to 2-0-0 against the Eastern Conference, 2-0-0 against the Atlantic Division, 1-0 in games decided by three goals or more, 2-1-0 when scoring first, 1-0-0 when leading after the first period, 2-0-0 when leading after the second period and 2-1-1 when outshot by their opponent.
-Alec Martinez appeared in his 500th career game.
-Jack Campbell earned his first career NHL shutout, stopping 40 shots. His last professional shutout came on April 7, 2017, a 30-save shutout in Ontario's 4-0 blanking of San Diego. He has been named the first star in three straight games.
-Adrian Kempe scored for the first time since February 7, 2017. In three career games against Montreal, he has five goals and seven points. He recorded the fifth game-winning goal of his career.
-Jaret Anderson-Dolan recorded his first NHL point. The last teenager to record a point for the Kings was Kyle Clifford, who totaled seven points (3-4=7) before his 20th birthday in the 2010-11 season.
-The Kings recorded 41 shots (29 on goal, 11 blocked, 1 missed). The Canadiens recorded 73 shots (40 on goal, 22 blocked, 11 missed).
-Los Angeles won 37-of-60 faceoffs (62%). Adrian Kempe won 3-of-6, Michael Amadio won 2-of-2, Anze Kopitar won 14-of-22, Nate Thompson won 8-of-17, Tyler Toffoli won 1-of-2 and Jeff Carter won 9-of-11.
From The Situation Room: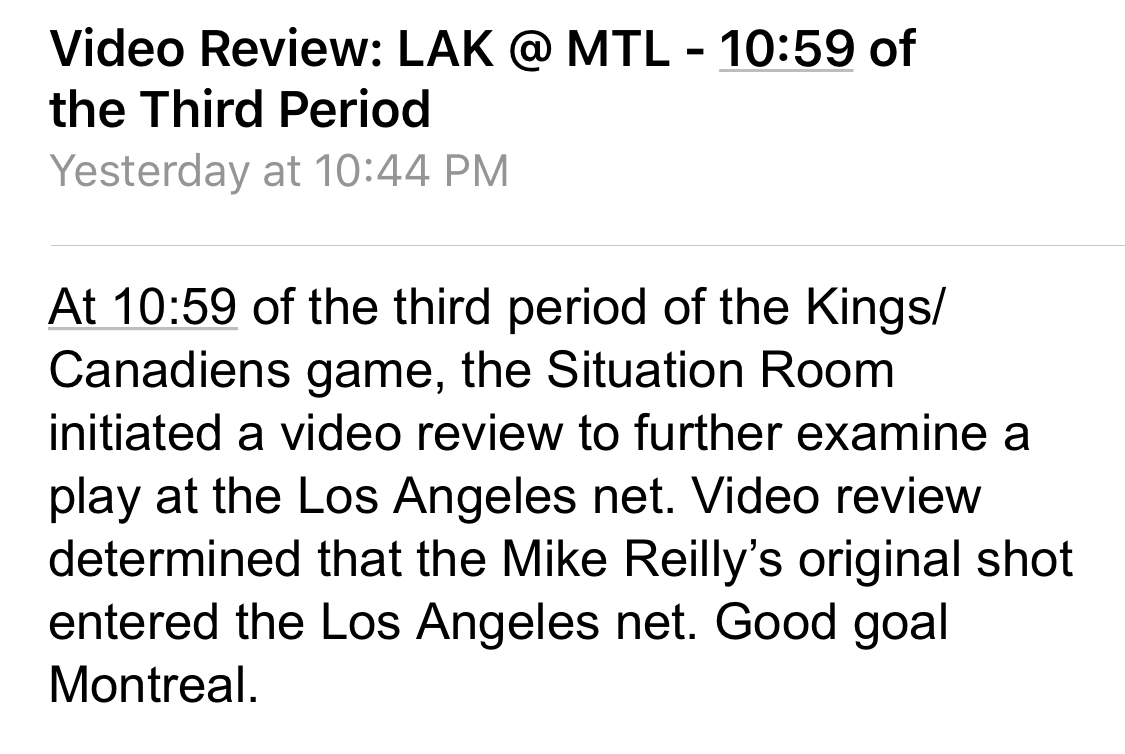 —–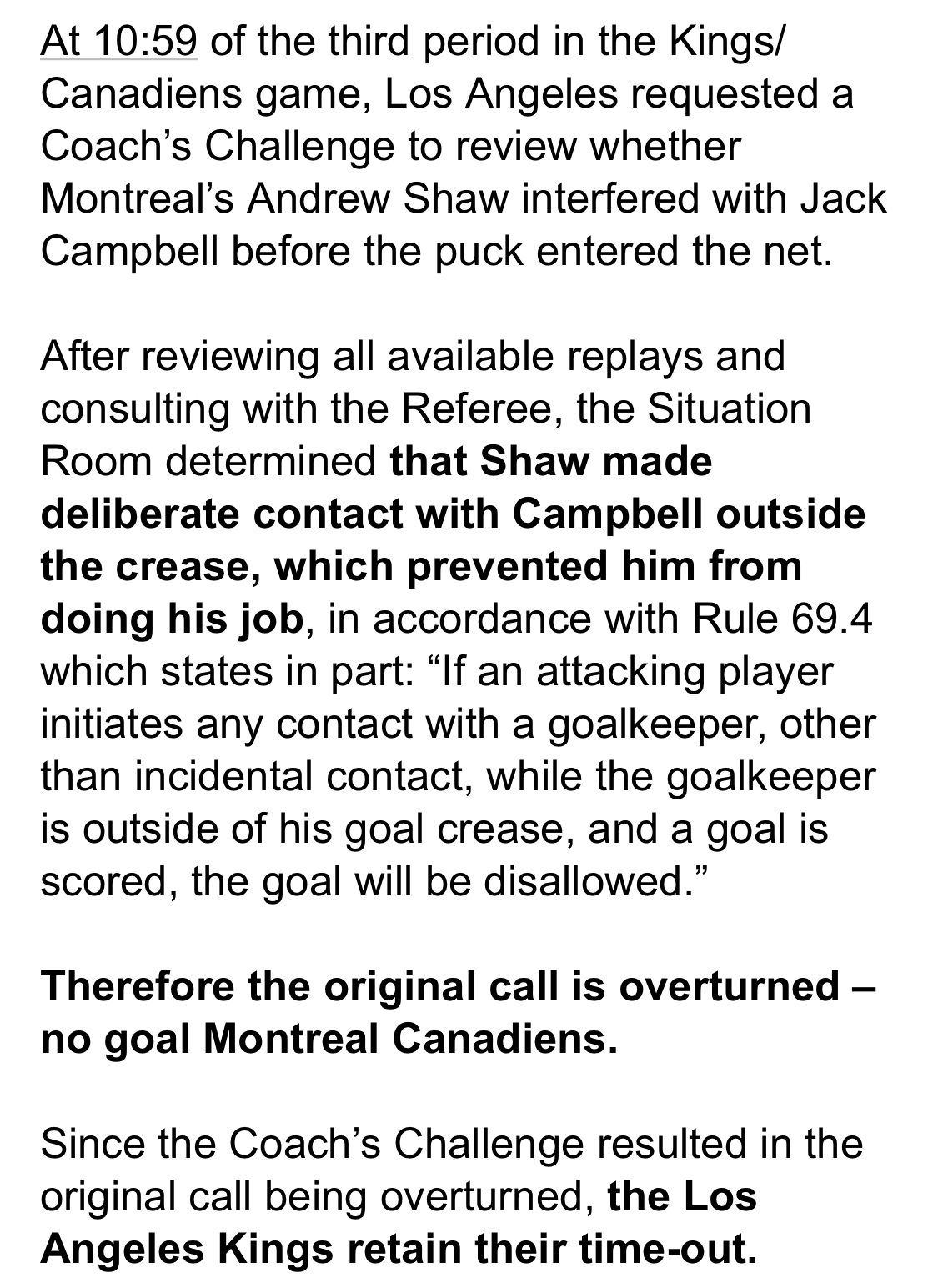 Post-game Highlights
-Lead photo via Francois Lacasse/NHLI