Allow me to present a new LA Kings Insider recurring feature – one that has actually been in the planning stage for over a year. During the season, whether on social media or in LAKI commenting, I get asked questions about certain aspects of the team's play, travel, logistics and organizational structure. I try to answer these questions the best I can, but thought, 'why not get the answer from someone more learned and ask a player?" And thus begins LAKI's Teach Me series, which will regularly ask a player on the team about an aspect of their profession or role that may not immediately be known by the general, hockey-watching public. We're planning on tackling a ton of topics that might not otherwise be germane to the daily question-and-answer scrums that take up so much of our time between 11 am and noon. What is getting traded like? How would you describe playing in Montreal? What kind of a teammate was Colin Fraser? How do you deal with reporters and the media? How are rookies treated? How do nicknames stick? All of these topics – and many more – will be covered in the Teach Me series.
The LA Kings have departed Winnipeg, just like the former Winnipeg Jets departed Friendly Manitoba for a more temperate home in the Sonoran Desert. But it's great to see hockey thriving back in the 'Peg, partly because for many of us, there's a certain nostalgia over things that made us fall in love with hockey when we were young. For me, it was watching Prime Ticket telecasts of old Smythe Division hockey, when the Kings were the lone American team amongst a group of Canadian squads constellated across the vast and wild west. So many of my years as a formative hockey fan were spent at the Forum watching the Kings play the Canucks, Oilers, Flames and Jets, and while the group that formerly called the Winnipeg Arena home never found excessive success – they finished above third place twice in their 17 seasons before relocating to America West Arena in Downtown Phoenix – they were a part of an explosively offensive and captivating division that featured an Edmonton dynasty, Calgary's forceful challenge to their reign, Wayne Gretzky transfer from Edmonton into a fascinating era of Los Angeles hockey, and the Vancouver Canucks.
Earlier today, I spoke with Hall of Famer Nick Nickson to learn more about the experience of working games in Winnipeg (and of traveling to central Manitoba in the 1980's when teams did not charter planes and flew commercially). If you see Nick, or Bob Miller, ask about the old Viscount Gort Hotel, the piano player in the lobby bar, and one of the unique Canadian NHL experiences prior to the Jets' 1996 relocation.
Nick Nickson, on traveling to Winnipeg before NHL teams chartered planes:
They were in our division and there were years where we played them eight times, and because geographically it doesn't make sense to have Winnipeg and the Kings in the same division, quite often we'd play doubleheaders. We would go to Winnipeg and play Friday-Sunday, have the off-day obviously in between, and Winnipeg would come to the Forum back in those days and play a couple of games on the same trip. It was interesting because one year – this is when Minnesota still had the North Stars before they moved to Dallas – because back then we were traveling commercial in the '80's, we went through Minneapolis twice to get to Winnipeg and never played the Minnesota North Stars. We all shook our heads, like, 'why couldn't we play Minnesota and then go to Winnipeg?' So we would go through Minnesota, change planes, get to Winnipeg on a Thursday and play Friday-Sunday. For a few years, I remember when Pat Quinn was the head coach, on that off-day, that Saturday, we would have some team functions. I think for three or four straight years we had bowling tournaments, which was a lot of fun. We gave out awards for the worst bowler, the best form, all kinds of stuff. Bonding stuff. We tried to make the best out of a strange travel situation by getting to Winnipeg.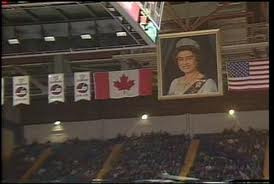 Nickson, on the atmosphere in Winnipeg Arena and playing under a portrait of Queen Elizabeth:
Huge picture of the Queen, that, gosh, it must have been, well, probably as big as some of the new scoreboards in the league, to be honest with you. [laughs] But it was a good atmosphere. The old Winnipeg Arena, which is no longer there, it was a boisterous crowd. They loved hockey, as does everybody in Canada. The thing that I remembered most about doing games in Winnipeg was our broadcast location. It was from a broadcast area that was suspended from the roof, and where we sat, Bob and I back in the '80's when we worked together, we were directly over the boards on the near side, so we actually had to lean over to look down on the ice, especially when the play was on the near side. But you were right on top of the rink. It was a great view. It was probably too close to the ice to call a game from, but boy, you were right on top of it. You could hear the players yelling to each other, and I remember the one play that really stood out was when Randy Carlyle was playing for the Winnipeg Jets, the Kings had dumped the puck into the Winnipeg end and Carlyle's going back for it in the corner, and Bernie Nicholls went right to the front of the net, and Bernie yells at Randy, 'Hey, Kitty!' Randy Carlyle – they called him Kitty – gave Bernie a perfect pass because he thought it was his teammate yelling for him to get the pass, and gave it to Bernie right in the slot and Bernie scores and Carlyle's just going 'What did I do there?' Good memories. Good memories of doing games there, not so much on how you got there to get to the games.
Nickson, on Teemu Selanne's rookie season, and the town-team pageantry during his Jets tenure:
Teemu came in about the same time as Keith Tkachuk and Alexei Zhamnov. The Jets had all three of those players at one time that they drafted, and I remember the first game Selanne played, I think it might have been at the Forum. I mean, he was shooting the puck, had so many chances the first time I ever saw him play. I said, 'This guy's going to score five or six goals in a game sometime,' and as it turned out, Zhamnov had one of those types of games in his career later on in his career against the Kings. To have three players of that caliber to try and build a team around was unbelievable, and obviously Teemu, I don't know if he ever got five in a game, but he certainly scored a lot of goals in his Hall of Fame career.
Previously on Teach Me: Systems and breakouts (Anze Kopitar) | Playing in the NHL as a teenager (Kyle Clifford)
-Lead photo via Bruce Bennett/Getty Images