2005 was a star-studded year for the AHL All-Star Classic.
With the NHL locked out that season, the event featured a collection of talent that it has yet to see again since in such a high quantity. That game featured now Anaheim Ducks netminder Ryan Miller between the pipes, as well as defensemen Niklas Kronwall and Jay Bouwmeester on the blueline. Forwards at that game included Patrice Bergeron, Mikko Koivu, Ryan Kesler, Jason Spezza, Zach Parise, Thomas Vanek and more, as well as current LA Kings winger Dustin Brown.
For Brown, the experience was extra special, being that the game took place Manchester, New Hampshire, where Brown was spending the season with the then AHL's Manchester Monarchs. The 2004-05 season was the only one that Brown would play in the AHL and he spent it lighting up the stat sheet with 74 points (29-45-74) from 79 games played, resulting in a midseason All-Star nod.
Being able to play in that event in front of what were then his hometown fans made the experience a special one for Brown.
"Playing in an All-Star Game is cool regardless, but playing in your home building is always nice," he said. "I got to play in Manchester when it was there, a few guys got to play in the [NHL] All-Star Game here when it was in LA, you're just a little bit more comfortable and obviously the travel is a lot better. You're getting spotlighted amongst other great players and have the home crowd behind you."
Fast forward to what will be 15 years later and the event will once again be played on the ice of a Kings AHL affiliate, this time being Citizens Business Bank Arena in Ontario.
The Reign were selected to host the 2020 AHL-All Star Classic this past Sunday and, in 16 months' time, one or more Reign players will have the same opportunity that Brown had, which is to skate in front of their hometown fans in an All-Star event.
"We've got some guys that are going to be on that team for sure and they're going to have a great time playing in front of our fans," Ontario Reign Captain Brett Sutter said of the 2020 event. "Our fans are awesome – Attendance wise and you see all of our events and the support they show and how enthusiastic they are, I think it will be amazing."
Sutter and Ontario teammate Cal Petersen were selected to represent the Reign at the most recent edition, the 2018 AHL All-Star Classic, held in Utica, NY. Both players enjoyed their time at the event and Peterson alluded to the special atmosphere that surrounded the Comets players in the game.
"That was a huge thing in Utica, the fan support was really cool," he said. "I think being in Ontario it can be even better with the support we get here, night in and night out. Hopefully we're lucky enough to have somebody selected from our team, I think that could be a really special experience for them and the fans. I just remember whenever the Utica guys were announced it gave the biggest applause and everything, it was great."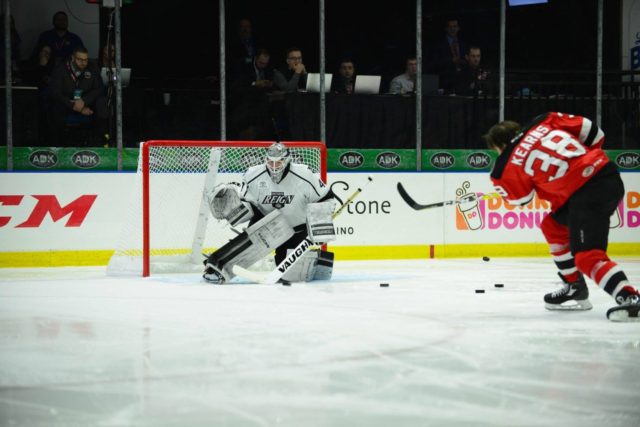 Sutter and Petersen both praised their experiences in Utica last season. The Comets held the event for the second time in 2018 and put on a first-class showcase. Going into an All-Star event as a rookie, Petersen wasn't really sure what to expect but he enjoyed his experience and mentioned having Sutter alongside him really helped him to settle in at the event.
"It was awesome," he noted. "It's obviously a huge honor and I was really excited to go there, especially with Brett Sutter too as a teammate, he helped to really get me comfortable because I didn't know a ton of guys there. It was an awesome experience, especially the Skills Challenge was really fan friendly, we got to interact with them and really just had an all-around great time."
The second part of that answer made me think a bit. The Skills Competition is always my favorite part of the All-Star experience. Seeing the best of the best take part in the fastest skater, hardest shot, accuracy challenge and more is always a fun spectacle that puts the players in a more relaxed, fun atmosphere.
But what about the goalies, do they enjoy an event that is really in place to showcase the skaters?
Petersen said even though the Skills Competition is more tailored to skaters – "you kind of get exposed in some stuff" – he really liked participating in the event. He joked that that the consensus among the goaltenders was to "try not to pull any groins" but he also liked having the chance to get to engage with fans in a new way.
"With the glass down, it was fun to interact with fans and just be in a lighthearted experience with all of the players too."
Petersen was the co-winner of the CCM Top Goaltender award, as he and Jordan Binnington each turned aside 16 of 18 shots on the evening. Petersen also made history in the AHL Live Rapid Fire, becoming the fifth goaltender ever to stop all 10 attempts.
Making it look easy! #AHLAllStar pic.twitter.com/tWZgXJn6Jm

— AHL (@TheAHL) January 29, 2018
For Sutter, the event carried a bit of extra meaning, as he was named as one of two playing captains for the event. For the Viking, Alberta native, playing his eleventh professional season, the All-Star nod was his first and left a strong impression on him.
"I'm really proud to play in the American Hockey League, I think it's a great league and they do a great job with developing players and treating players the right way," Sutter said. "To be thought of in that regard is pretty amazing and you get to go and meet some amazing future NHL players and spend a few days picking their brain, seeing how their careers are going. It's a great event and memory for sure."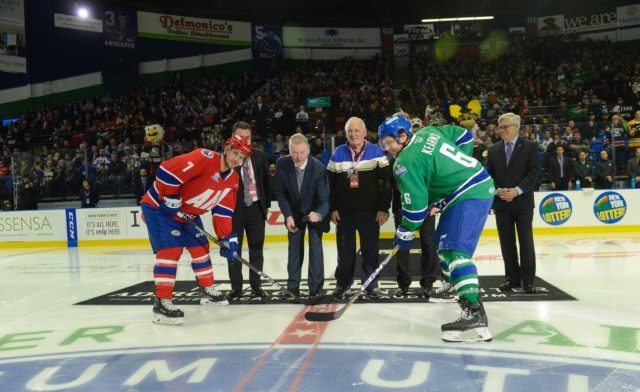 We've still got another season and a half, plus one All-Star Classic in between (Springfield, 2019), but when the time does come, a special event will take place for the hockey community in Ontario.
"Ultimately, it's an event for the fans," Brown said. "They get to see the best players world play, and [with the recent All-Star format changes] I think over the last couple of years it's been really exciting for both the players and for the fans. It's always a good thing to go to that game."