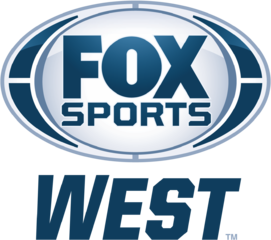 FOX Sports West will telecast 79 LA Kings games this season, the team and station announced Tuesday. In addition to 77 regular season games, the broadcast schedule includes the pre-season games against Vancouver in Salt Lake City, Utah on September 24 and against Anaheim in Los Angeles on September 29. Both preseason games will be carried by Prime Ticket, which will also air the Kings' pre-season game called by the Ducks' broadcast crew in Anaheim on September 26.
To drop the puck on the upcoming season, the LA Kings Season Preview Special will debut on September 24 at 9 p.m. on Prime Ticket following live coverage of that night's game against the Vancouver Canucks.
NBCSN will broadcast the remaining five games: January 15 at Minnesota, January 21 versus St. Louis, February 21 at Nashville, February 25 at Tampa Bay and March 10 at Anaheim. The first 46 games of the regular season will be broadcast by FOX Sports West, which includes the October 23 game at Dallas that will be carried on KCOP-13.
All games broadcast by FOX Sports West and KCOP-13 will also be available on the FOX Sports GO app, available to iOS and Android users. Streaming is also available on smart devices such as AppleTV, AndroidTV, FireTV, Roku and Xbox One.
Alex Faust will return for his second season as the Kings' television play by play broadcaster, while Jim Fox will join him in his 29th year as the television color analyst. Patrick O'Neal will return for his 14th season as television host and will be joined by Daryl Evans for all road games, while Jarret Stoll will return to LA Kings live for home telecasts. Former in-arena host Carrlyn Bathe of XTRA Point will join the telecast to deliver interviews, reports and social media updates while at home, and LAKI will again share reports, interviews and Alec Martinez photobombs before and after road telecasts. LA Kings Live returns prior to and immediately following all home (from the Star Plaza outside STAPLES Center) and road telecasts. Sean O'Donnell has taken on a more full-time role in player development and will not be on this year's home broadcasts.
Alex Curry will continue to take fans behind the scenes with feature stories, interviews and reports on LA Kings Weekly. The half-hour show premieres after the Kings-Canadiens game October 11 on FOX Sports West and will air every Thursday night.
Producer Steven Dorfman, known familiarly as Hoover, will begin his 10th season on Kings telecasts, while Mike Hassan will return to direct the telecasts, a position he has held since 1995. Joel Goodling will return for his sixth season producing LA Kings Live.
Click here for more on the NBCSN schedule.
Social Media
Twitter
@alex_faust
@JimFox19
@Patrick_ONeal
@jarretstoll
@DarylEvans15
@CarrlynBathe
@lakingsinsider
@hoovbud
@joelgoodling
Instagram
@faust_alex
@pucksly19
@patrick_oneal
@darylevans15
@carrlynbathe
@lakinsider
@hoovbud
@joelgoods
If you're into family photos, killer sunsets and Dodger games, you can also follow me at @rambleonrosen.
-Lead photo via Aaron Poole