The Ontario Reign's first round Pacific Division series with the Texas Stars turned at the 9:19 mark of the second period of Game 3 with the series knotted at one game apiece. After allowing a Michael Amadio goal that put Ontario up 4-3, the Stars' Landon Bow was replaced in net by Mike McKenna, the 35-year-old netminder with 24 NHL games interspersed throughout his 13 years of professional hockey. Texas tied the game in the third period, won it in double overtime on Samuel Laberge's game-winner, and then eked out a 1-0 Game 4 clincher on Denis Gurianov's third period goal. Though McKenna allowed seven goals on 72 shots through the first two games of the series, he stopped all 91 he faced from the middle of Game 3 onward, registering a scoreless streak of 128 minutes and 12 seconds in doing so.
The Reign, who dropped three one-goal games – including two that were decided in overtime – lost a first round series in four games despite outscoring the Stars, 12-11.
For Ontario, there was no storybook ending after the team opened the year with a 0-6 record before quickly clawing and scraping its way back towards the heights of the Pacific and finishing in third place in the eight-team division.
"Great group of people, first of all, from the players to the staff, everyone involved," captain Brett Sutter said. "We had a lot of belief in that room that we could get here, and we would've liked for the journey to be a little bit longer, but I think a lot of people probably had us written off early, and we never felt that way. The kids stepped up for us big time. The older guys stuck together, and I thought we had a really good group of guys, so it's just disappointing to end that way."
There are some impending departures and extensions of AHL seasoning for many familiar players that will be addressed in the coming months. From a quick survey of those under club contracts, impending free agents include Oscar Fantenberg, Paul LaDue, Jordan Subban, Alex Lintuniemi, Justin Auger and Kurtis MacDermid, while players eligible to become unrestricted free agents on July 1 without a new contract include Andrew Crescenzi, Michael Mersch and Scott Wedgewood.
It is not clear at this point what the plan is, contract-wise, for Mersch, who won a 2015 Calder Cup and developed a tremendous rapport with Stothers while logging 17 NHL games amidst his 248 AHL outings. The Kings are concertedly trying to get faster, and Mersch, who has launched his body towards opposing creases and has scored some of the most important – and, in the hockey parlance, "greasiest" – goals in the history of their AHL affiliates, has tried to boost his footspeed and explosiveness since signing with the organization in 2014 but is yet to lock down a full-time position. As someone who is not signed for 2018-19 and will turn 26 in October, it is worth considering whether Game 4 was his final game in the jersey of a Kings affiliate.
Mersch spoke about how the journey that ended Tuesday was unique to those earlier in his Los Angeles tenure.
"I've been with the organization for four years. At this point, you see a lot of guys come and go up and switch teams, and we had a lot of new faces this year," Mersch said. "It was really fun for me to be able to get close with these guys and to have new relationships, and ones that will be there for the rest of my life and the rest of my career. You always remember these guys because the way we started and how we were able to finish and get into the playoffs. … It was a tough result at the end, but it was a lot of hard work in this year."
Head coach Mike Stothers was emotional and direct when speaking about his team as a whole, noting that "they bled for me, so I'm a lucky guy."
"I mean, just even to get in the playoffs after starting 0-6, at that point, you're just thinking about winning a game. So, you know what? Credit with the guys to stick with it and battle back," he said. "You know, at various points, we were second in our division and third and fourth and dead dog last after an 0-6 start. So, I couldn't be more proud of the guys. I thought it was terrific. And, you know, you want it to go forever, and I'm not going to take anything away from we made a lot of strides. A lot of teams could have rolled over. Our guys, they dug in deep, and it was a battle all the way. And, you know what? This playoff series was exactly the same."
Texas Stars 1 at Ontario Reign 0
Tuesday, April 24, 2018 – Citizens Business Bank Arena
Texas 0 0 1 – 1
Ontario 0 0 0 – 0
1st Period – No Scoring. Penalties-Maillet Ont (hooking), 18:28.
2nd Period – No Scoring. Penalties-Elie Tex (tripping), 1:51; Morin Tex (high-sticking), 5:58; LaDue Ont (slashing), 5:58; Dowling Tex (tripping), 7:58; Morin Tex (roughing), 19:50; Fantenberg Ont (roughing), 19:50.
3rd Period – 1, Texas, Gurianov 2 (Hintz), 6:54. Penalties-No Penalties
Shots on Goal-Texas 13-6-7-26. Ontario 12-13-22-47.
Power Play Opportunities-Texas 0 / 1; Ontario 0 / 2.
Goalies-Texas, McKenna 3-1 (47 shots-47 saves). Ontario, Petersen 1-3 (26 shots-25 saves).
A-6,222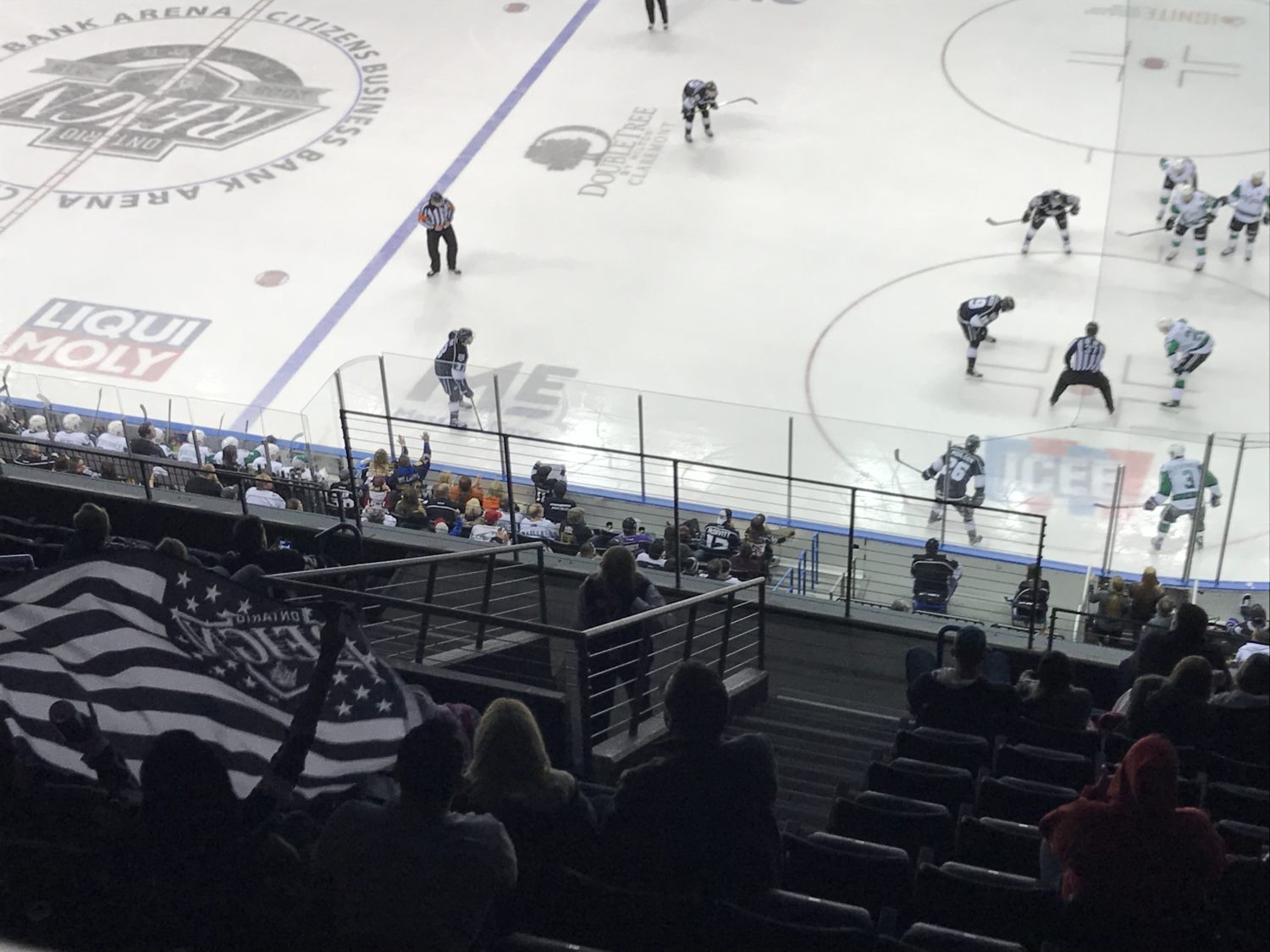 Mike Stothers, on a "hot goalie" determining the playoff series:
Which hot goalie? [Reporter: Theirs.] Ours was pretty damn good. He was really good. [Reporter: But he gave up one and the other guy gave up nothing.] Cal Petersen is the best goalie in the league.
Stothers, on trying to break through in third periods:
Well, you just keep playing. You just keep playing until you score. If it's 1-1 or 4-4 or nothing-nothing, nothing's been determined, right? You've got to find a way to score. We put a lot of pucks to the net. Guys did a great job. Everybody worked hard, so as a coach, you can't ask for anything more from your players. Those guys, they bled for me, so I'm a lucky guy. We've got some great players, great leaders. They leave their life on the line for you? I'll never complain. We're still winners.

Stothers, on the rookies' performances in Game 4:
I'm just going to talk about everybody. The only guy I'm singling out is Cal Petersen. The best God damn goalie in the American Hockey League, bar none. Other than that, I'm proud of my players, every one of them. Whether you're a rookie or a veteran, they're all damn good.
Stothers, on Cal Petersen's career trajectory:
Yeah. I just said he's the best in the American Hockey League. [Reporter: I was trying to get you to elaborate.] What more is there to elaborate on? He's the best in the American Hockey League. I can't answer it anymore. Like, what more superlatives do you want me to say?
Stothers, on the strides Ontario made this season:
They're champions.
Brett Sutter, on trying to beat Mike McKenna:
Yeah, he was good. I thought our guy was just as good tonight, too. Gave us a chance to win. Hard to win games when you don't score, but I thought we played pretty desperate and played hard, and we had our chances and some second chances, but it's a hard way to end the year, for sure.
Sutter, on whether there was a point that the season could've gotten away from the team early:
Yeah, I think like Jon said, right away. You put yourself in a pretty big hole to start the season, and then you get real hot and give yourself a chance. At points we were fighting for the division title and fighting for playoffs. Like I said, everyone stuck with it, right from those first few games when we were struggling right on through. Just like I said, a tough way to end. I thought we had a real good group. I thought we had a good chance in this series and in playoffs, so that one's a little bit gut-wrenching, for sure.
Michael Mersch, on whether this was a difficult way for the season to end, given Ontario's resilience:
Yeah, absolutely. Like you just said, we started 0-6. It was a crazy ride, and you see a lot of guys develop and get better, and that was probably one of the best parts for me, being a part of it, seeing all these young guys get better and be really good down the stretch. Like you said, it's tough the way it ended because I really thought we could go somewhere.
Mersch, on what he saw in Cal Petersen's growth:
Nothing seems to phase him, really. He competes every day in practice. I thought Jack at the beginning of the year, they pushed each other and that helped his development speed up. He's really good and puts in work every day. He's a good friend.
Cal Petersen, on how he'd describe his first pro season:
It was eye-opening. I'm really grateful that I'm part of an organization that treats its players so well and allowed me to develop and get a crack at pro hockey the right way. I think it all worked out as well as it could have. I'm obviously disappointed the way that we went out. We wanted to be the last team standing here at the end of the year, but I'm very proud of the way that we started the year, the resilience that we had to put ourselves back in a playoff situation, so I'm really happy with that.
Petersen, on his relationship with Mike Stothers:
He probably cares about his players as much or more than any coach that I've had, and I think you'll hear that from probably anybody that you'll ask. He obviously has a unique style of coaching. He's more of a passion guy instead of the X's and O's. I just think the way that he motivated us day in and day out to overachieve and be able to do things that maybe we wouldn't think otherwise that we can do I think has a lot of credit to him. He's got a great staff around him as well, but I think any guy that you ask really enjoys the time that they have with Coach Stothers, and I'm really good that we could develop a good relationship, and he trusted me down the stretch.
Petersen, on handling the tension of a tight, low-scoring playoff game:
I think it's mostly just worrying about playing my own game. I think the way we play and the way that they play is kind of two different styles. They're a little bit more patient, and we kind of have an attack mentality, so like I said, different games, you just had to stay in it, and it obviously wasn't for a lack of effort that we were able to put that many shots on there, and it's kind of unfortunate one didn't get by, but from my side, it was kind of just focusing on the next shot, whenever it came.