-Christian Folin, playing in his fourth NHL game early in the 2014-15 season, saw an opportunity to set a tone early in a hockey game and ran Anze Kopitar into the boards, shoulder-to-shoulder, in a clean but heavy-handed open-ice hit. Mike Richards then skated half the length of the ice to engage Folin near the Wild's goal line.
Kopitar and Folin are hockey players and current teammates, so any rugged play from three and a half years ago is obviously water under the bridge.
"[Anze] mentioned it right away when I got here in September," Folin said. "It was pretty funny. He brings it up from time to time, too, that I hit him pretty hard."
Essentially, the incident played out without controversy. Folin made a hit on a star player and, no matter how clean it was, had to answer for it. Drawing an extra two-minute instigator and a 10-minute misconduct, Richards stuck up for a teammate and helped to further accentuate the tone in a hard game between two defensive-minded teams. No big deal.
A similar event played out on Monday when Dion Phaneuf leveled star sophomore Mikko Rantanen, a legal hit that still drew objection from hulking defenseman Nikita Zadorov.
"First of all, it was a really good hit. [Phaneuf] did a great job," Folin said. "I've watched him throughout the league doing those hits, and it's fun to see when he does that. He answered the call. He called him out, and he did a good job fighting. It was impressive, and not long after we got shorthanded again and we go down and score. Two-nothing. I think the team responded really well to those calls and set the tone for the whole game."
There's always the possibility of the opposition gaining energy from a fight, especially when it so closely followed a momentum-spiking event, such as a goal. But Phaneuf isn't the type of player to back down from any call after using his own physicality and will to help set a tone in an important game that opened with tremendous energy and included other heavy hits in the early stages from Blake Comeau and Gabriel Bourque, the latter of which knocked Derek Forbort out of the game.
"We knew it was going to be a big, important game, so we wanted to establish our identity on the game, and I think we did that," Folin said. "Right away we set the tone with our physical play and I think that carried a little bit of the momentum."
-Both the Kings and Avalanche faced personnel challenges on Monday night, with Colorado forced to use goalie Jonathan Bernier on back-to-back nights with Semyon Varlamov out with a knee injury. Colorado defenseman Erik Johnson is also out for the remainder of the regular season with a fractured patella, while at the other end Los Angeles was short Jake Muzzin and Alex Iafallo and lost Forbort while the aforementioned tone of the game was still being set.
When Phaneuf fought Zadorov, that left a five-minute stretch in which the Kings were only able to rotate four defensemen. When Folin took a tripping minor two minutes after Phaneuf's fight, they were down to three.
"I don't think I've ever been to three D at one point," Alec Martinez said. "We've been down to four at times, but three, we were going to maybe call Kopi or Lewie to come down and help us out a bit. Obviously you don't want to see a guy go down like that, but everyone's got to pick it up and everyone's got to chip in, and all five of us got the job done."
He wasn't joking about the forwards taking shifts as defensemen – there are emergency scenarios in place in which teams plan to place a forward on defense. "We've talked about this before," Martinez said, reinforcing that either Trevor Lewis or Anze Kopitar would be the most likely player to step into a defensive role in an emergency.
The adjustments forced the right-handed Drew Doughty to take the odd shift on the left side.
"He looked good," Martinez said. "The guy's the best defenseman in the world, so he can play both sides. I think the last time I watched him play the left side that much was probably at the Olympics, and I think he managed to win a gold medal, so I think he did just fine."
With the team short a left-handed defenseman, Martinez assumed a good percentage of Forbort's minutes and finished with a career-high 32:11 that bested his previous high of 29:23.
"It's obviously tough, but at the same time, we needed other guys to step up and play big minutes, and it was good for the whole group to play that kind of a shutdown defense," Folin said. "We spent a lot of time in our own end, but I think we did a tremendous job, because I didn't think they had that many big scoring chances. They were mostly on the outside."
Several other odds and ends:
-There are several clinching scenarios for the Kings, one that comes as early as tomorrow. Should Chicago beat St. Louis in any fashion, Los Angeles is in. Should the Blues win tomorrow night at home – the first half of a home-and-home set that continues Friday at United Center – then the Kings would simply need a point from their game against the Wild to be able to qualify on Thursday.
-Gabriel Vilardi is not only the OHL's Player of the Week, he's also the Player of the Week across all three Canadian Hockey Leagues:
#CHL Player of the Week is @LAKings prospect @Gabe_Vilardi13 of @KingstonFronts with 10PTS in 3GP including a 3OT winner to end first round #OHLPlayoffs series: https://t.co/UDBOHPd4cv pic.twitter.com/MhooaO17Hz

— CanadianHockeyLeague (@CHLHockey) April 3, 2018
-Minnesota will use Devan Dubnyk in Anaheim tomorrow night before Alex Stalock gets the nod at Staples Center on Thursday, via Michael Russo of the Athletic, who also noted "one forward each will rest final three games." The Wild will be without defensemen Ryan Suter (ankle fracture) and Jared Spurgeon (hamstring tear).
-Earlier in the day, the Ducks learned they'd be without Cam Fowler (shoulder) for two-to-six weeks, while goalie John Gibson is day-to-day with an upper-body injury. Some tough attrition for Western Conference playoff teams and hopefuls.
Christian Folin, on the challenges to the defensive depth:
Yeah, absolutely. It's always a challenge when someone goes down because you've got some shoes to fill. But we've got a good group, and we practice really hard all year, and I know the guys that are going to come in are going to be ready to play, so we look forward to the next game. We've got two more games, and hopefully the playoffs.
Folin, on whether players have to fight after hard, clean hits:
I think it depends on who you hit a little bit. I think it's going away from it a little bit. Guys that hit are better at hitting with clean hits. I think it's not as dirty as it used to be, because back in the day there were a lot of dirty hits and then you respond with a fight. A lot of defensemen have gone away from those dirty hits with high elbows and stuff. There are still a few, but with the league cracking down on those hits, it takes away from it. You're still going to see a few fights here and there.
Prospect notes from the AHL, NCAAs and CHL: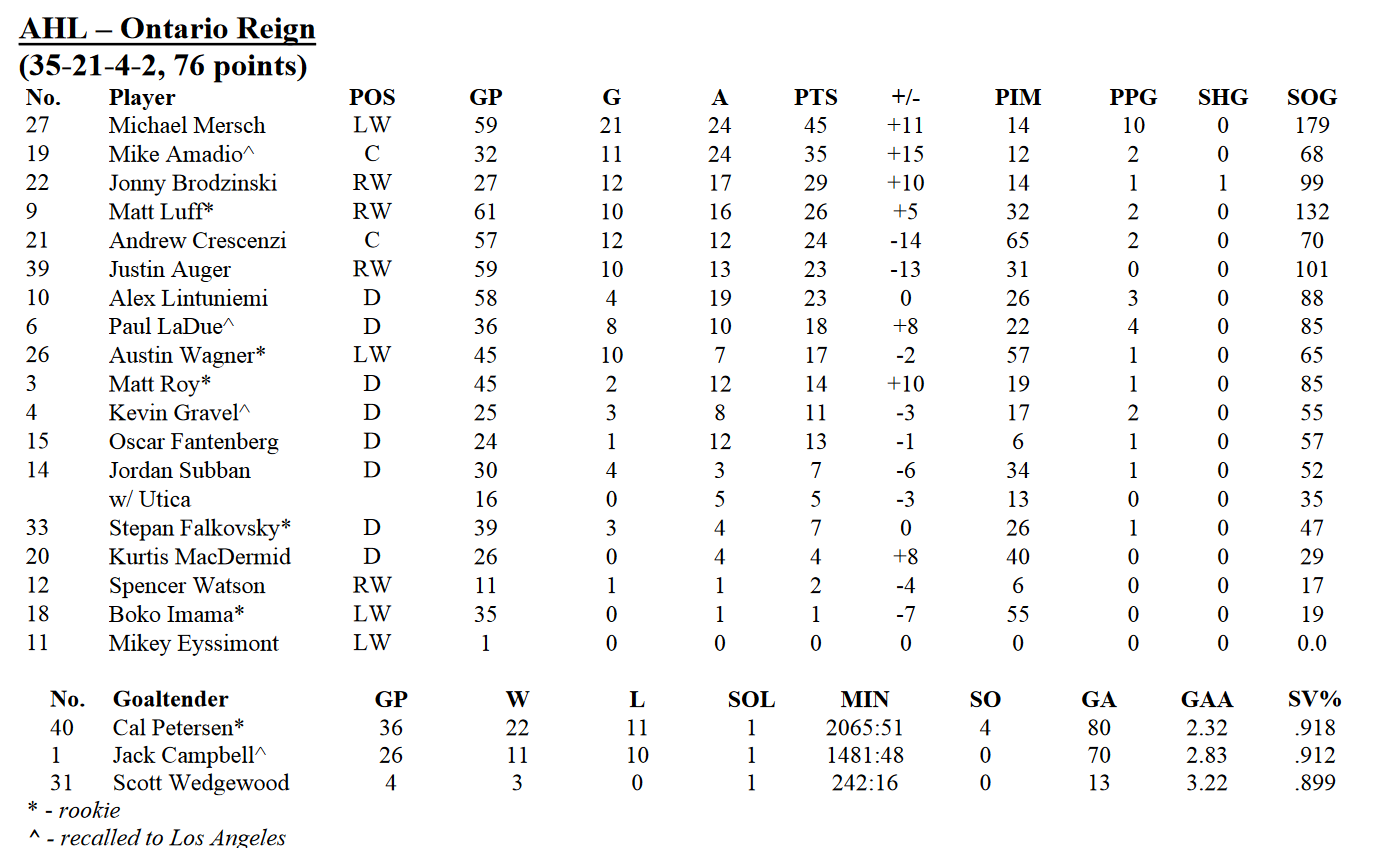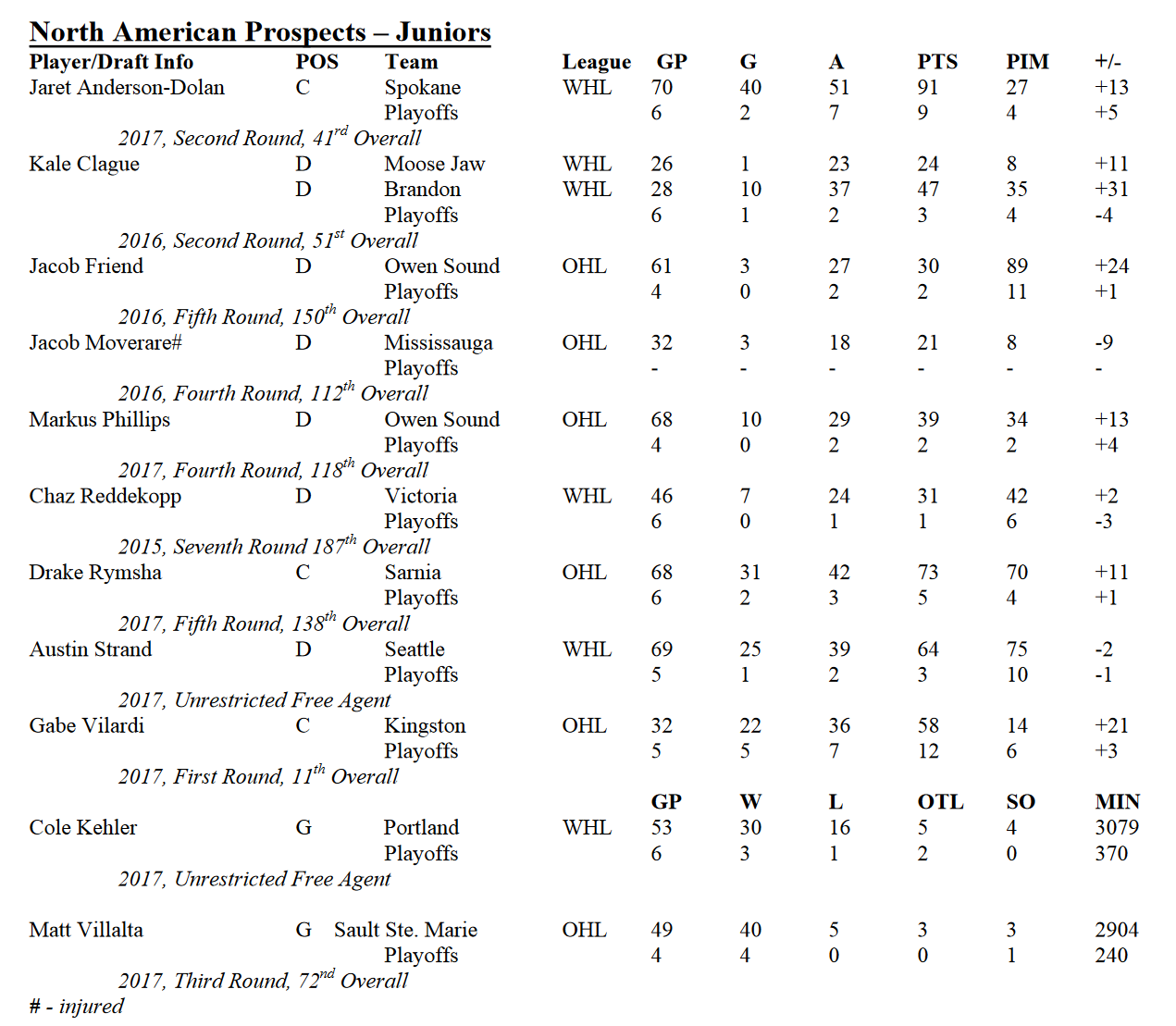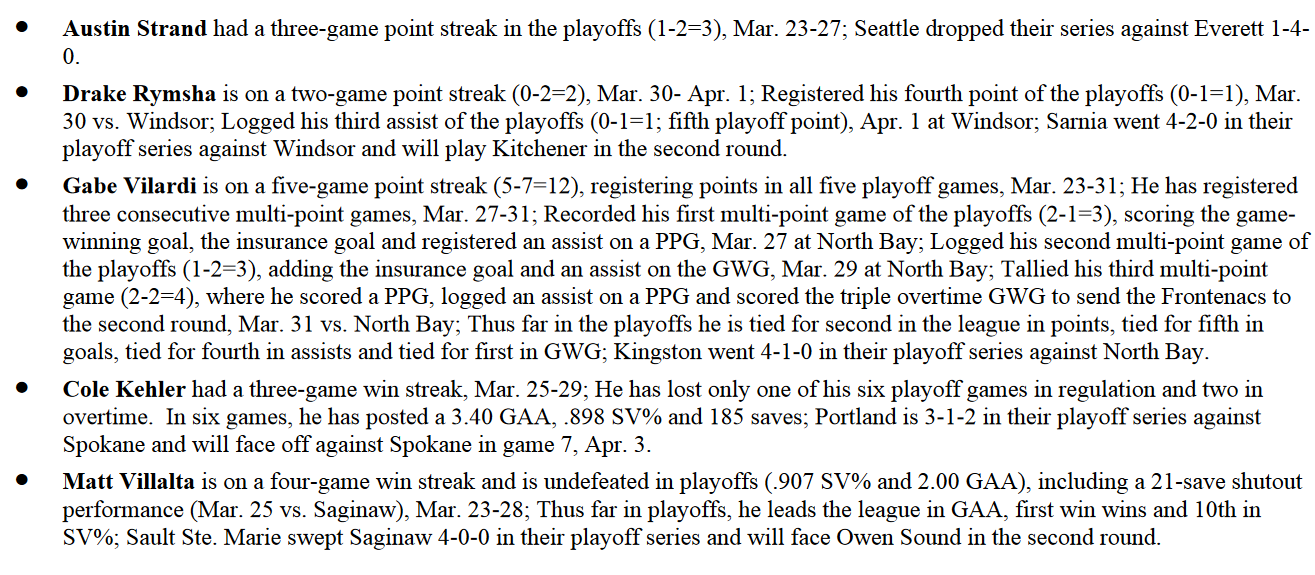 -Lead photo via Harry How/Getty Images