Miller, who broadcast 3,353 Kings games over 44 years as the "Voice of the Kings," was named the top Television Play-by-Play Announcer in Southern California 10 times by the Southern California Sports Broadcasters Association, who presented him with the Special Achievement Award in 2014 and will present him with the Vin Scully Lifetime Achievement Award on January 22. Last year, he was presented with the Lifetime Achievement Award by the National Sports Media Association and was the recipient of the Los Angeles Area Governors Award at the Los Angeles Area Emmys. At the 13th Annual LA Sports Awards on February 6, he'll be presented with the Lifetime Achievement Award, a celebration of his career that includes a VIP reception with Bob through the purchase of featured tickets through this link.
On Saturday, he'll again be showered with love from Kings fans when his statue is unveiled at Star Plaza outside Staples Center and a banner commemorating his 44 years of broadcasting excellence is unfurled inside the arena during a ceremony prior to the game against Anaheim on January 13.
More details of Miller's celebration are below, courtesy of Kings PR:
A statue honoring Los Angeles Kings broadcasting legend and Hockey Hall of Famer Bob Miller in Star Plaza outside of STAPLES Center, and a permanent banner inside of STAPLES Center, will both be unveiled this Saturday as part of "Bob Miller Celebration Day."
Both the banner and the statue will be featured in two special pre-game ceremonies before that night's Kings-Ducks game.
Media are invited to cover the statue ceremony, which is set to begin at 7:01 p.m., outside the STAPLES Center box office. The ceremony will be broadcast live on FOX Sports West and is expected to end at 7:12 p.m. Fans attending that night's Kings-Ducks game are encouraged to be in their seats at 7:15 p.m. to watch the ceremony, via delay upon the conclusion of pregame player warm-ups, on the LIVE 4HD Scoreboard by Panasonic inside STAPLES Center (the ceremony will also be available live on the FOX Sports Go app).
The on-ice ceremony, which features the banner unveiling, will begin at 7:34 p.m. and lasts approximately 15 minutes. It will include several special guests including Kings legends. The Kings-Ducks game is expected to begin at 7:56 p.m.
Miller will also become the first non-player the Kings will honor with a permanently hung banner inside STAPLES Center as he joins Robitaille, Gretzky, Rob Blake, Dave Taylor, Marcel Dionne and Rogie Vachon. Miller's statue will be the third Kings statue in STAPLES Center's Star Plaza joining fellow Hockey Hall of Famers Luc Robitaille and Wayne Gretzky, and the only statue of a hockey broadcaster inside or outside a current NHL arena.
Created by renowned sculptors/artists Julie Rotblatt Amrany and Omri Amrany, the statue will join other iconic sculptures of celebrated Los Angeles sports superstars including Earvin "Magic" Johnson, Jerry West, Chick Hearn, Oscar De La Hoya, Kareem Abdul-Jabbar, Shaquille O'Neal, Gretzky and Robitaille in STAPLES Center's Star Plaza along Chick Hearn Ct.
All fans in attendance for that night's game will receive a special Bob Miller BOBblehead Giveaway presented by FOX Sports West. Kings Care Foundation will sell autographed Bob Miller Emoji Pucks for $25 while supplies last on January 13. To purchase a puck, fans are encouraged to visit the Kings Care Foundation booth at section 103 on STAPLES Center's main concourse. Kings players will also wear special jerseys to celebrate Bob Miller during warm-ups. Each autographed jersey will be sold that evening to benefit Kings Care Foundation on the LA Kings mobile auction site. To view the auction visit lakings.com/auctions, or sign-up to receive auction updates and bid on your phone by texting the keyword "KINGS" to 52182.
____________
This Saturday will also be FOX Sports West's first annual Hockey Day in SoCal. Videos and additional coverage is available here; the schedule of commemorative programming, leading up to Bob Miller's ceremonies and through post-game LA Kings Live coverage, is below: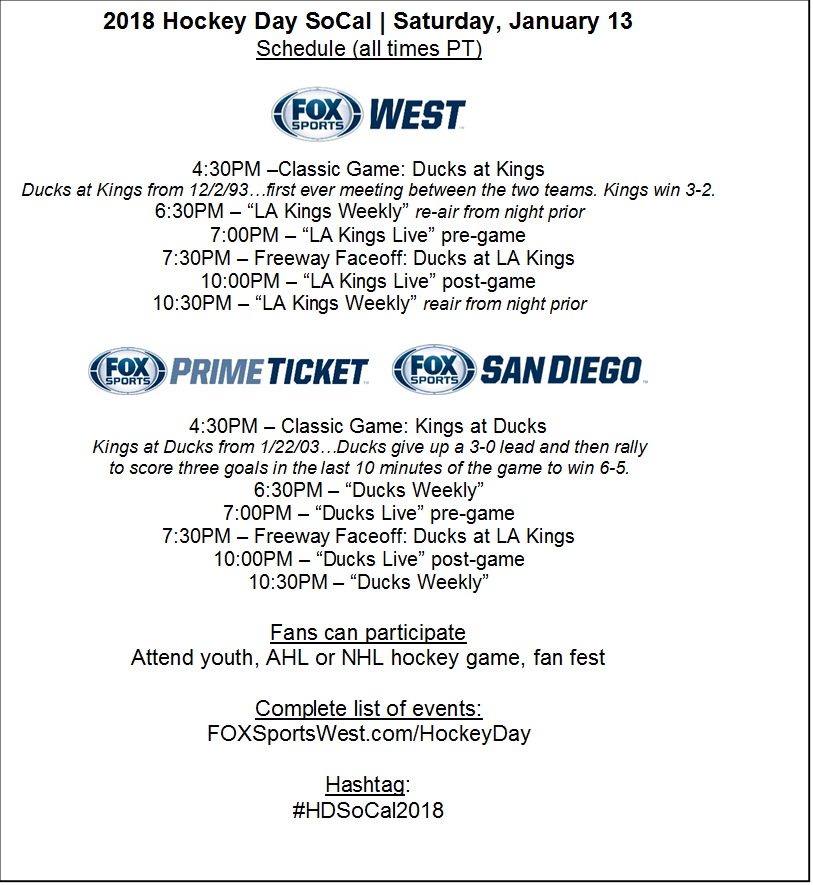 ____________
A brand new Kings Weekly debuts tonight on FOX Sports West at 10:00 p.m. tonight. In addition to Bob Miller coverage, reporter Alex Curry and producer Jack Wilson have put together a fine assortment of stories centering around the LA Kings High School Hockey League, Firefighter Appreciation Night, the Hero of the Game recognition and Carrlyn Bathe's special Xtra Point story on the LA Lions 10U girls team. A preview:
Lead photo: Sean M. Haffey/Getty Images
Bob Miller, who was named as one of six inaugural figures to the Kings Hall of Fame in 1997, was inducted into the University of Wisconsin Hockey Hall of Fame in 1992, was presented with a lifetime contract by the club in 1998 and received the Hockey Hall of Fame's Foster Hewitt Award in 2000. He was inducted into the Southern California Sports Broadcasters Hall of Fame in 2002, was named the California Sportscaster of the Year 1997 and 2002 by the National Sportscasters and Sportswriters Association, received a star on the Hollywood Boulevard Walk of Fame in 2006, was inducted into the California Sports Hall of Fame in 2011 and received the Television Academy's Governor's Award in 2017.