Good afternoon and a happy December 31st to you, Insiders. Also, thank you, SCHEDULOR, for putting us in Vancouver for the second New Year's Eve in four seasons even as EDMONTONIA cast her icy lure west.
-Some 13 hours after leaving Rogers Arena, the Kings were right back there again for a special teams-heavy practice. The power play units appeared to show Martinez-Doughty-Iafallo-Kopitar-Brown and Muzzin-Fantenberg-Gaborik-Lewis-Toffoli, placing a pair of higher-skill forwards with another forward capable of digging pucks free and doing the plumbing. John Stevens was asked specifically about Trevor Lewis' presence on the man advantage, and replied that he put Lewis there several games ago "because he gets pucks backs."
"If you want to have a power play that has success, you need to recover hockey pucks. You can't do anything if you don't have the puck, and Lewie recovers hockey pucks. He's got eight goals, so I think he deserves a little opportunity there," he said. Lewis' precision-guided feed that was redirected high past Jacob Markstrom by a net-crashing Marian Gaborik was the fourth power play point of his career; all four have come in the last three seasons.
-Jonathan Quick played 60 hard minutes last night, so he got his work in off the ice today. That meant Sunday was Designated Billy Ranford Goalie Day, a day that comes once or twice a season.
"I enjoy it because it brings a little energy to the group," he said. "They haven't seen a stand-up guy."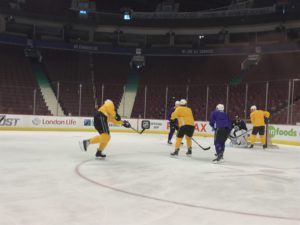 Several players looking to beat Ranford glove-side were denied by quick extensions of his hand. One of them was Anze Kopitar, who had a good look but found only glove from the interior of the right circle.
"I knew he was shooting there," Ranford said. "We talked about it beforehand. That was for the crowd. The three people."
Ranford, the 1990 Conn Smythe Trophy winner with Edmonton, appeared in last season's Oilers-Jets outdoor alumni game in Winnipeg and plays in the odd charity game and some slightly more competitive games that he's played for fun in Jackson Hole, Wyoming.
"The one thing I'll tell you about Billy, you can see why he was a great goalie. He's a great competitor," John Stevens said. "Even at his age, he gets in the net and he just can't not try, so he just about kills himself just because he just tries on everything, so I thought he was great."
When he gets on the ice, there's an interesting clash of goaltending styles at opposite ends of the rink. There's no real butterfly technique, but the competitive will still burns.
"Shot releasing, reading plays, it's still in there, just maybe not as quick as what I used to be," he said. "But it's still there, that aspect of the game. It's the physical — not being able to when your mind's telling you to do it and your body isn't doing it. Then I get mad at myself because I can't do what I want to do even though I know I have the capability to do it, but it just doesn't physically allow me to do it anymore. That's the only thing I get pissed off about. Just watch me on the compete level. Everything else, just throw out the door."
-Christian Folin skated in a purple jersey as part of a penalty killing group and was not in a red, non-contact jersey for the first time since suffering an upper-body injury December 18 at Philadelphia. As John Stevens noted two days ago, he's now day-to-day.
-Kale Clague, Jacob Moverare and Mikey Anderson have been getting their World Juniors due, and Gabriel Vilardi has also been in the news as of late, but several other prospects are putting together strong seasons: Drake Rymsha (5th/17) is tied for ninth in OHL scoring with 45 points (17-28=45) and 114 shots on goal in 37 games, while Matthew Villalta (3rd/17) leads the OHL with 23 wins and a 2.45 goals-against average, and ranks fifth with a .912 save percentage for the 32-3-2 Soo Greyhounds, winners of 23 straight games. Out west, Cole Kehler (FA/17) ranks second in the WHL with a 2.51 save percentage and a .919 save percentage, and fifth with 18 wins for the Portland Winterhawks.
-Because I forgot to post it earlier, here's Pass it to Bulis' I Watched This Game. John Stevens quotes will follow shortly, Insiders.