Good afternoon from Philadelphia, Insiders. The Kings skated at Wells Fargo Arena at 11:30 a.m. this morning, and because they did not get on the ice yesterday, there was a touch more structure to today's morning skate. There was some power play work, several flow drills, and though there were no clear line rushes, several transitional drills appeared to indicate the following lineup:
Gaborik-Kopitar-Brown
Pearson-Kempe-Toffoli
Iafallo-Shore-Lewis
Andreoff-Mitchell-Brodzinski
Muzzin-Doughty
Fantenberg-Martinez
Forbort-Folin
-Jonathan Quick left the ice and is projected to start in goal. John Stevens indicated early this morning that some lineup decisions will be made closer to game time, so the above isn't a clear representation of who will be in tonight's lineup. All players who traveled were on the ice for the skate.
-Marian Gaborik has jumped up to Anze Kopitar's line at times since his return, and coaches always make adjustments to lines during games, but this represents the first morning skate in which he, and not Alex Iafallo, skated to the left of Kopitar and Dustin Brown. Should we expect this to carry over to the game? "I'm not sure. It just depends how it's going," Stevens said. "Gabby came back and played really well for a stretch, so sometimes it's just a matter of the game. We'll see what the match-ups are from their side. Sometimes you get surprised on the road of what the match-ups are. Bigger body, faster player, it just depends how the line's doing against the match-ups. We're not quite sure what we're going to do there yet, but even if we do start one way, we can change in a hurry."
-The Kings don't appear to be a pressing team at the moment, but they're aware there are things in their game that can be cleaned up after an 0-2-1 stretch. Among them is refined use of the forward up high in the offensive zone.
"I think having that good F3, I think it helps us generate a lot more chances in the offensive zone, and also when a puck gets turned over, we know who's got that third guy back and we can usually get the puck back quicker and transition right away. We just put more of a focus on having that third guy," Trevor Lewis said.
Lewis fought Jason Chimera in the first period of the Islanders game, marking his fourth fight in the NHL by HockeyFights.com's count. He's also scrapped with Colorado's Nathan MacKinnon (in the preseason), St. Louis' Vladimir Sobotka and Boston's Chris Kelly. It wasn't really the result of anything else that had happened during the shift, but rather that "we just ran into each other, and it just kind of happened from there."
Lewis gave up two inches and 10 pounds to the 6-foot-3, 215-pound Chimera.
"He's a big boy, but sometimes it happens in hockey and you've got to do it," he said.
Meanwhile, Drew Doughty had a few opinions of the team's play over the final two-thirds of the New York-area portion of the trip.
"I don't even think we played poorly in the last two games," he said. "We should've won the last two games, in my opinion. Honestly, we have, we just blew it, like blew a lead against the Islanders. The Rangers, we had it right there to win. We dominated that game in their zone. They just had some rush chances. We get the confidence from knowing when we do play the right way, we see how dominant we are. The thing we can't allow to happen anymore is if something bad does happen, we can't go in the wrong direction and go the other way. That's what we tend to do. They tied it up in the Islanders game and let them get the go-ahead goal, where instead we should've scored that third goal before they tied it up and had that two-goal lead. We need to learn from those mistakes, but I don't think we're lacking confidence right now. I think that we have a lot of confidence in the team and in each other, and we're ready to go tonight. It's not a lack of confidence thing as to why we're losing."
-Tonight's game brings Adrian Kempe back to the Wells Fargo Center, where a major leap in his professional career took place. "Been here once. It was a good day," he said."
Kempe was selected with the 29th overall pick in the first round of the NHL Draft when it was hosted by the Flyers two weeks after the Kings celebrated a championship on the Staples Center ice.
"It was the team coming into the draft that you knew had won the Cup, and you knew they had great players, and that was the dream team to be drafted from," Kempe said. "You hear your name, that's awesome. I was so excited and proud."
Kempe, who had primarily spoken with Michael Futa, Mark Yannetti, Christian Ruuttu and Nicklas Andersson during his draft year, went into the draft knowing that Los Angeles might be his landing spot. Montreal, who owned the 26th pick and selected Nikita Scherbak with it, was another team that he had spoken with somewhat extensively. But, in between the Islanders choosing Joshua Ho-Sang, and the Devils choosing John Quenneville, the Kings strode to the podium and called his name.
"You always want to get drafted as high as possible, and I knew I was ready to go in the first round, maybe second round," he said. "…Sitting there, it was kind of nervous the entire time, but finally getting called up was exciting. It was one of the best feelings I've probably ever had."
Of the 210 players selected in 2014, the 21-year-old Kempe ranks 24th with 58 career games played.
-The Flyers, meanwhile, have won six in a row and tonight will attempt to become the second team in NHL history to win seven straight games immediately after a losing streak of at least 10 games. The last team to do that was the 1966-67 Maple Leafs, the last Leafs team to bring the Stanley Cup to Toronto. Philadelphia has allowed just one power play in three straight games and has gone seven consecutive games without allowing more than two chances. That's important, because their penalty killing overall ranks 29th in the league at 76.9%. The Flyers are the league's stingiest five-on-five team with 46 goals allowed; the Kings rank tied for third with 51 five-on-five goals allowed. Whereas Philadelphia has won back-to-back 2-1 games, Los Angeles has only three wins this season in which it scored no more than two goals: 2-0 W vs PHI, 10/5/17; 2-1 OTW @ BOS, 10/28/17; 2-1 SOW vs ANA, 11/25/17).
Don't appear to be any lineup changes for Flyers:

Giroux-Courturier-Simmonds
Raffl-Filppula-Voracek
Weal-Patrick-Weise
Leier-Laughton-Konecny

Provorov-MacDonald
Gostisbehere-Hagg
Sanheim-Gudas

Elliott expected in goal.

Alt, Lehtera the scratches

— Adam Kimelman (@NHLAdamK) December 18, 2017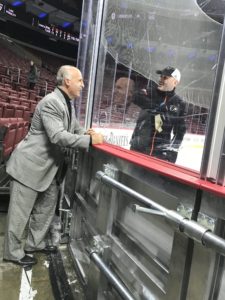 In the regular season, Brian Elliott is 5-6-2 lifetime against the Kings with a 2.25 goals-against average, a .922 save percentage and three shutouts. At right, Flyers Assistant Coach Ian Laperriere gives Daryl Evans a hard time about his fitness-oriented Instagram account. In addition to Lappy, Philadelphia GM Ron Hextall and Goaltending Coach Kim Dillabaugh are among those with ties to the L.A. organization. Both have championship rings from their Kings tenures.
-There was, as usual, really good stuff from Drew Doughty this morning. Tonight, Drew will again counter his longtime friend Wayne Simmonds. It's the latest bout between a pair of All-Stars whose friendship predates their time in the Los Angeles organization, and, as always, Drew speaks colloquially and bluntly. It was fun and interesting to listen to.
Drew Doughty, on whether he enjoys playing the Flyers because he gets to play against Wayne Simmonds:
Yeah, I love playing against the Flyers, for sure. I'm probably going to be matched up against him tonight. The thing I love about Wayne, we're very similar off the ice, but when it comes to hockey is where we really have a lot of similarities. We both are just absolute competitors. We care so much about the team. Everything's team first, and we just hate losing hockey games. You see him out there, he's bitchin' at the refs, yelling at the other team, or whatever it may be. That's not because he hates other people, it's because he can't stand to think of losing. That's why he's such a good player. Neither of us have the top skills on our team. None of us are the fastest players, best hands, anything like that. We just have big hearts and we like to compete.
Doughty, on anything he might say to Simmonds on the ice tonight:
Well, I'm sure I may say hello. But besides that, he's not going to be afraid to run me, I guarantee that. We're buddies off the ice, but on the ice, when we're playing each other, like I said, we're so competitive. If he's going to be able to run me through the boards, he doesn't want to take me out of the game, obviously, but if he has an opportunity to do that, he's going to take me out because he knows I'm an important part to our team and I know he's an important part to their team. We're going to do whatever it takes, really. Within the rules.
Doughty, on whether it's more fun to play against teams that have players he's good friends with:
Kind of, because then you have the bragging rights in the summer when you see him and whatnot. I get up for all games, really. It doesn't matter, unless we're playing like Florida or something weird like that. But every team has a star guy that when I come in here, I've got to match up against him. I'm excited to play against them and usually rise to the occasion. Simmer's just another one of those guys that I enjoy playing against, and it'll be a competitive game.