When I was selected out of the millions of people who applied to be LA Kings Insider for ~50 hours, I thought every little detail was sorted out and it was going to be easy street.
I was so excited to see all of my hard work come to fruition, and even more excited when the LA Kings PR Team handed me a sack with with a dollar bill sign on it.
…well, until I opened it.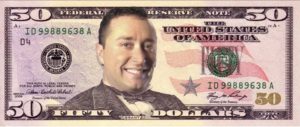 I can't believe I didn't read the fine print when I signed my LAKI service agreement.
So, now, I'm stuck with thousands of LA Kings Insider Bucks, and no one will take them except the Kings Marketing Department, and they are killing me with their exchange rate fees!
Turns out, the weight of the LAKI currency is perfect to make paper airplanes to throw off the top of the parking lot next to Toyota Sports Center.
My lack of awareness and understanding of employment contracts means that one member of the loyal PumperNicholl LA Kings Insider Army will get a box of LA Kings items, which includes:
LA Kings 50th Anniversary Team-signed Jersey
LA Kings 50th Anniversary Stick signed by Drew Doughty
Kyle Clifford Zombie Bobblehead
Tyler Toffoli Holiday Bobblehead
How to Win the Exclusive Pumper Prize Pack™️
The best user-created hair-related GIF or photoshop of Tyler Toffoli, Adrian Kempe or Drew Doughty wins the Pumper Prize Pack™️!
Add your entry in the comments below.
And you better hurry! There's a pretty good chance this, and all of my other posts, will be deleted once Jon Rosen comes back and sees what I've done to this sacred place.