Good afternoon from the team hotel in downtown Detroit, Insiders. The Kings held an 11:30 a.m. morning skate at Little Caesars Arena and aligned as such:
Iafallo-Kopitar-Brown
Pearson-Shore-Toffoli
Gaborik-Kempe-Lewis
Jokinen-Dowd-Brodzinski
Clifford (IR)-Mitchell (visa)
Muzzin-Doughty
Fantenberg-Martinez
Forbort-Folin
MacDermid
Notes!
-Jonathan Quick left the ice first at the morning skate. Based on line rushes, extras are most likely Torrey Mitchell and Kurtis MacDermid. Kyle Clifford, who skated in a non-contact jersey, remains on IR. He has only recently begun getting integrated into practice and is unlikely to play on this trip. Andy Andreoff, as noted yesterday, did not travel at the trip's outset.
-It is possible, though probably not likely, that Mitchell could play tonight. His work visa has not yet been finalized. I asked a team source about this, and it was indicated that Thursday would probably be the most likely day that he'd debut, but there's still an outside chance the visa could be processed by this evening. "He's not a definite go yet, but I'm not sure," John Stevens said when asked of his status after the skate.
-This could probably be said about several players, but Los Angeles does not win the 2014 Stanley Cup without Jake Muzzin's contributions. Paired primarily with Drew Doughty during that title run, Muzzin was on the ice for only one goal against during the San Jose series and ended his 26-game postseason campaign with six goals and 12 points.
Since then, the pairing has been reprised intermittently. John Stevens ressurrected it in Saturday's 2-1 shootout win over Anaheim, where Doughty spent 15:46 of his 24:57 of even strength time alongside the fellow minutes-eater.
"There's not a situation in a hockey game they can't play in, whether you're up five-on-three, down five-on-three, up a goal, down a goal," Stevens said. "They were a really solid pair in '14 when we make the run to the Cup, and i think since then, with the loss of some key people, we've separated them. We thought Muzz was at a point where he could kind of be the lead guy in a [pair] by himself, but we've always thought about putting them back together just because they were so good together before. So, you've got a big, heavy guy that's a good puck-mover and still makes a lot of plays in Muzz, and you've got Drew, and it doesn't matter who he plays with – that partner seems to thrive. I think Derek's got enough experience now, and Marty's been able to move up in our lineup. That pair usually ends up being a heavy-minute pair. We just think Muzz is suited to fit there. I'm not sure it stays there, but it's certainly something we want to look at."
Reading off that, it doesn't seem as though pairing the two together is the preferred alignment, but still a suitable option if there are particular players on the defense – Muzzin and Doughty among them – looking for a spark in their own play. Since the start of 2016-17, Doughty has primarily played with Derek Forbort, and Muzzin with Alec Martinez.
Doughty spoke about how the partnership plays out at ice level.
"I'm honestly not used to it anymore," he said. "He does some different things than Forbs would, so it's different for me. Muzz is a pretty smart player, so sometimes it's hard for me to read off what he's going to do, because he is smart, and he's going to do things I don't expect, but when I play with Muzz, we're both good at breaking the puck out. We don't spend a lot of time in our own zone, and when we are in our own zone, we're good at sealing and creating a turnover, and then exiting our zone. That's the number one thing when I play with Muzz – we don't spend a lot of time in our own zone, we don't waste energy down there, so that's a bonus, for sure. It's just easy to play with Muzz, and not that it wasn't with Forbs, because I loved playing with Forbs, too, but with Muzz I just find we spend a little less time."
When Muzzin and Doughty are paired together, the Kings have a five-on-five Corsi-for of 66.5%, buoyed by a 66.1% offensive zone faceoff percentage. When Muzzin and Martinez are paired together, they have a 44.4% Corsi-for and a 44.4% offensive zone faceoff percentage. With Forbort and Doughty together, the team's on-ice Corsi-for is 51.3%, with 45.9% offensive zone starts. In other words, there may be slightly more favorable zone starts, but in the small sample size, Muzzin and Doughty together – as would be expected – leads to playing more regularly in the offensive zone.
-So, Little Caesars Arena! I haven't gotten a sense of the upper bowl or press box yet, but the lower bowl was pitched steeply and similarly to Montreal's Bell Centre. And like Centre Bell, it has done an excellent job of incorporating the team's history into the design and presentation. It's an extensive history, one that can't even be captured in a single photograph outside Detroit's dressing room: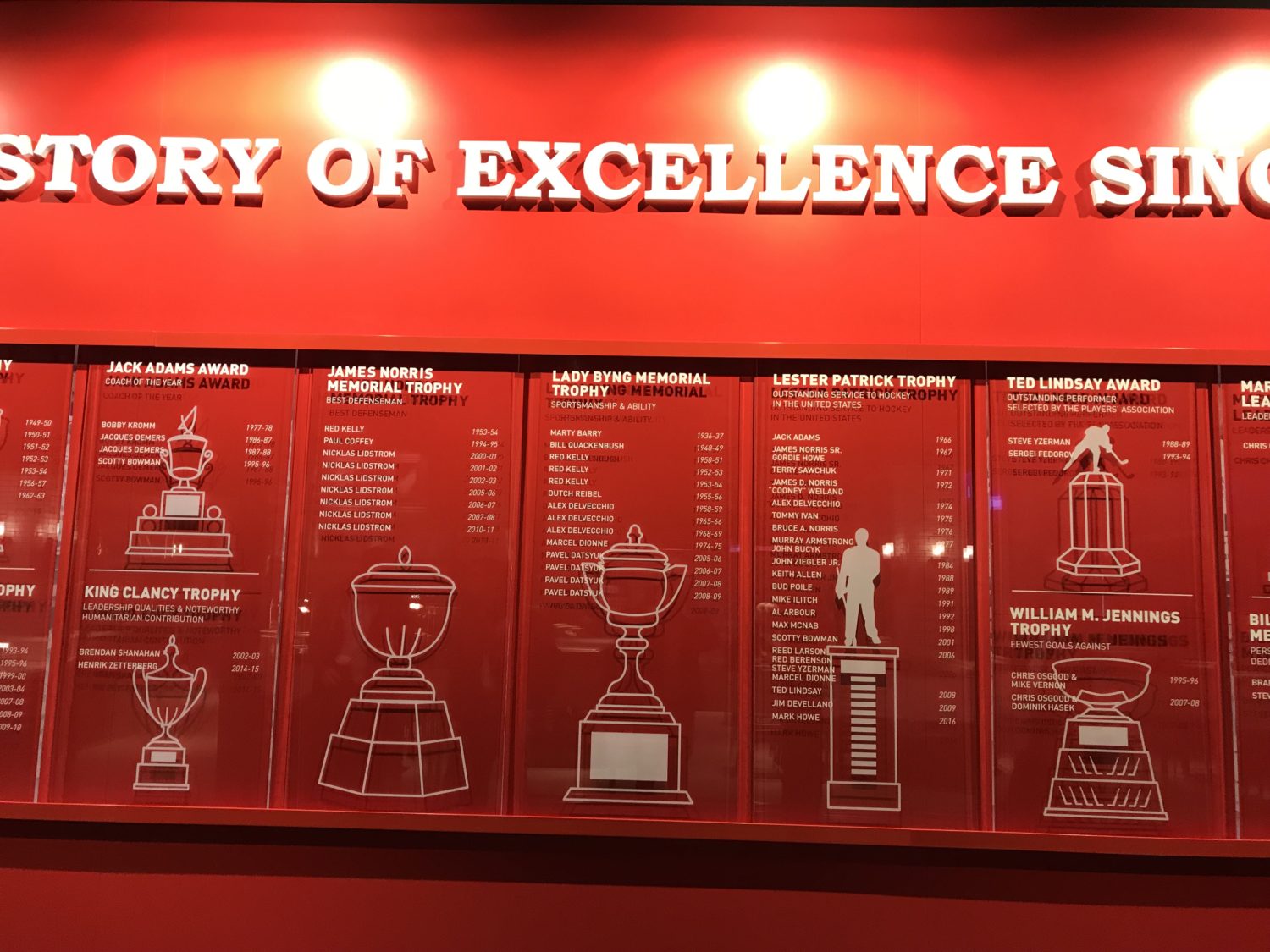 With Matt Greene having moved on to the front office, and Kevin Gravel in Ontario, there's only one Michigander currently on the L.A. roster. That's Rochester Hills native Alec Martinez, and in nine career games at a rink he spent much of his childhood in, he has two goals, five points and a plus-five rating. He has a three-game road point streak at Detroit heading into tonight's game.
"I played for [Detroit coach Jeff] Blashill at Miami, so I ran into him this summer, too, and he was telling me about [Little Caesars Arena]. It's exciting," he said. "The Joe certainly holds a place in my heart. That's where I grew up watching games and played a lot of hockey there myself – in youth hockey, college, and then here – but it's awesome for the city. I haven't really been able to get a good look around the area, but from what I've heard and the renderings that I've seen, it's obviously still in construction. But this building, it's awesome. Everything's state of the art, so it's good for the city."
Martinez grew up playing for the Detroit Skating Club and Honeybaked minor hockey programs. There, and then at Miami University, he frequently played at Joe Louis Arena and got a good feel for the pristine ice surface and the many quirks – such as perhaps the NHL's liveliest boards.
"The boards at the Joe were something else. I don't think you can replicate those," he said. "The boards [at Little Caesars Arena] are fast. It's a fast yellow. There are a lot of big kick-outs that you see at a lot of new rinks these days. Like I said, I obviously haven't seen their facility, but ours, the visiting room, it's great. I think that's probably the biggest weight room that we've had on the road, ever. But, yeah, it's awesome. They did a really good job."
-Forward Martin Frk (groin) and defenseman Trevor Daley (neck) are out tonight. Jimmy Howard is expected to start on a Hockey Fights Cancer night:
Jimmy Howard's mask tonight during Hockey Fights Cancer night at @LCArena_Detroit #RedWings vs. @LAKings pic.twitter.com/c4fRhv0Ewg

— Ansar Khan (@AnsarKhanMLive) November 28, 2017
There are several players on the Red Wings whose lives and families have been affected by cancer. Read Dana Wakiji's story on RedWings.com here, and keep players such as Xavier Ouellet, Justin Abdelkader and Andreas Athanasiou – and their families – in your hearts tonight and beyond. Via DailyFaceoff.com, Detroit could line up with Nyquist-Zetterberg-Booth, Tatar-Larkin-Mantha, Helm-Nielsen-Abdelkader and Glendening-Athanasiou-Wilson up front, and defensive pairings of DeKeyser-Green, Ericsson-Jensen and Kronwall-Ouellet. In 18 career games against Los Angeles, Howard is 10-8-0 with a 2.45 goals-against average and a .923 save percentage.
-At the 13th annual LA Sports Awards on February 6, Hall of Fame broadcaster and Kings ambassador Bob Miller will be honored with the Lifetime Achievement Award. Tickets, which include a pre-show VIP reception with Miller, Kings Alumni, Bailey and the Ice Crew, are $250 ($225 for STMs), with all proceeds benefiting the Kings Care Foundation. There's also a special $450 VIP package, which includes access to the LA Sports Awards, the Kings' VIP reception, and a VIP ticket to this year's Tip-A-King event, which takes place March 3 at L.A. Live.
Miller will be the third Lifetime Achievement Award recipient, joining Vin Scully (2015) and Peter Ueberroth (2016). "In recognition of his Hall of Fame career, including more than four decades with the Kings, Bob was a unanimous choice for this year's Lifetime Achievement Award," L.A. Sports Council President David Simon said in a release.
For more information on the event, which takes place at the Beverly Hilton, and to purchase tickets, click here.
-Tonight's officials are referees Gord Dwyer and Tim Peel, and linesmen Shandor Alphonso and Brad Kovachik. John Stevens quotes will follow. Let's talk soon, Insiders.