Los Angeles Kings 4, Vancouver Canucks 3
Final-Shootout
Shootout
VAN – Vanek: Wide
LAK – Carter: Save
VAN – Gagner: Save
LAK – Brodzinski: GOAL
VAN – Baertschi: Save
Kings win shootout, 1-0
Overtime
No scoring.
Third Period
20:00: Back at 'er.
19:30: Whoops! Forbort pass up the middle is intercepted by Granlund, who feeds Baertschi all alone down low. Kuemper forced to make a strong save to maintain the one-goal lead.
18:45: GOAL LAK. Big save at one end, Toffoli conversion of a Pearson feed following a Carter end boards carom at the other. Where's the Vancouver D? 3-1.
16:50: Sutter fires wide from the slot off a Kings block. Another scoring chance followed, but I missed it while typing this.
14:45: Brodzinski fires wide, far side, on an angled, late-contested break from the left wing.
11:53: PENALTY LAK. Slashing on Folin.
10:22: One stickhandle too many for Baertschi, who skated his way out of a prime scoring opportunity.
9:53: PENALTY LAK. Slashing on Toffoli. Occurred just as Folin was to exit the box, so the faceoff is 5-on-4.
8:08: PPG VAN. Ericsson centering feed deflects off Martinez's skate, into the open net. Prior to the goal, the Canucks hadn't threatened a ton during their consecutive power plays.
7:22: Attendance: 12,759. Capacity 14,000 for hockey. Place appears *almost* full, with the upper corners a bit open. Good atmosphere.
6:13: Good Kuemper pad save on Tanev. Came out to challenge the shooter, who appeared to try to go five hole. Canucks pressure.
4:24: About to head downstairs to beat the rush. Bear with a delay. Thanks!
?:??: VAN GOAL. 3-3. Late Chris Tanev equalizer while LAKI was on the elevator.
0:00: To overtime!
20:00: Oh, hello, Kings Shoot Once end.
19:31: Yao Ming is here! He's shown on the videoboard and cheered.
19:26: PENALTY VAN. Vanek for hooking.
17:26: Dunzo.
17:25: Internet still down. Thanks for your patience during the delay.
12:45: Oh, hey, I think we're back.
12:41: Kobe Bryant cheered politely when shown on the videoboard. (He's not actually here.)
11:10: GOAL VAN. Really quick feet by Baertschi after receiving a Vanek feed below the goal line and stepping onto the door step before roofing a backhand. 2-1 LAK.
7:48: Crisp, diagonal, lengthy breakout feed by Fantenberg to Toffoli. Nearly caught Vancouver during a line change.
7:35: Martinez-to-Pearson redirect creates havoc but stays out. Canucks getting scrambly, can't clear.
7:25: Good Nilsson pad save on Martinez one-timer. Longest sustained pressure out of any L.A. shift thus far.
6:30: Another good Fantenberg crisp breakout pass. It's easy to make these passes when the forecheck isn't there at all, but hit his guy tape-to-tape.
5:13: Clifford chips a rolling puck over the net on a breakaway.
4:50: Henrik Sedin leads a two-on-one with Daniel Sedin. Uh oh! It turns into a three-on-two when he drops to Gudbranson, who fires wide from the slot.
4:09: Baertschi-to-Granlund, who didn't really get a shot on goal off as the net became dislodged. Kempe contact with the net? Vancouver generating some higher quality chances than earlier.
2:52: PENALTY LAK Kuemper for tripping. Served by Brodzinski.
2:10: Canucks fans behind us saying some Bad Words! They're mostly directed at their team's power play efforts.
0:52: Penalty over.
0:25: Good Brodzinski forechecking. Doesn't result in anything much more than a few seconds ticking off the clock, but he did a good job extending a few puck battles that were at best 50/50.
0:00: Period over.
FIRST PERIOD
20:00: LET'S DO THIS, BEIJING
19:45: Muzzin may have gotten away with a "slash" four seconds in but made a nice play tying up Sutter to deny what was developing into a tap in on a diagonal feed to the near post.
14:28: Upshall from the high slot. Might have caught a piece of Kuemper but appeared to sail high and wide.
14:19: Brass Bonanza, via Dieter Ruehle. Not the same full length version when the Hurricanes visit, but a nice 10-second tease. (The Canucks have a whale on their jersey, after all.)
12:35: Brodzinski wrists a puck on net off a feed from the corner, but Nilsson makes the stick save.
12:17: Off a faceoff, Mersch makes a nice play to step towards the dot and snap a puck on Nilsson. No rebound. Good job by Mersch to beat the opposite defenseman to the puck.
10:31: GOAL LAK. 1-0. Lewis-to-Shore on the rush. Nice needle threading by by Lewis, who showed good patience waiting until he got to the goal linebefore making the pass at an angle behind him.
6:36: Have liked the first 13+ minutes Muzzin has provided. Hard minutes, engaged, quick to pucks, raised competitiveness in his own end.
6:13: Scrum behind the L.A. net draws a good reaction from the crowd. Andreoff and Dorsett. Surprise, surprise! They'll go off for roughing.
4:53: PENALTY VAN. Baertschi for holding the stick. Was driving deep into the L.A. zone when he tried to shake off Marty but grabbed his stick and held on instead. To the power play!
2:53: GOAL LAK. 2-0. Muzzin from the bottom of the left circle off a Dowd feed shortly after the conclusion of the power play.
0:00. End of the first. 2-0, your Los Angeles Kings.
Warm-ups
Lines and pairings:
Pearson-Carter-Toffoli
Mersch-Dowd-Nolan
Clifford-Shore-Lewis
Andreoff-Kempe-Brodzinski
Muzzin-Martinez
Folin-Fantenberg
Forbort-LaDue
Kuemper
Zatkoff
Jeff Carter is wearing the "C".
Kings starters: Kuemper, Muzzin-Martinez, Pearson-Carter-Toffoli
Canucks starters: Nilsson, Tanev-Edler, Upshall-Sutter-Dorsett
Referees: Dean Morton, Justin St. Pierre
Linesmen: Darren Gibbs, Vaughan Rody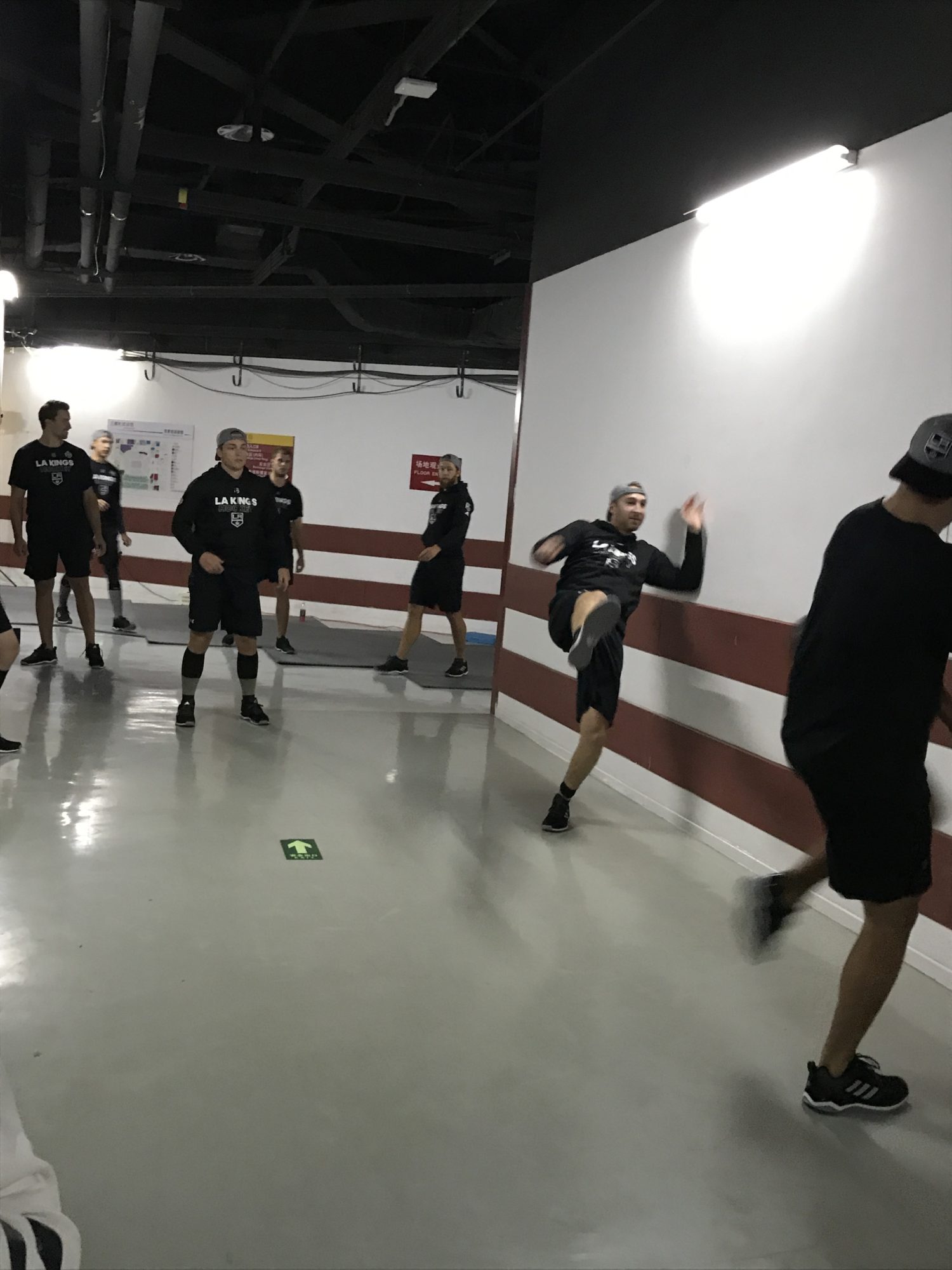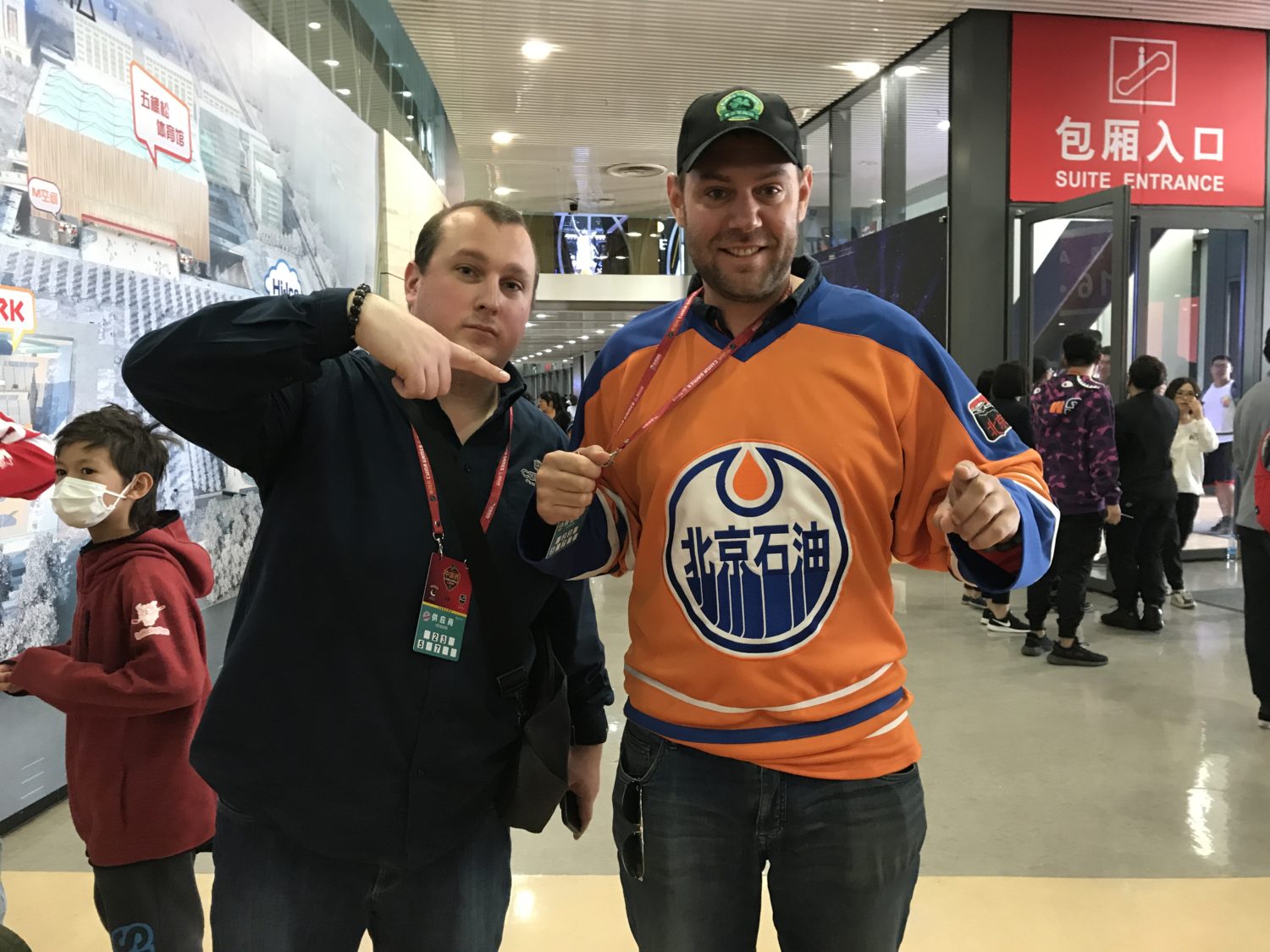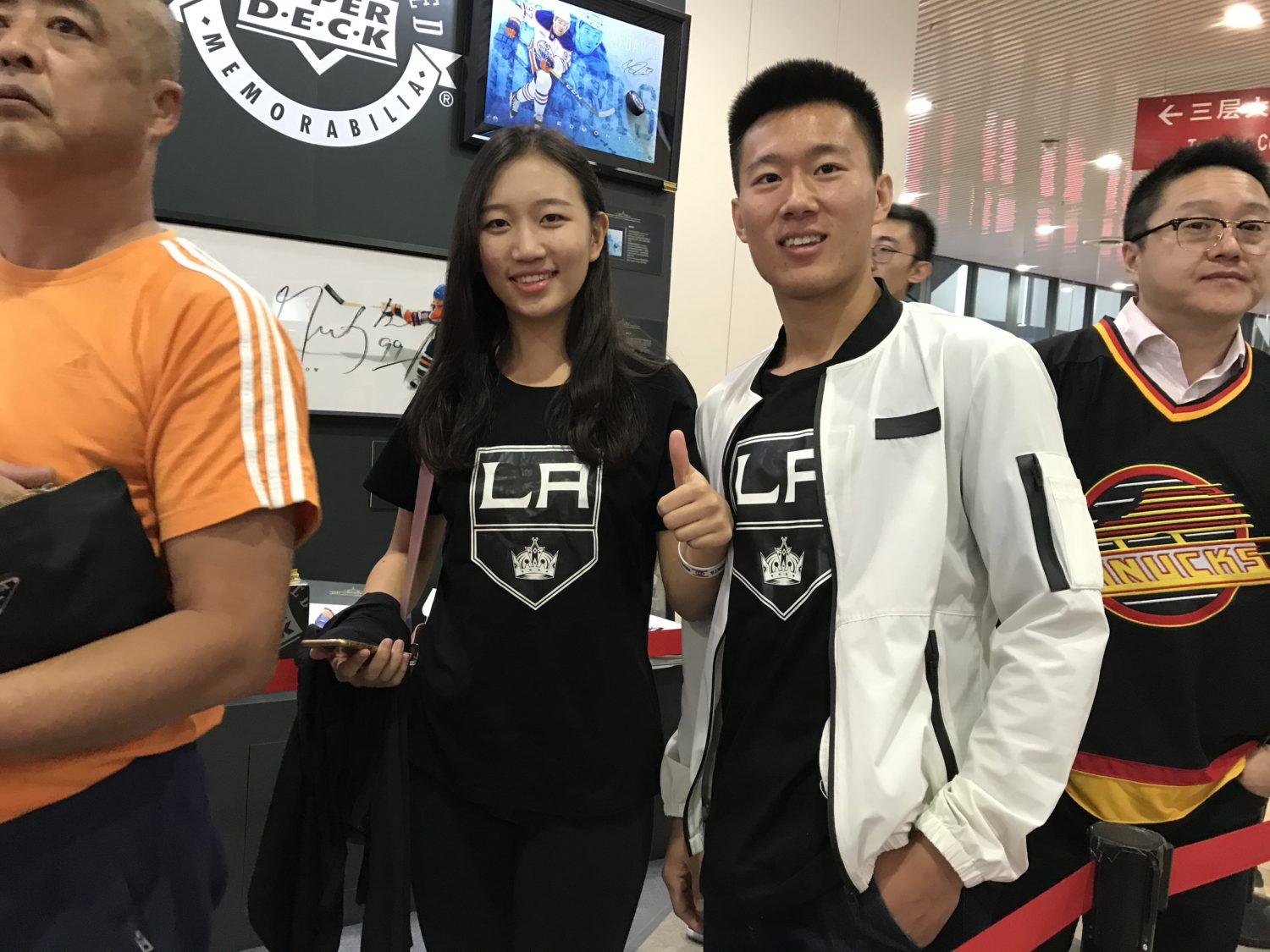 -Lead photo via Jeff Vinnick/NHLI