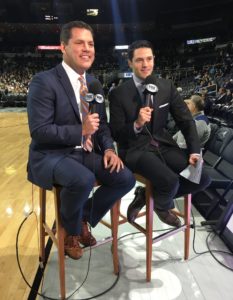 He'll have a broad set of time to grow in his position, but if there's an early impression left by new Los Angeles Kings and FOX Sports West play by play voice Alex Faust, it's that he's articulate beyond his 28 years and shares intelligent, cogent views on broadcasting and his role as a direct link between the events on the ice and a passionate fan base.
And that's remarkable, because as impressive as he is talking about play by play broadcasting as an art form, he's even more adroit at executing it in his own style. That honor – to be a part of the Kings' DNA and succeed Bob Miller, probably the most cherished figure in club history – is "beyond simple words at this point."
"I'll have to go back and research my SAT vocabulary to see if I can find a better one, but it's an honor," Faust said over the phone Wednesday. "More than anything else, an honor to have been considered a strong enough broadcaster to fill Bob's shoes, not only because of what he's done for this market but also how important this market is and how important they find having a quality broadcast is to the whole operation. And they explained to me several times during the interview process that this is a direct connection to our fans we've gained and it'll be my job and my responsibility to be active in the community just as Bob was so I can get to know fans on a one-to-one basis, because it's one thing to just show up, do the game, go home. It's another to buy in and really be a part of the team, part of the family, part of the community. And I think he did that in such a strong way that for me to follow it up and not give it my all in that regard would be a failure on my part and it would've been a failure on the Kings part to bring me in. So that's step one here."
Faust, a Brooklyn native who has called hockey on NBCSN, NESN and Westwood Radio, and the recipient of the Jim Nantz Award in 2011 while a junior at Northeastern University – becoming the first non-senior to win the award presented annually to the country's top collegiate sportscaster – was announced Thursday as the Kings' new television broadcaster on FOX Sports West. He succeeds Miller, who spent 44 seasons as The Voice of the Kings, as well as Roy Storey and Jiggs McDonald, a Foster Hewitt Memorial Award recipient like Miller and radio play by play voice Nick Nickson.
The search, made in partnership between the Kings and FOX Sports West, with additional input from FOX Sports, took place through much of the month of May, though once Faust's name and background were considered, the process gained legs. The Kings were searching for a network-type voice and while many applicants and air checks were studied, Faust, as a rising star within his profession, was quickly held in a high regard on all sides of the process.
"From the beginning we wanted this to be an extensive search in which we explored all options in order to find the best person for this opportunity," Kings President Luc Robitaille told LA Kings Insider. "Our leadership team for both Fox Sports and the Kings worked very closely together, and certainly there were a lot of talented individuals to consider. In the end, the decision to go with Alex was unanimous, which gave us the confidence to move ahead."
Late in the process, Faust traveled to Los Angeles to broadcast a Kings game in-studio alongside television color commentator Jim Fox, an early meeting that served as a vehicle for Faust's natural ability to work in concert with Fox's clear, concise analysis.
"If there's an overtime game-winning goal, I'm going to be expected to cap it and have the right call at the right moment, but knowing that I can peel back, let it breathe, and Jim will know exactly when to fill the space, that's what happened in our audition," Faust said. "We didn't step on each other once, which stunned me for never having worked together before."
There will be added time to naturally gain that familiarity and bond, but the base from which Faust will hit the ground running is as broad and firm as could be imagined for someone his age. Had the Kings not been so instantly drawn in to his call, preparation and presence, the thought was that another team would be inclined to put the talented young broadcaster on their speed dial.
"When I first saw Alex's reel I was instantly excited," Kings Senior Vice President, Communications and Broadcasting Mike Altieri shared with LAKI. "He has a powerful voice that is unique and immediately grabs you. His style is such that he allows the action to breathe and doesn't seem to talk above the game. I think his cadence will work well with all of the information that Jim Fox has to offer, and we saw that during their test call a couple of weeks ago. As I got to know Alex over the last week, it was very evident to me that he takes great pride in his preparation. I believe preparation is critical to any profession, so when you combine that with his style, skill-set and the natural gift of his booming voice, you have the makings of something very special."
That preparation was further cultivated between the 2015-16 and 2016-17 seasons as Faust managed his national, network broadcasting roles with a full-time position as a business analyst and consultant with PricewaterhouseCoopers, an experience in work balance that necessitated preparation during virtually all of his free time. He describes it well on a recent Play-by-Playcast, which is highly recommended:
And in addition to his work as a club broadcaster, he'll work year-round "with the organization's data intelligence departments to help develop analytics and information that can be delivered through the Kings telecasts," as the Kings noted in a release. He'll also work closely with the club's digital media and community relations departments.
But back to that call! It's such a smooth, articulate, accurate call that on early listens it's easy to get excited over the possibilities ahead.
"From my perspective, I know what I won't do. I won't give catch-phrases. I won't give gimmicks, I hate shtick. I hate all those things," he said. "So, conceptually, I think a good play-by-play guy at least, in today's day and age, shouldn't have those things unless you are super comfortable in your own skin and you make it work. The one example that comes to mind is Kevin Harlan, because he has the voice and the delivery and he can do it with a sort of panache that only Kevin can do. I'm sure for him, he wasn't that way throughout his entire career but he's grown into it, right? So that's the philosophy that I take here. A play-by-play guy maybe shouldn't stay out of the way because for certain sports it's impossible to do, hockey among them. But you should be able to make the material around you shine. If there's a graphic that's presented you should be able to sell that effectively. If you're working with an analyst like Jim who is as smooth and well-spoken and detail-oriented with regards to the score, you should allow him to shine, along with calling a game that people call interesting and entertaining."
Beyond his NBCSN work, which contained a thrilling call of a back-and-forth overtime period capped off by Yanni Gourde's game-winner in a 5-4 Lightning victory over the Blackhawks this past season, Faust has also called college football and basketball on ESPNU on FOX Sports and was the voice of Northeastern University men's basketball, where he called an NCAA tournament game at the age of 26. He's also a former Staten Island Yankees and Utica Comets voice and provided the play-by-play call of this year's Men's Frozen Four on radio. That Utica broadcasting team also included Brendan Burke, who was named in the summer of 2015 as the New York Islanders' television play-by-play voice.
It's an experience that delves into both television and radio, demonstrating a diverse skill set that Faust has cultivated fluidly. He understands that "with hockey, specifically, you have to be a little bit more descriptive than maybe another sport," and that comes through in his body of work.
"There's, I think, more room for personality to come out," Faust said of broadcasting play by play on television. "And that's something that when I first started doing TV, and especially college hockey on TV, I was still very much in that radio, mechanical mindset and it took me a little while to grow into, 'Ok — I can insert a little bit of personality here and there and relax a little bit and let the game come to me a little bit more.' And I got phenomenal feedback actually when I was applying for a couple of other gigs at the time. Just folks who said, 'Hey, we like the work that you do, but we don't know who you want to be just yet.' And from that point forward I made it my goal to say, 'You know what? I just want to be me. What's the best way to express being myself on the air?' And I hoped that the reel that I guess circulated to everyone, I hope that that shines through on there, because that's me in a nutshell."
Because so many young sports broadcasters are drawn to their work because of the influence certain broadcasters had on them in their more formative stages, there is often naturally the need to avoid imitation or over-reliance on the sounds, inflections and rhythms of those whom they grew up listening to. But Faust, especially as he has grown within the sport of hockey, is aware of the variance of styles from many talented broadcasters, has picked things up that he has appreciated from certain voices in constructing his own crisp, unique call.
"Doc Emrick is in a league of his own when it comes to how he calls a game, mechanically speaking. The vocabulary that he uses, the cadence, the timing. So nobody can imitate that," he said. "But what I can pick up from Doc is how he leads into a story or maybe how he even goes about researching a story because he has such strong relationships around the league. Everywhere he goes he tries to meet different and interesting people and he can then bring something to the broadcast that you might not read in a newspaper clipping that somebody can latch onto and find interesting. I like a guy like Jim Hughson for how smoothly he calls the game – how he can get excited for a big moment but at the end of the day he's very understated in how he does it, not over the top. A guy like John Forslund who has a very similar vocabulary to Doc but uses it in a different way and times his call a different way. … I love how Bob Miller used to describe how he loved to time a goal call right to the moment where the crowd erupts, or to right before."
"But in terms of overall style and how energetic and affable someone is, I'll pick up from Mike Tirico, no matter what sport he's covering, he loves being at that event. Or Ian Eagle, who always seems to have a wry smile on his face when he delivers a big call. So, I guess the long-winded way to answer your question, there's no one person who I want to pattern after, but taking things that I've learned that seem to work well and play well to my ears."
Still, Faust understands that "at the end of the day, if I'm myself, I'm not trying to be differential because I don't think that's super helpful when you're trying to build a rapport [with a color commentator]." That chemistry will develop in due time, but given the early chemistry demonstrated in his air check with Fox, there appears to be an excellent base from which they'll unfold accounts of the game.
"I'm not going to just say, 'Well you're the expert, you know everything. You handle it,'" Faust said. "But at the same time knowing [Fox] has been at this for 30-odd years and he will know the history of the team better. Sometimes it's just simple asking questions. 'What do you think about this? What do you like about that?' Or even just asking him before a game, 'Hey, if you have a story that you think would be great to bring up because my history and background isn't as strong. If there's a way to work that in, I'll try to navigate the discussion in that direction.' And then we work it in that way. So, at the end of the day it has to be a balance between being yourself and calling the game and I'm going to be paid to put my own stamp on the game, right?"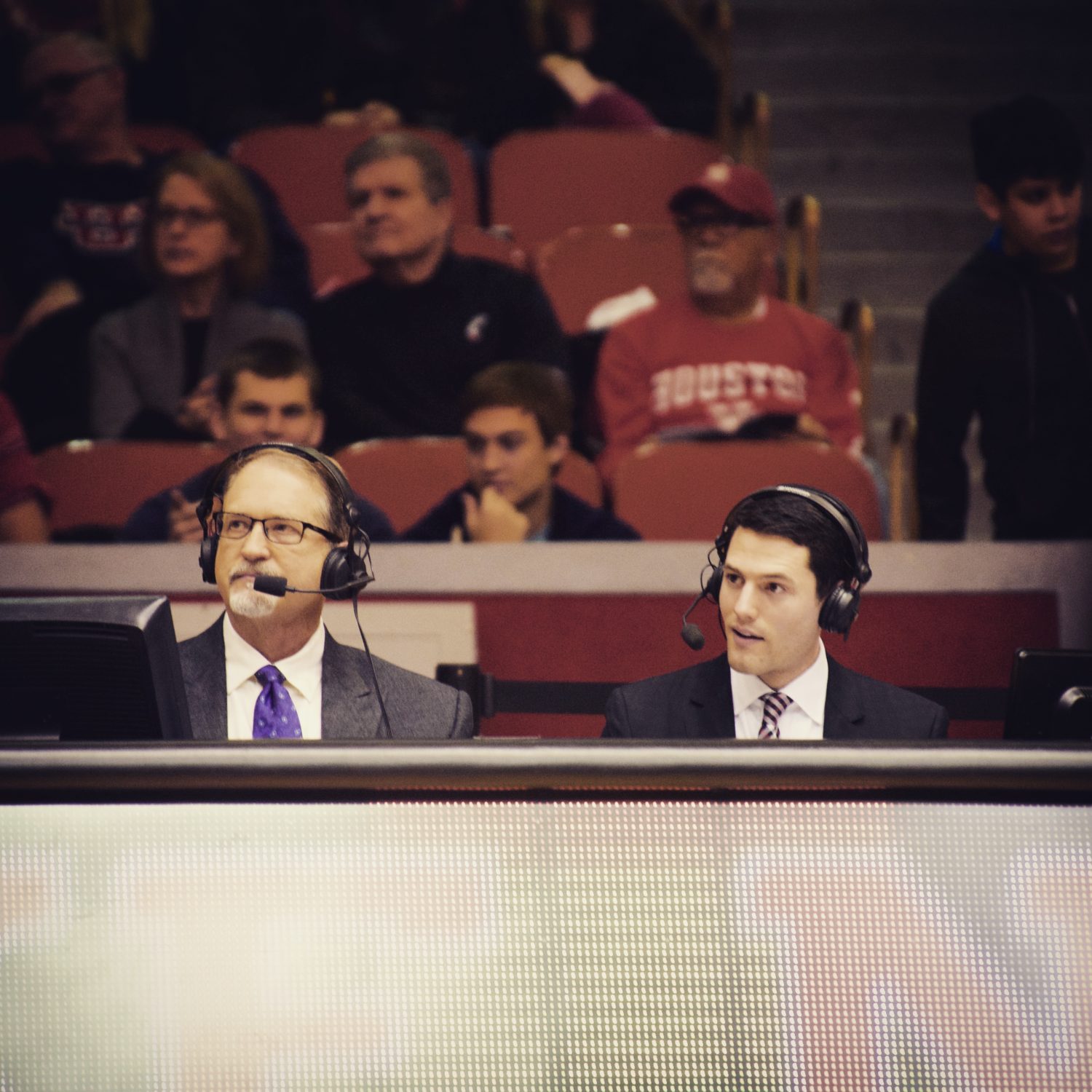 After undertaking the cross-country drive later this month from Avon, Connecticut, where he is currently living with his fiancée, Carolyn, Faust will begin the undertaking of immersing himself in the Kings universe as he ventures to establish relationships with the club's fanbase, his broadcast team and new co-workers. That comes through being visible in outreach and community efforts and, most of all, demonstrating the same poise and geniality that comes through both over the phone and in his calls of the game.
It's not easy to follow a broadcasting legend such as Bob Miller, but among the many facets of Miller's personality that were so inherent in his call of the game, it was that even if you hadn't met him or spent time with him, he made you feel as though he was your friend. He would crack jokes, he would call the game with an affable but unmistakable honesty, and he would make you smile just as he was smiling himself. Faust does not have the experience or the bond built in with Kings fans yet, but certainly his selflessness and warmth will go an incredible way towards building his own bond.
"I know it will not be easy and I know I'm going to have to probably turn off social media and not read the comments. At the end of the day, I'm going to be 'the new guy.' I can't escape that and I will just do my best on the play-by-play side and I feel that so long as I'm active in the community and actually getting to know people and putting my face out there and sticking my neck out, just get to know folks, it'll be ok," he said.
"At the end of the day it means a ton for an organization like that to believe in you. Never mind getting hired for the job, never mind the sport, and never mind how good of people they are. The fact that they believe in me means a lot and they gave me a lot of confidence going into this year. And I'm starting a new job and I'm approaching it that way and will be sure to take great care."
Alex Faust, on immersing and familiarizing himself with Kings hockey history:
Well I joked during the job interview that I don't have any Jack Kent Cooke stories. So I won't be able to bring that to the table. But I think at the end of the day I can't force it, right? I'm not going to pretend to the audience that I'm as well-versed in Kings history as Bob was or as Jim is or any of the guys on the staff would be. Because Luc is obviously a legend with this team and a Hall of Famer and Rob Blake and everyone who's been affiliated with this organization. They're going to know more than I will. So I will try to take whatever I can bank away in terms of the team's history and maybe a couple of key moments and just keep that in my back pocket for perspective, but knowing that if I were to try and use any sort of facts or dates of significance, it would be disingenuous to say I know it by heart. So I'll try to in the next weeks and months just get a feel for it, especially given like you said, I mean this is years of hockey history. I know the Gretzky trade set a lot of things in motion but there's a lot of history here and you know this, they are fiercely loyal. Fiercely loyal. As Nick was explaining it, their rivalry with Anaheim is just as strong as you get in some of the quote-on-quote traditional hockey markets. So there's a lot that I have to learn going into this role.