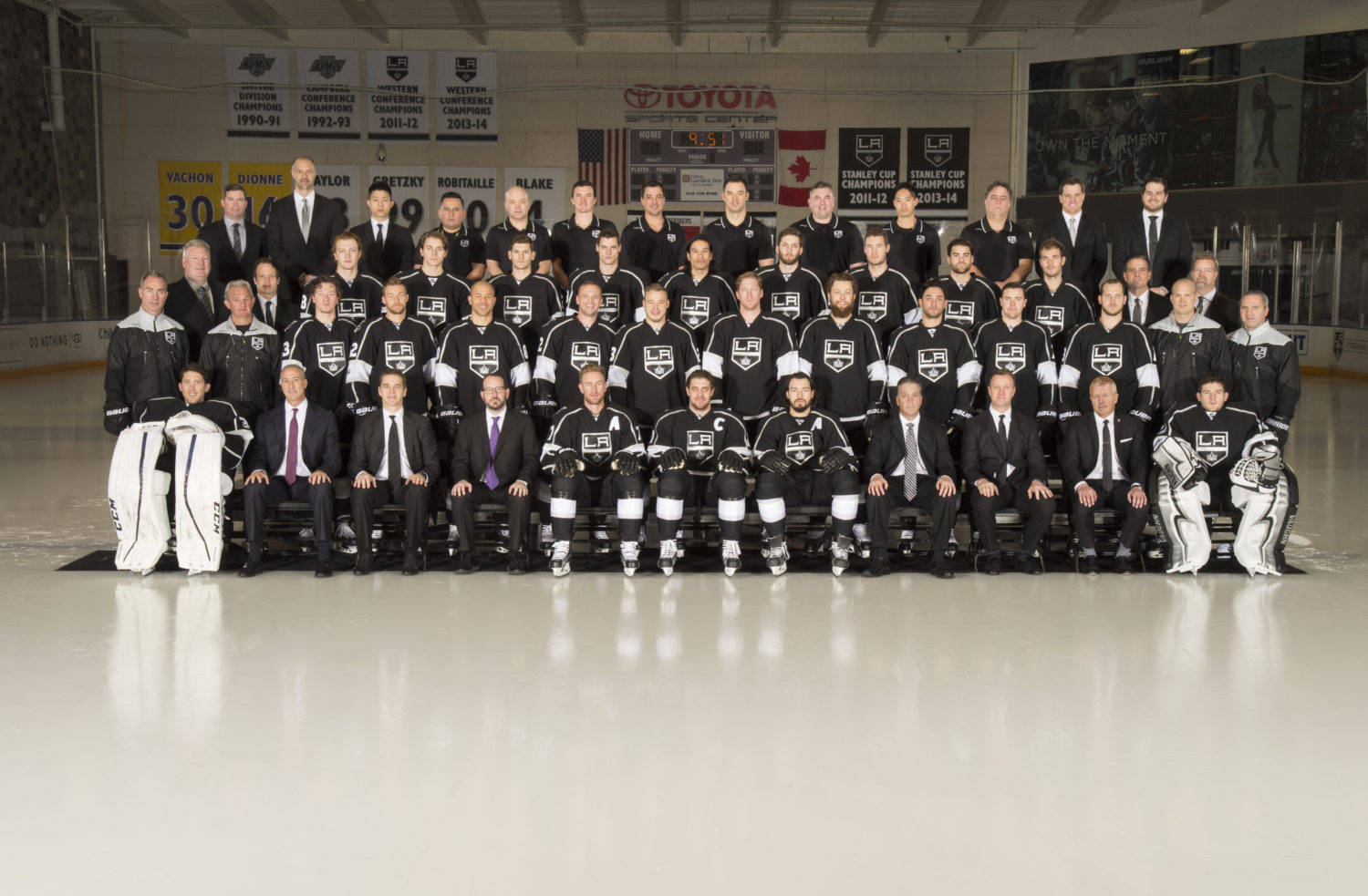 Front Row: Ben Bishop, Jeff Solomon (Executive Vice President, Hockey Operations and Legal Affairs), Luc Robitaille (President, Business Operations), Dan Beckerman (Alternate Governor), Jeff Carter, Anze Kopitar, Drew Doughty, Dean Lombardi (President/General Manager), Rob Blake (Vice President, Assistant General Manager), Michael Futa (Vice President, Hockey Operations and Director of Player Personnel), Jonathan Quick.

Second Row: John Stevens (Associate Head Coach), Darryl Sutter (Head Coach), Tyler Toffoli, Trevor Lewis, Jarome Iginla, Marian Gaborik, Dustin Brown, Matt Greene, Jake Muzzin, Alec Martinez, Tanner Pearson, Kyle Clifford, Davis Payne (Assistant Coach), Bill Ranford (Goaltending Coach).
Third Row: Marshall Dickerson (Director of Team Operations), Lee Callans (Assistant to the General Manager/Scouting Operations Coordinator), Paul LaDue, Adrian Kempe, Nic Dowd, Kevin Gravel, Jordan Nolan, Derek Forbort, Brayden McNabb, Andy Andreoff, Nick Shore, Michael Altieri (Senior Vice President, Communications and Broadcasting), Mike Kalinowski (Director, Communications and Media Services).
Fourth Row: Kelly Cheeseman (Chief Operating Officer), Brantt Myhres (Player Assistance), Samson Lee (Video Coordinator), Thomas Rey (Massage Therapist), Darren Granger (Head Equipment Manager), Joe Alexander (Assistant Equipment Manager), Chris Kingsley (Head Athletic Trainer), Matt Price (Strength and Conditioning Coach), Dana Bryson (Assistant Equipment Manager), Myles Hirayama (Assistant Athletic Trainer), Bobby Halfacre (Equipment), Brooks Bertsch (Assistant Video Coordinator), Eddie Fischermann (Supervisor, Communications).
Kings team staff photo:

If the cursor does not change, right click to "View Image" and enlarge.