Good afternoon from Not Toyota Sports Center. As expected during an every-other-day stretch and in advance of a game day, the Kings didn't hold a full team practice in El Segundo. Jeff Zatkoff took the ice with those who hadn't been in uniform plus an assortment of the defensive corps while others took part in off-ice workouts and meetings. Tyler Toffoli hasn't yet progressed from the working-out stage to the taking-the-ice stage, and there was no real update on when that transition could take place. Last Monday, Darryl Sutter had said that the team would "hopefully" get Tyler Toffoli back on skates at some point during the week, though Toffoli hasn't yet been seen on the ice, and Sutter indicated that next step hasn't yet been taken.
"I think 'hope' was the capital letters when you asked me that question, and it still it is," Sutter said. "I couldn't tell you what day it is, I'm not a doctor. I'm not any more than that."
-It was a quieter day at Toyota Sports Center, though Jake Muzzin stopped by to talk a little bit about changing his stick brand, which he said happened during the Vancouver-Edmonton road trip. (He now uses a Bauer stick.) "Numbers-wise it hasn't been the best year individually, for myself, but when something like that happens it gives you a little boost and hopefully we can ride this wave throughout the rest of the season," he said, while also mentioning that he now feels the puck on his stick a little better. "I kind of know where it is on my stick and you feel like you can put the puck where you want it. I haven't had that in a while, so it feels good."
Muzzin also spoke about the loose perception that the team plays to the level of its competition, having produced standout performances against certain top teams, such as in the home-and-home against San Jose and against Minnesota on Saturday, while occasionally dropping points to teams with less footing in the standings.
"Well that's what we were touching on earlier a little bit," Muzzin said. "We have proven that when we play the way we can play, we can compete with anyone in the league. There's no question that we have a good group of guys in there, it's just doing it consistently. Rising to the occasion, to every game, no matter who we're playing. Division, east coast, number one team, last place team; it's bringing that every night and that's something we can work at to get better at through out the last 40 games here."
-Dallas visits Los Angeles to end the teams' season series tomorrow. Jamie Benn is on IR and not expected to play, though the injury does not appear to be serious. "I feel pretty good. Just a little bit of a tweak in my foot the last game," Benn told Mike Heika of the Dallas Morning News. "Just going to take it day by day. We've got a couple days here, so it will be great to get some maintenance."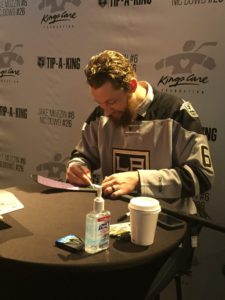 -Tip-A-King, the largest single fundraiser for the Kings Care Foundation, was held after Saturday's game atop an L.A. Live parking structure across the street from Staples Center. "It's good to be able to raise money and that's the main thing," Matt Greene said. "Jen Pope does a great job with the Kings Care Foundation, and a lot of other people do, too. They really work hard to put this on, and it's a big fundraiser, so it's a good way for us to be able to give back and have some interaction with the fans, too."
In addition to a ring of autograph booths around the event space in which fans could leave "tips" for photos and autographs, there was the opportunity to record a dance-cam video with Chris Sutter, have a photo taken with Anze Kopitar's golden doodle, Gustl, and pretty remarkably, meet Tomas Sandstrom the afternoon of his Legends Night ceremony. (Stick tap to Sandstrom, too, for traveling to Bakersfield for Friday's Kings-Oilers alumni game as part of a packed weekend.)
Back to Tip-A-King. What do the fans usually share with the players? "Usually just memories of the games, stuff like that, besides autographs and pictures," Greene said. "Just something that happened years ago. It always resonates, you never know what's stood out to certain people, so it's fun to have those conversations." Of course, there are players such as Toffoli and Jonathan Quick who aren't currently in uniform, so when they participate in the event, how do they answer the inevitable questions of 'so, when are you going to return?'"
"'As soon as I can'," Tyler Toffoli said. "Just keep it pretty short and sweet, and they understand it."
Jim Fox, the founder of the Kings Care Foundation, recalled the first Tip-A-King and noted it drew inspiration from a similar event held by the Hartford Whalers:

Courtesy of Mr. Fox, this special edition set of Patine was available via a silent auction, with proceeds benefiting the Kings Care Foundation: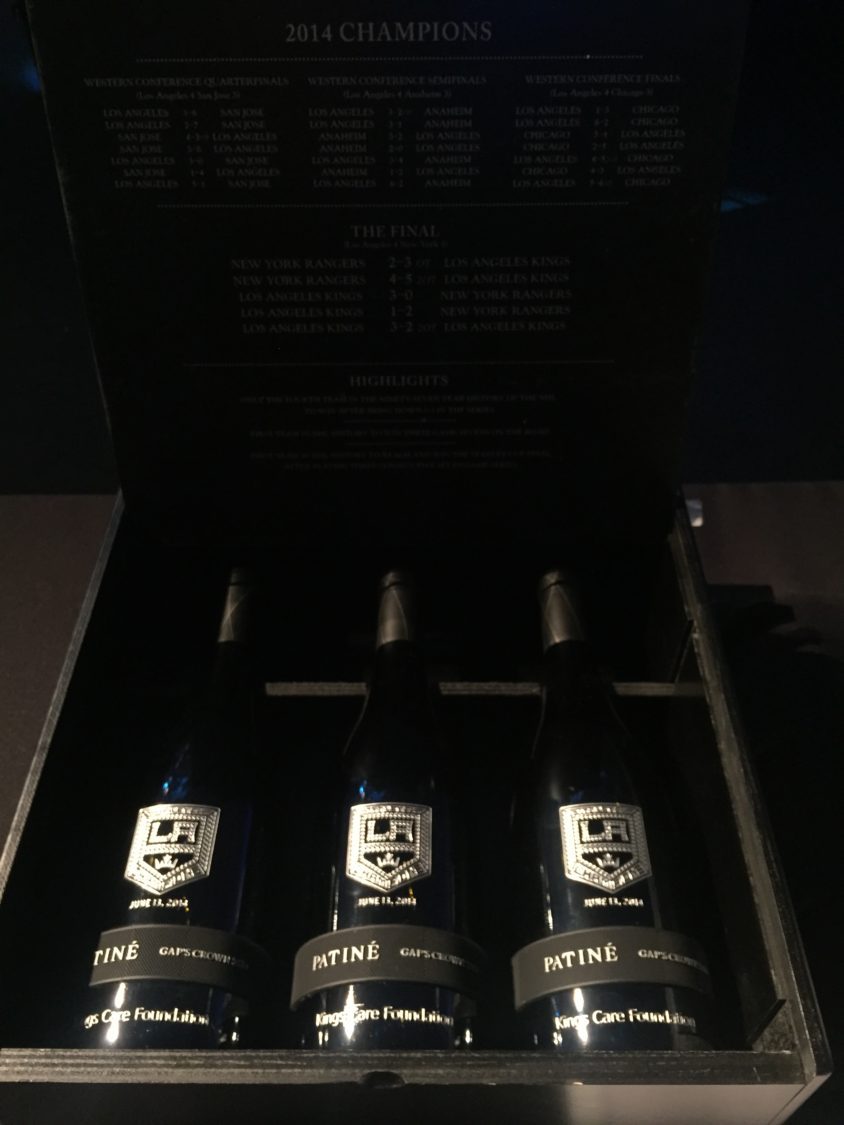 -Courtesy of FOX Sports West, here's yesterday's Saturday Straight Up: