The Kings' 4-1 win over the Ottawa Senators on Saturday afternoon reinforced that wins are wins are wins, and they'll grab points any way they can. Los Angeles did enough of what it had to do to earn a victory – they cashed in early on a major power play and relied on Peter Budaj for much of the rest of the afternoon – in finding a new way to come away with two points. They also struggled at times during five-on-five play and weren't able to generate a consistent attack, let alone leave their zone cleanly during a challenging second period that they eked out a draw in by virtue of an enormous Trevor Lewis goal with under two seconds remaining (or whatever the Staples Center scoreboard tells us). But back to that emotional opening 20 minutes. The Kings entered the afternoon with a minus-seven first period goal differential in their previous five games, and after relying on an effective power play as the result of Mark Borowiecki's brutal boarding major on Tyler Toffoli (which has drawn a hearing from the league), they won the period as Jeff Carter took advantage of the most premium scoring chance of the game, and Alec Martinez ripped a slapshot from the top of the point that caught Mike Condon's arm before popping in the air and bouncing into the net. Budaj was called upon to make a series of dangerous saves in the final minute, representing the Senators' only five-on-five scoring chance(s) of the period.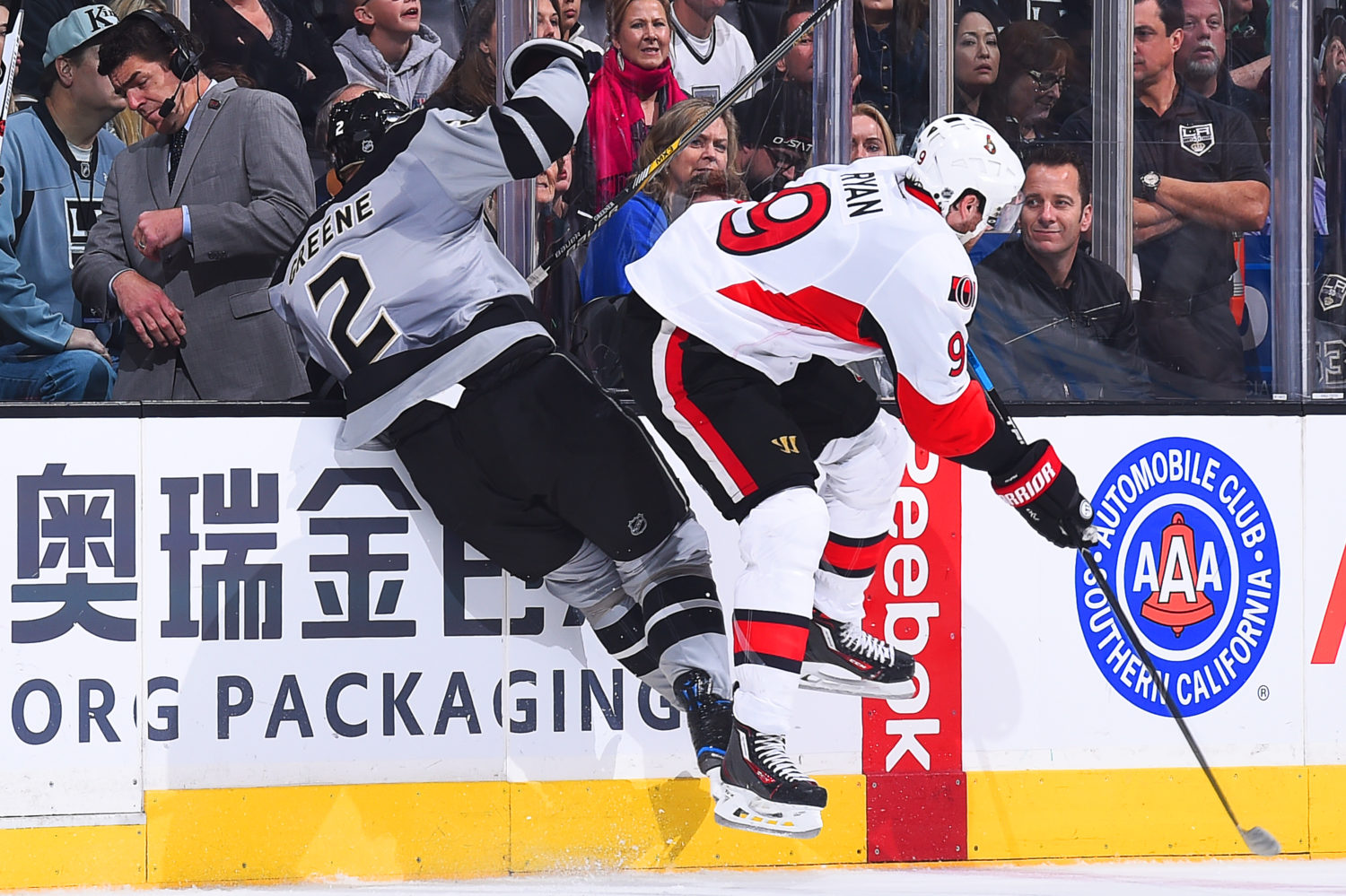 I'm not sure the last time we've seen an opponent come into Staples Center and forecheck the living daylights out of the Kings to the same degree as Ottawa during a second period that was territorially dominant for the visitors, but even on the scoreboard. Los Angeles had no business ending that period even; they were unable to make plays, couldn't exit the zone cleanly and were leveraged into a bevy of icing calls during a structured 20-minute example of the Senators' tightened up systems play under Guy Boucher. This was one of the worst periods of the season until Trevor Lewis cashed in on a Kings forecheck as he drove the net and benefited from a sterling deflection off an attempt by Derek Forbort to put the puck toward high-danger areas. It neutralized one of the team's poorest periods of the year, but hey, let's face it, often L.A. is the team that checks and checks and checks and implements airtight systems play and wins the shot attempt battle if not the game, so Saturday's second period was more or less just the dividend as hockey cosmic forces realigned. The Kings had 18 shot attempts through two periods but led, 3-1.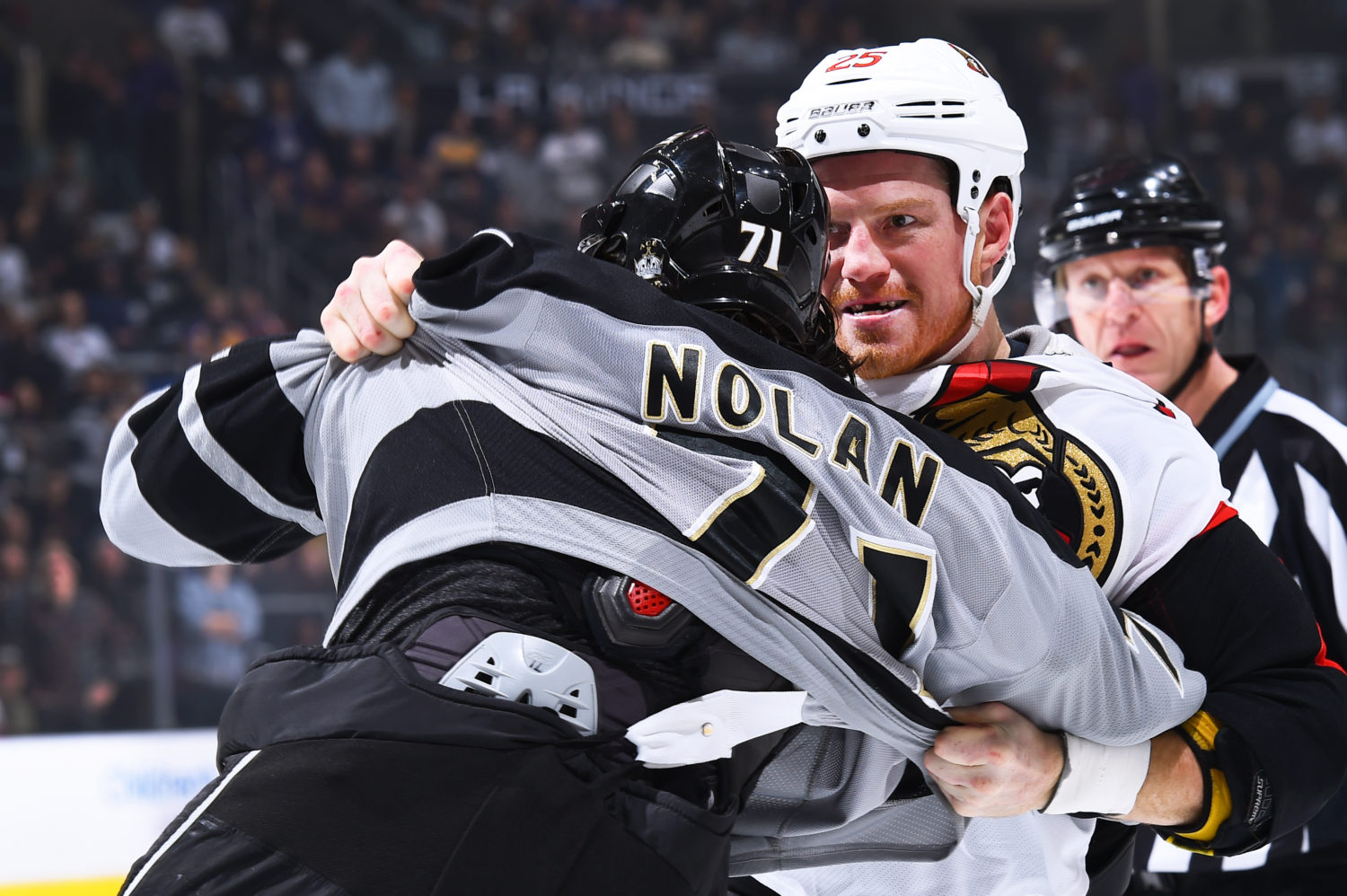 They're no juggernaut, but it's remarkable that the Kings are 7-2-1 in their last 10 and currently occupy a wild card (with games in hand) despite the season's injury binge and with Anze Kopitar (who is likely still feeling the effects of his upper-body injury) and Toffoli mired in goal droughts. Saturday's game was a microcosm of their success to date; they relied on goals from Carter and Martinez (power play goals, admittedly), a goal from a role player in Lewis, and, for the first time this season, a power play marker from Marian Gaborik. They scored four goals for the 10th time in 27 games, which is remarkable for a team that was going to have to summon additional scoring from key players and secondary producers alike. The secondary scoring has lifted this team, and performances from Lewis – who is now on pace for roughly 15 goals and 30 points – in addition to several other role players who've forged a slight uptick in their seasonal output (see: Dwight King, Joran Nolan, amongst others) have sturdied the team when the chair could've been pulled out from underneath them in the first 10 games of the season. Given Lewis' contributions outside of points, this stretch of raised scoring is of bonus value. Not to spoil the fun, but his annual shooting percentage has ranged from 2.9 to 6.3%, so this current rate of 10.9% isn't going to be sustained for a great deal longer.