Not a bevy of positives, Insiders, but it's a long season. Things are never as bleak as they appear, and the high times are never as stratospheric as they may seem, but when a team goes three straight games without a goal for the first time in 47 years, there's a historic precedent of offensive ineptitude being matched. Tuesday's 4-0 loss to Anaheim wasn't the prettiest on the eyes. And that's not just because it served as the third straight shutout; there just wasn't a ton of high-quality, non-score affected scoring chances on either side. The Kings actually had the greater number of chances, according to the official LAKI count, if not the greater number of A and B+-type chances. But that doesn't really tell the story of the game. Even though Los Angeles limited the total number of Anaheim's shot attempts and scoring chances, and again emerged as the Corsi winner of the game, they weren't the actual winner, and a 3:51 stretch bridging the first and second period was the team's downfall as a scoreless game quickly devolved into a rout.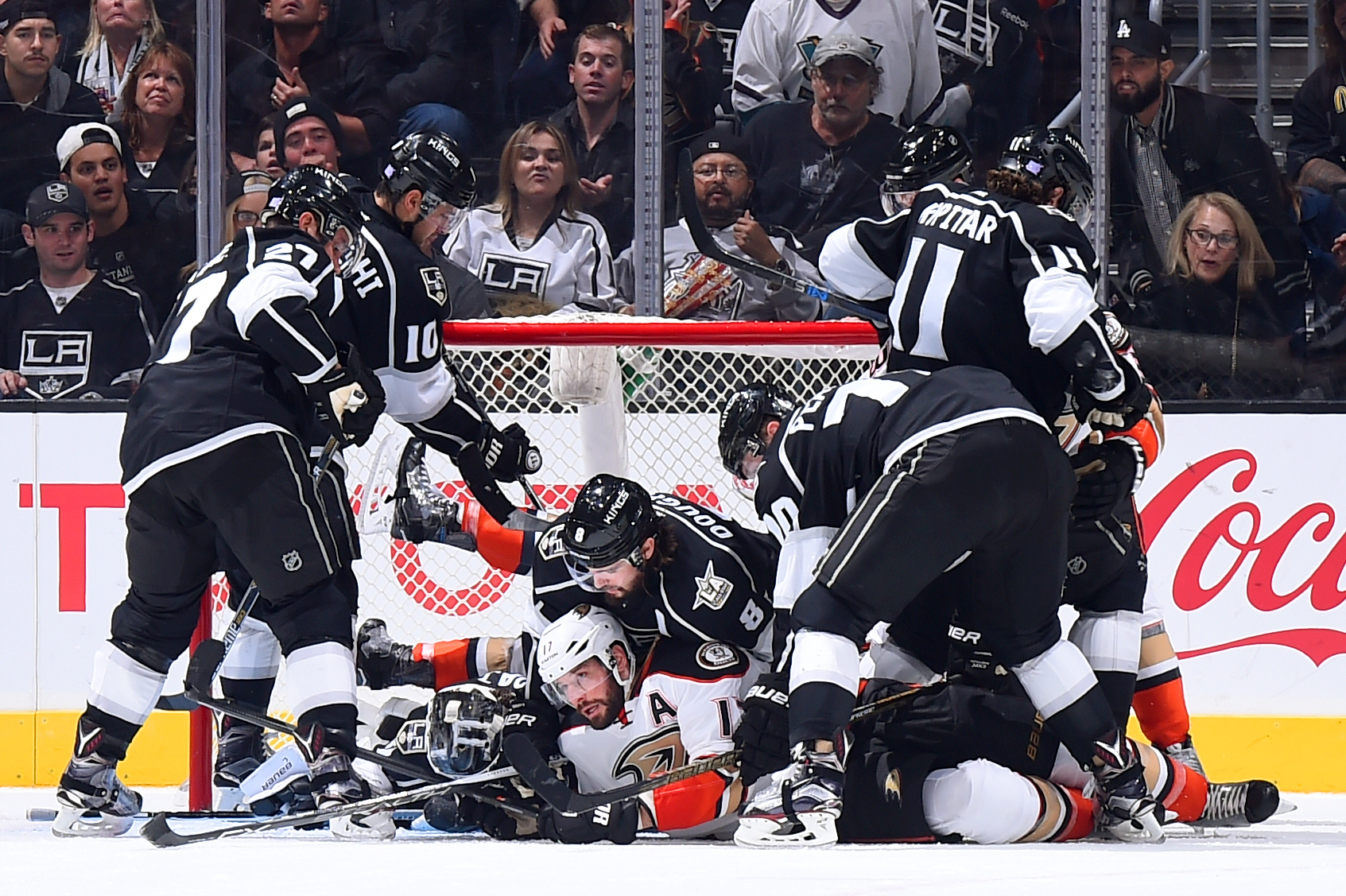 For the first time since he was recalled, Peter Budaj wasn't good in a Kings loss, and Darryl Sutter expressed his displeasure several times after the game (though one observation was in response to a direct question about Budaj). There's not always a ton of precedent in a Sutter presser. The accomplished coach has been friendly and approachable after losses, more confrontational after wins, and vice-versa. Sometimes the routes he takes to answer questions resemble an Escher drawing, and that's not an insult or any type of knock; it's pretty interesting. (Also, I shouldn't be the one to offer any authoritative account of how to most effectively ask Darryl questions in a postgame scrum.) But his comments about Budaj did appear to contradict a wider view he had shown following the loss at Minnesota, when he said, "You expect the guys that are in there to play as well as they can, and if they play as well as they can, that's good. I mean, heck, that's what you do, right?" Maybe Peter Budaj is playing the best he can. Maybe going 4-3-0 with a 2.36 goals-against average and a .900 save percentage is a best-case scenario for the goalie that entered the year as the third in line in the goaltending hierarchy. Budaj wasn't very good on Tuesday. The Rickard Rakell and Joseph Cramarossa goals did not come from scoring chances. But Budaj, and Jeff Zatkoff, and Jack Campbell – and who knows, maybe Anders Lindback – are not Jonathan Quick. I understand where Sutter is coming from directly after a loss, when he's focused on that night's game only, and not previous games or the larger picture. But those were still some pretty direct observations on an individual goaltending performance in the aftermath of a loss.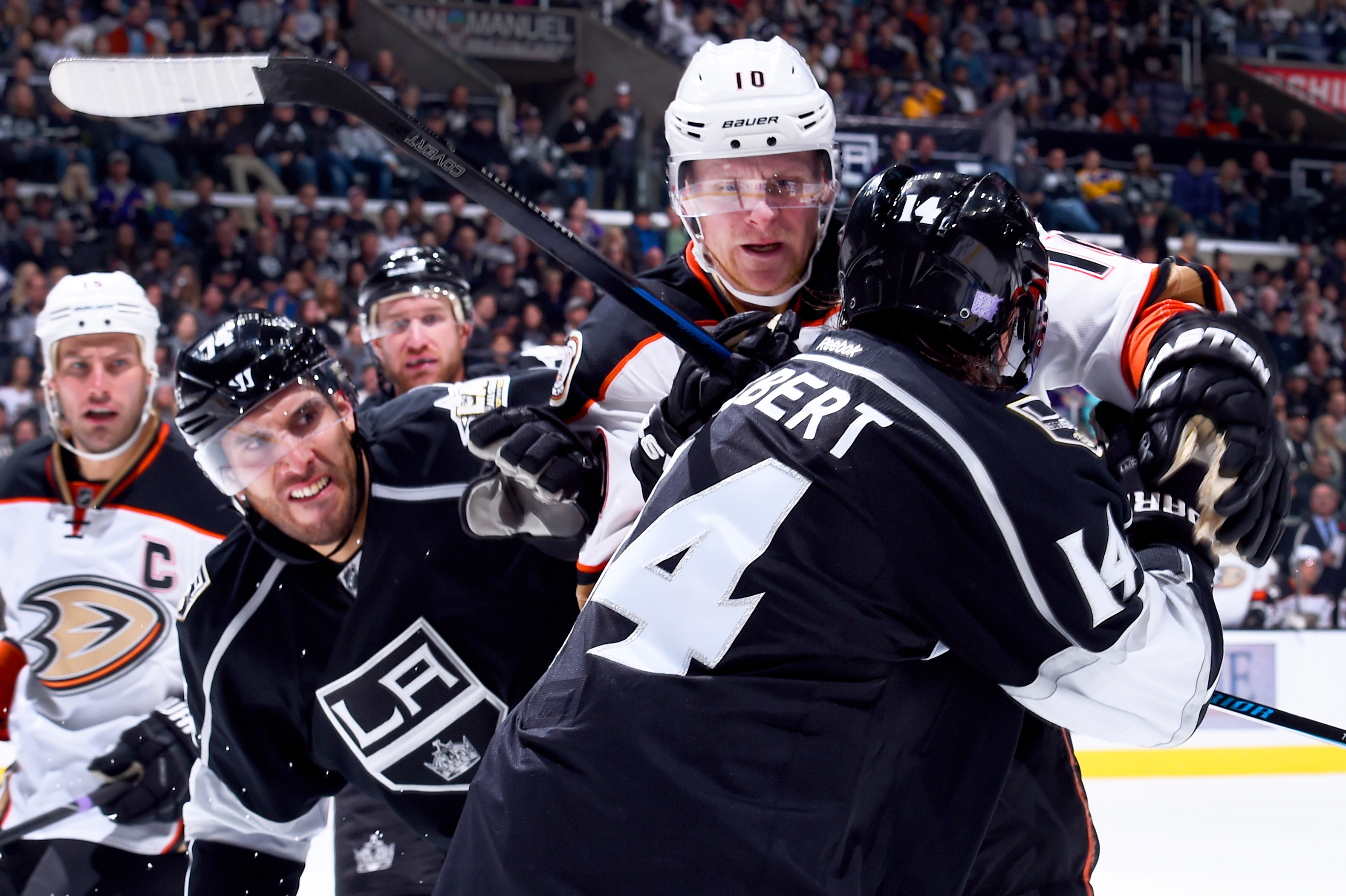 A positive! Nic Dowd is still showing off his good motor, and he and Dustin Brown appear to have formed one of those pairs of "twos" that Darryl Sutter has referenced in the past. This wasn't any profound positive; Ryan Kesler tied up Dowd effectively on the faceoff win that led to Rickard Rakell's game-winning goal, but the forward was still getting up and down the ice effectively, especially early in the game, and served as one of the team's better forecheckers on the night. It's important that he keeps up his play to this point, because he and Brown serve as depth scoring options with the potential to reduce pressure on the top two lines to produce. Both players were minus-twos on the night, and there were a few shifts where pucks weren't always being exchanged tape-to-tape, but they played with energy and were, for the most part, able to work deep in the attacking zone. In a night when King Killer (and King Suppressor) Ryan Kesler was successful in limiting Anze Kopitar and the club's top line, Dowd provided some quality depth minutes and is well served playing alongside veterans in Brown and (on Tuesday) Lewis. Look for that line to remain intact.