Not a bad hockey game, that. October games outside the division sometimes take a little while to heat up, but once Thursday night's game got going, there was some interesting early-season drama with a touch of raised emotion. Nashville was going to come out looking to make amends after its 6-1 defeat in Anaheim and a 2-4-0 record heading into the game that not many had expected following a brash off-season move that changed the look of its blue line. And there was an extra touch of piss and vinegar early on, with Derek Forbort admirably stepping up to defend Andy Andreoff after Austin Watson drilled him at high speed 90 seconds into the game – Forbort's other NHL fight also occurred when he stepped up to defend a teammate last year – and Andreoff and Mike Ribeiro exchanging barbs that had carried over into the penalty box some six minutes later. The most bizarre of the game's penalties took place late in the second period during James Neal's daylight grand larceny of Drew Doughty's stick, a penalty that the Kings were able to score on after Viktor Arvidsson made a nice cut to the center of the ice before beating Peter Budaj between the wickets on a shorthanded two-on-one. That Tyler Toffoli goal, which came just as Neal exited the box, was an important answering marker. Los Angeles never led until the game's final play, but they trailed twice for only a total of 5:44 after responding well to Nashville's two go-ahead goals.
Is there anything worse than 4-on-4 overtime hockey? I'm having trouble thinking of it. Finally, after Pekka Rinne's cover with 42 seconds remaining that reset the three-on-three play, Anze Kopitar collected one of his three overtime faceoff wins – Jeff Carter also won one – and after an attempt toward the front of the net that deflected off a skate toward the right of Rinne, Carter's attempt that would have traveled wide deflected off the goaltender's skate and skidded into the net to cap off the team's fourth straight overtime/shootout win. This is veering toward the bizarre; Los Angeles is now 15-3 in games decided in overtime since the implementation of three-on-three. There are stipulations guiding the players come overtime, but so much of the general success originates from strong checking and goaltending, as Darryl Sutter noted last week. Peter Budaj – now 5-0-0 in his five career L.A. starts, with all wins coming in overtime or a shootout – only made one OT save, but Carter did get a good defensive zone stick check in the first minute of the extra session while it was still three-on-three. Points are points are points, but the Kings could stand to collect a regulation win; including playoffs, they've gone 13 straight games without one.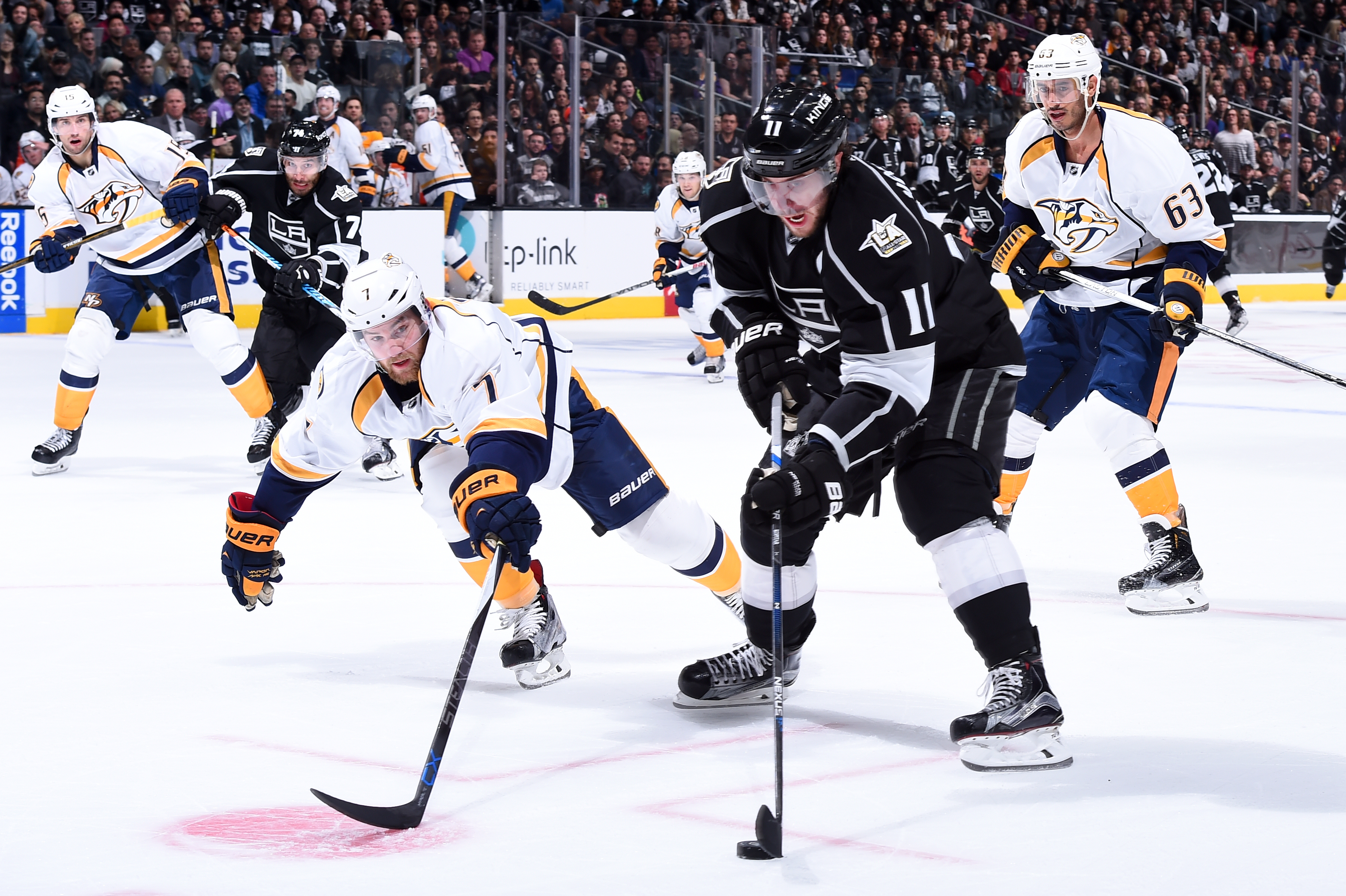 Despite a territorially dominant third period, Sutter didn't seem too enamored with the team's performance, saying after the game, "I don't think tonight was one of our better games that we've played." I'd be interested to know why, and I wonder if it stems from the team allowing more shot attempts than any game since the season opener. (That's probably not it.) Los Angeles killed three power plays against one of the league's hottest power play teams, including a major kill midway through the third period when the team blocked three shots in the first minute of the man advantage, including one by a stick-less Anze Kopitar. I hope this isn't too much of a superficial GRIT FACTOR observation, but when the team's captain and best offensive player commits himself on the kill like that, it's the type of play that enhances the buy-in of the players around him.