Every Monday this season Ontario Reign Insider will post the Reign Rewind, a series of tidbits that analyze parts of the previous weekend's action along with other more off-the-wall notes for your morning reading enjoyment.
FOOD FOR THOUGHT
The Reign are in their second season in Ontario so the "all's new and potentially uncomfortable" sort of feelings are out the window, at least for the returning players.
When Justin Auger returned from Kings training camp to Reign camp a few weeks ago and was asked about what makes life easier in Year 2 his response was:
"Even just driving around the city. It's not a new city, you know where you're going to dinner tonight. We showed up last night, me and Les (Zac Leslie), and we knew we were going to BRIO for dinner tonight because we've been there before."
Behold, BRIO, the Italian restaurant at Victoria Gardens that's turned into a team hot spot.
"BRIO is kind of our pregame spot," Jonny Brodzinski said. "Probably say about 25 of the guys before every game go there. It's kind of our go-to spot."
Captain Vincent LoVerde, who's a veteran of the game and a veteran of the area after playing for the ECHL's version of the Reign, signs off as well … sort of.
"I'm an Italian guy from Chicago so I can't give it that much credit but it's pretty good," LoVerde said.
IMOO'S IMPACT
Jack Campbell's postgame praise for goalie coach Dusty Imoo after his shutout on Saturday was both commendable, deserved and peculiar … let me explain.
Campbell of course was giving credit where he believes credit was due, but what raised an eyebrow was this comment: "This year, for the first time, I've had a goalie coach and Dusty and I are working so hard every day and my focus is on what we're working on out there."
For the first time? Campbell was speaking for this level of hockey and apparently there is truth to that. The Dallas Stars organization drafted him at 10th overall in 2010 but the 24-year-old has yet to meet the high expectations that come with being a top-10 pick. He was then moved in the offseason to Ontario in a trade.
Fellow media member Sean Shapiro (@seanshapiro on Twitter), who does a tremendous job in covering the Dallas Stars and their prospects, told me this on Sunday: "Two to three years ago Andy Moog was in Texas from time to time. Last year Mike Valley was reassigned to goalie development coordinator, but was bouncing between AHL and kids in junior ranks. Stars don't have a full-time goalie coach in AHL."
Only time will tell the long-term effects that Imoo, who's in his second season as the Kings' AHL affiliate's goalie coach, can have on Campbell. We're just one game in but so far, so very good as Campbell's 36-save shutout indicated in the opener.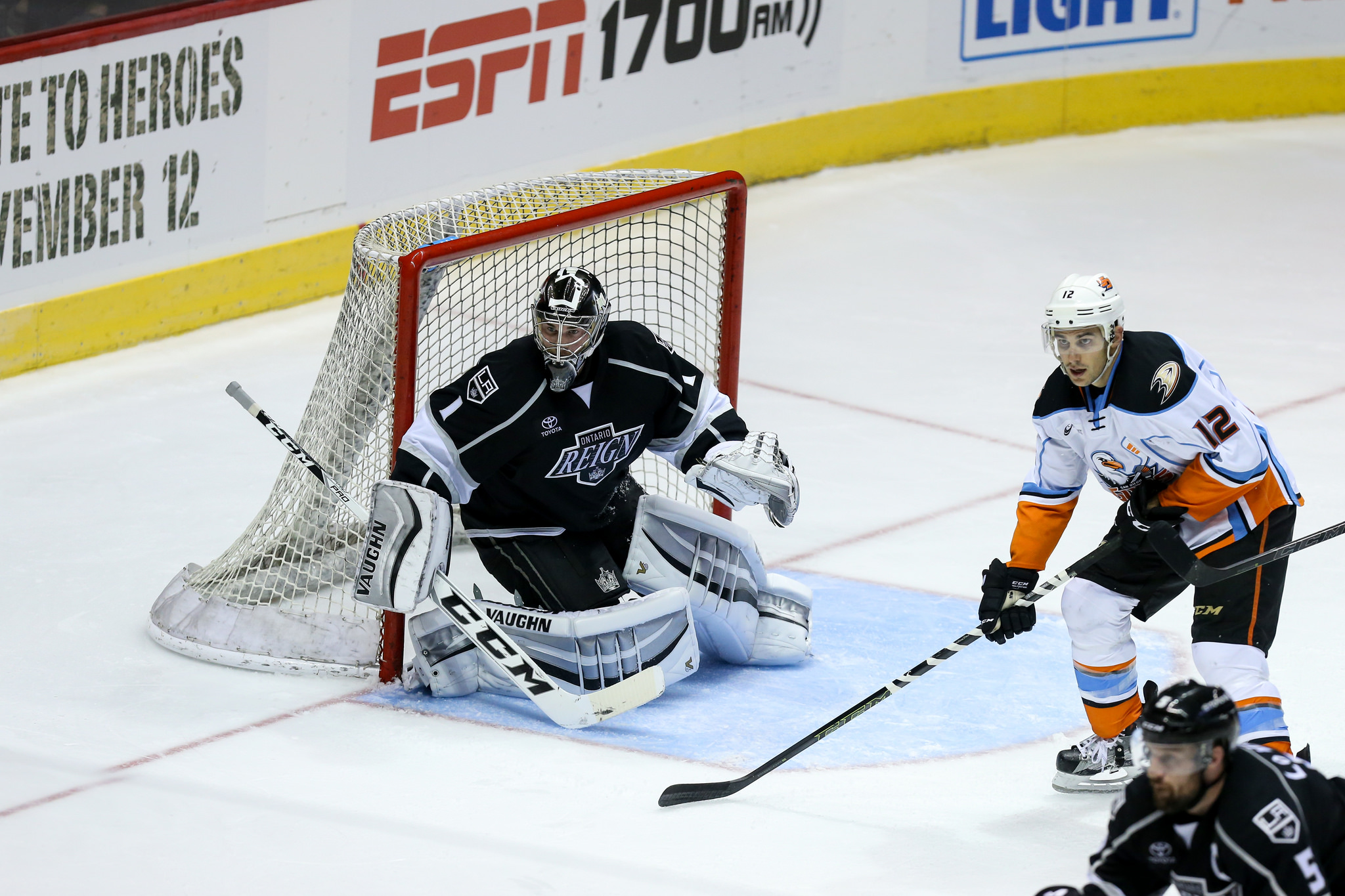 BRODZINSKI FAMILY NUMBER
Second-year pro Jonny Brodzinski has changed his number from 12 to 22. The double digit has a bit of family and Minnesota hockey history behind it.
"It's just something that I've always had," said Brodzinski, a Minnesota native. "My dad wore 20, my brother (Michael, with San Jose organization) wears 20 and both Bryce and Easton (younger brothers) both wear 22. It's kind of a family thing I guess. Everybody wears 20 or 22."
"[My dad] was 20 at the University of Minnesota and then he came to St. Cloud he was 22. Michael wore 20 at the University of Minnesota and I wore 22 at St. Cloud."
So why didn't he wear 22 last season when it was technically available? There's a story behind that, too.
"I couldn't have that last year because Brian O'Neill had the choice of coming back if he got sent down or however that worked," said Brodzinski of O'Neill, a the Calder Cup MVP two seasons ago. "I was going to grab it and they said he had 30 days or something like that to still come back so I just didn't take it. Didn't want to have to switch if he came back or however it worked out so I just took 12."
The only other number Brodzinski wore growing up was 7, but that was his uncle's number. In high school he switched to 22. Brodzinski said he's not all that superstitious but going back to his usual number is fitting and it feels natural to have 22 on the back of his sweater.
"Right where it belongs," Brodzinski said.
LEFTOVERS
Andrew Crescenzi has assumed the role of No. 1 faceoff man previously owned by Nic Dowd. When Campbell was asked if he kept the game puck from his shutout, he replied that he did not and that it should have gone to Crescenzi for his defensive zone wins. … Adrian Kempe, as originally stated by Stothers in training camp, did play penalty kill minutes against San Diego. … With forward Sean Backman playing the point on the power play the Reign in some occasions had Kevin Gravel, Michael Mersch, Kempe, Brodzinski and Backman on the power play, quite the offensive 5-some. Brodzinski, a right-handed shot, was teeing up from the left circle a la Alex Ovechkin, but was hitting high glass and not net. It could prove to be an effective area for him so long as he's able to get his one-timers on target.