Three months and one day have passed since Milan Lucic signed a seven-year, $42-million contract with the Edmonton Oilers. Los Angeles was able to offer Lucic an extra year, but did not have had the annual capital necessary to match Edmonton's lucrative contract, so Lucic chose the Oilers over teams such as the Red Wings, Canadiens and his hometown Canucks based heavily on his gravitation towards Western Canada, and, of course, the lure of playing alongside budding generational superstar Connor McDavid.
Early results – and there are few, because he's only seen the ice with McDavid once this preseason – are similar to those when he joined Los Angeles a year ago. There's a transition in style, systems and speed, but nothing too foreboding that Lucic shouldn't get a good grasp on it relatively quickly. But in McDavid, one of the league's most highly skilled players and elite skaters, there is a clash in styles with Lucic, an effective north-south power forward who can get up and down the ice quickly but isn't necessarily an Olympic speedskater.
"Sometimes it's not bad to come from behind. You get a lot more ice, a lot more room," the 28-year-old joked before noting his success in playing with the up-tempo Jeff Carter a year ago. In over 530 minutes together, the two shared outstanding GF% rates and a near-60% raw Corsi-for last season.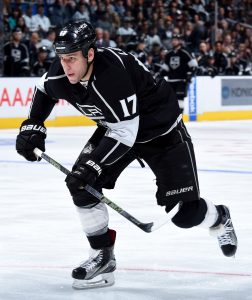 Lest we get carried away with a study on the Oilers' styles and the departure to a divisional rival of a player who will probably hear more "boo" than "Loo" at Staples Center this year, Lucic continued to wax nostalgic and appreciative of his limited time spent in Los Angeles.
"Even though it was only one year with the Kings, it was a really, really enjoyable year for myself," he said. "I created some good friendships with guys on that team from players and coaches and management, so it's good to see them early here in the preseason, kind of where the games matter but they don't count for anything, so it's kind of good to get this one out of the way before the division rivalry stuff starts."
He's talking about tonight's Kraft Hockeyville game in Vernon, B.C. (6:00 p.m. / NHL Network), where he'll skate to the left of McDavid and Jordan Eberle. It will be his third preseason game, and the first game in which he'll face a handful of his ex-teammates.
"It'll be a little different, obviously playing with him last year," Tyler Toffoli said. "But he's on the other team. You've got to take it as a business and play him hard." Toffoli, as a right wing, should line up against Lucic for a number of faceoffs tonight.
Given the limited cap space the Kings had to offer, and with the significant assets exchanged for a player entering the final year of his contract, was Lucic put in a spot that was at all awkward in his lone season in Southern California? The hulking winger doesn't think so.
"I kind of viewed it more as making the most of the opportunity and the situation, and because I knew the situation I was going into was a really good one," he said. "Playing with some really good veteran players that are in their prime, and like I said, I really wanted to make the most of it, and I felt like I did. I really embraced LA, and I really embraced the South Bay, and I really tried to take it in as much as I could. Obviously it takes more than one year to see all of L.A. It almost takes more than a lifetime to see all of L.A. If the situation was different, I definitely wish it was longer than one season, but at the time of my life and the point of my career, it was a really great experience."
This may touch a nerve with Kings fans who recalled similar words being shared in April, but that's not lip service. Lucic spoke glowingly about his season in Los Angeles and hoped that a contract could "get done here in the near, near future" shortly after the season ended.
One year earlier, the Lucic trade was hastened by Tyler Toffoli's willingness to accept a bridge deal, coupled with the impetus to move Martin Jones when it became apparent, reportedly, that the rarely used offer sheet could be used to pry Jones from Los Angeles without any compensation heading in the opposite direction.
Sources told TSN's Frank Seravalli in June that Wilson "made it clear to Lombardi that the Sharks would attempt to sign Jones, a restricted free agent, to an offer sheet if no trade could be completed" between the Kings and Sharks at the time.
That put Lombardi in a very difficult place, and several other factors weren't necessarily as visible in the summer of 2015 as they were at the conclusion of the Kings' most recent season, such as Marian Gaborik accounting for 12 goals in 54 games (partly due to an injury that ended his regular season in February) after having come off a very good conclusion to his 2014-15 campaign.
There were very few escape hatches for Lombardi to take, and the one chosen didn't work out in either the short or long term. That's no great fault of Lucic, who acknowledged the personal guidance Lombardi offered in a year that will complicatedly remain memorable to him.
"I can't thank Dean enough for bringing me in at that point of my life when he did," Lucic said. "Especially with the loss of my dad and all that stuff, and bringing me in and building my confidence back up again and making me believe in myself again like I did prior to that season, he really did help me move in the right direction, and I thank him and all the coaches and players and all that type of stuff, and like I said, I felt like I made the most of it, and it'll always be a special part of my life."